The Cycle Frontier is a first-person(FPP) video game developed and published by Yager Development. The game is PvEvP, i.e., player vs environment vs player. If you have played any FPP games before, then you would love this game. The Cycle Frontier was launched in 2022, and it is free-to-play. While playing The Cycle Frontier, you might face several errors like error code 6 or error code 4.
Many different errors or glitches might interrupt your game and your fun while gaming. Some of these errors won't let you log in, while some don't show your game or friend playlist. Pretty frustrating, right? Don't worry; we got you covered. In this article, let's discuss The Cycle Frontier all Error code and their fixes. We have discussed some quick fixes that are working as of 2022.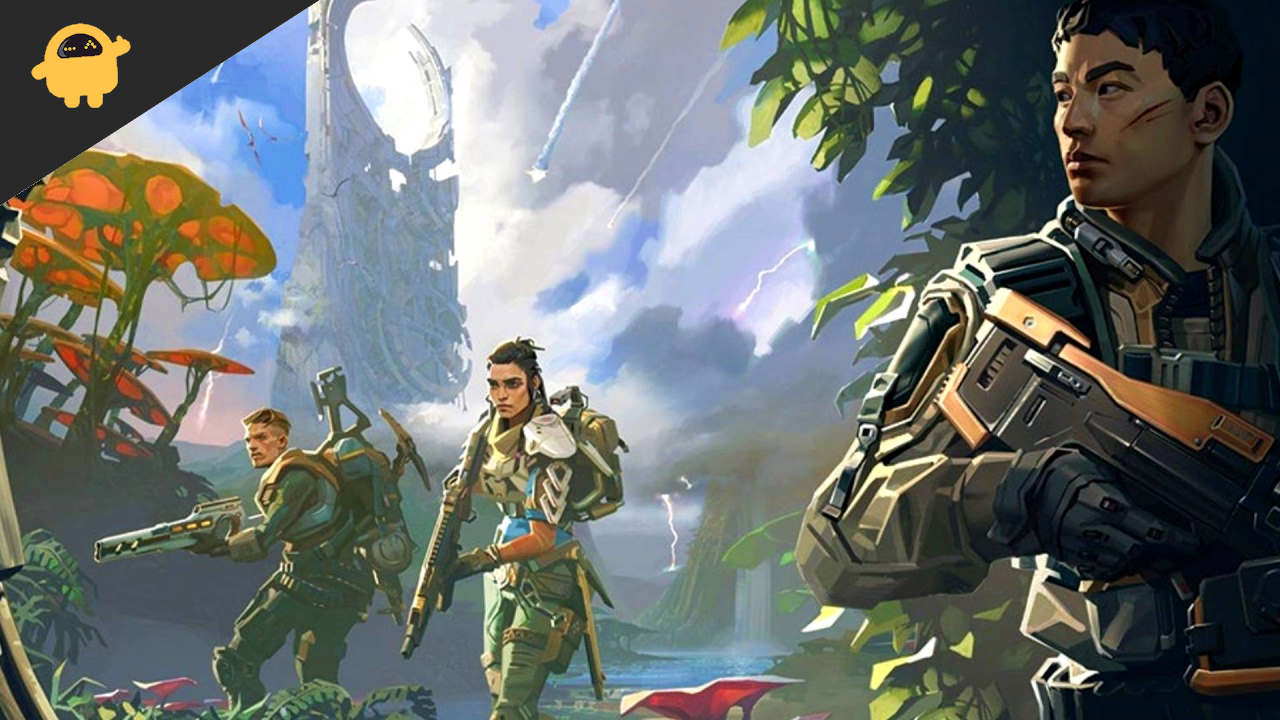 The Cycle Frontier All Error Code and Their Fixes
There are minimum specifications for a PC to run this game. They are given below:
OS: Windows:

10 64-bit

Processor:

Intel i5-4590 or AMD Ryzen 3 1200

Memory:

6 GB RAM

Graphics:

AMD Radeon R9 270 or NVIDIA GeForce GTX 760 ; 2GB VRAM is needed.

DirectX:

Version 11

Network:

Broadband Internet connection

Storage:

37 GB of available space

Additional Notes:

Target framerate for minimum requirements: 30FPS
Let's start with the most common errors the users face:
Fix Cycle Frontier Error Code 6
You can solve this error in different ways, and let's discuss all of them:
Method 1: Restart the computer
Restarting a computer fixes not only these bugs but also fixes most of the bugs. When a computer is restarted, the ram is freed and hence allows the computer to work a bit faster.
Method 2: Log out and log in to the game
Sometimes, the issue might be fixed after logging out and logging in back into the game. So, make sure you try this method.
Method 3: Server Down
The Cycle Frontier servers might be down. You can check if the issue is from the game servers by checking their official Twitter or visiting this link.
Fix Error Code 4 (Login Error)
During the game's launch, the game experienced many player registrations, increasing active players daily. Some players are banned because they were caught using some automated process to progress in-game.
This is where error code 4 started appearing on users' screens. People thought they got this error when they tried to play the game from a banned account. But the case was quite different. Don't worry! We have got a fix for this issue.
Method 1: Ask a Mod on Discord
Open discord and join this official channel of The Cycle Frontier. Ask any of the moderators if you are banned from the game. If they say you are banned, request them to unban you or create a new account and start playing again(This time without using any 3rd party apps).
Method 2: Restart your Pc
If you follow The Cycle Frontier's Reddit community, you can see that some other players also encountered this error 4. All they did was restart their PC, and the error was gone. So try restarting your PC and check if the game is working.
Method 3: Reinstall your anti-cheat program BattlEye
There were similar login issues during the game's beta. Just uninstall the anti-cheat program Battleye and try launching the game. Also, if your version of BattlEye is not the latest, we recommend updating it immediately. Restart your Pc after doing either of these.
Method 4: Verify your Game files
Some of your game files might be corrupted or missing. So, try to verify your game files and check if the game is working.
To verify game files, right-click on the game in the Steam library, select properties, then local files, and select verify game files.
Method 5: Reinstall the game
If you think most of the game files are corrupted, it is better to reinstall the game. This will fix any other bugs or glitches preventing you from playing the game. Always download the game from a trusted source and not from some malicious website.
Fix Cycle Frontier Matchmaking Error
many players face an error during the matchmaking in The Cycle Frontier game. This issue occurs when you click on Start, which seems pretty annoying.
Method 1: Try another map
Just play a few rounds in a new map, and after that, you can just start playing your favorite one again. The game will get refreshed by playing a new map, and the error might be fixed. So, try this method and check if the error is fixed.
Method 2: Click on Deploy until you join a game
By doing this, you might enter a game. We don't know why this works, but this method works for many players, and that's why we listed it here. The reason might be because of constantly requesting to join a game; the error might be overridden and fixed.
Method 3: Restart the game and PC
First, try to restart the game and check if the error is fixed. If not, restart the system and check if the error is fixed. Also, attempt to verify the game files just in case to know the files are not corrupted.
Method 4: Check your internet connection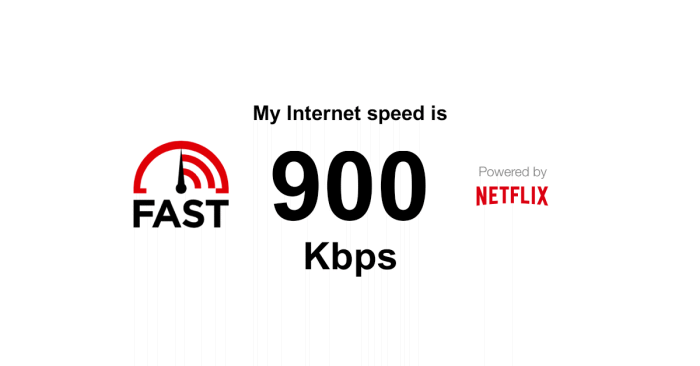 Internet connection is essential to play this game, so you need a stable internet connection. If you face internet problems, try restarting your router or test your internet speed and ping here.
Fix Infinite Loading Screen Error
This error occurs for many reasons, and we can't say why this one happens.
Method 1: Clear Steam Download Cache
Clean the cache of Steam Download. To do this:

Open Steam and go to

Settings

from the top menu bar.

Go to the

Downloads

tab and click on

Clear Download Cache

at the bottom of the page to clear the cache.

The Steam will prompt that it will clear the l

ocal download cache

and requires login after this step is done. Press

OK

and wait for the process to finish.

Log in to

Steam

and check if the error is fixed or not.
Method 2: Reset Network Setting
If there is some problem with the Network, you can just reset the Network setting and check if the infinite loading screen is fixed. To reset the Network setting :
Click on

Start

and search for

Settings

.

Now, click on the

Network and Internet

tab and then click on the

Advanced

internet setting

.



Then, under

more

settings

, click on

Network

Reset

. A new tab will open; click

Reset now

option beside the

Network reset

option.
Method 3: Update Network drivers
Your Pc network drivers might be outdated or sometimes corrupted. Its always recommended to update them to the latest version to avoid any disturbances.
To Update Network Drivers:
Click on

Start

and search for

Device Manager

.

Please search for the

Network adapters

field and click on it.

Locate your

Network Adapters

(WIFI or LAN), right-click them, and go to

properties.

A new window will pop up. In that, go to the

Drivers

tab and click on

Update Drivers

.

It will prompt you to either search for the updates automatically on your PC or browse for them manually. If you haven't downloaded any, just click on

Download automatically

.
After the updates are done, restart your Pc to apply the changes immediately.
Fix Cycle Frontier Friends list Not Working Error
This is one of the common issues faced by most players. The friend list doesn't work because of some unknown reasons. The Cycle Frontiers developers didn't give any solutions for this error, but we have figured out some tricks to fix this issue. So, let's talk more about those fixes:
Method 1: Set your Steam Profile to Public
If your Steam profile is private, then others won't be able to see you. So, put your Steam Profile to Public to play with other people. To set your Steam profile to Public:
Open Steam and click on your username in the top-right corner.

Now, Select View my profile.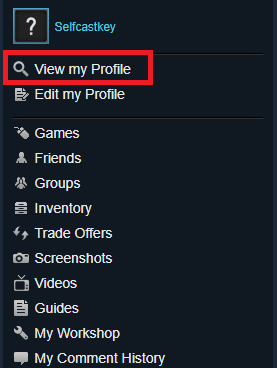 Choose Edit Profile and go to the Privacy Settings tab.
Set the available options—My Profile, Game Details, Friends List, and Inventory—to Public. Don't forget to save after setting all these options.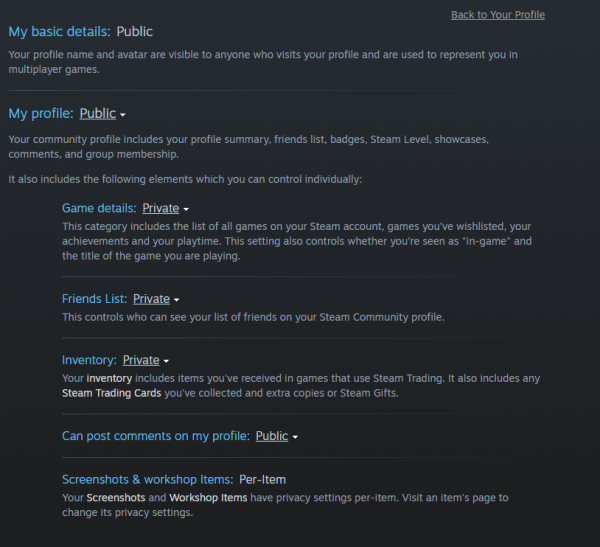 Here is a screenshot of all option set to Public on Steam.
Method 2: Restart the game and PC
Try to restart the game first and if that doesn't work, then try to restart the Pc. This method fixed the friend list error for most of the players. So, try to apply this method and then move on to the next procedure.
Method 3: Uninstall and reinstall the game
The game files might be corrupted, and the friend list might not work. Just reinstall the game and check if the friend list error is gone. Don't forget to restart your PC after reinstalling the game.
Fix Server OFFLINE Screen on Launch
The Server Offline screen is a rare error that used to occur during the game's beta stage. But, if you face this error, here is the fix:
Just exit the game and open Steam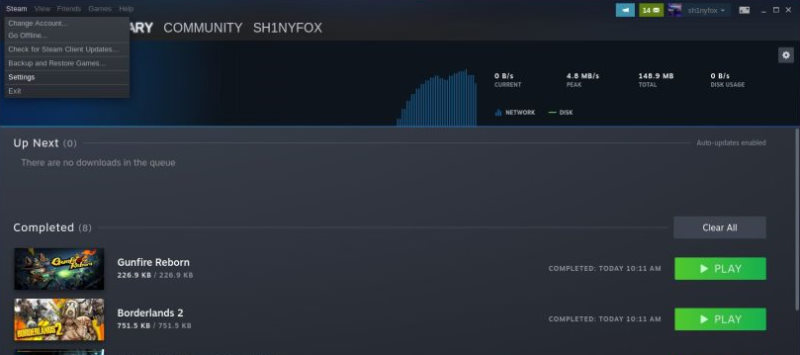 Click on Settings, and in Beta Participation, change it to None.
Press OK and restart Steam.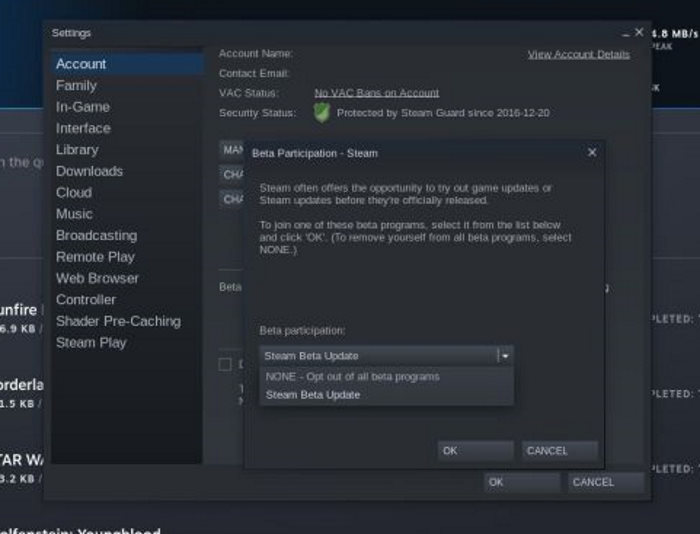 Open the game, and now your game should be running fine.
Conclusion
This brings us to the end of The Cycle Frontier all error code troubleshooting guide. If you have any queries about this article, please drop them below. Let us know which of the above fixes worked for you. We will be adding more troubleshooting fixes for more error codes in the future, so you can bookmark us for future troubleshooting references.