With each new technological advancement, gambling makes its way towards it; sooner or later, a casino will pop up on the newly created device. This was the case for personal computers in the 90s and phones in the late 2000s.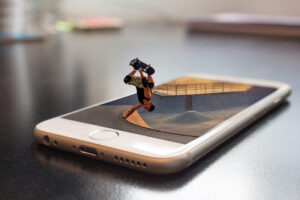 Mobile gambling became a thing when the Google Play store and the Apple app store were launched in 2008. Fast-forward ten years later, global wagers done via mobile surpassed $60 billion. Right now, almost all iGaming platforms are optimized for mobile gambling, no matter the country or continent.
But why is mobile gambling so popular, and how does it manage to increase its user base constantly. The following will bring some light on the matter.
Gambling is not a matter of were anymore
It's never been easier to make a wager on any kind of game since gambling can be done in any part of the world that has access to the internet. With a phone in your pocket and an internet connection, the only borders' constraints are physical.
Now you can play some blackjack while standing in the line to get coffee, or you can make a few spins on a slot game while riding the bus. You can play anytime and anywhere since most people always have their phones with them.
By comparison, a laptop is portable, but you cannot have it permanently with you, and you certainly cannot use it effectively while standing up.
In this century, a phone provides the same experience as a personal computer. The difference is that the phone fits in your pocket.
The players want, and the casino provides
Gambling experts have noticed that casinos are trying to accommodate mobile players better. One gambling educational website has listings of small devices of friendly operators. The specialist there analyze every aspect of an iGaming platform to ensure players are informed and have a good experience if mobile is their go-to device.
Most online casinos are optimized to work on the phone exactly as they would on a desktop. Payment methods, customer support, and responsible gambling tools operate correctly and efficiently on mobile without any errors.
However, some casino games do not work on mobile since their code must be adapted for other devices. Nevertheless, game developers constantly modify and improve their products to work on smaller devices. Give it a few more years when a smartphone will be identical to a computer from a technical perspective.
Also, many casinos provide applications for phone operating systems like Android or iOS. These apps have increased security for any funds transaction and provide a faster and better experience since there is no browser involved.
It's easier to start playing as a newcomer
The best way to start your gambling journey is on mobile. Going online gives you the necessary time to learn the ropes without any pressure.
A regular casino can be a little too much for a new player who does not know how everything works. But, going online from the comfort of their home or even when travelling can be a much more relaxed experience to start playing for the first time.
In this way, you can also search the internet while gambling or immediately after for further information that can provide the essential explanations in the fastest way possible.
Increased security
Yes, phones deliver better security when browsing the internet. There is a common misconception that personal computers have better safety measures, but that is not the case.
Always remember there were no such things as malware or even the internet when the computer was created. From that point to when the smartphone first appeared, computer viruses were a common thing, and the internet was all over the place. So, smartphones from the moment of their inception were made with better security.
Although phones have better security, it's not perfect. Ultimately, it depends on the device owner to keep away from potentially threatening websites.
Smartphones are built more securer from the start, and that's another big plus that makes mobile gambling even more attractive since it requires real money transactions.
One device to rule them all
Mobile gambling has transformed the industry faster than ever. This was the milestone that put the first pebble in the land-based casino coffin. Gambling on phones made borders disappear and distance melt. There are no geographical restrictions anymore, and because of this, there is a rise in player comfort, new opportunities, and illegal activity. So, always do some research before playing on a new online casino.
Right now, mobile gambling provides the most convenient experience out there from a security perspective and a mobility perspective. Since laptops aren't nearly as flexible, this will never change any time soon.