"Hi all, I need to reset administrator's password on server 2012 R2, the solution I found on the Microsoft site not working because "Windows key + U" shows Ease of Access and I can not reset password through the command line." Is there any way to do that or have to quit my job?
How frustrating is it when you forget your Windows Server password? You know that there are only a few ways to fix the problem. One of them is with an administrator account, but if you don't have one then you're out of luck.
Another way would be to reset the system's Administrator Password without data loss, but how can this be done? This blog post will explore three top ways to reset Windows server passwords without data loss and help get your system up and running again!
How to Reset Windows Server Password with or without Disk
If you've ever forgotten a Windows Server 2003 or 2008 password and need to recover it, I'll show you how to do it without reinstalling the operating system. It's just a matter of downloading and running a free tool. There are three methods by which you can easily reset windows server passwords without data loss.
Method 1: Reset Windows Server Password with Windows Reset Tool–PassFab 4WinKey (Without Data Loss)
PassFab 4Winkey is a powerful Windows password recovery software that helps users reset forgotten or lost Windows passwords. It supports almost all versions of Windows Server OS including 2003, 2008, 2012, and 2016 versions. To reset the local administrator/user password with this tool, you need to have physical access to the computer system. You also need to download Windows Password Reset Tool on your computer/laptop.
Why PassFab 4WinKey?
It is one of the top Windows password reset and password recovery tools, very easy, and always works. Some major cons are as under:
In minutes, you can remove or reset local and administrative passwords, delete or create Windows accounts.

With USB/CD/DVD, you can make a Windows password reset disk in just one click.

Unlock the administrator password. Windows XP, Vista, 7, 8.1, 10, and server 2019/2012/2008 passwords can all be unlocked.

This method works for all brands of desktops and laptops, such as Dell, HP, Lenovo, Asus, Acer, Samsung, and Microsoft Surface Pro.

Offers you 30 days money-back guarantee.

No compromise on security. The purchase had been done by 256-bit SSL.

Free Tech support is available which is online 24/7.
How to Use PassFab 4WinKey?
There are mainly two steps: one is to create a Windows password reset disk and the Second step is then to insert that reset disk to a locked computer.
Video tutorial
Step 1: Create a password reset disk on an accessible computer using PassFab 4WinKey.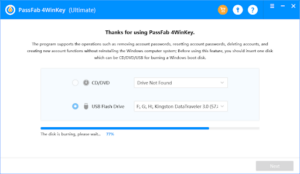 Step 2: Insert the password reset disk into the locked computer. Select the Windows operating system.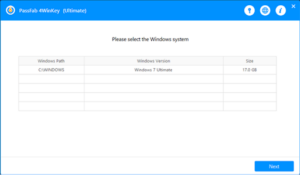 Step 3: The Windows password has been successfully removed or reset.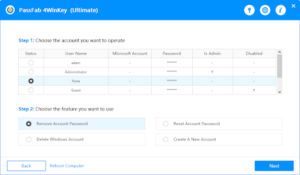 Method 2: Reset Windows Server Admin Password with Password Reset Disk
A password reset disk is a must-have tool if you forget your password.That is why, whenever creating a password for a Windows user account, we always suggest users to make a password key disk. If you have the password reset disk, follow the directions below to perform a Windows server Raid computer password reset.
It is always recommended to configure a Password Reset Disk on your Active Directory server to avoid any serious lockout situations. But the fact is that if you are not using or maintaining this feature, it can create more problems than helping in emergency situations where you need to get back control over your Domain.
Follow Below Steps to unlock your windows server without data loss with password reset disk:
Step 1: When you enter the incorrect password, click the "Reset password" link under the password entry box.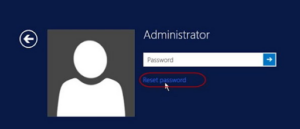 Step 2: Insert your password key disk you made before you forgot the administrator password and click Next, then choose the disk drive in the list box.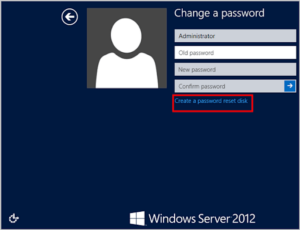 Step 3: On the next screen, type in a new password twice and a hint for your password. To finish the wizard, click "Finish." You may now log into your computer with the new password.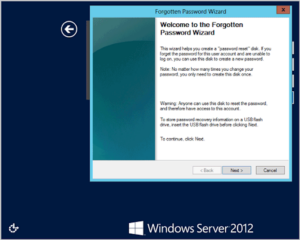 PROS:
No Data Loss.
This method is effective if you had created the disk before forgetting the password.
No need for any expensive software.
CONS:
Time taking method.
If not created disk before forgetting, impossible to do.
Complex method for most windows server users.
Method 3: Reset WIndows Server Admin Password with Command Prompt
Resetting Windows Server Admin Password with Command Prompt is quite easy, if you know the trick. And we are showing you the trick, here. We'll be using a command prompt to execute commands and reset Windows Server Admin Password with Command Prompt securely and effectively. And we promise that your system will never get back to its previous state .
If you have a Windows Server installation DVD, you may use it to reset the administrator password in a Command Prompt window. You can execute the following commands.
Step 1: Insert the installation disk and restart your computer. When the Windows Setup screen appears, press the Next button.
Step 2: Select Option which is to repair your computer. Click on Troubleshoot option.
Then finally click on the Command prompt.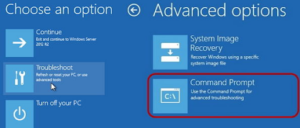 Step 3: Start writing command in command prompt,
d: cd windows\system32
ren Utilman.exe Utilman.exe.old
copy cmd.exe Utilman.exe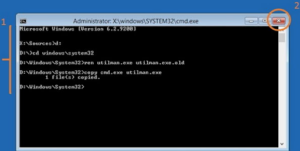 Step 4: Click "Continue" after closing the command prompt window. The server should now boot and display the login screen. Select Windows Key + U from the keyboard.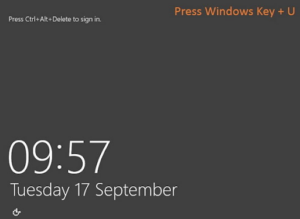 Step 5: Type the following command at the password prompt to change the password: Administrator as a user and password as per your choice for e.g. password123.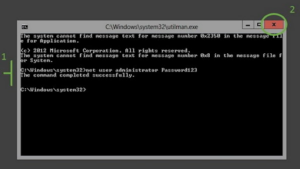 Step 6: To set the administrator's password, click here and then enter a new password (case-sensitive) for the Administrator user.
You can now log back into the server with the new password since you've closed the command window. Don't forget to remove the Utilman.exe file from C:\Windows\System32 and then rename Utilman.exe.old back to Utilman.exe before deleting it.
PROS:
No paid software is required for this method.
All the data will be safe. No data loss in this method.
Simple process just follow the steps and you can unlock the windows server easily.
CONS:
If the Command prompt will not open, then you can not do this method.
If you don't have a bootable device then do not use this method.
Time taking method.
Conclusion:
This Blog post covers the three best methods for Reset Windows Server Password with or without Disk.
First method is about a software named PassFab 4WinKey, with this software you can create a windows password reset disk on USB or any CD.
Second method is about using Reset Windows Server Admin Password with Password Reset Disk. If you have created a password reset disk before locking windows then you simply use that disk and unlock your windows.
Third method is about the Command prompt method by which you can unlock your computer by using some codes which are placed in the command prompt for unlocking.