Text message communication is a lavishing way to keep in touch with friends, families, and colleagues. Especially, with latest Samsung Galaxy S series you can even send and receive pictures and audio messages as well. If you are a regular texter then your inbox should be filled with messages. Some messages are from your loving partner, parents and friends and some messages will be from colleagues or business partners and some messages will also contain banking information, medical records, and other official statements. Of course, you must take care of them by backing them up to your PC in case if you accidentally delete them or if your phone crashed due to unknown reasons.
Unlike multimedia files which can be stored in external SD cards, text messages are actually stored in internal memory and in database forms that cannot be copied to PC like any other normal data. If you don't erase messages regularly then sooner or later your inbox will run out of space and you will be obliged to delete messages to make some more room. So, the best way to empty your inbox is to transfer all messages from your Samsung device to PC.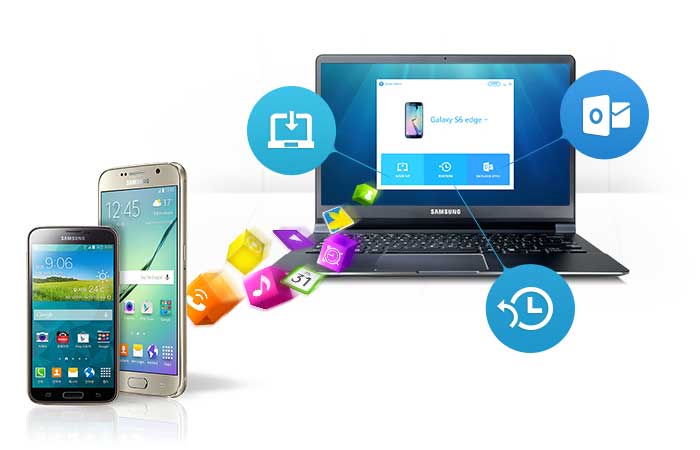 In this short guide, we will introduce you to excellent and terrific Android file manager software that can transfer messages from Samsung to PC. Certainly, all Samsung models are supported by this tool and not only you can backup SMS, you can also backup 40+ other types of data which includes contacts, pictures, music, videos, notes, documents, call logs, etc. and smoothly transfer them from your phone to PC. Additionally, you can either backup all data with a single click or you can backup individual data types manually.
Key Features of Android Manager
Backup entire Android phone with a 1-click backup solution.
Download, import and export music, videos, pictures, etc. with just a push of a button.
Remove duplicate files from your Android and make extra memory within seconds.
Install and Play Android apps and games directly on your PC.
Send and receive text messages from your computer in real time.
Transfer any kind of data to PC from Android phone.
One-click Root device available.
Mirror your Android device to PC.
Boost up your phone's performance and speed.
Transfer SMS from Samsung to PC with Android File Manager
Android file manager supported over 4500+ Android smartphones and of course, it supports every Samsung model including Samsung Galaxy S8, S7, Edge, Note 2/3/4/5, Galaxy Tabs and so on.
Follow the procedure below to transfer messages from your Samsung Device to PC –
Step 1. Get your Samsung phone connected to PC and run the Android file manager program on your PC. Next, enable USB debugging mode on your phone and it should be perfectly identified by the Android file manager software.
Step 2. Choose the "SMS" tab from the left sidebar and it should display all the text messages from your phone. Select each and every message that you want to backup or you can simply select all of them and click on "Export".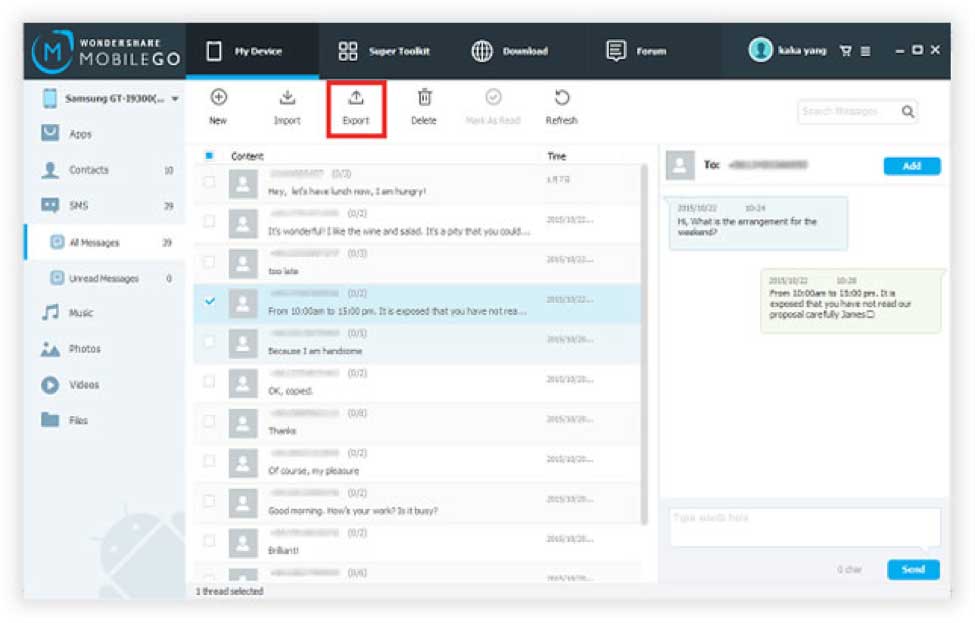 Step 3. Locate the folder where you want to save the messages. By default, your messages will be saved on Users\Administrator\My Documents \Wondershare\MobileGo\Backup
But you can obviously modify it according to your requirement by clicking on the "Browse" button.
Now, wait for the program to successfully backup your messages. You will be able to track the backup progress in real time and once it is finished, you can browse the destination folder to check your backup file.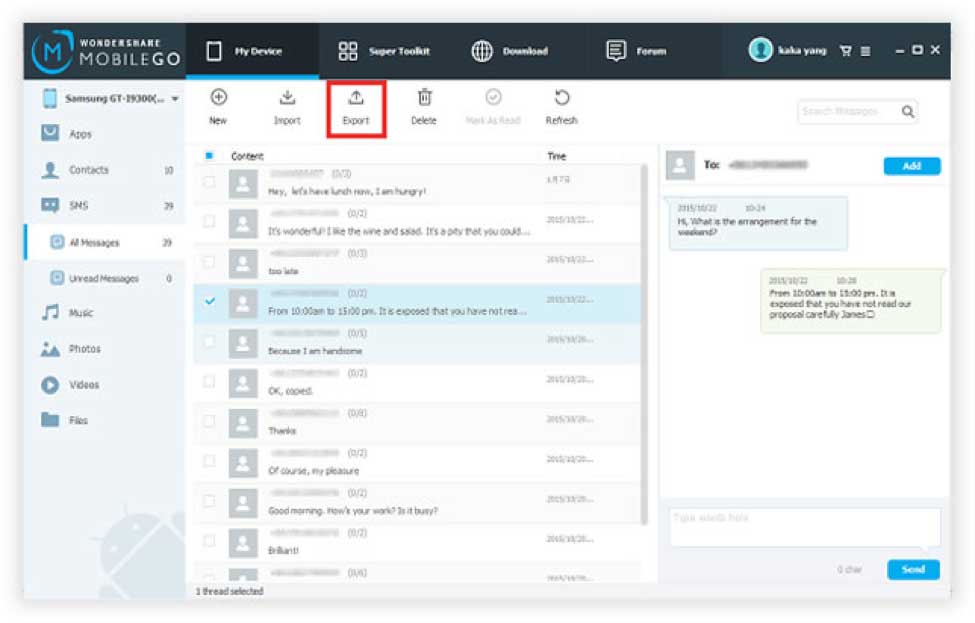 Pros
Export and import messages from any Android device.
Recover deleted files.
Manage your entire Android phone from PC.
Super fast program.
24X7 support available at your earliest convenience.
Cons –
In order to take full benefits of this program, you will be required to register the program. It is just one-time investment and it is assured that it will worth every penny.
Conclusion
Backing up data has never been easier with Android Manager. Doesn't matter if you upgrade or switch Android phones daily. If you have Android File Manager then you can transfer data from one phone to another within minutes. It is always a wise idea to backup your messages or any other important data to a computer in case if you lose your files accidentally or even if your phone gets stolen. Hopefully, you guys found this article useful and don't forget to subscribe to our website.