Ads are annoying and with a recent trend in change of algorithms in showing ads, you'll see a lot of ads and popups related to your search, locality, etc which are also called as target-based ads. If you are trying to go on a free website, for instance to a movie online, although you will be able to see the movie online you will be greeted by hundreds of ads and popups which are far more annoying. And most of all, popups and ads have become generic for any and every platform you use which is free wiz Google, YouTube, Facebook, etc. But the way around to these ads block is through Ad blockers. Here is what happens when uBlock Origin vs Adblock Plus are tried and tested.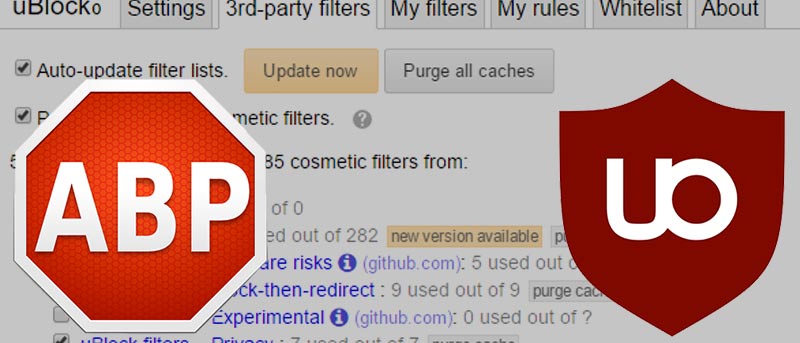 We tried and tested both uBlock Origin ad blocking as well as Adblock Plus to choose the best of 2018 and it was certainly close and tough for us to ascertain. These ad blockers are equipped with various features that discard any popup that pops up on your screen which can also be an infected malware file or so. These sophisticated software/browser extensions that also help the user enjoy a seamless browsing experience without any and at least maximum of the ads blocked. We know that there are various blocking extensions available, however, we decided to go with these two citing their ratings and user response. Let's dive into it.
What does Ad blocking apps offer?


Before getting into the battle between these two widely recognized and powerful ad blockers, you must know what these apps can do apart from blocking ads. This is a list of features which comes with ad blockers either entirely or selected based on subscription plans.
Porn Blocking: Ad Blocking software is equipped with a feature that blocks porn on the smartphone and computer devices which is a must-have feature for parents trying to block a section of the internet from their children trying to access it intentionally or unintentionally. But, note that this feature is one of the premium features and needs the user to buy its subscription.
Pop-up Blocking: Now, you already know what is a popup. It is something which pops up each time to do some activity on a website. Like if you click on 'Download' button to download a movie from a free movie website, it will open a new window with ads or any other website linked. There are chances that you might stumble upon a site which gives popup ads everything you click, scroll, and even move the cursor or finger.
Anti-Malware: Now that is something which is required to be blocked immediately upon encounter. Malware ruin systems, steal user data and can cause the most harm to the smartphone or computer making it just a mere piece of technology which doesn't respond when instructed.
uBlock Origin vs Adblock Plus: Which Adblocker To Choose 2018?
uBlock Origin was developed by Alex Aljoudi, Chris Vallat, and Nick Rolls and was a brainchild of Raymond Hill. The software was primarily launched back in 2017 as 'μBlock', it only released its stable version in 2017 and that has been making quite a big deal now. uBlock Origin is a cross-platform app that works on a number of operating systems including Linux, Windows, and others. It is one of the powerful ad blocking software which has a browser extension of itself that works on Microsoft Edge, Firefox, Opera, and Google Chrome. We dug into the app to find out its features and we found quite a number of features that you would enjoy.
Ad Blocker: Since it is an ad blocker, it has a feature called ad blocker which is not a surprise, however, it has a powerful mechanism to block off ads. Since most of the ads go into the cache, you can enjoy a seamless browsing experience whenever you access any site.
Lightweight & Cross-platform: In the software glossary, lightweight doesn't mean it doesn't have a weight. It is a term referred to the consumption of memory which is very low in case of uBlock Origin. It doesn't consume a lot of memory from your system which helps maintain the efficiency of the processor and other processes running alongside the ad blocking without slowing it down. It is also cross-platform which as aforementioned, works on most of the operating systems.
Tracker Blocker: Beware of trackers which can locate your position using your device but with uBlock Origin, you can give anyone a toss. The ad blocker detects the presence of any tracker in your system.
Efficient Memory System: Once you install the software, you can enjoy all other apps and processing which are efficiently running on your system since this particular app has its own built-in memory management system which is quite helpful if you are someone who is on more apps than one at a time.
We tried the uBlock Origin 1.1.1 on our system and we found out that it saved about 40% of the system memory footprint. When tested, it had a blocking efficiency equivalent to 500 server hits which are similar to that of its contender Adblock Plus and far better than another app called Disconnect.
AdBlock Plus
This particular free and paid (with additional features) software which isn't just a browser extension but an actual standalone software is by far the most acknowledged ad blocking software available. It has a huge list of features right from its content filtering to advert blocker which has made it the king of all software under the same domain. Here is a list of features apart from the one listed on the uBlock Origin section which makes this particular software as the leading one in this versus post.
Whitelisting: Both the software and the browser extension allow the user to whitelisting the websites or ads that he/she wants to see. It is like unblocking the site to view required information and details.
Blocking Background Images: When a website has too many images, it becomes heavy in terms of loading and processing time. But with this feature, you can enjoy a great browsing experience as it actively blocks unwanted elements and images plus it will also look after the ads that have been displayed.
HTML Image Hiding: Sometimes, images are hidden in HTML websites and that is what makes it turbulent for the user to use the site. That's where this feature comes into play as it actively restricts all such images. Other features included in AdBlock Plus are memory leak fixes and hide ads per site which is available in the free and paid version.
Testing the efficiency of uBlock Origin vs Adblock Plus
We tried both the software cum extensions to check its efficiency and the results are great. Adblock Plus actively blocks all of the ads on YouTube whereas uBlock Origin lacks the feature to block ads on YouTube. Then, both the apps are cross browser and cross platform, however, the Adblock Plus has more platforms and browsers covered under its list than its competitor.
Both of the software are free, however, Adblock Plus has a premium version as well and has a greater share in the market with over 40 million users opposed to 14 million users of uBlock Origin. When it comes to memory efficiency, the Adblock Plus is a clear winner with double the efficiency than its rival listed in this versus category.
Conclusion
After a lot of trials and errors, we have come to the conclusion that AdBlock Plus is a great app if you are looking for a powerful tool with a bundle of features extensible with the paid version. If you are looking for an overall ads blocking app and you are ready to pay for add-on features, then surely look for AdBlock Plus which is easy to download and install. uBlock Origin on other hand is a free app which can allow few sponsored ads to be active while the app is still actively working on blocking ads and popups. uBlock Origin has a ravishing feature of hiding the real IP address of the user so that it doesn't leak in public. The is a detailed overview of uBlock Origin vs AdBlock Plus. Let us know who wins according to you in the comments.
Download uBlock or AdBlock
Download Latest uBlock
Download Latest Adblock Plus