In today's technological modern age, voice control has become an integral part of our daily lives. Whether it's interacting with virtual assistants or using voice commands to do our day to day tasks, the convenience and efficiency of voice control are undeniable. However, there may be instances where you might see some Unexpected error occurred While Downloading The Voice Control Language, hindering your ability to utilize this feature. If you face such issues, do not worry as we are here to help you troubleshoot and fix this issue.
The voice control language on your Mac is just a feature that allows you to control your Mac with just your voice command. This feature allows you to dictate text to your Mac, edit your text, lets you navigate the application and even your desktop, scroll through your document and perform actions that allow you to avoid the pressing of a button. There might be some instances where this feature doesn't work as expected and you need to find a perfect solution for this. When faced with an unexpected error during the voice control language download process, there are a few troubleshooting methods that you can follow to resolve the problem.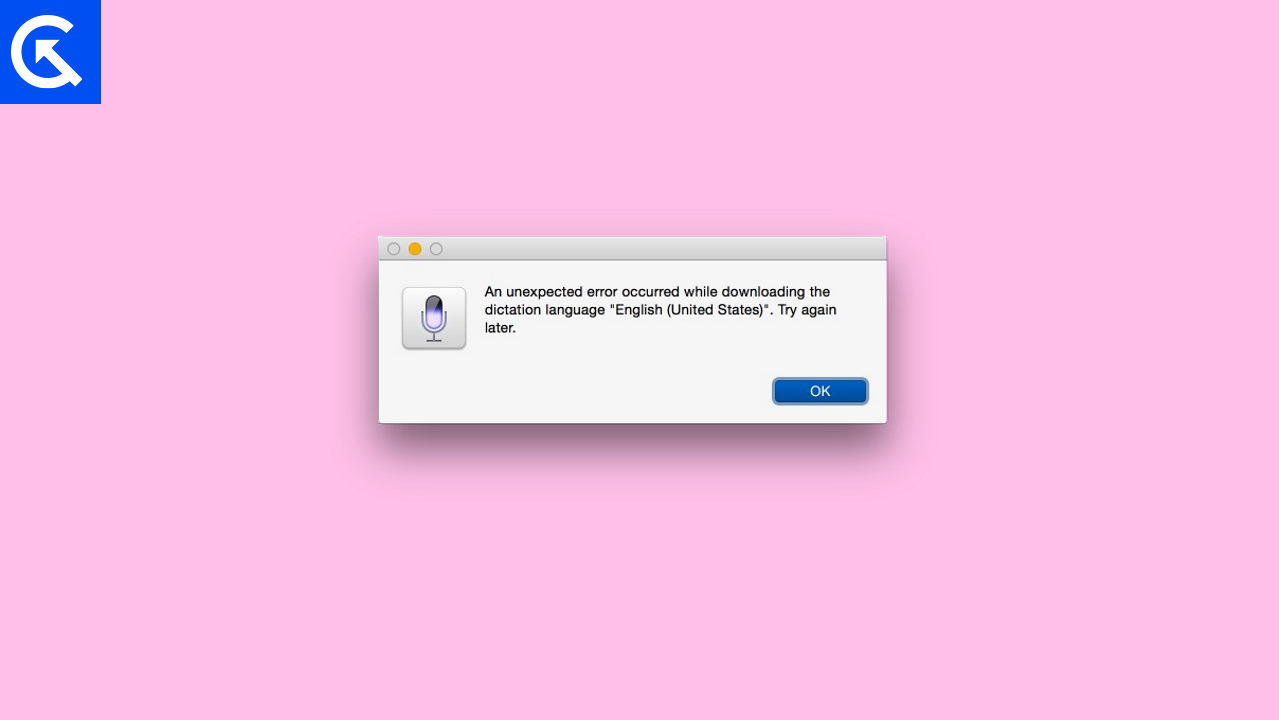 Fix: Unexpected error occurred While Downloading The Voice Control Language
As we have already mentioned the meaning of this error message and why this is occurring. There are multiple methods by which you can easily fix this issue. Just follow these workarounds by yourself and see if any of these work for you. These methods are proven and will fix your issue with the voice control language error.
Method 1: Check Internet Connection
The very first thing you need to make sure is that you have a stable internet connection. A weak or intermittent connection can disrupt the download process and lead to errors. Check your Wi-Fi or cellular network and make sure you have a strong signal.
Method 2: Restart Devices
Sometimes, a simple restart can resolve temporary glitches or conflicts that may be causing the error. Turn off your device, wait for a few seconds, and then turn it back on. This includes all devices such as your MacBook, any connected keyboard, the wifi router etc. Once they all are powered up, try again to attempt to download the voice control language again.
Method 3: Toggle Voice Control
This should be the first solution for any of the voice-related issues that you might be facing on the Mac. Doing the toggle to your voice control will refresh the underlying settings and could rectify the issue that we are currently dealing with. Let's follow these steps carefully.
Go to System setting and find Accessibility.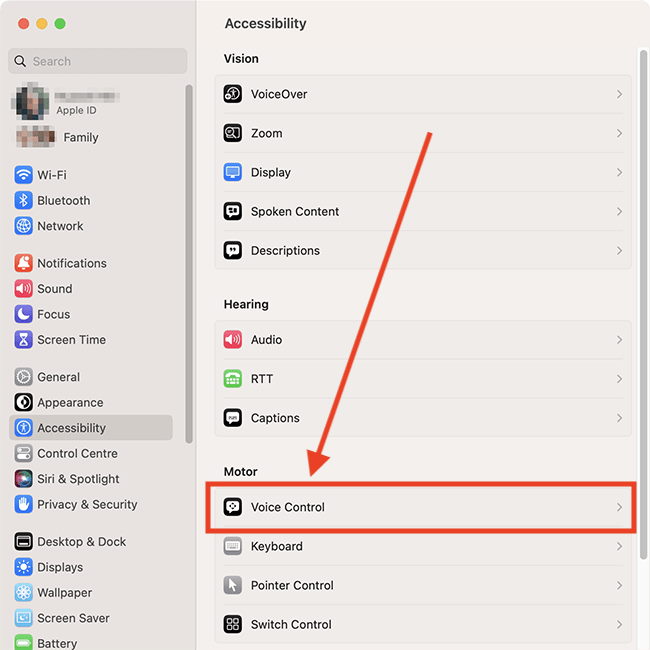 Now, Got to Voice Control and turn it off.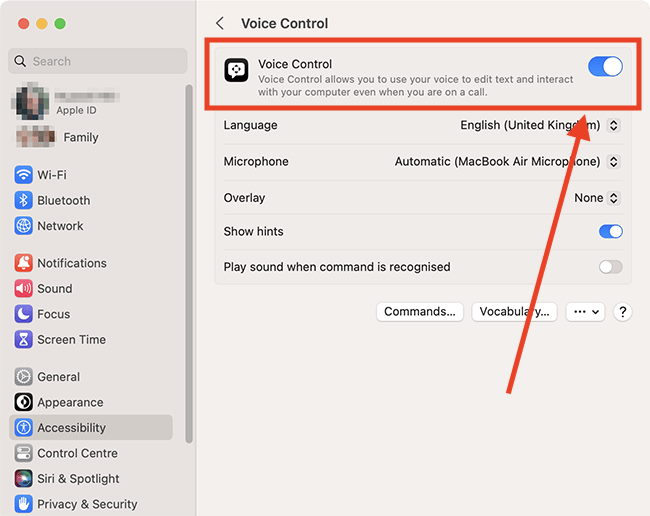 Restart your Max and follow the above steps again to Turn on the Voice Control.
This simple should fix your Unexpected error that occurred while downloading the voice control language error.
Method 4: Disable VPN/Firewall
If you're on a virtual private network or a Firewall then you might face this issue as the voice control language doesn't identify the network, it is advised to turn it off to fix your Voice Control Error.
Go to Settings and navigate to Network >Firewall and VPN.
You will find the Firewall or VPN you are currently using, disable it.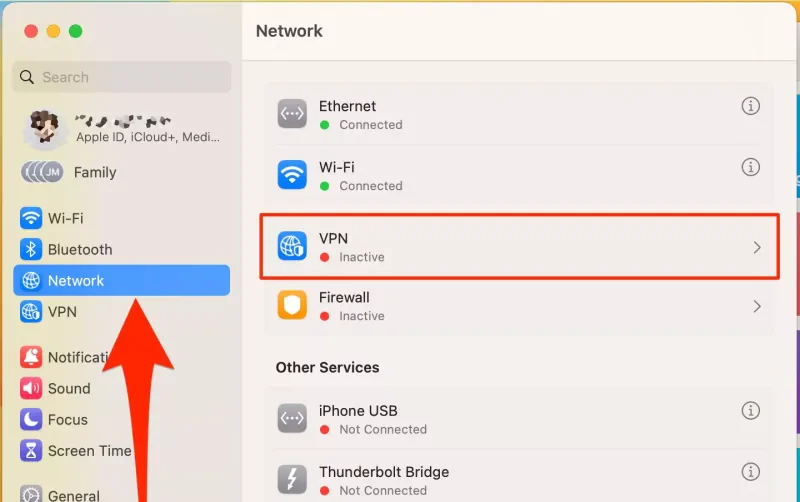 Try Voice Control Language, it should work fine now without any error messages.
Method 5: Download and Install SpeechRecognitionCore Language
If you are here, you must be facing the same issue and the above two fixes were useless for you. In the third fix, try downloading and installing the SpeechRecognitionCore language and check if this fixes your bug or not by following this link.
https://swcdn.apple.com/content/downloads/39/42/041-98170-A_OGQK1R3RQN/rfmvowf9s70sx4f3d8aveyfu2286k02948/SpeechRecognitionCoreLanguagePrem
If that Link fails, below are multiple manual links are going through which you can install the SpeechRecognitionCore language
https://swcdn.apple.com/content/downloads/61/07/041-88864-A_7SL9D6PFZQ/fg2pckfdk86zf0risqef3t82k6jwqfnmp4/SpeechRecognitionCoreLanguage_ca_ES.pkg
https://swcdn.apple.com/content/downloads/35/57/041-88878-A_34PPZF25DB/vxvr5v3ax7cwxsuzc2b5wlq29hik9gsg86/SpeechRecognitionCoreLanguage_ro_RO.pkg 
https://swcdn.apple.com/content/downloads/36/61/041-88881-A_Q789M2DMKX/x3m49x5fcsow0vmg6yb53mf5hzn5me5f65/SpeechRecognitionCoreLanguage_ru_RU.pkg 
https://swcdn.apple.com/content/downloads/43/01/041-88888-A_115U29WROX/dokmjtp6hgwgdzg2eumncrgwmiga3zmxtl/SpeechRecognitionCoreLanguage_sk_SK.pkg
Method 6: Try Downloading the Voice Control from Another profile
If you are still facing the issue with the Voice Control language in your Mac just log out of your profile and try downloading the language while logging in to the other administrator user or while starting your Mac in the Safe mode. If you do not know how to switch users, follow these steps.
Click on the Apple logo in the upper left corner of the screen.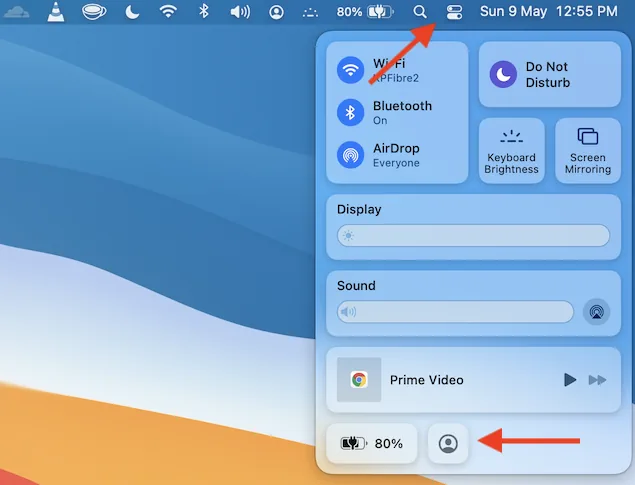 Select User and Groups that are in the bottom row. Your User settings will open up, click on the big Lock icon to make changes.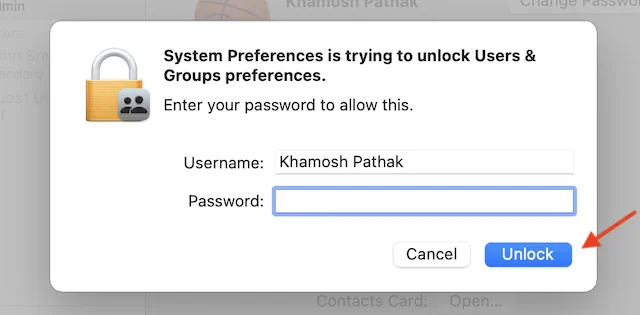 Now, When prompted, enter your password and check the box that displays "Show Fast User Switching Menu.
Click on the Double Arrow and select the display option as Full Name, Icon.
Now, you will be able to change to another user easily by just clicking the name icon on the upper right-hand corner of the screen.
Conclusion
This brings us to the end of this guide for fixing Unexpected error occurred While Downloading The Voice Control Language. This feature from Apple is great and makes it very easy for you to use your Mac handsfree. Just follow the above-given steps carefully to get it done. The above methods shall help you to fix the issue easily.
If the above methods do not help, then the issue may be specific to the voice control language file itself. You can try deleting the partially downloaded language file and attempting a fresh download. If you are still unable to fix this issue, try giving Apple customer care or call them for support, as sometimes the issue is due to hardware failure.