Windows has all the possible features that a user might require from an Operating system. But that does not mean that Microsoft will not try something different once in a while. Recently we have had the release of PowerToys from Windows 10. It is a utility tool with several useful features that let the user make the most of the Windows 10 OS.
All the PowerToys built into this utility tool has their own functionality, and depending on your requirement, any one of them may be useful to you. So what does the PowerToys tool do in Windows 10? How can they add anything new to the already feature-rich OS Windows 10? Let's find out in this article.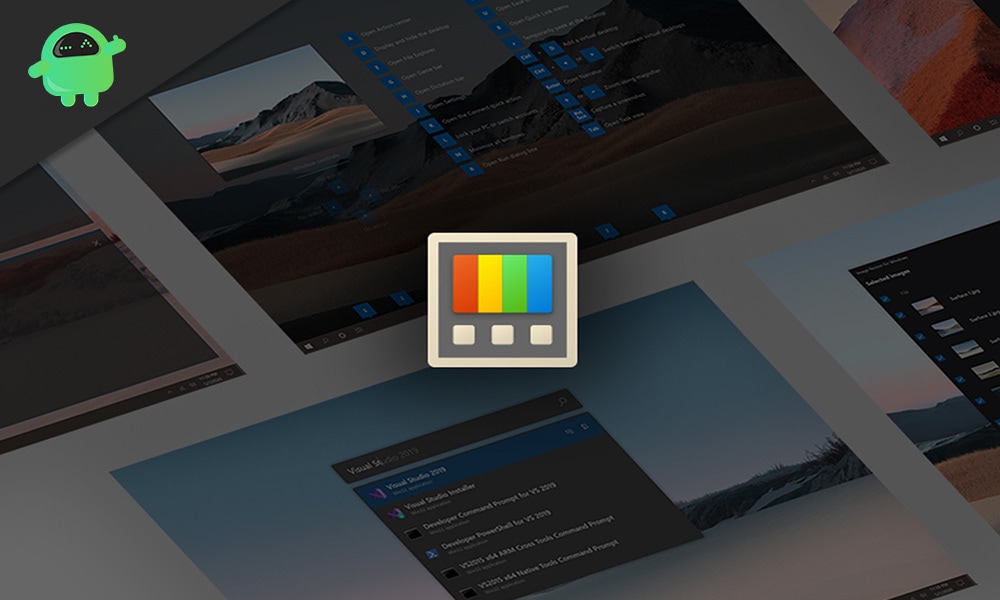 How to use Microsoft PowerToys in Windows 10?
To use the Microsoft PowerToys, you need to first install it. The installation process is quite simple as it is the same as any other application or software. Just download the MSI setup file from Github and double click on it after the download is complete.
After that, the Microsoft PowerToys will be installed in your system. You can not access every feature of this utility tool right away. You need to first enable the features that you want selectively by accessing the PowerToys settings. If you want all the features, then enable all of them. To bring up the PowerToys settings window, right-click on the PowerToys icon in the taskbar's system tray and select Settings. Here, enable whichever feature seems necessary or a valuable addition for you.
PowerToys Run:
It is a bit like the default search feature of Windows that we see in the start menu. But here, the search is not limited to just an application or file. Here, a user can quickly search for a file, an application, or even an open window from anywhere in the Operating System by simply calling on the PowerToys Run feature.
Just press Alt+Space to bring up the PowerToys Run. You can change the shortcut for it anytime from the PowerToys general settings. Now enter the keywords to search for the application, file, or open window right from wherever you are on your operating system. The search results will show up in a list, and using the arrow keys, and you can choose anything you want from this list.
This PowerToys Run is much quicker than Windows's default Search feature, and it even lists out any search related windows. If you are someone who opens up multiple windows of applications like web browsers, then this feature will be handy for you.
Keyboard Manager:
It is a feature that lets users remap keyboard shortcuts, both single and multiple key shortcuts. You can set any key on your keyboard to act differently than it already does. You can remap any key to do the function of any other key according to your preference. Any this remapping is not limited to only the non-functional keys. Even functional keys are remappable.
This feature will come in handy if you want to set everything on your keyboard according to your preference. This feature will especially come in handy for writers and even some gamers. Additionally, if you have a faulty keyboard with some keys not working at all, you can remap those exact keys according to your convenience.
Image Resizer:
It is a bulk image resizer. Normally for resizing pictures to any size, we would need a professional image editing tool, and we can only resize one image at a time. But there is no limitation on image resizing anymore. You can open up your Windows Explorer application, go to the location where you have the multiple images to resize and select all of them. Now right-click on any one of the image selections and select "Resize Pictures."
Now the image resizer window will open up, and here, you can set whichever size you want to set for all the selected pictures. You will see some already defined sizes with pixel counts and custom sizes for manually entering any other size for the images. Then click on the Resize button, and it will be done. You will get copies of the original files with the copies having the new set size.
PowerRename:
Like Image Resizer, we have PowerRename that gives users the option to rename files in a batch. You don't need to use the traditional way of changing the name of a file one after the other. Just select the files which you want to change and right-click on them. Then choose the PowerRename, and after that, you will see the PowerRename window.
Here, use the boxes at the top to change either the full name or part of the name. You can selectively enter a particular number or word that you want to replace with a different word. You will also see a bunch of other options. When you are done with all your changes, click on the Rename button below.
FancyZones:
FancyZone is a PowerToy that will be beneficial to many multitasking Windows users. Normally Windows lets its users make 1×1 or 2×2 layout for windows. But with the addition of FancyZone PowerToy, one can create more complex and interesting layouts. Just Press Windows+`(the key above the tab key), and it will show up the Zone Editor. Then press and hold the Shift key, and you will see the different zones in the layout. Using the mouse, drag and drop any window in any zone of the layout.
This makes things easier for people who are not satisfied with the default layout of windows in Windows 10 OS.
Shortcut Guide:
There are tons of shortcuts in Windows OS. When you press the Windows Key + E, you get the file explorer window, and when you press the Windows Key + I, you get the settings. Similar to this, there are many other shortcuts associated with the Windows Key, and you might not remember or know all of them. So to make things easier in that regard, we have the Shortcut Guide in PowerToys. Press the Windows Key for a second, and a window will show up on your screen displaying all the different shortcut key combinations that you can try. Once you let go of the Windows button, the guide will go away.
This is much easier than remembering every Windows Key shortcut combination. Just press the Windows Key, and the next possible key combination will show up in a list.
Color Picker:
People who work with graphics require information on colors, specific colors. So we have a color picker on Photoshop that lets the user click on any color and get the information on it. The same is the case with the Color Picker in PowerToys, but instead of working on pictures like Photoshop, it works in the entire system.
Press Windows Key + Shift + C to open the Color Picker anywhere. Here you will see information like the hex code and RGB of the color. By default, it is set to display the Hex code, and if you click on it, it will be copied to your clipboard. You can then use the Hex code on any other application to get the color you want. If you want the RGB and not the Hex code, you will have to change it in the PowerToys settings window itself.
File Explorer Preview:
By default, Windows has a preview window in every window to see all the information on the file. But if you enable the File Explorer preview in PowerToys, then in that preview section, you will see previews of scalable vector graphics images and documents formatted in Markdown.
So that is all that you get with Microsoft's PowerToys. It adds many new things to Windows, and the seamless user interface makes it look like an integrated part of the operating system itself. If you have any questions or queries about this guide, then comment down below, and we will get back to you. Also, be sure to check out our other articles on iPhone tips and tricks, Android tips and tricks, PC tips and tricks, and much more for more useful information.