The small size and ability to play it in the background have made the audio format a preferred choice when listening to music. You can play it and enjoy your favorite music during web surfing or book reading. Similarly, audiobooks are the best choice when driving since it doesn't distract you from the road. You can easily convert your video music library to audio using a reliable video-to-audio converter.

Part 1: What Qualities Make a Video-to-Audio Converter Great?
Many video-to-audio converters are available online for you to use. It makes finding a great video converter hard unless you know where to look. You can use some qualities as a standard when looking for a great video converter. A great video converter will not degrade the sound quality during conversion. It will also try to keep the size of audio files small to save maximum storage space.
The video-to-audio conversion process in a great video converter should be simple and quick. It should support a wide range of audio formats for conversion. Batch conversion is another feature that makes converting process a lot easier. Lastly, a great video converter should be affordable and easy to install and use.
Part 2: The Best Video-to-Audio Converter Available in The Market
Now that we have discussed the qualities that make a video converter great, it is time for you to learn about the best video converter in the market. After testing and trying different video converters, we believe Wondershare UniConverter to be the best video converter. You can use it to convert your favorite videos to audio files without worrying about their sound quality. The video files are converted in a secure environment to avoid file corruption.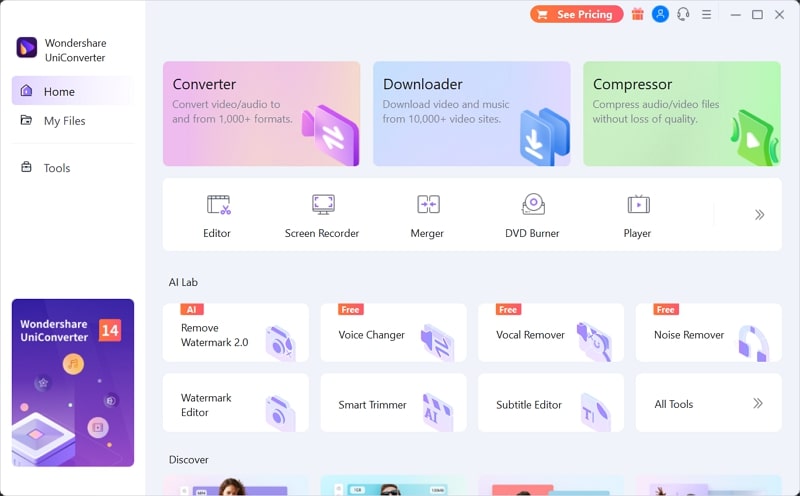 If your favorite songs or video are present in online video-sharing platforms, UniConverter can also convert them to audio files. It supports a wide range of video-sharing platforms for video conversion, like Facebook, YouTube, Vimeo, etc. When converting a video file to audio, you can choose audio formats like MP3, AAC, OGG, FLAC, etc. You can use its batch-conversion process to convert a large number of files in a short time. It is surely worth a try.
Try Wondershare UniConverter Today to Convert Videos to Audio Files for Free <<
Part 3: The Process of Converting Videos to Audio Files
Wondershare UniConverter has a short and straightforward process for video-to-audio conversion. These are the steps for converting videos to audio files:
Navigate to the "Converter" tool and open it after launching Wondershare UniConverter. Here, use the drag-and-drop method or the "Add Files" option to load your videos on the program.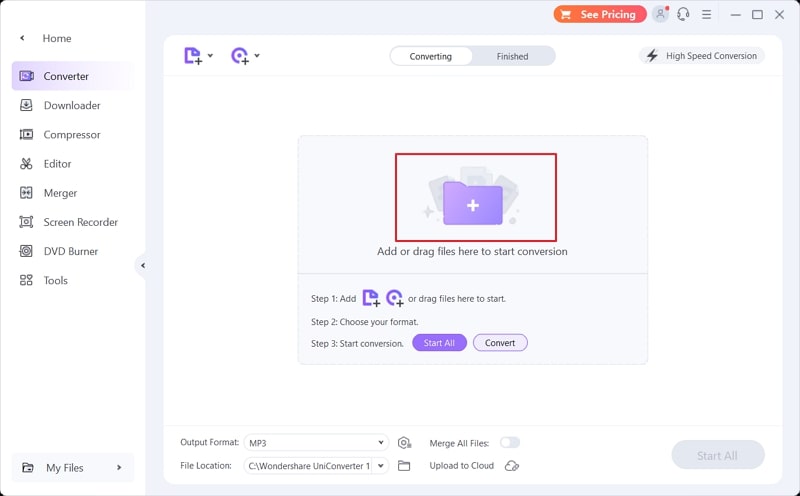 Step 2: Start the Video to Audio Conversion Process
When the video files are loaded, choose the desired format and location to start the conversion process. These can be selected using the "Output Format" and "File Location" from the bottom toolbar. You can start the process by tapping the "Start All" button.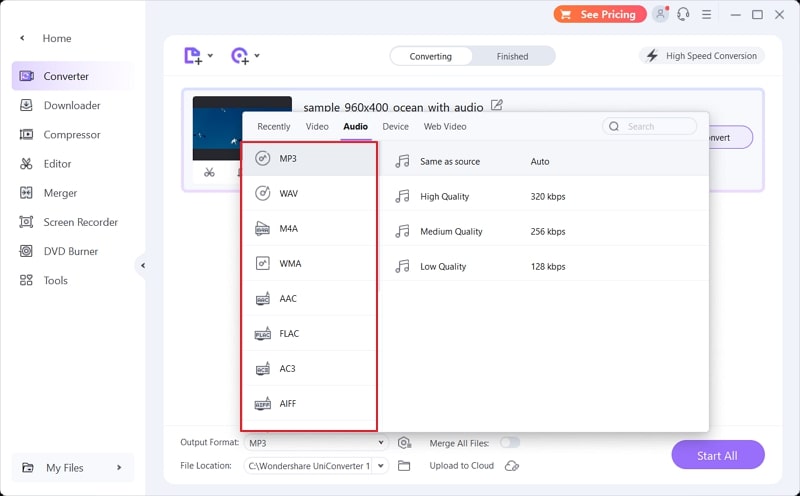 Step 3: View the Converted Audio Files
Now, wait for the conversion process to get completed. Select the "Finished Tab" to view the converted audio files. You can also play the files to check their sound quality.
Part 4: What Makes It the Best Video Conversion Tool?
Wondershare UniConverter is a complete solution regarding video/audio conversion. You can use it to convert over 1000 video and audio formats at 120 times more speed than other video converters. The use of APEXTRANS technology allows it to maintain sound quality and ensures a lossless conversion process. You can also merge multiple video clips into a high-quality single video file.
It also has a smart recognition feature that will detect all video files in your system and allows you to access them. You can use its task scheduler to set up multiple conversions at the same to save you time when converting a large number of videos. It saves you from the trouble of doing the conversions one by one. Isn't it great?
Part 5: Amazing Features that Makes It the Best Video Converter
Play Audio/Videos:

UniConverter is a great media player for audio and video files. You can play up to 8K quality videos using it. You can also take snapshots of your favorite moments during the video play.

Auto Crop Videos:

The Auto Crop Videos feature allows you to adjust the frame of your videos. It doesn't affect the quality and content of videos. You can post your videos on different platforms with the help of this feature.

Vocal Remover:

Using its Vocal Remover feature, you can get only the instrumental music from your favorite songs. It is a great feature for creating ringtones and music files for karaoke, remixing, or music practice.

Watermark Editor:

It allows you to add or remove watermarks from video files. You can add watermarks as text or an image to secure your videos.
Conclusion
Converting videos to audio files allows you to save storage space and enjoy music during different activities. Audio files are very helpful on mobile devices as they take less storage. You can't also play videos in the background on mobile devices. Wondershare UniConverter is a great choice for converting videos to audio files due to its quick and safe process.