You can make a lot of alterations to characters as they move through the world of Wasteland 3. Generally, this involves things like perks to give direction to a build, quirks to define characters, or adding some points to various stats. However, there is a specific perk that bears prime importance in the game – the Cyborg Tech. This is one of the rarer perks that can turn a character into a Cyborg and enable them to equip Cyborg Mods.
Strategic planning and the storyline are of prime importance in Wasteland 3. Admittedly, there are some issues with the co-op in the game. However, the single-player mode is excellent in many ways. Thematic elements contribute much to the overall feel of the game, everything from the charming sense of humor to the cybernetic modifications. In our all-new guide here, we will show you how to unlock the Cyborg Tech perk and equip Cyborg Mods.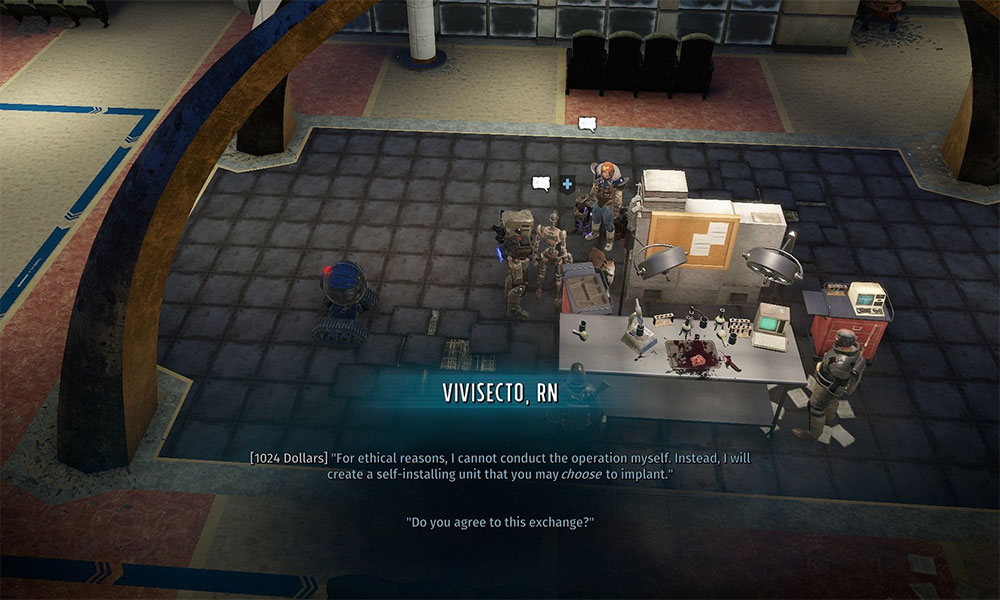 Steps to Unlock Cyborg Tech and Equip Cyborg Mods
Finding the Machine Commune
In order to become a Cyborg in Wasteland 3, you must first find the Machine Commune. After doing that, you need to look for a certain machine doctor named Vivisecto, RN. Interact with him, and then proceed to finish the following Counterintelligence mission.
Buy the Cyborg Tech Control Unit
After you complete it, you can buy the Cyborg Tech Control Unit from Vivisecto for $1024. Make sure that you have saved this amount of money beforehand, in order to make the purchase. You can then use the Cyborg Tech Control Unit on any character to grant the Cyborg Tech perk to them. The ethical issues surrounding synths in Wasteland 3 notwithstanding, your character will have access to a number of powerful options after receiving this perk.
The Cyborg Mods
Keep in mind that the Cyborg Mods are distinct entities in their own right. You need to buy or find every one of them separately in order for them to be used by a character possessing the Cyborg Tech perk. They are also very different from the Cyborg Chickens featured in the game.
However, it is definitely possible for a character to utilize both of them. Basically, the Cyborg Mods are utility items producing either active or passive effects. Some of the most important highlights of these mods include the Nociception Clamp, which turns your character invulnerable to crits, albeit at the price of staying down for a longer period of time, and the Optilaser 9000, by virtue of which your character will be able to shoot forth powerful laser beams.
Stats and Builds
The Cyborg Mods are a varied group of bonuses, and you need to use them cautiously. They are not meant to be used for the purpose of achieving simple boosts in the game's attributes. Rather, you should use them with particular builds in order to enhance their power. Take the Subdermal Plating, for example.
This mod grants armor and can be ideal for use in a melee build. Similarly, one of the choicest builds in Wasteland 3 – the Flamethrower build – can benefit significantly from the Liver Box, which regenerates your character's health. On the other hand, the EMP Cylinder can paralyze an enemy in the vicinity of a Sniper. It will help if you try to experiment on your own with these mods as well, in order to discover more features and their uses.
That is it for now. We hope our guide helps you understand all the important concepts regarding the Cyborg Tech perk and Cyborg Mods in Wasteland 3. Now, check out our Windows Guides, Gaming Guides, Social Media Guides, iPhone, and Android Guides to find out more. However, if there are any queries or feedback, comment below with your name & email ID. We will try to reply soon. Moreover, subscribe to our YouTube Channel in order to watch awesome videos on gaming and smartphone tips and tricks. Thank you!