In this guide, we will show you how to fix WinRAR not responding issues when you are extracting files via it. Nowadays, uploading files in a compressed format is the new normal. Since there is a slew of advantages attached to this file format, many people upload their files in ZIP or RAR. Not only does it benefits from exhausting the bandwidth and server space, but these files also consume less storage space.
Then once you have downloaded these files, you could easily extract them with the app of your choice, one of which is WinRAR. However, some users are reportedly facing an issue or two while using this archiving tool. When they are trying to extract a ZIP or RAR file via WinRAR, it hangs up midway. In that regard, this guide will help you out. Today we will make you aware of all the possible reasons for the error. After this, we will list out the steps to fix this WinRAR not responding issue while extracting files.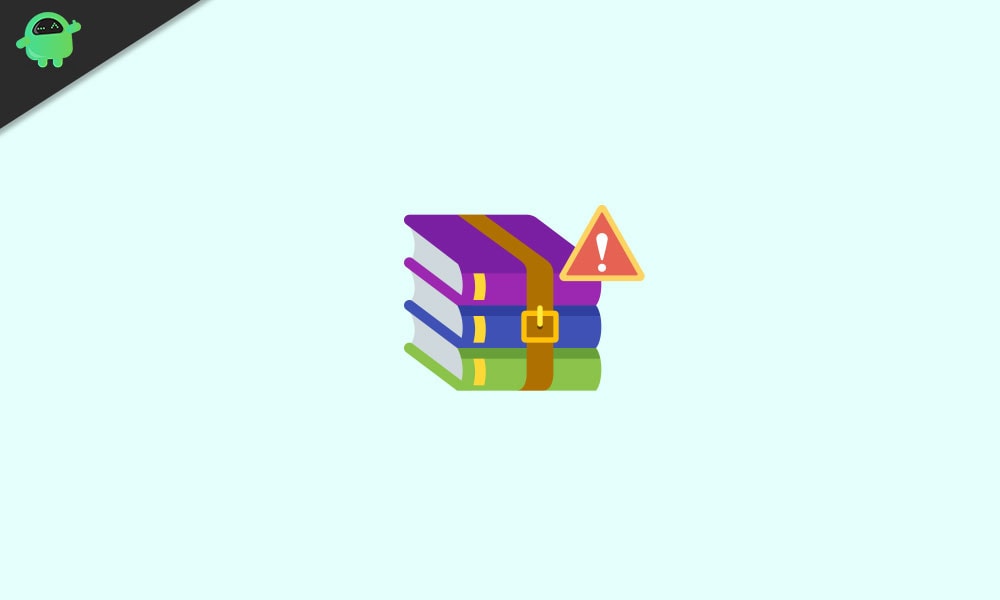 Fix WinRAR Not Responding When Extracting
As far as the reasons for the aforementioned issue is concerned, there could be quite a few one. To begin with, it could be attributed to the corrupt downloaded file. Likewise, if the app doesn't have the required permissions, then it wouldn't be able to read the file or extract its contents.
Along the same lines, if you are using an older build of WinRAR, then also the issues are imminent. In some cases, Windows Defender might conflict with the extraction process as well. So these were some of the plausible explanations for the above error. Let's now turn our attention towards fixing the WinRAR not responding issue while extracting files.
Fix 1: Retry Downloading File
More often than not, the issue is mostly with the file itself. In that case, the only approach is to re-download the file. Sometimes, developers upload their files on other region servers as well. Along the same lines, they might have provided alternate mirror links. Try downloading the file from these alternate sources. If you are still getting the error, then here are some other tips to try out.
Fix 2: Grant Necessary Permission
If WinRAR is not having the required permissions, then it might not be able to perform all its functionalities. The fix for this is to run the app with administrative privileges. To do so, right-click on the WinRAR icon and select Properties. Then go to the Compatibility section and check-mark the Run as Administrator option. Click on Apply > OK.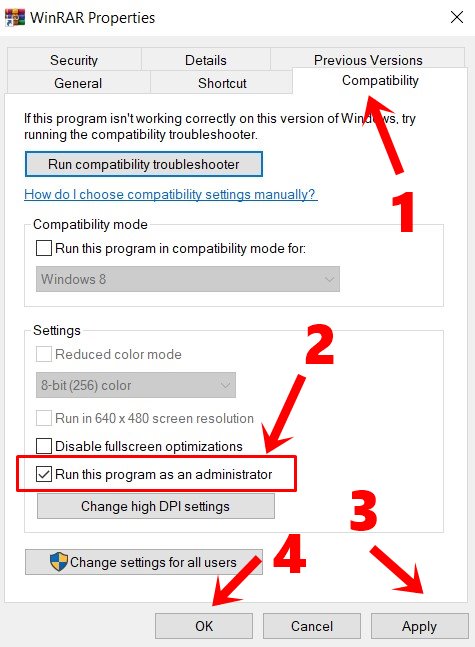 After this, we would also recommend that if your file is present in the system directory or hidden folders, then move it to a general location, outside of C Drive. This is because WinRAR might not be able to read the file correctly if the latter is placed in a restrictive environment. So try out both these tweaks and check if it fixes the WinRAR not responding issue while extracting files.
Fix 3: Update WinRAR
If you are using an old or outdated version of WinRAR, then there are bound to be some issues. Developers usually release a newer build of the app to fix bugs and patch various issues. Therefore, it is always recommended to be on the latest version of WinRAR.
So head over to the official website of WinRAR, download the latest version, and follow the on-screen instructions to install it. Once done, restart your PC and see if the WinRAR not responding issue while extracting files is fixed or not.
Fix 4: Disable Firewall
In some instances, your antivirus app might be overprotective and could end up flagging the file as a harmful one. Furthermore, it will block that file from being accessed. However, if you are sure that the file comes from a trustworthy source, then you could temporarily disable the Antivirus or Firewall app. Here is how it could be done when it comes to Windows Defender Firewall.
Search for Windows Defender Firewall from the Start menu.
Then click on Turn Windows Defender Firewall On or Off option from the left menu bar.

Next, select Turn off Windows Defender Firewall under both the Public and Private network sections.

When that is done, try extracting the files and see if WinRAR not responding issue is fixed or not. If you are still getting this error, then re-enable the firewall and then proceed with the below workarounds.
Fix 5: Reinstall WinRAR
If some of the app's important files or settings have been corrupted, then simply updating the app wouldn't do any good. In that case, you would have to remove the app from your PC and then reinstall it. And you could try the same with the WinRAR app as well.
So launch the Run dialog box using Windows+R shortcut keys.
Type in appwiz.cpl and hit Enter, this will take you to the installed apps page.
Scroll to the WinRAR, right-click it, and select Uninstall.

Once that is done, head over to the WinRAR website and download the latest build. Then launch the setup file and follow the on-screen instructions to install it.
After the installation is complete, reboot your PC. Now try extracting the affected file and see if WinRAR not responding issue is fixed or not.
Fix 6: Look out for Alternatives

If none of the above methods managed to gave out desirable results, then you might have to look out for alternatives. In this regard, WinZIP and 7ZIP are two of the most reputed players in this domain. Hence install any of these apps on your PC and carry out the extraction process, the error should no longer appear now.
So with this, we conclude the guide on how to fix WinRAR not responding issues while extracting files. We have shared six different methods for the same. Do let us know in the comments which method managed to rectify this issue in your case. Likewise, here are some iPhone Tips and Tricks, PC tips and tricks, and Android Tips and Trick that you should have a look at as well.