Known for its creative products that make digital creators' lives easier, Wondershare is one of the most innovative software companies. Recently, the company released a product named Wondershare Virbo, which is a cloud-based AI video generator that promises to make video easier and faster. In this review, we will take a closer look at the features of Wondershare Virbo and evaluate its capabilities as a video generating tool.
Wondershare Virbo is an AI avatar video creation software that supports iOS, Android, and Windows, which allows you to create realistic videos in multiple languages using different avatars. With the goal of being user-friendly, Virbo is a platform that empowers users with the ability to create and tailor videos in just a matter of minutes. Featuring 150+ AI spokesmen, 120+ voices and languages, the application allows for easy customization to fit individual preferences, all presented with the help of 200+ preset templates that are specific to different industries. Available templates span various niches such as education, e-commerce, and marketing, all with the intention of facilitating the creation process and producing professional-quality videos.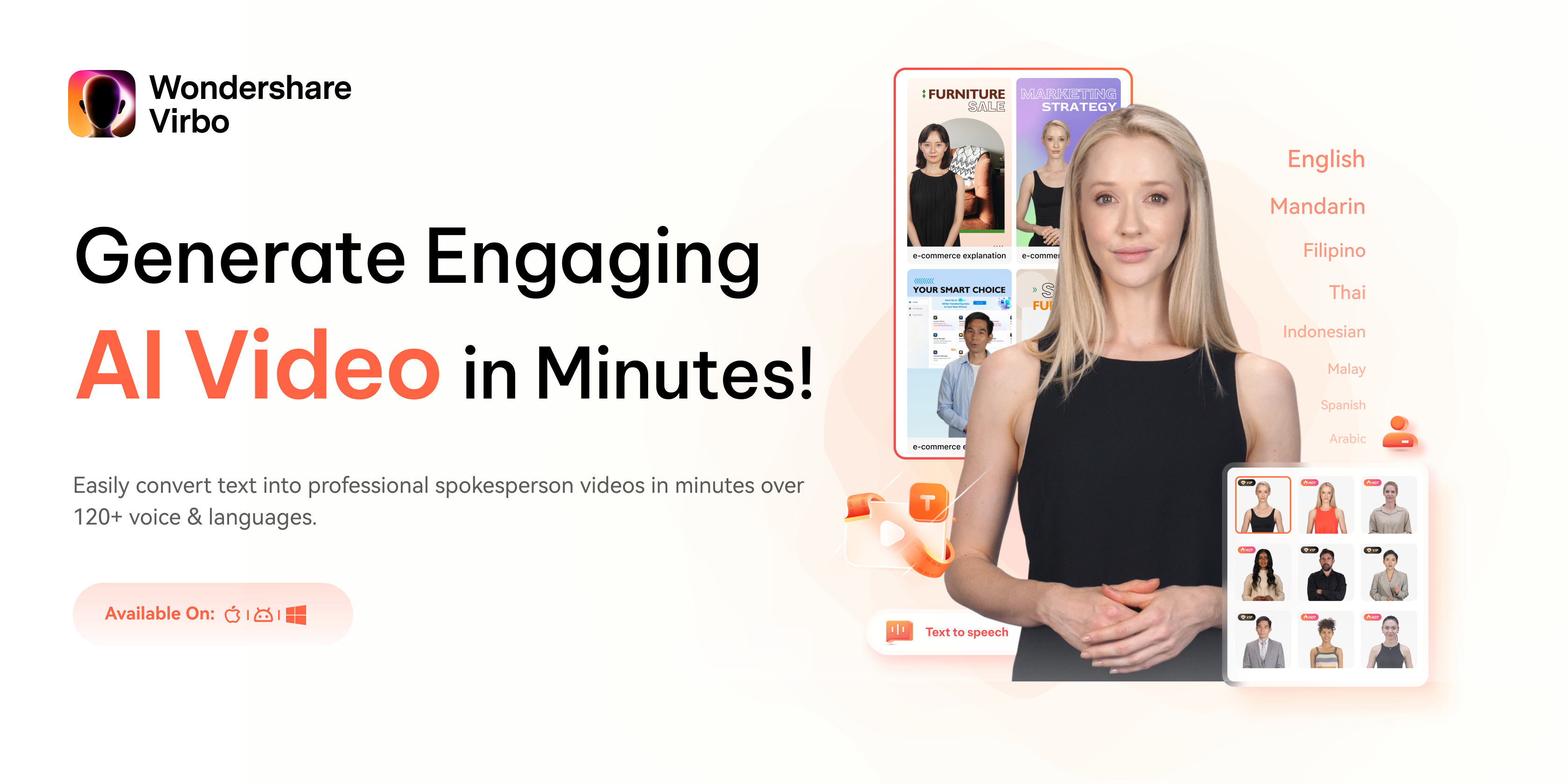 #1. 150+ Realistic AI Avatars
Diversity is crucial to business success today. More than 150 AI spokesperson from different countries can be found under the AI avatars tab. Whether you want a professional or casual personality for your videos, you can find them in both males and females.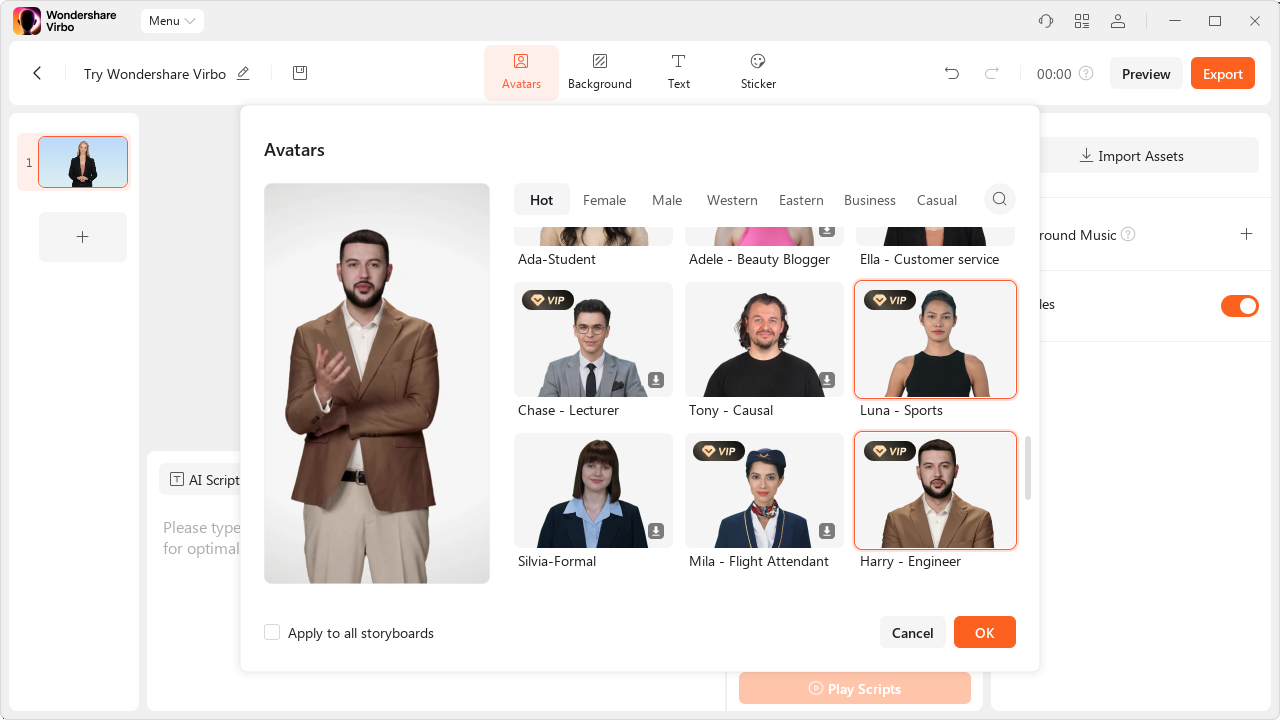 With lifelike AI avatars, you can give your videos a human touch. You can use AI-powered avatars to engage and relate to your audience in educational videos, marketing campaigns, or customer service interactions.
#2. AI Script Generator
With the help of AI script, you can effortlessly modify scripts for your videos, saving time and effort. Virbo allows you to generate scripts tailored to your requirements. You can make it shorter or longer, even change the way it tells.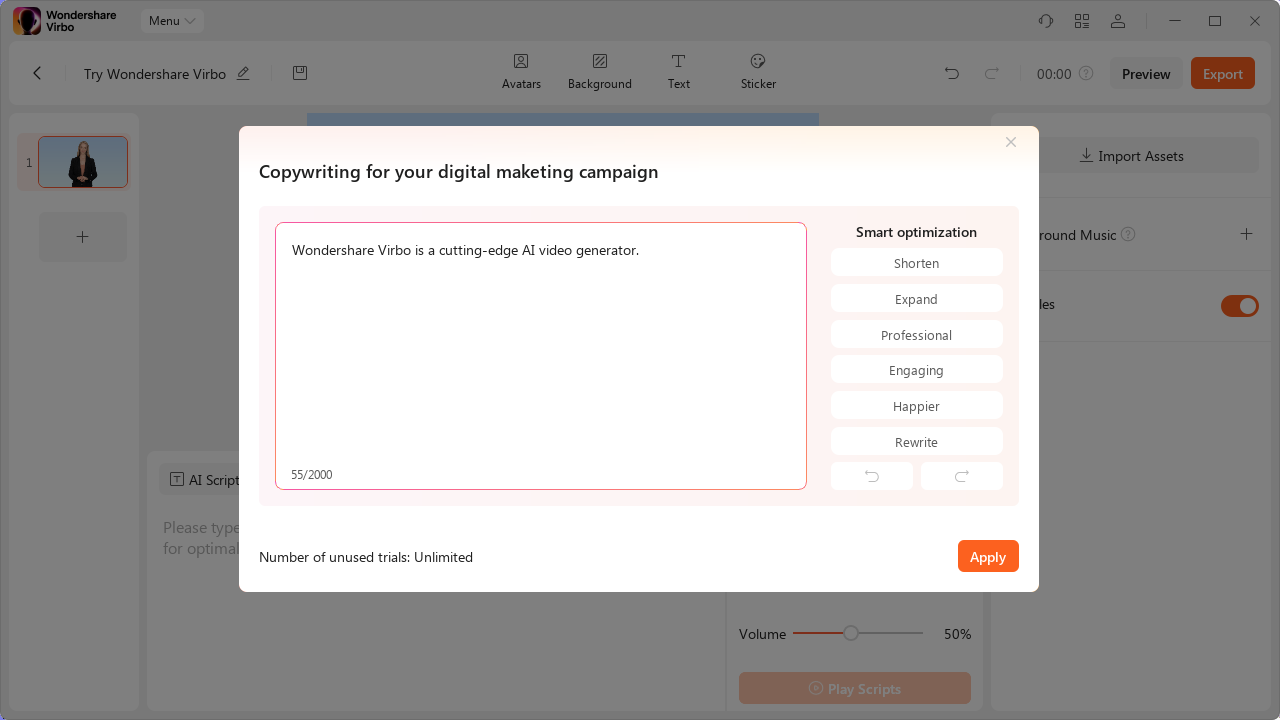 By leaving the text creative aspect to Virbo's AI script generator, users can free up their time and channel their energy into other critical aspects of video production. Not only is this a significant convenience, but this feature also ensures that the produced scripts are flawlessly written with excellent storytelling that can hold the audience's attention and convey the intended message effectively.
#3. 120+ Natural Voices and Languages
There are over 120 styles available, so you are sure to find one that closely matches your audience's preferences. For the voice, you can select the language, gender, and even tone, like warm, friendly, energetic, intelligent, etc. You can also adjust the speed, pitch and volume of the audio, which will help make your video sound as natural as possible. Besides, Virbo also supports inserting pauses in the middle of the text and setting the number of seconds of the pause, so you can play it and listen again and again to make sure you get the audio result you want.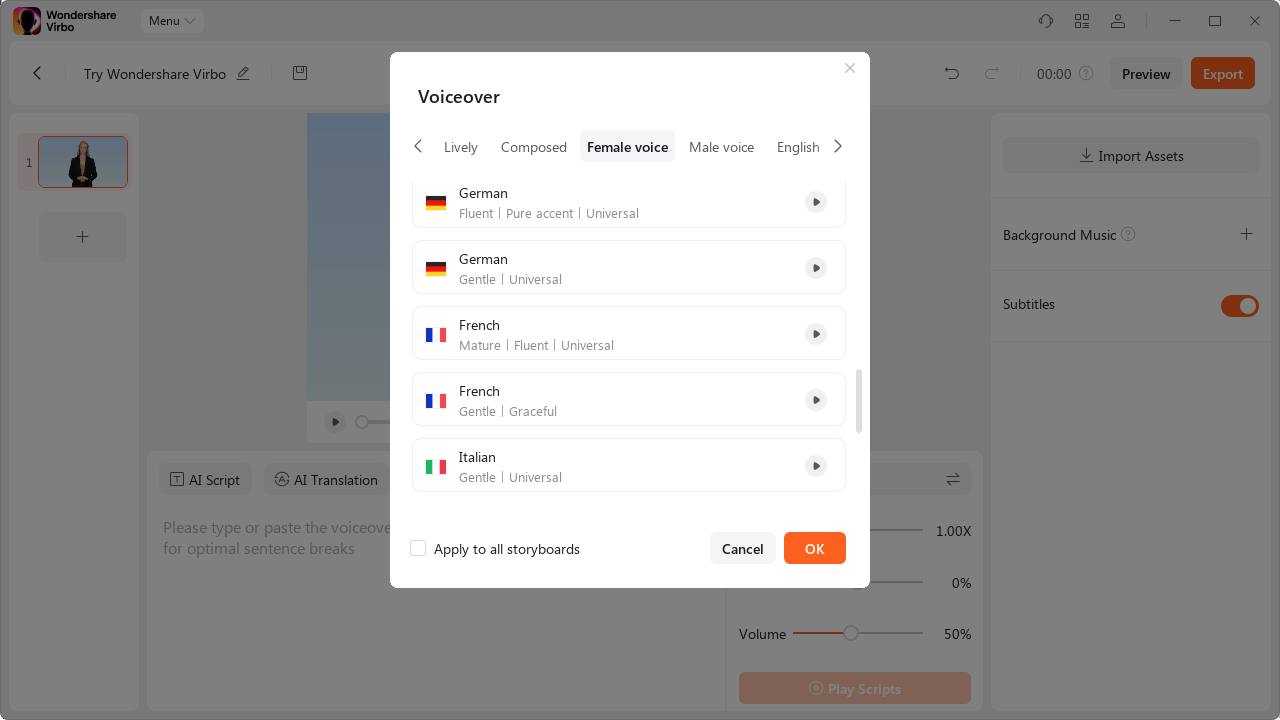 Create AI Avatar Videos in 3 Steps
Step 1: Create Project and Optimize Script
Open Virbo and create a project by clicking "Create Video" or selecting a template. Enter the copy, and click AI Script to optimize the copywriting.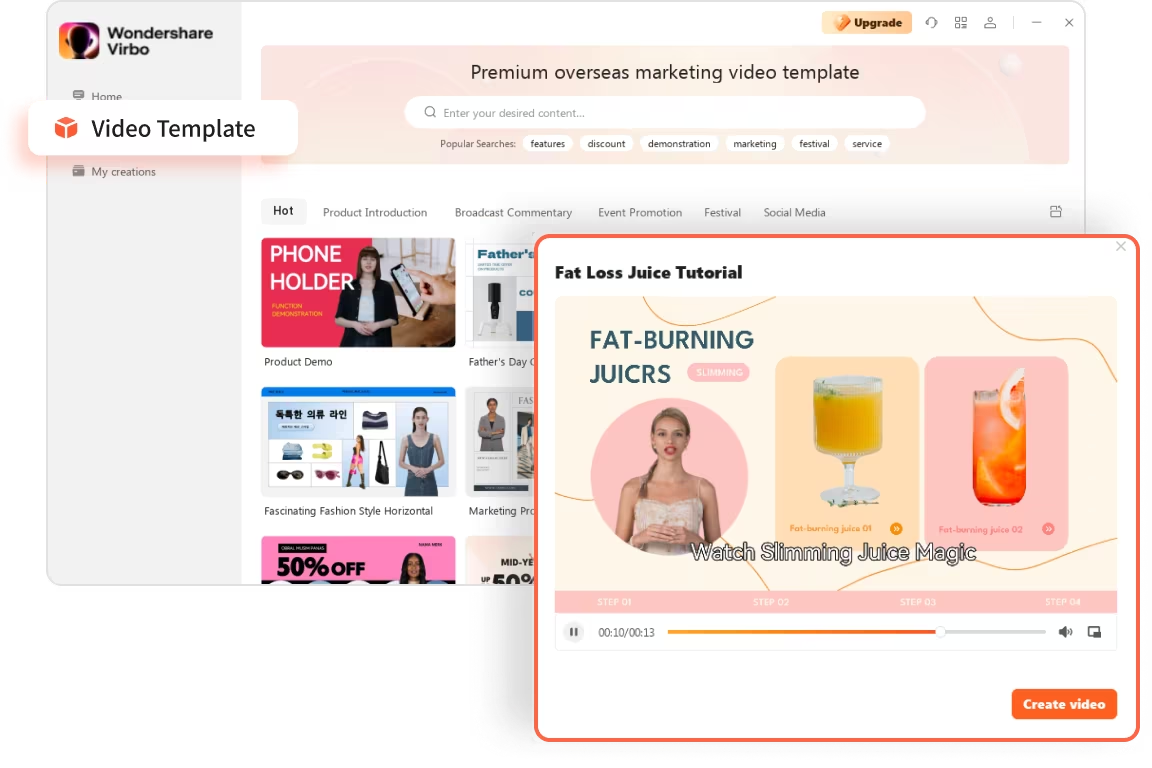 Step 2: Personalize and Edit
You can change the avatar and position it anywhere on the slide, choose the avatar's voice, change the video background, add music, etc.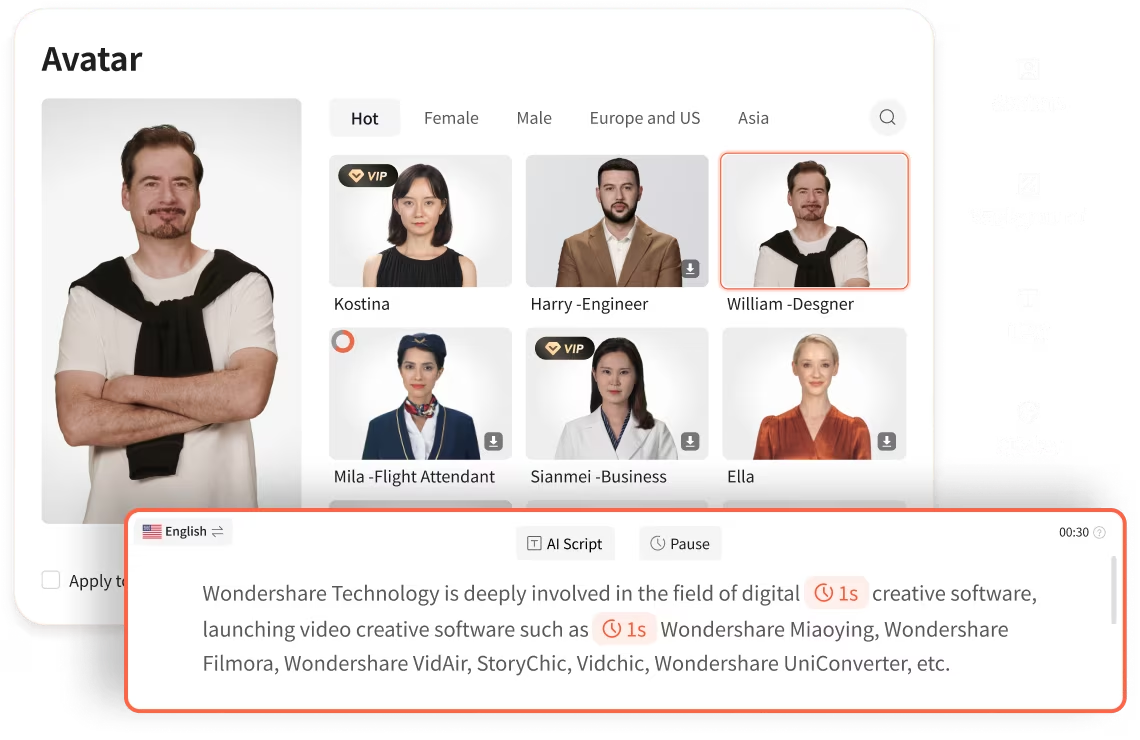 Step 3: Preview and Export
To preview and export your finished video, click the "Preview" or "Export" button in the upper right corner. Your virtual human video is now finished!
#1. Media Library and Light Editor
You can import media files, including images and videos. If you want to make your video more recognizable, you can also upload brand assets such as logos. In addition, Virbo supports some simple editing features such as image cropping, background removal, adding a mask, enter & exit animations, and more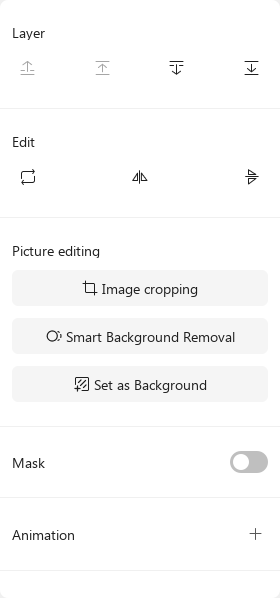 With these features, you can do some preprocessing, which will help to streamline the entire video editing process. Of course, for things like explainer videos or tutorial videos, you can also edit and export them directly from Virbo.
#2. AI Translation
The AI translation feature allows users to translate their videos into multiple languages quickly and accurately. This feature uses advanced machine learning algorithms to automatically detect the script and match to its corresponding language of voice, including English, Spanish, German, Chinese, and many more.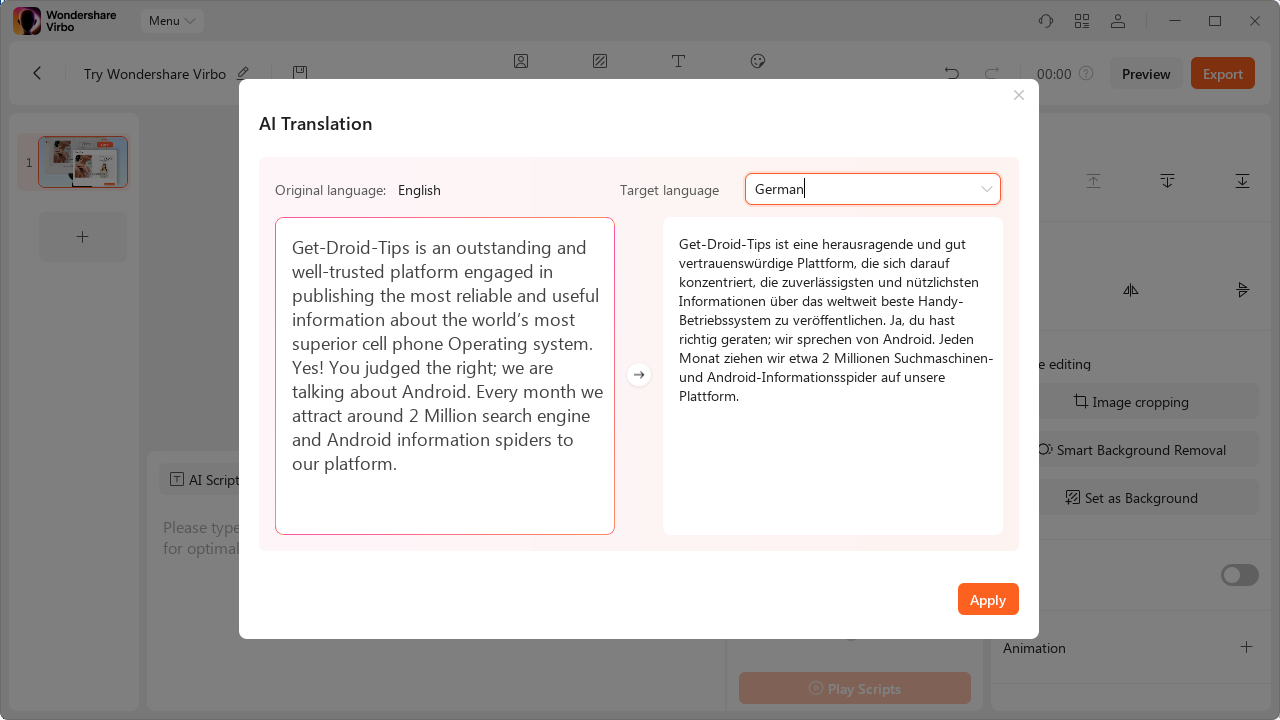 It is particularly useful for businesses or individuals who want to reach a global audience with their video content, removing the language barrier.
#3. Cloud Data Synchronization
Virbo supports iOS, Android and Windows, allowing users to synchronize their video projects across multiple devices by saving the videos and associated data in the cloud. This feature helps users to easily continue their work, whether they are using a desktop computer, laptop, or mobile device.
It will reduce the risk of data loss due to device failure or accidental deletion. Additionally, it also helps users to free up storage space on their local devices. Another advantage of this feature is that it facilitates team collaboration. Multiple team members can work on the same video project from different devices and locations simultaneously. This enables the team to complete the project faster and more efficiently.
Why Choose Virbo?
Time-saving:

Video production takes a fraction of the time it does with traditional methods.

Cost-effective:

You won't have to purchase expensive equipment, actors, or locations, and your resources will be better invested.

Versatile:

You can create social media videos, engage clients, demonstrate products, promote brands, create educational videos, and much more with Virbo!

Accessible:

Virbo allows anyone, regardless of technical knowledge or video production experience, to create professional-quality videos.
Conclusion
So, that's all we have for you about Wondershare Virbo. We hope that this guide has helped you. In the meantime, if you need more information about this tool, comment below and let us know.
Download Links: