Many people may already have heard of yeedi but are confused about whether they should go with this brand/model or not. So, if you are one of those, then guess what? In this guide, your confusion will be removed after reading this article.
Here in this segment, we are with a brand new product, i.e., yeedi vac Robotic Vacuum Station. This product wins awards for best affordable RVC, best budget RVC, best bargain RVC, and so on. So, in order to know more about features, ratings, and even the currently ongoing sale on the yeedi van Station, continue reading the article all the way to the end.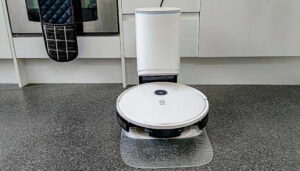 yeedi vac Robotic Vacuum Station: Get It At Huge Discounted Price!
Well, definitely you must buy the yeedi vac Station. But, before you decide to buy this, make sure to read the details that we have mentioned here in this article. Also, at the end of this article, you will get to know about the ongoing sale of this product. So, let's get started with it.
What is yeedi?
Unfortunately, in this world where every other brand is only concerned with making money, and their products do not meet users' needs, yeedi worked in a different way than the others. yeedi is basically a next-generation robot vacuum maker brand that was founded in 2019.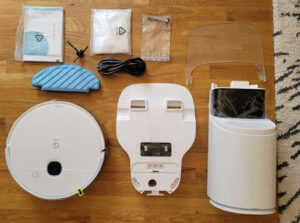 However, with their cutting-edge technologies, yeedi makes the cleaning process more enjoyable. In addition, when we compare their vacuums with the other brands, yeedi is truly a clear winner with their smarter and energy-efficient products. As a result, from the global media and customers worldwide, yeedi received a great deal of attention and appreciation.
What Are The Features of yeedi vac Station?
Although it has a number of features and specification that plays a vital role to increase the popularity of the yeedi vac Station. Therefore, it is very crucial to be familiar with those features. So, let's take a look at them:
#1. Self-Empty Station (30-Day Hands-Free Cleaning)

The yeedi vac station did suck the dust particle from the dustbin into the dust bag. So, you do not need to worry about emptying the dustbin. However, with a 1.5L capacity and its sealing design, its dust bag is able to hold up to 30 days' dirt.
#2. Vacuum And Mop Simultaneously

The yeedi vac station is flexible with every type of floor as it has the ability to perform robust vacuuming and mopping altogether. Moreover, in a single run, it can clean your floor impeccably just because of its industry-leading suction power and smart mopping technology.
#3. Floor Identification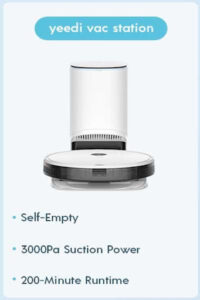 yeedi changed how you clean your floor forever as it automatically recognizes your rooms and generates an editable home map. Therefore, after that, you can simply tap a room or draw an area to clean or avoid on the map while cleaning according to your needs. So, it is time to replace your old robot vacuums that bounce around, miss spots, and take hours to clean your home. Meanwhile, the yeedi's floor navigation sensor and visual mapping technology can quickly clean the floor.
What is The Pricing?
We have already mentioned all the necessary details about the yeedi vac station; therefore, now it's time to discuss about the pricing of the product and as per our promise, the ongoing sale of this product. So, let's have a look:
Amazon:
You can buy the yeedi vac Station Robot Vacuum from Amazon. You can get it at just $364.99 using the Discount code VACSTATION now.
Walmart:
You can also buy the yeedi vac Station from Walmart.
yeedi Store:
Get the yeedi vac Station from the yeedi stores using the given link.
However, at the same, you can check out the other products that you can try out.
So, that's it on yeedi vac station. We hope that you get one for your home in this ongoing sale. However, in case you need more information, you can comment below.