Are you experiencing slow charging after updating your phone to Android 14? Well, it can be an issue or not. I will tell you what it means as we scroll through the article. However, if your phone has stopped charging after the update, that's an issue, and you'd want to resolve it as quickly as possible. In this guide, I will share effective troubleshooting techniques to fix the slow charging or non-charging issue after the Android 14 update.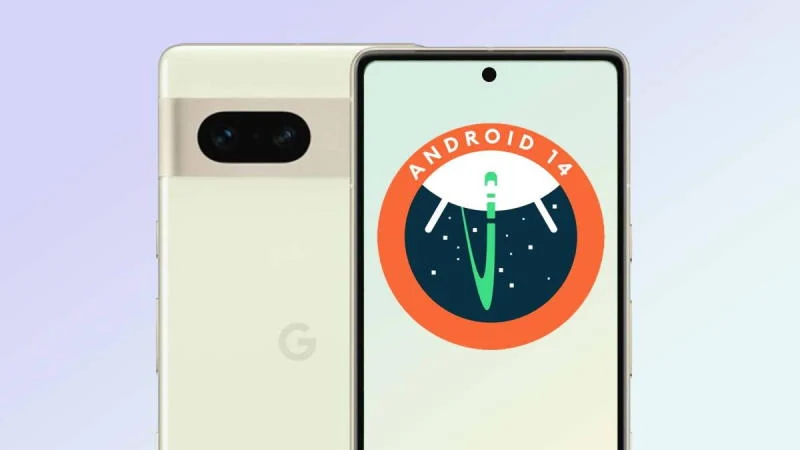 What would you expect from the latest Android update on your phone? Smoother performance, new features, security improvements, and fixes to previously known bugs. You'd not expect it to welcome new problems, but occasionally, the latest software may contain bugs.
Before assuming that slow charging is a problem, you should know what happens after you update your device. Check out the next section to understand the problem for effective troubleshooting.
Why Is Your Phone Facing Charging Problems After the Android 14 Update?
When you install a major software update, such as Android 14, your phone goes into the optimization process. It happens in the background and keeps consuming the battery. So, even if you don't use the device, the battery level will keep going down.
There's no specific time for the optimization process, as it depends on various factors. However, it typically takes a day or two.
So, if you have just updated your phone to Android 14, your device is probably in the optimizing cycle. During the process, your device will consume more battery, which may appear to be charging slowly. I wouldn't recommend making any changes to the device settings.
Wait for two days while the device optimizations are completed. Observe the charging speed and battery depletion after the period. If the slow or non-charging issue persists, try the solutions mentioned below to fix the problem.
How to Fix Phone Charging Slow or Not Charging Issue After Android 14 Update
Even after a couple of days of updating your phone, if the charging issue persists, try the solutions below to resolve the issue.
Solution 1: Turn on Fast Charging
After a major OS upgrade, several Android settings reset to their default, including the battery and charging settings. Probably, the fast charging option has been turned off after the update.
Check if fast charging is disabled on your phone. If so, enable it and stop worrying about the charging time.
Go to the Settings app.
Tap on Battery and Device Care and click Battery.
Choose More battery settings.
Toggle on Fast charging.
These steps apply to Samsung phones that support fast charging. They might differ from brand to brand. For other brands, go to Settings and find the fast charging option.
Solution 2: Enable Power Saving Mode
If your phone appears to be charging slowly, the battery is probably draining faster. To reduce it, you should close unnecessary background tasks, lower the screen refresh rate, and make necessary changes to reduce battery consumption.
Rather than manually making these changes, you can simply turn on the power saving mode and observe the battery consumption. You can find this option within the Settings app. On some phones, the power saving mode can be found as battery saving mode.
Solution 3: Disable Always on Display
While the Always on Display (AOD) is a fascinating feature on smartphones, it's worth noting that it can lead to increased battery consumption. To squeeze out more from your battery, I recommend turning off the AOD.
To disable AOD, go to Settings > Lock screen and toggle off Always On Display. If you own a Google Pixel, go to Settings > Display > Lock screen and disable Always show time and info.
Solution 4: Lower the Screen Timeout
A high screen timeout can contribute to increased battery consumption. If you don't read digital books or ePaper, consider lowering your phone's screen timeout. It should give you a couple of more minutes of screen-on-time. It may not sound like a big deal, but if you apply all the solutions, you should see significant battery improvements, resulting in less charging time.
Open the Settings app on your phone.
Tap on Display and choose Screen Timeout.
Set the Screen Timeout to 15 seconds or 30 seconds.
Solution 5: Enable/Disable Adaptive Battery
Adaptive battery learns your phone usage patterns to optimize the battery life accordingly. It restricts battery usage for apps you don't use often and can put them in a deep sleep mode, reducing background activity.
By default, the adaptive battery is enabled on Samsung phones. To double-check if it's enabled, go to Settings > Battery and device care > More battery settings > Adaptive battery.
On non-Samsung phones, the Adaptive battery option could be located at a different location in the Settings app.
If the adaptive battery is already turned on, but you don't see battery/charging improvements, turn it off.
If the adaptive battery is not working correctly, it can restrict essential apps and cause other problems. Hence, disable it and check if it can fix charging issues. If turning off the adaptive battery doesn't make any difference to the battery life or charging speed, keep it enabled.
Solution 6: Turn on Auto Optimisation
Smartphones from several brands have battery optimization features. For example, if you own a Samsung Galaxy, you'll find the Auto Optimization option. If enabled, it will automatically perform necessary optimizations to keep the device running smoothly while improving the battery life.
On Samsung phones, go to Settings > Battery and device care > Auto optimization and enable the toggle for Restart when needed.
Solution 7: Check the Charging Cable and Adapter
If your mobile phone has suddenly started charging slowly, it could result from a faulty cable or the adapter. You'd want to inspect them for any visible damage. If found, replace it with an original one.
Sometimes, the damage is internal and isn't visible from the outside. To ensure nothing is wrong with the cable or adapter, use a different (but high-quality) charger and adapter to charge your smartphone. Keep the device plugin in for an hour and check the battery level.
If the charging speed has improved, it's time to replace your old charger.
Solution 8: Clean Your Charging Port
If you haven't cleaned the charging port on your phone, there could be dirt and dust accumulation, leading to an improper connection between the charging cable and the port. It can result in a slow charging speed, or the device may not charge at all.
To clean the charging port, turn off the device first. Then, use compressed air to blow out loose debris or use a clean brush to remove stubborn particles.
If you use a brush, paperclip, or sharp needle, be careful and don't apply too much pressure as it can damage components. In case the charging port is damaged, visit the service center to get it repaired.
Solution 9: Try a Different Power Outlet
If your Android phone is charging slowly or not charging at all, the outlet may have power supply issues. Hence, connect your charger to a different outlet and leave it there for at least 30 minutes. Check if the charging speed has improved.
If you see no improvements in the charging speed, you need to ensure that the device remains at optimal temperature. We'll discuss more about it in the next solution.
Solution 10: Check for Overheating Issues
If your smartphone overheats regularly, it could be the reason for slow charging or no charging issues. When a device overheats, it can apply necessary measures to prevent any damage to its components. It can also affect the charging process.
Common reasons for overheating:
Too many background processes.
Incompatible charger.
Exposure to direct sunlight.
Case with improper heat dissipation.
Solution 11: Check for Software Updates
If hardware is not to be blamed, it could be a software bug causing problems on your Android 14 phone. Problems are likely to occur if you have installed a beta build. However, those on a stable build can also face issues.
If a bug has caused the charging issue, a fix for it should arrive as a new update. To check for pending updates, go to Settings > Software update. Download and install available updates.
If there are no updates for your device, check back again in a few days.
Solution 12: Downgrade to Android 13
If you have tried the above solutions but have had no success, hard luck. The last course of action here is to downgrade your phone to a stable Android 13 build. Check out this separate guide on downgrading from Android 14 to Android 13 in two ways.
Downgrading your phone will remove all your data from the device. Hence, take a complete backup beforehand to avoid any data loss.
Conclusion
In a world where fast charging has become essential, you wouldn't want to spend hours filling the battery. Despite the fast charging support, fret not if your phone takes much longer to fill up the battery. There are effective solutions to resolve the charging problems, which I have shared in this guide. Try them on your Android 14 phone and observe the difference.