Asus Zephyrus users have reported witnessing a black screen issue on their devices. They see this black screen of death when they turn on the device, remove the power plug, and sometimes even while working on something on their PC. This is troublesome and annoying for anyone who needs his laptop for daily work.
This issue mostly shows up when the charging cable or adapter is damaged, BIOS update fails, hard disk malfunctions, there is battery damage, and the case outdated graphic drivers. So here in this article, we will discuss all the solutions you can try from your end to fix this issue on your Asus Zephyrus laptop. So without any further ado, let's get into it.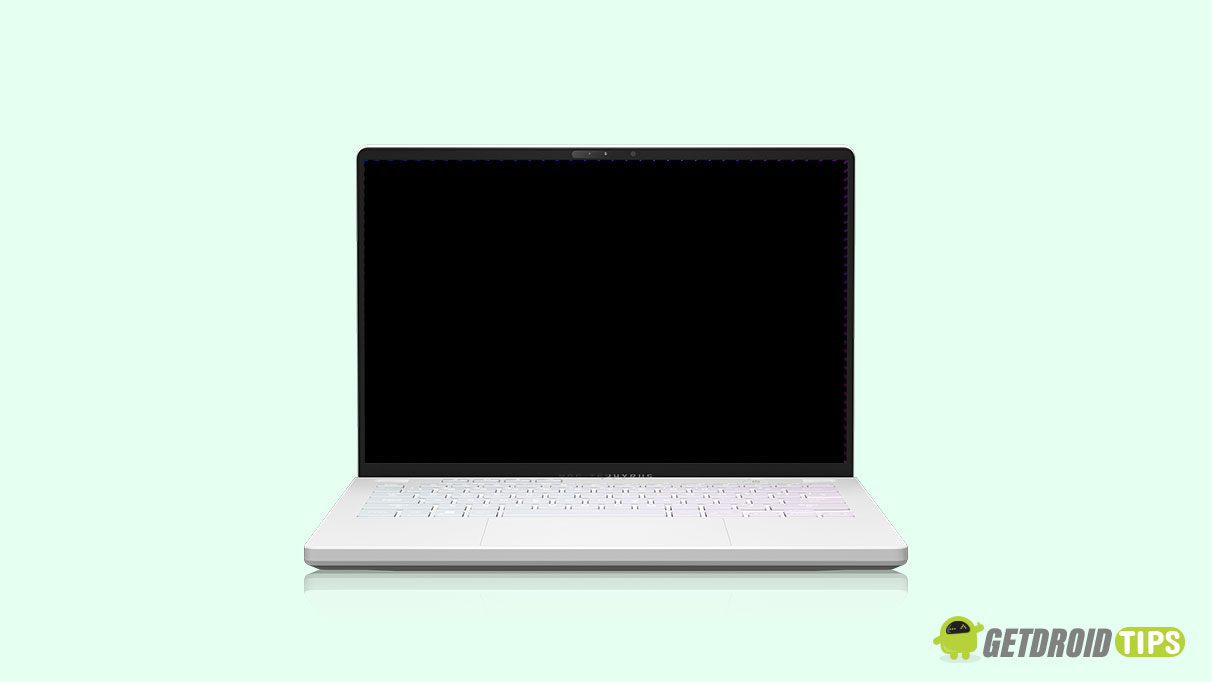 How to fix Asus Zephyrus Black Screen issue?
The solutions mentioned below are mainly for users who experience the black screen issue only after turning on Windows properly. If you are someone whose laptop screen powers up when you turn on the device, but it won't display anything, you need to try the last fix mentioned here. But for the rest, try all the solutions discussed here, one after the other, until you find the one that works for you.
Reset the display:
There is a Windows key shortcut to reset the connection of the display, and then the operating system regains it again. With the black screen issue, you can try this fix as well.
Press Windows Key + Shift + Ctrl + B. Hopefully, this shortcut will be enough to solve your display problems. If not, then try the next solution mentioned here.
Hard reset:
Performing a hard reset on an Asus laptop is simple, and it will only take a few minutes to do it.
Turn off your Asus laptop.
Remove the AC adapter cord from the plug point and remove it from the laptop's charging point.
Remove your laptop's battery from the back(if possible).
Wait for 2 min.
Press and hold the power button for 60 seconds.
Put the battery back in and connect the adapter too.
Now boot your laptop like you usually do.
Check whether the black screen shows up again or not. If it does, then move on to the following given solution.
Restart explorer:
The Windows File Explorer is what we navigate around on a Windows computer. If it stops working correctly, it can create problems for the user. And a black screen is a possibility if the explorer is not responding. So you need to restart the explorer and see if that fixes your problem.
Press Ctrl + Shift + Esc keys on your keyboard. It will open up the Task Manager on your computer.
Click on the Details tab, and find the explorer.exe in the running process list.
Once you find it, click on it and click on the End task button at the bottom right corner of the task manager window.
Now press the power button and restart your computer.
Check whether the black screen shows up again or not. If it does, then move on to the following given solution.
Use F2 Key:
The F2 key on your keyboard can be used to restart your screen. You can give that a try to fix the black screen issue.
Power up the Asus laptop.
Then hold the F2 button and the power button together for a few seconds and wait a while. It should fix the black screen issue.
If this does not solve your problem, move on to the following given solution.
Update graphics driver:
Outdated graphics drivers often lead to all kinds of display problems, and the black screen of death is one of them. So, keep the graphics drivers on your PC up to date.
There are three ways to update or install graphics drivers on a Windows computer. Firstly, you can visit your computer manufacturer's website, and on their support or download page, you will find the setup file for the graphics drivers. You need to download the setup file from that site and then install the drivers onto your computer just like any other program.
Secondly, you can let Windows look for the drivers themselves and automatically install them on your computer.
Press Windows key + X and then choose Device Manager from the list of options.
Double-click on Display adapters and then right-click on your default video card.
Select Update Driver.
Then follow the on-screen instructions to let your computer scan the internet for the latest drivers.
If it finds any new drivers, Windows will automatically install them on your computer.
The last method for updating drivers is to use a third-party driver utility tool. Several tools can scan your computer for any missing or outdated drivers. If the graphics driver on your computer is out of date, it will show up in one of these tools. Then you need to click on one button, and the latest drivers will be installed on your computer. These driver utility tools charge a bit for their service, but it is well worth it since you need to worry about any drivers on your computer again.
Disable fast startup:
Fast startup is a Windows built-in feature that boots up the PC faster than usual when it is turned on. However, the fast startup can cause problems for Windows users in certain situations. So you need to ensure that it is turned off.
Press Windows Key + R to open up the Run dialog box.
Enter "powercfg.cpl" in the Run dialog box and press Enter.
Select "Choose What the Power Buttons Do."
Then click on "Change Settings that are currently unavailable."
Ensure that the box next to the "Turn on fast startup (Recommended)" option is not ticked. If it is, uncheck it.
Click on Save Changes and then close the window.
Then restart your Asus Zephyrus laptop.
If this does not solve your problem, move on to the following given solution.
Use a restore point:
System restore is a built-in Windows feature that lets you go back to a previous time and point on your PC. You can use this to go back to a point in time when your laptop did not have the black screen issue.
Press the Windows Key.
Enter "System restore" here and click on "Create a Restore Point" when it shows up in the results section.
Click on the System Protection tab.
Then click on "System Restore."
Follow the on-screen instructions to open the System Restore window and click on Next.
Then click on "Show More Restore Points."
Select an appropriate restore point here and then click on "Next."
Again, follow on-screen instructions to complete the process and then restart your laptop.
If even this does not solve your problem, move on to the following given solution.
Remove Peripherals:
If you have any external device connected to your computers, like a USB stick, an external hard drive, or even a cable, you need to remove them. Remove everything connected to your laptop and try restarting your computer after that. After the restart, if the laptop boots up normally without a black screen, you have fixed your problem.
But if the black screen shows up again, try the final solution mentioned below.
Install BIOS Updates:
You need to try this fix if the black screen issue shows up on your laptop right after you boot it up. This will update the BIOS in your Asus laptop, which could fix your problem with the black screen.
Disconnect the AC adapter from your laptop.
Remove the battery from your laptop's back if it is removable.
Press the Power button for 40 seconds.
Connect the AC adapter again.
Reinsert the battery pack back into the device if you removed it before.
Boot up your laptop.
The laptop will now begin the BIOS update on its own. Do not disconnect the adapter cable until the update and restart are complete.
The system might restart a couple of times during the process. Do not interfere with it until you see the desktop show up on your screen.
If none of the solutions mentioned here worked for you, there is a possibility that the issue is a hardware defect. In that case, take your laptop to the nearest service center, and they will help you out with a screen replacement.
So that is all about fixing the Asus Zephyrus Black Screen issue. If you have any questions or queries about this article, comment below, and we will get back to you. Also, check out our other articles on iPhone tips and tricks, Android tips and tricks, PC tips and tricks, and much more for more helpful information.