Call recording is a very useful tool for both personal and business use because of how flexible and useful it is. Meetings, jobs, and other important business interactions can be saved for future use so that important details don't get lost. It helps with quality control, reviews of customer service, and following the rules.
Android 14 is the latest version of the operating system, coming with a wide range of new features and improvements. Android 14 brings new features like the improved universal back gesture, photo picker, notification flash, advanced battery stats, and a lot more.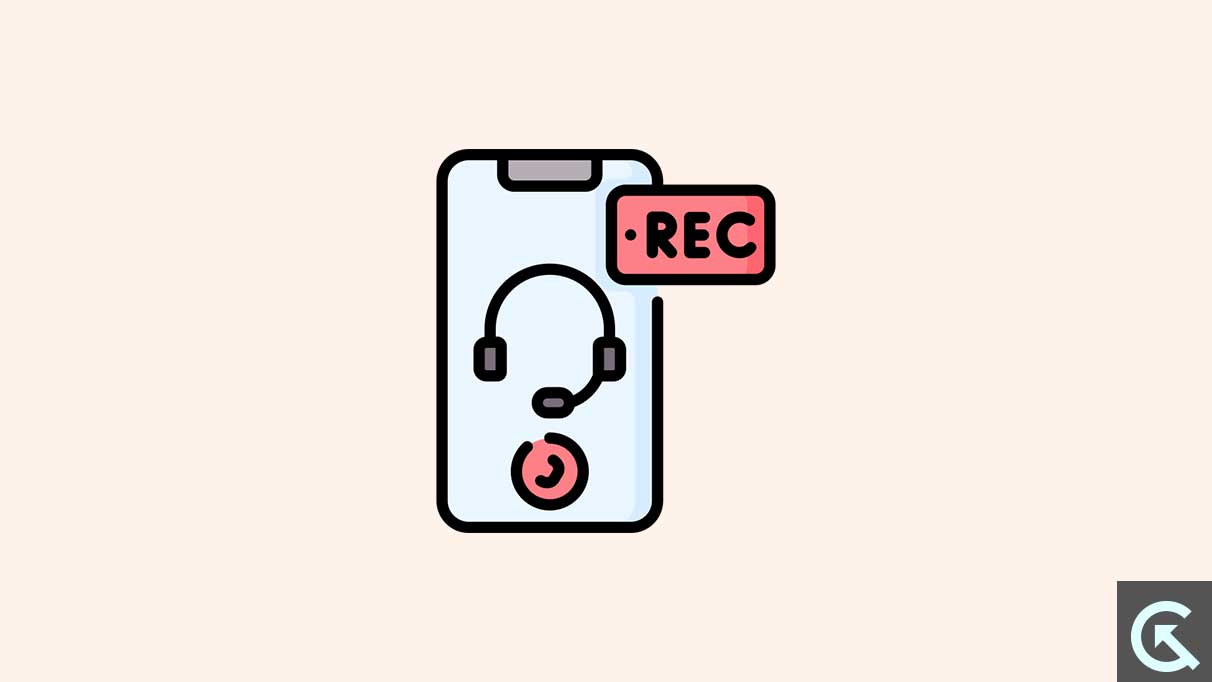 If you are looking for a call recording app for your Android 14 phone, it can be overwhelming. There are a plethora of these apps available on the Google Play Store and other app stores. But don't worry; we have done th e hard work for you. In this article, we will take a look at the top 5 best Android 14 call recording apps. So, without any further ado, let's get started.
Automatic Call Recorder is a lightweight and straightforward app that makes call recording on Android 14 smartphones a breeze. The intuitive interface makes it simple to record both incoming and outgoing calls. You can effortlessly record important calls with this app.
Features:
Completely hands-free call recording that doesn't compromise on quality.
Your recorded phone calls will be available for playback within the app.
Create categories and assign tags to your call recordings.
Email and other messaging platforms make it simple to share recordings with others.
You can now save copies of your call recordings on the cloud thanks to the app's integration with cloud storage.
Pros:
The interface is straightforward and easy to use, making it accessible to even the layman.
The Automatic Call Recorder stores both incoming and outgoing calls without any user input.
It enables the categorization and tagging of recordings for easy organization and retrieval.
Save your records from being lost by storing and copying them to the cloud.
You can also record calls by simply shaking your phone.
Cons:
Possibly missing are more advanced features and simple editing tools.
The free version includes ads, which may be a turnoff for some users.
If you're on Android 14 and want a simple call recording app with all the key features and simple sharing options, Automatic Call Recorder is a great option.
Blackbox Call Recorder is a reliable call recording app that can both record and organize your phone calls. The app's main focus is to provide a straightforward interface for recording phone calls.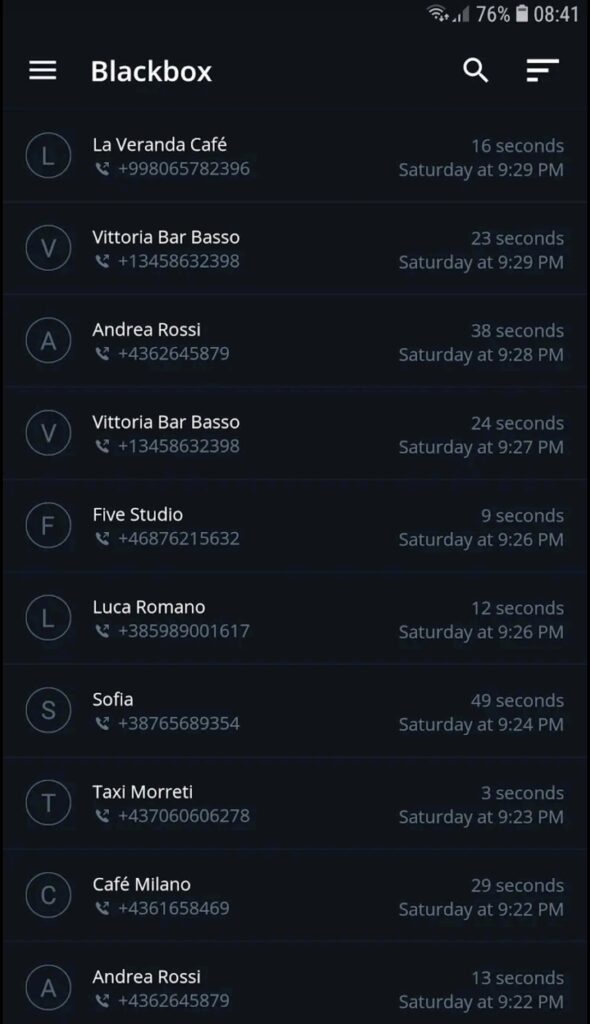 Features:
The app will automatically record any incoming or outgoing calls.
You can choose which calls to record based on the people you're talking to in your contact list.
The app makes it simple to listen to and manage your recorded phone calls.
Cloud backup lets you save your recordings in a safe place online, like Google Drive.
Easily search and manage your recordings by date or time stamp or by assigning them to specific contacts.
Pros:
Easily record calls without any additional effort on your part.
Users can pick and choose whose calls to record with selective recording.
You can safely copy your recorded calls to the cloud.
It has a simple and straightforward design that makes it easy for everyone to use.
Cons:
Only a few advanced features are available in the free version; more might require a paid upgrade.
You cannot record VoIP calls. This does not include phone calls made using VoIP apps or software like Skype or WhatsApp.
Note: The app might not be available on the Google Play Store. You can install it via the Amazon App Store or a third-party app store.
If you're using Android 14 and want an automatic call recording app with flexible categorization and backup capabilities, Blackbox Call Recorder is a good choice.
The next call recording app on our list is the Parrot Voice Recorder. It is a powerful audio recording tool for recording phone calls. It has several useful options for recording conversations and calls effectively and with good quality.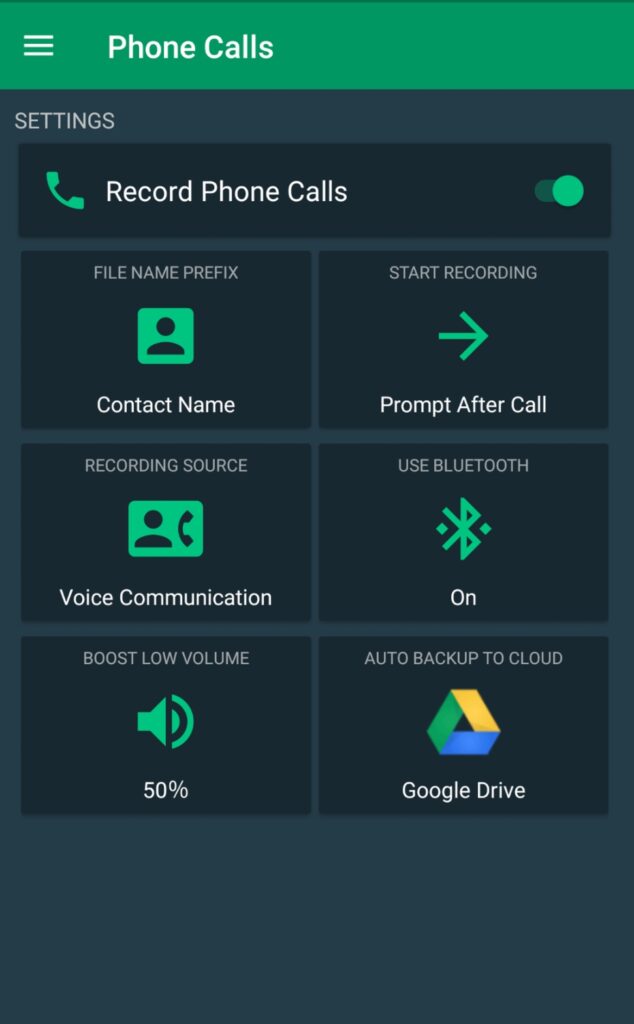 Features:
The app supports automatic call recording, so you don't have to worry about recording everything manually.
Scheduled recording lets you record at a specific time and date, perfect for recording scheduled conversations or meetings.
Integrates with Google Drive, Dropbox, and other cloud storage services for safe backup.
An easy-to-navigate interface allows for quick and simple recording, categorization, and administration.
You can keep recording in the background even while you switch between other apps.
Pros:
You can save time and effort organizing your recordings with scheduled recordings. This is an advanced version of automatic call recording.
Provides secure options for storing data in a location other than the original recording device.
Whether the screen is on or off, you can continue to record calls in the background.
Very easy-to-use interface, even for the layman.
Cons:
There are not many audio editing tools available.
The call recording feature is not available in the free version and requires a subscription.
Parrot Voice Recorder is a great option for Android 14 users who need a call recording app with extra features and cloud backup.
CallApp's objective is to raise the standard of your phone calls. It can recognize incoming calls, block those it deems unnecessary, record calls automatically, and keep your contacts in order. The app's streamlined and straightforward interface improves user-to-user and user-to-connection communication.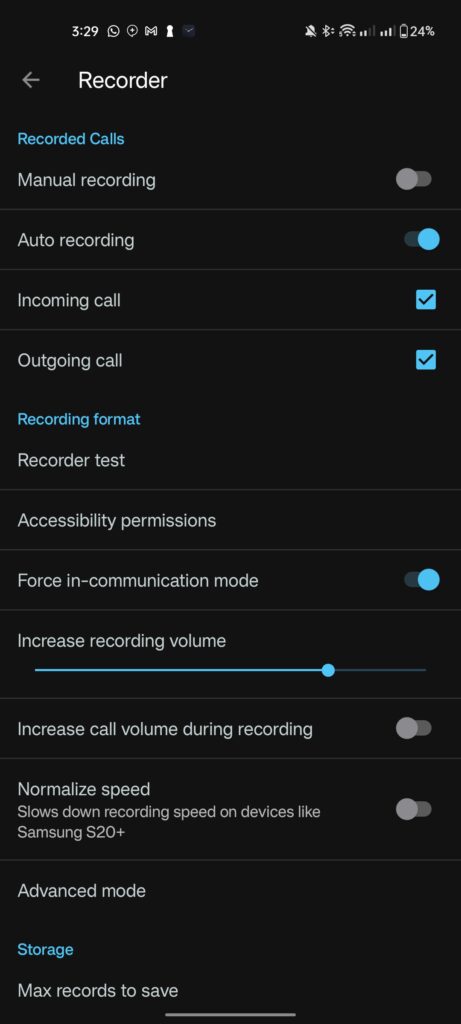 Features:
Even if you don't know the caller's number, enhanced caller ID will be able to identify them and provide you with more information.
You can easily avoid unwanted telemarketers, robot calls, and other disturbances with the help of a spam call blocker.
The ACR captures calls automatically, making it easy to record and recall significant conversations for review at a later time.
Users can do a reverse phone lookup to find out who has been calling them.
Users may easily and safely back up their contacts and call logs using this feature.
Options for Personalization: Allows users to alter the app's visual style and other settings to their liking.
Pros:
Reliable caller ID using a comprehensive database.
Blocking spam calls efficiently helps you avoid constant interruptions.
Recording phone calls automatically in case something comes up.
The simple and straightforward design makes it a breeze to operate.
Features for backing up and restoring data for your peace of mind.
Cons:
You may need a paid-up-front membership to access certain premium features.
Due to local regulations, call recording might not be an option everywhere.
Overall, CallApp is a great call recording app, well-known for its efficient spam prevention, easy-to-use UI, and reliable caller ID. People also like the automatic call recording function because it saves time. The app's performance has been a concern for certain users, but in general, it has received very positive reviews.
Cube ACR is another great app that records phone calls and includes a wide variety of useful tools for doing so. It is undoubtedly one of the best call recording apps for Android 14 phones.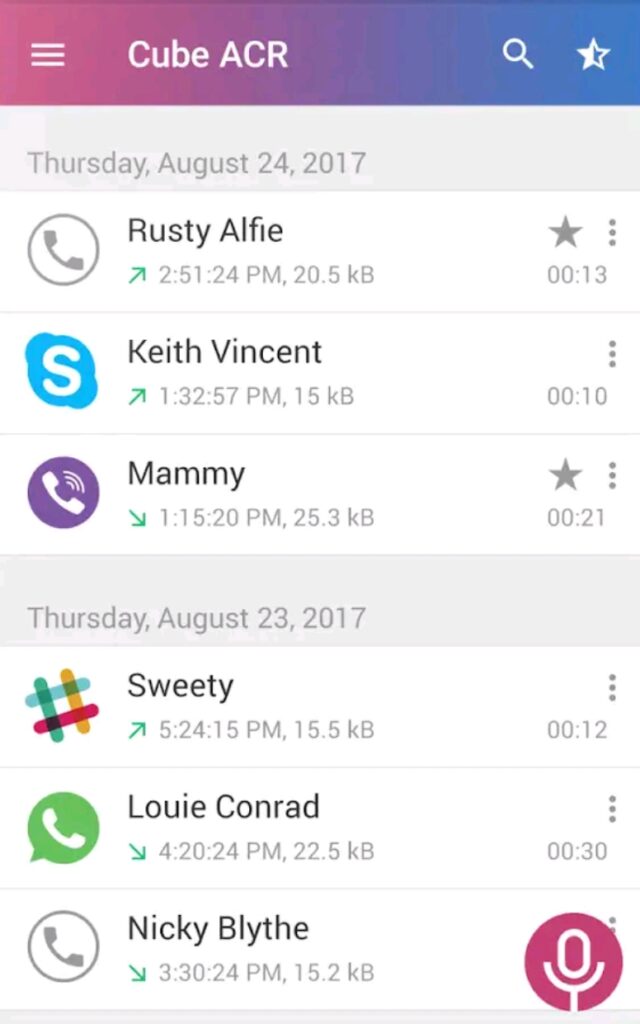 Features:
Uninterrupted and automatic recording of all incoming and outgoing phone calls.
Selective Recording enables users to record only calls with certain people.
Compatible with Skype, WhatsApp and other similar third-party apps, you can record calls made through them.
You can choose between saving your recordings in the cloud or on your device's local storage.
Protect private files with a personal identification number (PIN) if you want an extra layer of security.
Pros:
Users can pick and choose which contacts to automatically record, thanks to Selective Recording.
In order to provide more comprehensive call recording, it is compatible with a wide range of third-party apps.
Protects private recordings from spies by requiring a personal identification number (PIN) for playback.
Provides storage alternatives, letting customers pick between cloud and local, expanding usability.
Automatic and manual recording, as well as playback, are available at no cost.
Cons:
Some more advanced features may be available only as part of a more expensive premium subscription.
The 7-day free trial might be underwhelming.
Cloud backup, post-call actions, and a PIN-based app lock are part of the Premium package, which costs $2.99 per week, $11.99 for six months, or $19.99 for an entire year.
Cube ACR's flexible pricing levels and a wide variety of features make it a great choice for both home and business users. However, you should think about how much it will cost to use the additional options.
Why Do You Need Call Recording Apps?
Call recording apps can be useful in both business and personal situations. People can record important talks with family, friends, and service providers. These recordings are a record of any promises, agreements, or other important information that was shared on the call.
Call recording apps make it possible for professionals to record business calls, which makes sure that correct records are kept of talks about deals, agreements, and negotiations. These records will be very helpful for future letters and agreements.
Professionals taking or giving over-the-phone interviews can learn a lot from call recordings. They let the interviewer pay attention to the talk without having to worry about taking notes.
This makes sure that no important information is missed during the conversation. Later, they can look back at the interview to make good choices about who to hire.
Recording over-the-phone meetings is a good way to keep track of all the information talked about at important events. It makes sure that people can focus on the conversation without having to worry about taking notes. These recordings can be sent to team members who couldn't make it or used to plan what to do next.
Call recordings are a great way to keep important memories like talks with loved ones or important life events. Whether it's a heartfelt chat with a family member or a surprise birthday call, these recordings become treasured keepsakes.
Moreover, the default dialers on most Android devices don't support call recording. Even if they do, they make a loud announcement about the call being recorded. Thus, a third-party call recorder is what comes to the rescue!
Finally, call recording apps provide a versatile and simple way to keep track of talks, which can benefit both professionals and other people in a variety of ways.
Legal Considerations and Privacy Concerns
The legal consequences of call recording vary greatly not only between jurisdictions but also between various areas of the same country. Knowing the rules and regulations surrounding call recording is essential for staying out of trouble.
Depending on where you live, you may only need the permission of one party to record a phone call lawfully. In some jurisdictions, only if both parties give their approval may the recording be considered legitimate (two-party permission).
In many countries, it is illegal to record a phone call without first notifying and disclosing that fact to at least one of the parties involved. The first step in this process is often to play a recorded disclosure.
There are serious consequences for violating the law in regard to phone recording, including monetary fines and possible legal action. When it comes to call recording, protecting users' anonymity is of utmost importance. These privacy protection and consent rules are fundamental:
Always get the other party's permission before recording a call without telling them. Make the recording's intent crystal clear.
Create an easily digestible and transparent recording disclosure. Describe the intended storage and usage of the recordings.
Save all call recordings in an encrypted cloud service to avoid spies and keep private data safe.
Determine the maximum amount of time that calls will be recorded and kept until deletion.
If you plan on recording business calls, it's important to inform your staff of the legal obligations and best practices for call recording.
Conclusion
These are our top picks for the best Android 14 call recording apps for you in 2023. These apps offer both a free version and a paid one. Depending on your needs, you can go with the one you like. Make sure that you try all the apps to find the one that is best for you.
Finally, while call recording might seem like a safe thing to do, you should think about what the law says before you do it. In some countries, it is against the law to record a phone call without the permission of both people on the call. To stay on the right side of the law and stay out of trouble, you need to know how the law works right now.