Virtual Reality gaming became a thing of the past. What most companies and developers are focusing on now are Augmented Reality based games and concepts. Augmented Reality is a slightly different approach to real to life gaming than what Virtual Reality brought forward. Over the past 2 years, several known, as well as unknown developers, have been hard at work to produce the best AR based games for Android and iOS. Several applications also take advantage of this concept, allowing users to display furniture before they buy right in their room and so on.
Remember Ingress or Pokemon Go from all those years ago? Most of us might have crazed over the latter game at least once in our life for sure, thanks to the uniqueness it had to offer. Obviously, at that time period, none of us really appreciated the core technology that was used to make those games. Pokemon Go mainly took off thanks to the AR-based experience, as did Ingress. Before we dive into our picks for some of the best Augmented Reality games for Android, let's first take a brief look at what AR really means and how it might be the next big thing.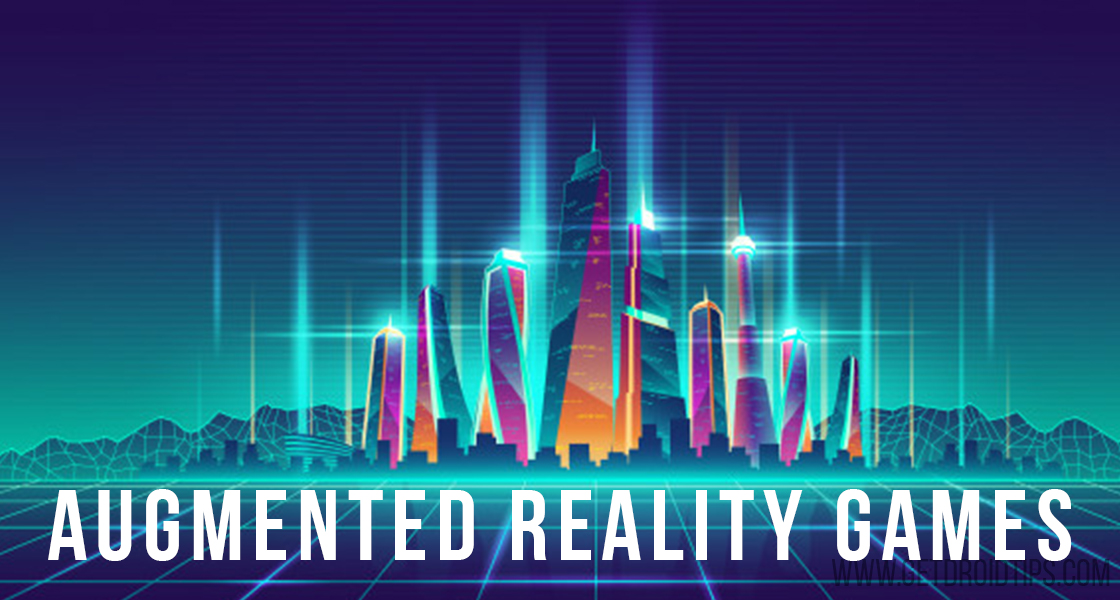 What is Augmented Reality or AR?
Augmented Reality, or in its simpler form AR, is the fusion between the real world and something artificially created by humans. This sounds strikingly similar to VR or Virtual Reality, but with AR the case is opposite. We know that users using VR headsets travel into a virtual experience like none other, completely overriding the real world. AR on the other hand does the opposite, and instead fuses graphical elements from games, videos or movies into the real view of a person. This not only means fewer accidents while being immersed into something other than your own reality, but it also opens the gate for higher visuals since everything you see and interact with is in the real world after all.
Augmented Reality gaming spiked with the release of Pokemon Go on Android and iOS, but it has been quite since. Just when you think things couldn't get more exciting, the entire whole of 2018 was filled with immersive goodies and experiences in the form of AR based games for mobile phones, especially Android. Many developers took up the interesting task to work on AR based games and this definitely shook the entire market place. Right now, on the Google Play Store you will be able to find dozens and dozens of AR based games for free. But which among them are the best? This is why we're here! Without any further ado, let's take a look at some of the best and entertaining Augmented Reality games for Android we could find!
Best Augmented Reality Games for Android
#1 – Pokemon Go
Despite being the oldest in this list, the game still receives constant updates from the manufacturer, adding plenty of features and in-game purchases to make it feel brand new. It is without a doubt that Pokemon Go was released all the way back in 2016, but there have been plenty of graphical and visual overhauls to make the entire experience much better and modern for 2019 standards. For those who don't already know about the game, in Pokemon Go you basically go around finding, exploring and capturing new Pokemon in real time, by walking to certain locations nearby your house. The entire concept of the game was to make people healthier and to get them to walk more while also making it entertaining. There are various explorer levels that you get for attaining a set number of Pokemon, and there are also many little bonuses and goodies along the way to keep your journey strong and continuous.
To run Pokemon Go you don't really need a powerful Android smartphone, but you do need one with a good enough battery life and an always connected network since the game utilizes your GPS and internet to locate where you are in real time while playing. If you think the game is interesting, you can grab Pokemon Go for Android by following the download link below :
[googleplay url="https://play.google.com/store/apps/details?id=com.nianticlabs.pokemongo"]
#2 – Ingress Prime
The first and original AR game that was developed by Niantic for Android devices was Ingress, and while it might not have taken the world by storm like Pokemon Go did, it did build a strong foundation for such games. It was recently greatly updated and rebranded to Ingress Prime, and now it sports many new game modes and mechanics to choose from. The gist of the game remains intact – you need to find and hack into portals for your own team and make sure the other teams don't conquer the realm by hacking into more portals. You'd need a couple of best buddies to make the most out of this game, but if you do have a large group of people, we couldn't think of anything more intuitive and entertaining than Ingress Prime on this list. If you do want to stick to the original game which had the classic game modes and a simpler style, you can search the Play Store for "Ingress (REDACTED)".
Ingress Prime remains to be one of the more popular AR offerings on the Android market, and we highly recommend you try it out if you want a real life based experience but with a huge twist. You can download the latest version of Ingress Prime by following the Google Play Store link below :
[googleplay url="https://play.google.com/store/apps/details?id=com.nianticproject.ingress"]
#3 – The Walking Dead – Our World
Up next on our list is a fan favorite, especially for those who are into the same TV show as the game is derived from. The Walking Dead has been a great franchise of games available both for Android and iOS. Over the years, they have offered several interesting games with better graphics each time. But now, they take it a step further and tie in the same zombie killing experience with the real world, all thanks to AR. With the game installed, you can go on a zombie killing spree down your road. All the visuals apart from the real world projections in the game are highly graphically intensive, and we really feel it is a delightful experience. The Zombies come out of alleyways just like they would in real life, and depending upon the natural surroundings, there are different directions and ways that they attack you too. This game also contains a lot of goodies from the popular TV show that you might find interesting.
If you truly are into a heavy action packed game with amazing weapon upgrades and characters from the TV show itself, we highly recommend this game to you. Just make sure you have a phone from the recent years to run this game smoothly and efficiently. You can grab the latest version of The Walking Dead – Our World by clicking on the link below :
[googleplay url="https://play.google.com/store/apps/details?id=com.nextgames.android.ourworld"]
#4 – Fishing Strike
This one on the list isn't fully AR ready yet, but we felt it to be quite an interesting pick for our number 4th spot anyway. Fishing Strike, like the name might suggest is like any other fishing adventure game, but you can fish as long as you want since there is no such concept like an energy bar or time limit. You also get really high quality visuals and sound effects with the game that just spruce up the experience ten folds. What makes this game even better is the realistic engine it comes packed with. The game isn't too aggressive when it comes to fishing either, and all rewards can be showcased in your own personalized aquarium which you can then view in full AR. You can also view all the fish in detail using the AR features of the app.
Overall, if you couple this game with the realism it comes packed with, we feel Fishing Strike is a good balance between AR and gaming. It comes extremely handy in situations where you are bored or just want to kill time too. You can try our Fishing Strike on your Android device by following the link below :
[googleplay url="https://play.google.com/store/apps/details?id=com.netmarble.fishingstg"]
#5 – Knightfall AR
This one on the list might be our personal favorite thanks to how good it utilizes Augmented Reality as a concept to enhance gameplay features. The game itself doesn't have any incredibly innovative ideas. You have an army that you can train and improve by spending in-game cash, and you try to defend your own empire by fighting against the enemy troops. What makes this experience truly fascinating is the fact that the entire battle experience throughout can be played using AR in real life. This means you get a full miniature battlefield that you can look from any angle you wish. This makes things like zooming in our out, panning to a very specific location and trying to get the best cinematic feel of your battle truly convenient and fascinating. If you think about it, every battle is a short movie that you yourself direct and also have the pleasure to watch in real time.
You can choose weapons and upgrade your troops to withstand even stronger opponents in the game. All in all, if you're into the entire battle scenario, we highly recommend Knightfall AR to you. It doesn't require any heavy system specifications and the battery drain is ideal as well. You can download and start playing Knightfall AR on your Android device by following the link below :
[googleplay url="https://play.google.com/store/apps/details?id=com.aetn.games.android.history.knightfall.ar"]
That's all folks! We hope you enjoyed our culmination of some of the best Augmented Reality Games for Android there are. We could also list a dozen more games that are just as awesome to play, but the list would go on and on. Do let us know which among these 5 was your personal favorite and why down below!