Poco has released Poco M4 and M4 Pro 5G devices in November 2021 as a budget Android smartphone in the market that offers quite good hardware specifications out of the box. Both the devices currently running on Android 12 on top of MIUI 13 skin. Meanwhile, some interested users are eager to know about the Best Call Recording App for the Poco M4 and M4 Pro 5G devices to record calls. As third-party call recorders offer multiple options, it's helpful.
In terms of the device specifications, the Pro model of Poco M4 comes with a 90Hz IPS LCD display, MTK Dimensity 810 SoC, up to 8GB RAM & 256GB storage, 50MP+8MP dual rear camera setup, a 16MP selfie shooter, Bluetooth 5.1, USB Type-C port, a side-mounted fingerprint scanner, a 5000mAh battery, and 33W fast charging. While Poco M4 offers up to 6GB RAM & 128GB storage, Dimensity 700 SoC, toned down cameras, etc as compared to its sibling.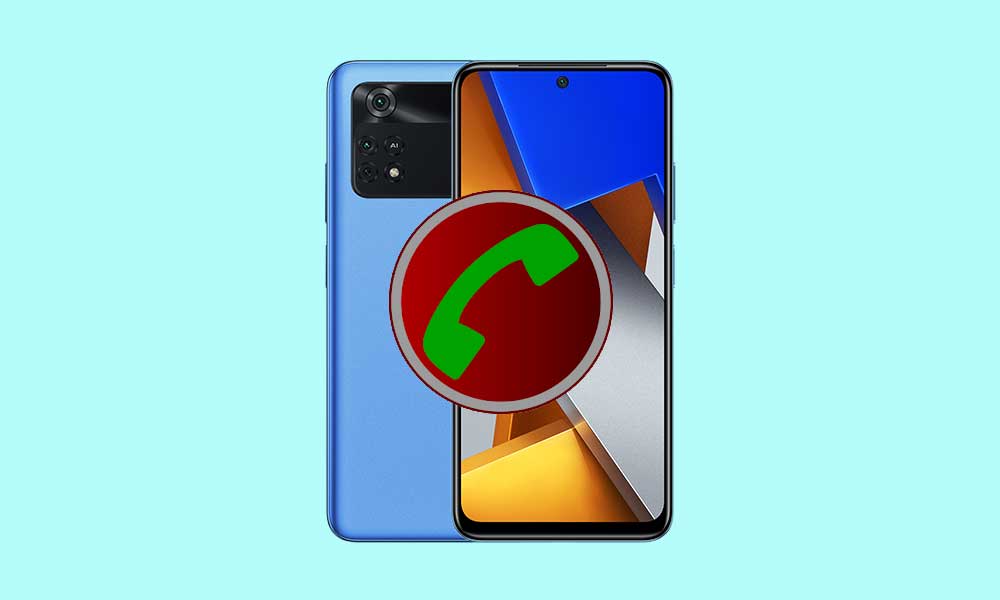 Best Call Recording App for Poco M4 and M4 Pro 5G
Well, Call Recording is a great option for smartphone users these days to keep records or track of calling conversations whether it's related to family members or friends, or even workspace colleagues. This is eventually being used by all the call center firms or companies no matter which field they're offering service & support. A call record is required for multiple reasons such as training purposes, taking notes, case studies, legal proofs, and more.
But Google and Apple still think that not providing a call recording option on their stock operating system is a good idea. Actually, there is a catch! The call recording thing is illegal in most countries by their respective laws that's why such big companies are forced to limit it. However, other smartphone OEMs are generally offering a built-in call recording feature for their Android device users directly inside the phone dialer application.
Luckily, the Poco M4 and M4 Pro 5G models do support the call recording feature but not the global version. You may feel yourself unlucky if your Poco M4 series doesn't have an inbuilt call recorder due to its global variant. It's worth mentioning that the global variant of the Xiaomi devices does come with a Google dialer app preinstalled rather than the Xiaomi Mi Contact and Dialer app. Well, there is nothing to worry about it because you can use the same.
So, if you're looking for the best call recorder or just want a call recorder for the Google dialer then you can check out the following call recording apps that might suit your need. At the time of writing this article, the call recording by an individual isn't legal in so many countries except for a few ones. So, if you're living in such a country where the call recording is illegal by the respective law then you should check all the rights & guides of the law carefully.
While if you're residing in a country where call recording is legal then you can jump into the list below. If in case, you're using the European variant of the Poco M4 series then you can easily enable the call recording feature on your handset.
Record Calls on Poco M4 and M4 Pro 5G (EU Variant)
Open the Phone Dialer app on your Poco device.
Now, tap on the three-bar icon (Menu) in the bottom left corner.
Select 'Call Recording' > You can now Enable the 'Call Recording Notification' and 'Record Calls Automatically' options.
Note: You can also set your Phone app to record calls for only selected contacts or numbers manually. Just tap on Selected Numbers > Custom List > Add Numbers.
Manage Automatic Call Recording for All Calls:
Go to Settings on the device > Tap on Call Settings.
Find the Call Recording option > Enable the Automatic Recording option.
Now, select Recording Calls from Select All Numbers.
List of Best Call Recording Apps for Poco M4 Series
If in case, your device doesn't have the above options, then you'll have to use a third-party call recording app that you can find on the Google Play Store. We've provided some app links below for your ease.
1. Call Recorder – Cube ACR
Call recorder – Cube ACR is one of the most technically advanced call recorder apps that allows you to record phone calls (incoming and outgoing) and VoIP conversations easily. It supports call recording for most versions of Android devices.
Go to Google Play Store on your device > Search for the Cube ACR app. [Direct Link]
Make sure to Install the app and open it.
Give all permissions and follow the on-screen instructions to start recording your phone calls.
2. Call Recorder – callX
Auto Call Recorder – callX from SMSROBOT LTD is another best automatic call recording app that enables you to record calls to your Android device automatically. The app also features caller ID support that'll help you to identify phone calls and avoid spam. You can get it here.
3. Call Recorder – CallsBox
SMSROBOT LTD also provides the CallsBox call recording app for Android devices for automatic call recording without any kind of issue. You can check the download link here.
4. Poco Call Recorder
If in case, you're quite busy with VoIP conversations or calls online via social or instant messaging services and want to record voice/video calls quite easily then you can use the Poco Call Recorder app for Android devices. It allows you to record Whatsapp, Skype, Zoom, and Telegram calls quite easily. You can store your conversation whatever you need. You can visit the Google Play Store link here.
That's it, guys. We assume this guide was helpful to you. For further queries, you can comment below.