When it comes to planning out your days, some people just prefer to make a to-do list but, that not enough if you are a working professional because you have to keep a track of all the appointments, emails, tasks, and more. So instead of putting everything on your calendar and call it a day, you need to have a personal information manager, and I'm not talking about those corporate managers who charge a hefty salary. In the era of computers, you don't need to pay a large sum to a personal manager instead, you can go for a virtual manager. Here's EssentialPIM, your one-stop solution for managing all your personal information.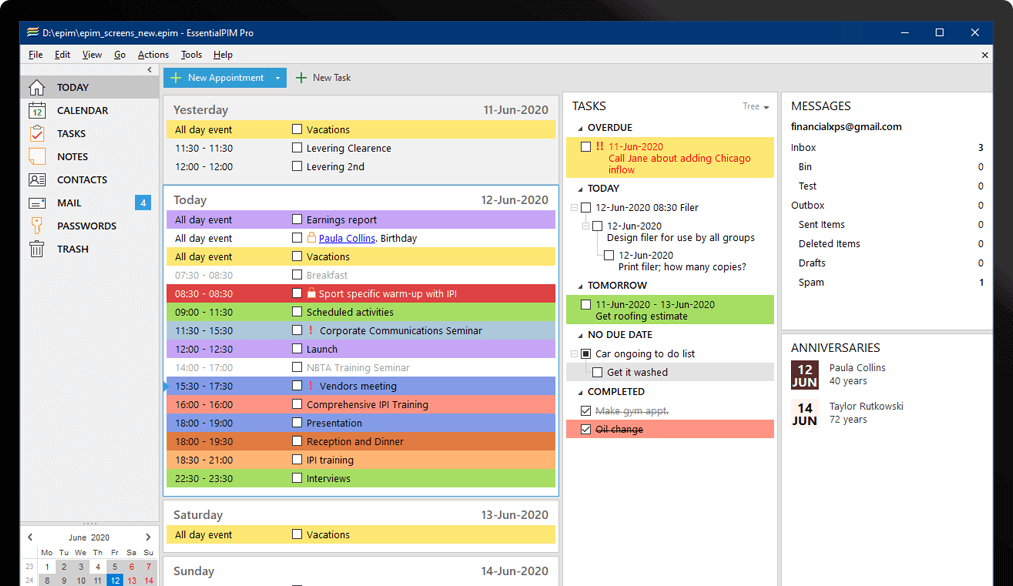 Why EssentialPIM is Best Personal Information Manager?
EssentialPIM is a personal information manager that lets you manage your tasks, appointments, notes, email messages, and more across multiple devices. Now some of your out there will think that you already have apps to manage those things, Right? but hear me out. EssentialPIM is an integration of all the apps in one you require to plan out your days like Calendar, To-Do list, Notes, Contacts, Mail, and Passwords. Here is a list of features that EssentialPIM has to offer:
All-in-one:

With EssentialPIM you don't need to constantly switch between your mail, tasks, and calendar apps just to plan out your day. EssentialPIM lets you manage everything within a single app for your convenience.

Unmatched synchronization:

It doesn't matter whether you use Google Drive, iCloud, or Dropbox as your cloud solution, EssentialPIM lets your sync your data across all of them without any hassle or worrying about data loss.

Completely Portable:

EssentialPIM is fully portable and if you are always on the go, you can work straight from a USB drive or any other portable storage. Data files on the external storage are encrypted using AES 256-bit to prevent data access in case of loss/theft.

Password Manager:

Apart from managing your E-mails, tasks, and everything, EssentialPIM also manages all your passwords and keeps them safe and secure in one place so you don't have to remember all your passwords.

Data Security:

All your data on EssentialPIM is encrypted using advanced industry-standard AES (Rijndael) 256-bit key. Thus, It helps protect private information, sensitive data, and can enhance the security of communication between client apps and servers.
EssentialPIM Downloads & Pricing
EssentialPIM is available for Windows, Android, and iOS. You can DOWNLOAD and install the EssentialPIM app on your mobile device and, you will have access to everything on the go. The way EssentialPIM sync with your workflow is just seamless, a few clicks and you are all set to go.
While I can sit here and brag about how exceptional EssentialPIM is but the best part is the price point. Though there is a free version available but to unlock the true potential of EssentialPIM go for the pro version. The pricing starts at $39.95 with app updates for one year for the EssentialPIM Pro License or you can go for the EssentialPIM Pro Lifetime License which will cost you $79.95 and you will get all new versions for FREE for lifetime.