The iCloud drive is a vital feature for apple devices and iOS ecosystem users. With iCloud Drive, you can save files, photos, or videos to the cloud and access them from anywhere. It acts as an expandable storage device. One of the main features of iCloud is that it can also be used to share files. This method not only holds good for sharing photos or videos, but this can also be used for project collaboration.
Let's see how this works first. When you share a file or folder in iCloud, it just creates an accessible link to your file or folder. Later you can send this link to others using your preferred method of communication. Once the person receives the invitation link, he can access your files, and that's how file sharing though iCloud works.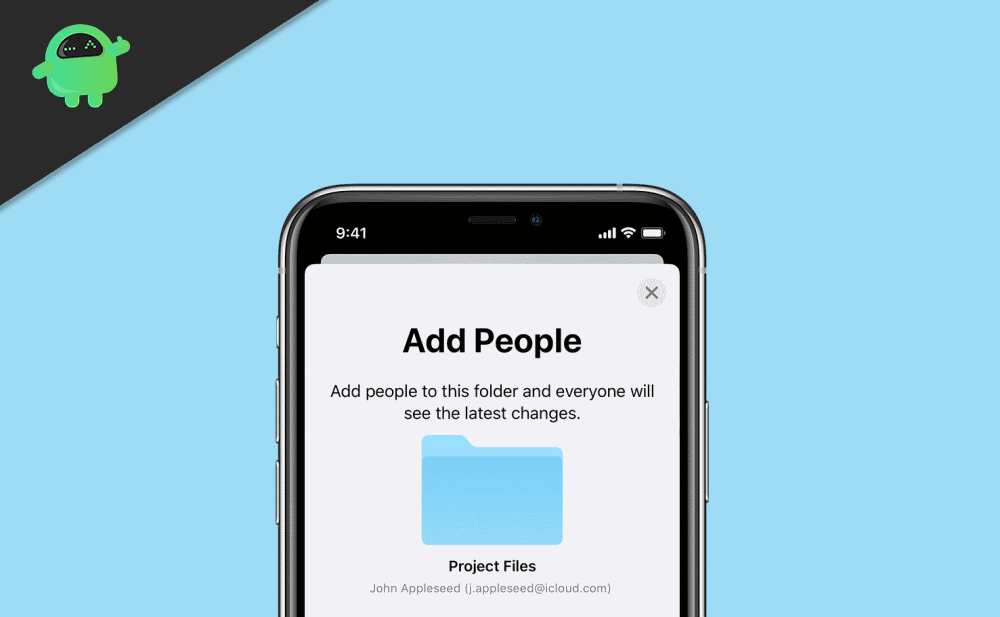 How to Use iCloud File Sharing on iPhone and iPad
You can enable file sharing option using your iPhone with few clicks. To do so, follow these steps:
Open the Files app on your iPhone.
Under the browse ab, go to Locations and tap on iCloud Drive.
Tap on select and now tap on the file or folder you wish to share.
Now, as the options for sharing opens, you can tap on add people.
Finally, select an option by which you're about to send an initiation link to collaborate.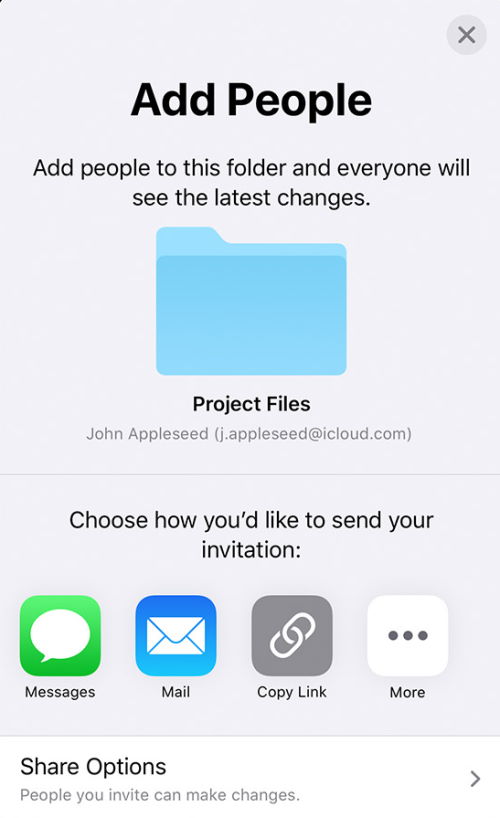 Once you select the method of sharing, the person will receive an invitation link to collaborate with you on that file on that file or folder if he opens that link. He can access those files or folders.
Quick Tip
You can set share options to set permissions for the files you are sharing. For example, if you are sharing a folder, you can set another person's permission to read-only or make changes.
Also, you can set permission for individual persons. Just tap on the person's name and set permission as per your needs.
Stop sharing using iCloud
If you no longer need to share those files with others, you can simply stop sharing. To do so:
Open sharing option, as mentioned above.
Tap on Stop Sharing.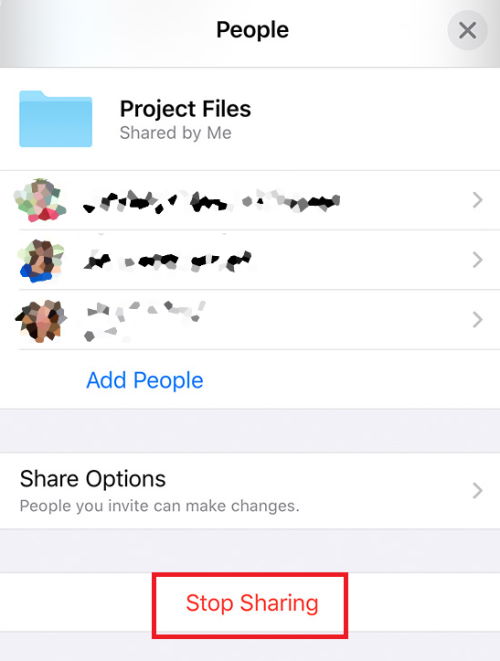 This can stop sharing the complete folder. But alternatively, you can remove particular persons from accessing those files. Tap on the person's name and click on more. Finally, tap on remove access. That person won't be able to access the files or folders anymore.
Things to keep in mind
There are some points to keep in mind while sharing files.
If you give modification permission to any of the persons, he or she can delete your files. So keep this in mind and give modifying permission to necessary people.
It is wise to keep Who can access section of Share options to Only people you invite. By doing so, you can prevent any other persons with links from accessing your files unauthorized.
If the person who has access to the folder deletes a subfolder or file within the shared folder, the folder will be removed across all devices, and there will be no chance of recovery.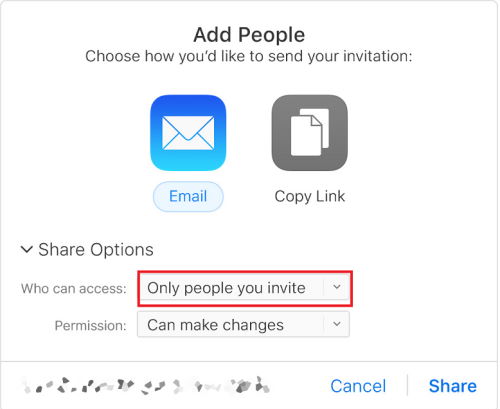 So always keep a backup of important stuff either locally or another folder within the drive with no sharing options.
Conclusion
So you can see that sharing with iCloud on your iPhone is more versatile and easy. However, keep in mind those permission and sharing settings because we don't want you to lose your files. Always keep a backup, or you can just provide read-only permission to others.