Almost everyone in the world has now either accepted the entire work-from-home situation or is trying despicably to get used to it. While there might be a few upsides of never having to leave your room to get your work done, the lack of an office environment is something that makes it harder for a lot of people to focus on work.
Whether you're a student who's just trying to keep up with your assignments and classes, or an employee trying to get to your deadlines, having a strong sense of time is important. The tried and trusted method of using physical time cards is not something viable to most of us sitting at home right now, and this is where the wonderful world of time tracker apps comes into the picture.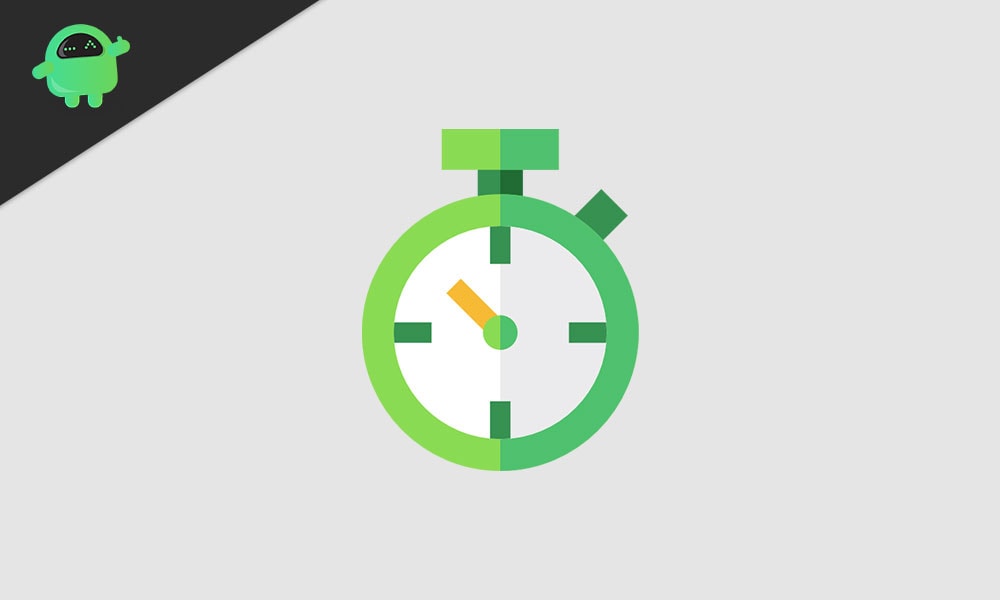 What makes a good Time Tracker app?
When looking for something to log your progress and time spent on a project, it is quite important to consider things such as its convenience, usability, features, and of course, price. Luckily, most of the Time Tracker apps we will be talking about today have a free version that is more than enough for individuals to log in their activities for the day.
But in case you're someone who needs a time tracker app that is built for tracking complicated projects and one which allows collaboration with the other people in your team, you might have to pay the premium. This is why we will be taking a look at both simple and feature-packed time tracker apps you can use on your phone!
Best Time Track­er Apps for iOS and Android
1. Boosted
Free | $7.99 for Premium
Kicking the list off is a simple time tracker app that I have been using myself for the past 3 years. Boosted has a very simple design that is very to the point. We would recommend Boosted to someone who wants to start tracking their activities and has never used a time tracking service before. You can create different projects and add individual tasks within them.
Once you're satisfied with your projects and tasks, you're a single tap away from tracking your progress. You can add your tasks to the calendar to have a better overview of what's to come. While Boosted has a few other features like a countdown timer and a dark mode to be easy on your eyes, that's mostly it.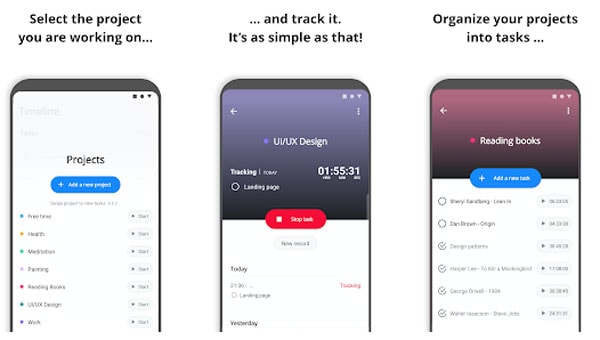 For anything more powerful, we would recommend you try the other time tracker apps on this list. You can back everything up to your Google Drive and restore it when switching devices. Boosted also comes with no ads and that's what makes it a very distraction-free experience. The premium version comes with more colors to categorize your projects, timers, and automatic backups.
Download for Android
2. Focus To-Do
Free | $1.99 for Pro
Ever heard of the Pomodoro Techinque? It's a popular time management technique that works on the principle of 25 minute intervals and a short break in between your tasks. Focus To-Do makes use of the Pomodoro Timer and allows you to add tasks that you can then start tracking. It isn't a traditional time tracking app but more of a productivity booster.
You can create tasks, reminders, lists, and other checklists using the "Tasks" tab and track them using the "Pomodoro" section. The idea is that you work on something for 25 minutes with almost no distractions and then take a 5-minute break before you resume your task again. This is great for people who find it incredibly hard to stay focused during work and those who procrastinate a lot.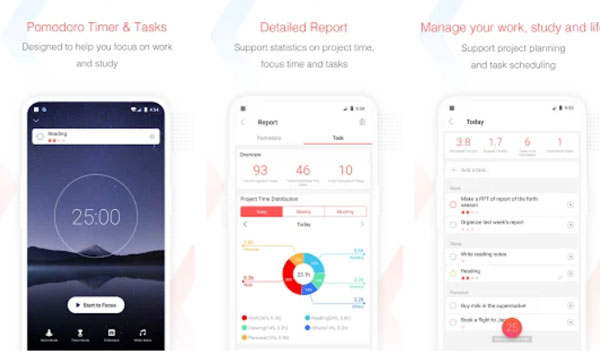 You can view detailed reports after tracking your tasks for a few days or weeks and find out just how you're doing and which areas you need to work on more. The app also makes it easier for you to focus on your current task by blacklisting apps that might distract you. The app is available for both Android and iOS devices, although the user interface seems nothing alike.
Download for Android Download for iOS
3. Timely
$8/month for Starter | $14/month for Premium | $20/month for Unlimted
Up next on our list is Timely, an incredibly intelligent and powerful time tracking app that is tailor-made for smaller teams or organizations. While there isn't any free version of the app you can use forever, we think the feature list justifies the premium it asks for. Timely's greatest feature is the automatic time tracking it does for your tasks.
Unlike most other time tracker apps where users need to manually select a task and turn the timer on, Timely uses AI to understand what task the user is working on by analyzing your background apps and automatically tracks your progress. This might raise a lot of privacy concerns but Timely takes user's privacy very seriously and nothing you want to be shared with your employer will be accessible by them.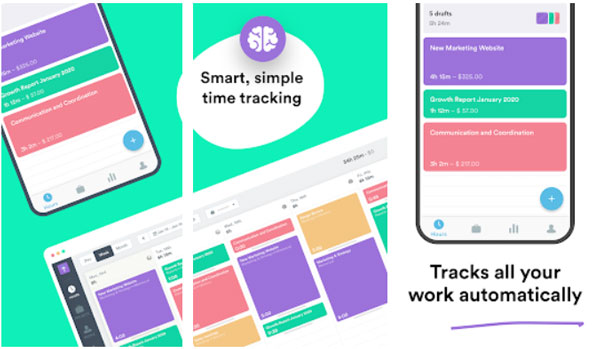 While Timely has an Android and iOS app, it is primarily built to track tasks most people accomplish on their computers. Timely can automatically track the time you spend in desktop or web applications, documents, emails, or in meetings. The service comes with a 14-day free trial that you can your organization can use to test the waters before committing to the premium version.
Download for Android Download for iOS
4. Toggl Track
Free | $9/month for Starter | $18/month for Premium
Toggl Track is a perfect middle-ground for people who want a slightly more powerful time tracking app than Boosted or Pomodoro Timer but something that's also suitable for individual use. You can add different tasks or projects you need to track and even categorize them using tags. Like Boosted, once you have everything set up, a single tap is all it takes to start tracking your projects.
The app is beautifully designed and somehow stays distraction-free despite all the fancy colors and icons. You can add a calendar integration to make it easier for you to manage your tasks and plan your week or day ahead. The app displays your reports beautifully in different formats such as graphs or a pie chart. There is also a "Suggestions" feature that tried to understand your time tracking habits and displays other tasks you might want to track as well.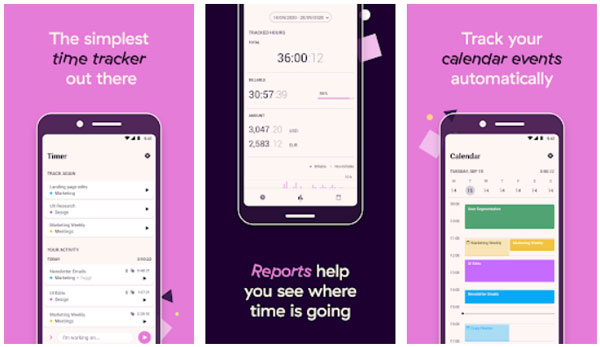 You get a little extra as an iOS user. The app has support for Siri Shortcuts which makes it incredibly easy for you to use hands-free commands and integrate other apps with Toggl Track. With iOS 14, you also have the ability to add gorgeous widgets so you never need to launch the app to start tracking your tasks.
Download for Android Download for iOS
5. Clockify
Another powerful time tracking service that is used by various organizations and even companies is Clockify. The thing that makes Clockify stand out is the fact that it is completely free to use. Now before you get confused looking at the different pricing options, it is free for as long as you need the basic time tracking features.
While that might sound like misleading marketing, there are very few services that actually offer truly unlimited time tracking with as many users as you please. Add the simple interface and powerful features on top, and that makes Clockify a no-brainer to use. It is best suited for smaller organizations or teams that just want a simple solution to tracking their projects and tasks.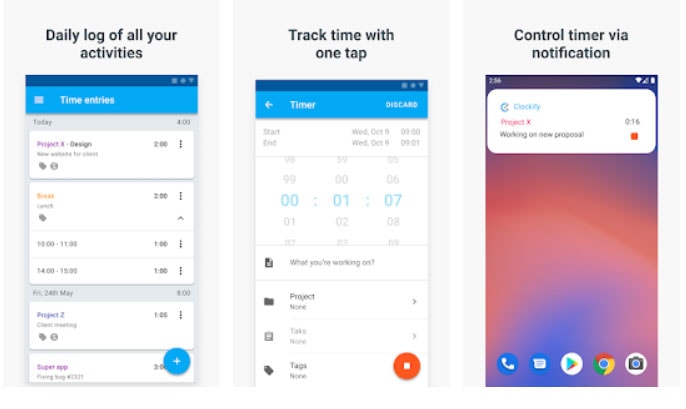 Clockify is available for all kinds of platforms including Web, Chrome, Firefox, Windows, Mac, Android, iOS, and even Linux. The premium upgrades are optional for those who want even minute controls over their teams. You can also just start using the app for free and choose to upgrade at a later date without losing any of your data.
Download for Android Download for iOS
Conclusion
We hope our top picks for the best Time Tracker Apps for Android and iOS devices have helped you out. At the end of the day, it truly depends at what level you need to time-track your projects. For individuals and freelancers, something like Boosted or Toggl Track would suffice but for smaller teams or organizations, Clockify and Timely are great services that offer a lot of control and features.