It is generally true that Bose soundbars are well-built, with a premium appearance and feel. The setup is easily upgradeable. In the future, you will be able to expand your setup by purchasing a subwoofer or satellite for the Bose Smart Soundbar 900 and 800. In its audio products, Bose takes pride in producing a well-balanced and neutral sound right out of the box.
They still have a good sound suited for most audio content, and most of their setups can be upgraded later on, even though the soundbars are a little lacking in terms of variety compared to brands that offer more variety. These speakers are a good choice if you are looking for something simple but sturdy without compromising on sound quality.
But, some of the Bose Soundbar / Speakers are not working with LG TV. That's the reason why we are here. In this article, we have described some of the fixes that will help you resolve the Bose Soundbar /Speakers not working issue with LG TV.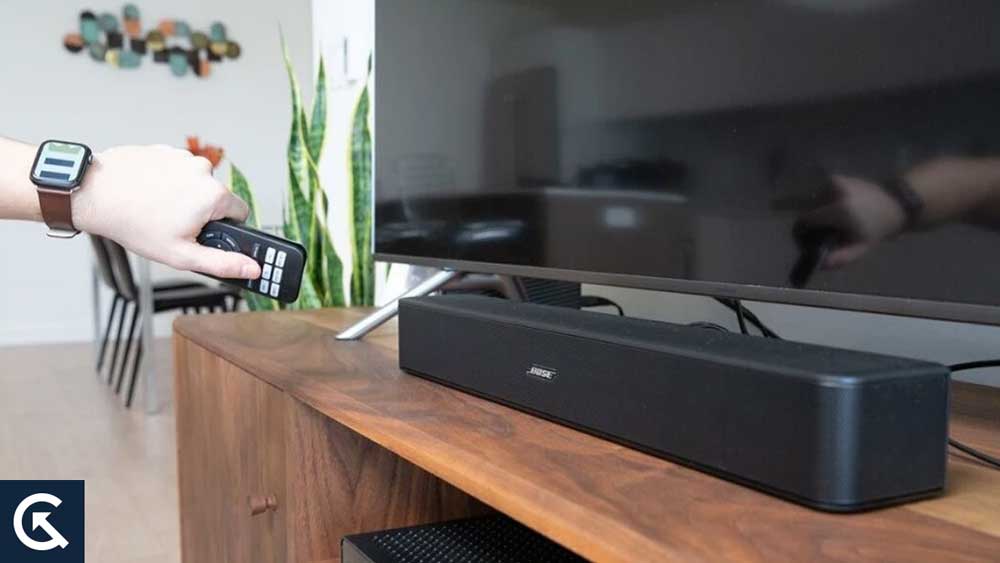 Why Are My Bose Soundbar / Speakers Not Working?
It may be due to faulty connections, settings problems, or hardware malfunctions that your Bose Soundbar / Speakers stop working. Using this guide, you can troubleshoot from the most likely to the least likely solution.
How To Fix Bose Soundbar / Speakers Not Working With LG TV
Below you will find a few tricks that should help resolve the Bose Soundbar / Speakers not working error. You need to perform these steps one by one until you are able to resolve this issue. If you are experiencing this issue, make sure you perform them one by one until the issue is resolved.
Fix 1: Reboot Your Bose Soundbar / Speakers
It is best to disconnect the speakers and all other connected devices one at a time since there are multiple devices connected. For approximately two to three minutes, unplug both the Bose Soundbar / Speakers and TV from the power source. It is now possible to plug the cables back in after unplugging them. Make sure Anynet+ is enabled on your LG TV if it isn't already. When the Bose app asks you to connect the Arc to your smart TV, select the TV Setup option.
Upon completion of the TV Setup, you will be able to verify whether the Arc plays audio from the Smart TV. You can enjoy your content if everything appears to be working; otherwise, follow the other methods.
Fix 2: Select Sound Output
When the Bose Soundbar / Speakers do not work with your TV, you should make sure that the correct sound output is selected on the TV. Using your remote control, press the Home button > choose Settings > Audio Output > choose External Speaker from the Sound list. Lastly, you should now be able to identify your Bose Soundbar / Speakers. The Bose Soundbar / Speakers not working error will automatically be resolved once it recognizes your speaker.
Fix 3: Make Sure There is No Issue With The Content
Have you checked to see if there is anything wrong with the video content? There is a possibility that you may be experiencing this problem due to sound-related issues in your content. In order to prevent conflict, we suggest that you use your device's speaker rather than the Bose Soundbar / Speakers to play the same content.
Fix 4: Reconnect HDMI Cables
In most cases, the HDMI cable on the TV can be disconnected and connected again to fix the problem. To do so, follow these steps:
To begin, turn off your TV and sound bar.

Ensure that both devices are powered off, and that cable HDMI is unplugged.

Approximately two minutes after connecting the HDMI cable to the smart TV's HDMI IN (ARC or eARC) input, reconnect the HDMI cable.

In the next step, you need to plug in the soundbar's HDMI OUT (ARC or eARC).

Connect both devices and make sure they are both powered on. Check whether the issue has been resolved after turning on the smart TV and the audio system.
Fix 5: Reset The Bose Soundbar / Speakers
It will return to factory settings when you reset the speaker, erasing all data. If your Bose Soundbar / Speakers are not working, you can use this method to troubleshoot. You should reset the speakers to resolve the issue.
Fix 6: Check The Cable
A damaged or cut cable can cause your Bose Soundbar / Speakers not working issue. That leaves you with only one option: to check and replace your charging cable. Once you have replaced the cable and fully charged your Bose Soundbar / Speakers, you will hear the sound for the first time.
Fix 7: Check Your Connection
You can also encounter problems with Bose Soundbar / Speakers on your device if you have a poor internet connection. It is, therefore, essential to have a reliable internet connection. Using Ookla's speed test, you can see if your WiFi provides adequate performance.
If your WiFi is not functioning properly, you can try rebooting your router/modem once to see if that fixes the problem. After that, if the speed hasn't improved, you should speak to your internet service provider and make sure it is working properly.
Fix 9: Set Audio System Input
The smart TV can be switched for input if you have not resolved the audio system issue (soundbar). Your remote control should have buttons for TV and INPUT. The solution has, however, been reported to help many users resolve similar issues in the past. In order to fix this error, you must try this out and let us know what results in you get.
Fix 10: Contact To Support Team
Each brand has its own dedicated team of customer service representatives. To resolve this error, we suggest you contact the Bose technical support team immediately. If you prefer, you may also hover to your nearest service center for Bose Soundbar / Speakers.
Also Read: Fix: Bose Soundlink Color Battery Will Not Charge Issue
So, that's how to fix the Bose Soundbar / Speakers that are not working with LG TV. We hope that this guide has helped you. Furthermore, in case you need more info, comment below and let us know.