Ghost Recon Breakpoint, one of the games in the Tom Clancy's Ghost Recon series of military tactical shooter games by Ubisoft, is a great game no doubt, but occasionally some issue pops up that makes the game unplayable by many of its users. This time, the issue is an "Error Mountain-00016" error code that shows up when a player logs into the game.
The error pops up directly after login, making it impossible for users to play the game or do anything else really. Since the game is fully online, users can't opt to play local games offline either. This article contains everything you need to know about Ghost Recon Breakpoint Error Mountain-00016 and how to fix it.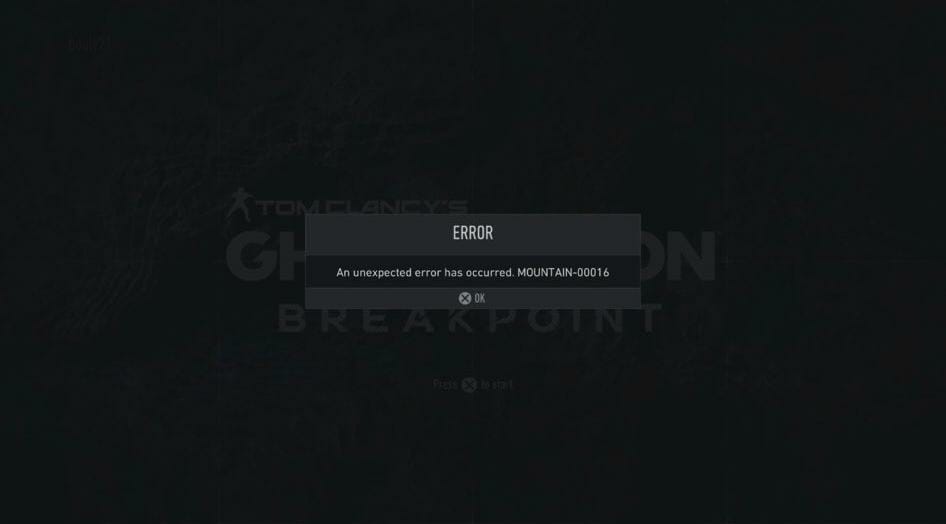 First off, as mentioned earlier, this issue occurs when player log into their account on the game, with the following error message: "An unexpected error has occurred. MOUNTAIN-00016". The first step to solving a problem is understanding what's causing it, so let's look at that.
What does Error Mountain-00016 mean on Ghost Recon Breakpoint?
This is the first time we're seeing this error on the game or any other game in the Tom Clancy's Ghost Recon series for that matter, and unfortunately, that means only the game's developers could proffer a solution to it. Luckily, after hours of players complaining over the internet about the error with no solution in sight, Ubisoft published a post on its official forum clarifying that the error affects only PS4 consoles and that it's a connectivity issue between the PS4 consoles and the game's servers.
Hello, Ghosts! We're aware of an issue currently affecting player's connectivity on PS4 and are working towards resolving this. We apologize for any inconvenience caused and appreciate your patience. Please be sure to check this thread for future updates. Thank you! – Ubisoft Official Forum.
Then some hours later, the company posted the following message on its official Twitter handle:
UPDATE: ​​We are still investigating connectivity issues in Ghost Recon Breakpoint on the PS4. Thank you for your patience and understanding!

— Ubisoft Support (@UbisoftSupport) May 3, 2020
Just about four hours ago (8 AM EST, 03/05/2020), Ubisoft announced via Twitter that the issue had been resolved, and even went ahead to mark the post made earlier on its support forum as "RESOLVED".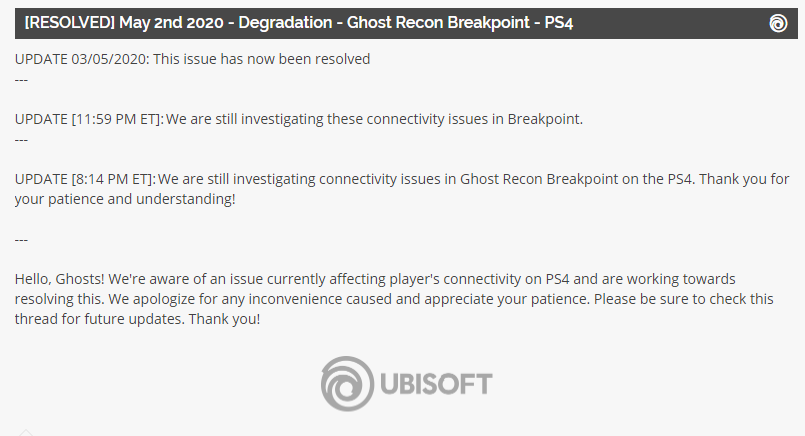 These connection issues should now be resolved, please let us know if you are continuing to see connection issues for Ghost Recon Breakpointhttps://t.co/9F3DDIRN2v

— Ubisoft Support (@UbisoftSupport) May 3, 2020
However, players still continue to face this MOUNTAIN-00016 error and the company has had to reopen investigations into the issue.
Apologies, we are continuing to look into this issue due to further reports of it occurringhttps://t.co/vpUy9jNrfZ

— Ubisoft Support (@UbisoftSupport) May 3, 2020
How to Fix Ghost Recon Breakpoint Error Mountain-00016 on PS4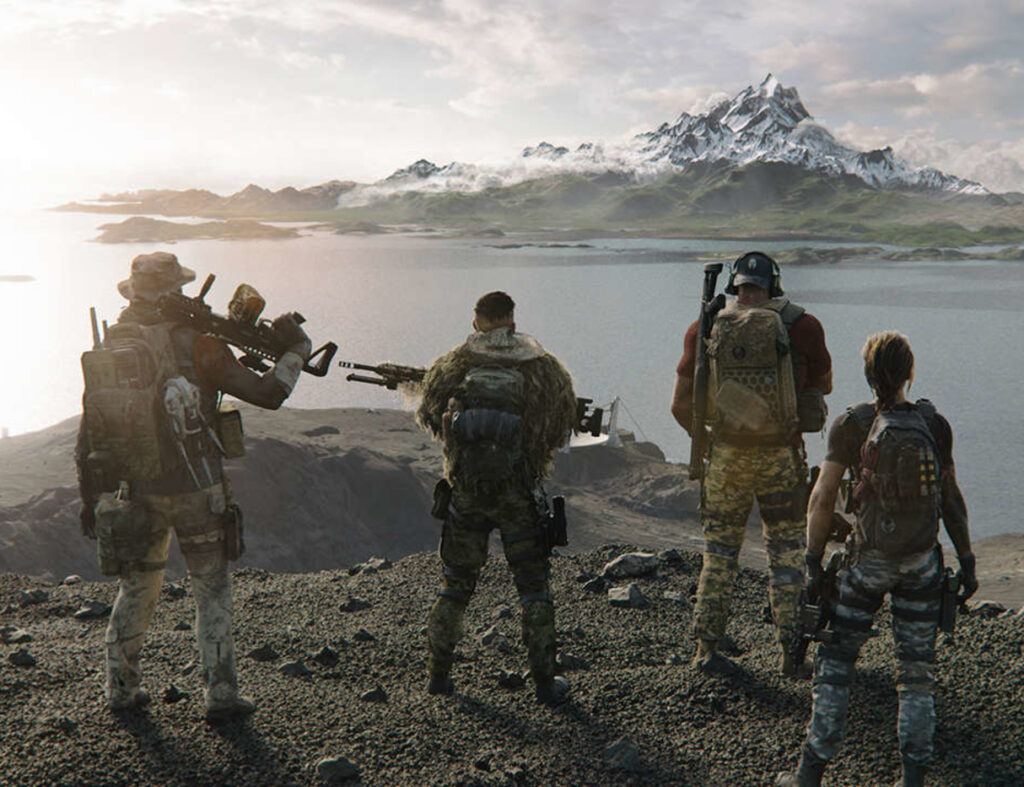 It's been over 24 hours since this issue first started affecting players on the PS4 platform, and considering that many around the world are currently restricted to their homes and a large percentage of the game's players use the Playstation 4, it has been very frustrating for the affected players.
We're still on the lookout for solutions to the issue from official source, and will continue to update this post with latest updates and news on the issue, but in the meantime, you can switch to other platforms like PC, Xbox One or Google's Stadia if you have access to them, or try this fix we published for a different Mountain error (MOUNTAIN-00800) on the same Ghost Recon Breakpoint game.