Alright, so it looks like that you have an LG device and stuck on Google account verification screen, well don't worry! In this guide, we will help you on how to remove Google account verification or Bypass FRP Lock on any LG Devices. Great! LG is one of the best Smartphone brands out there which offers some really good Smartphones at really affordable prices.
Let's say, you forgot Google Account ID/ password (Gmail), or you have purchased a second-hand phone either online or via some third-party source. When you reset your LG device and reboot, you will be greeted with the message "This device was reset, to continue to sign in with a google account that was previously synced on this device", meaning that the phone is useless unless they bypass the Google account. Which mean's you are in trouble unless you have this guide to remove Google account verification or Bypass FRP Lock on any LG Devices.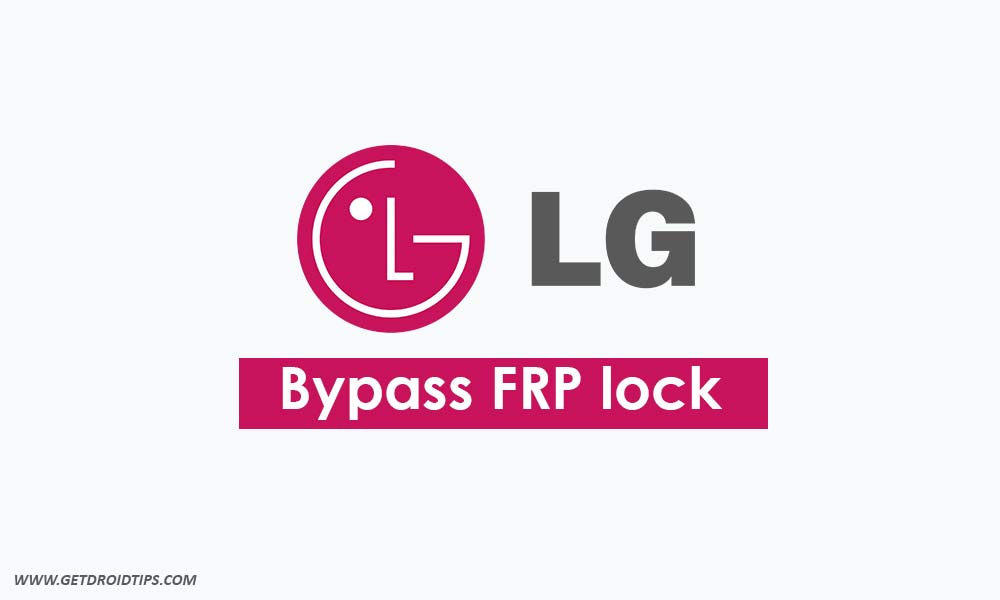 What's Factory Reset Protection means?
Factory Reset Protection, also known as FRP is a new security feature which is activated when you set up a Google Account on your device. Once FRP is activated, it prevents the use of a device after a factory data reset, until you log in using a Google username and password previously set up on the device.
Anyways, FRP is a security measure taken by Google for all devices running on the newer Versions of Android. It was first introduced with the Android 5.1 Lollipop. This feature is activated as soon as you set up a Google Account on your Android device. Once activated, this will prevent the user from using the phone until the user enters the old Google Account Credentials. And since you don't have those, you might want to bypass it.
Supported Device Name:
LG G8 Thinq [Not Tested]
LG G8S Thinq
LG Q60
LG K50
LG K40
LG Q9
LG V50 Thinq
LG V40 Thinq
LG G7 Fit
LG G7 One
LG Q8
LG K11 Plus
LG Q Stylus
LG Q7
LG G7 Thinq
LG V30 Thinq
LG V30S Thinq
LG Zone 4
LG V35 Thinq
LG G6
LG K30
LG K10
LG K8
Prerequisites:
The following guide will only work with the LG devices.
Download QuickShortcutMaker 2.4.0.apk
You should have at least a 60% charge left on your device.
Once you have the above prerequisites, you can proceed with the instructions.
Instructions to Bypass FRP Lock on any LG Devices
Follow these instructions carefully to remove FRP lock on LG devices:
Step 1: Open Browser on your LG Device
First of all, turn on the Wifi and connect it to your Wi-Fi SSID.
Now, go back to the WELCOME screen on your Huawei Android Device.
Long tap with your two fingers for a few seconds.
You should now see a Talkback Tutorial Screen. Here, draw a big L and then double-tap on the Pause Feedback button.
Now, double-tap on the OK button to suspend the talkback.
On the next screen tap on Help & Feedback.
Here, tap on the Search Icon.
Type Voice in the search bar and then select Voice from the list.
Now, tap on getting Start with Voice Access.
Tap on the Youtube Video play icon.
Now, it's time to tap on Share Arrow.
Tap on the 3 Dots icon.
Now, tap on the YouTube Video and drag it down.
Here tap on the 3 Dots Icon on the top right corner and select the Terms & Privacy Policy Option.
This will open the Terms & Privacy Policy page in Google Chrome or Stock Huawei Browser.
Step 2: Get Settings Access
Now when you have got the access to the browser Download Quick Shortcut Maker APP APK.
Once the download has finished, Tap on "Download icon or 3 dots" from the top right corner of your chrome browser.
Tap on the Download menu to access the downloaded folder.
You will see both the downloaded apk and Google play services.
Now, tap on the Quick Shortcut Maker App Apk and you will see only 2 options there, 1st one is "Wi-Fi", and 2nd one is "Tethering"
If all the other menu in the settings are missing, then go back to Talkback features by long pressing (Volume up + Volume down) keys together.
When you hear a beep sound, release the key and draw L on your screen to bring Talkback feature
When you see the popup window with a new menu, you can long-press "Power Key", and then double-tap on "Power off & Restart" option to restart your device.
Important Note
Make sure to check whether you have enabled Talkback feature successfully
Once the device restarts, you will see the Talkback screen, now again draw L gesture to open the context menu.
Double-tap on "Text-to-speech Settings
Now long press both the Volume keys together, after that you will see "Suspend talkback" window, just double-tap on "OK".
You can now swipe from the very top to down to bring back the top bar options
When you are done, you can now tap on the Settings gear icon,
That's it! You have successfully activated the settings menu.
Step 3: Download Quick Shortcut Maker APP APK
Install the Quick Shortcut Maker APP APK. Just in case you get any Unknown Sources Warning, then simply enable the Unknown Sources option by going into the Settings >> Security.
Once the installation process has been completed, tap on Open.
In the Quick Shortcut Maker app, search for HOME. Now, you will get a list of various processes and tasks related to the query.
Now, tap on the HOME and select LG HOME task which is the very first option.
Here, tap on the Try button.
Now, the select Setup Phone option
So that's it guys, this was our take on How to remove Google account verification or Bypass FRP Lock on any LG Devices. We hope that you found this post useful. Just in case, if you have stuck somewhere between the steps or had any questions related to the topic. Then, feel free to leave them in the comments section down below.