FNAF Security Breach or Five Nights at Freddy's Security Breach is a cool game that offers you a lot of familiar and new characters to the series. However, unfortunately, not each character that you saw in the last Security Breach game kept their purpose, but guess what? They leave a memorable impact on users' minds.
Meanwhile, some of the characters will also be upgraded for Freddy Fazbear, which is remarkable. Anyway, did you get any idea why we are here today? Well, yes, you guessed it right. Today here, we have explained full lists of characters that you'll get to see in the Five Nights at Freddy's Security breach. So, let's get started with it.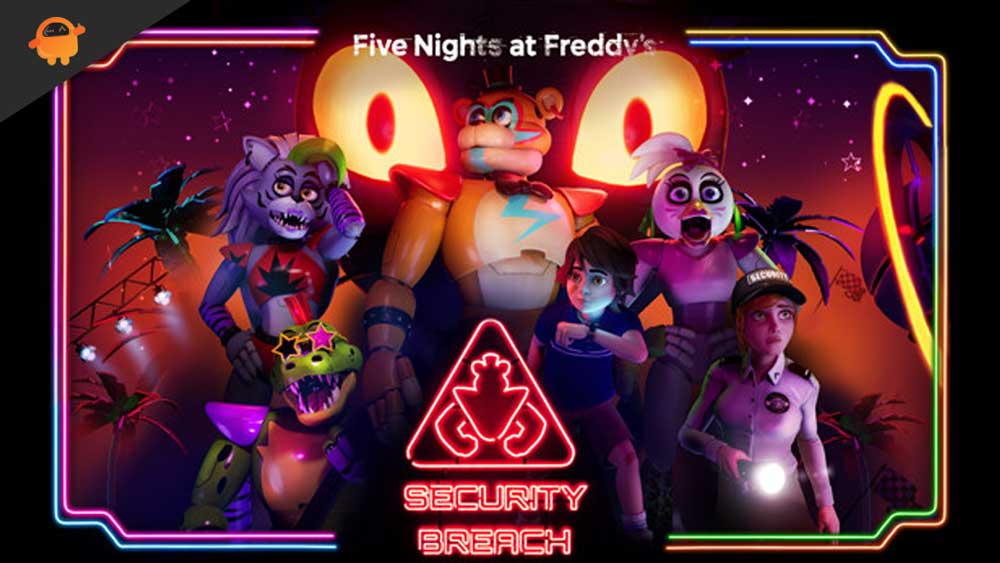 Full List of Characters in Five Nights at Freddy's Security Breach
Here we have mentioned about thirteen characters list that is available in the Five Nights at Freddy's Security Breach. So, if you want to know about them in more detailed form, then make sure to read the guide until the end.
#1. DJ Music Man [animatronic, foe]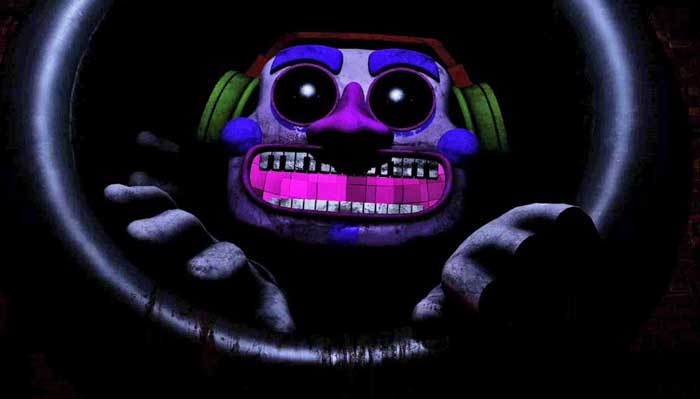 This character is first seen in Freddy Fazbear's Pizzeria Simulator, which is basically a cymbal-crashing animatronic entertainer. However, in this game, it appears or is assumed as a minor antagonist. Well, although this character appears for just several minutes, but successfully able to leave a lasting impression.
In my opinion, this DJ of Freddy Fazbear's Mega Pizza Plex has an adorable face and looks innocent, but not go with his face as it is one of the largest animatronic of this game. Moreover, it also converts into a spider with the help of its multiple legs.
#2. Endoskeletons [animatronics, foe]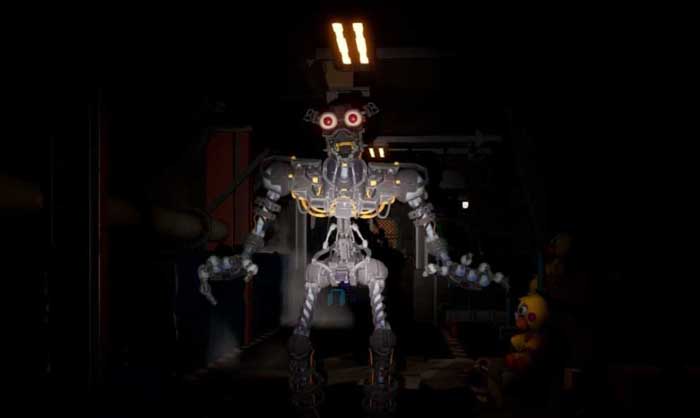 The endoskeletons are made up of robot skeletons, including many mechanical parts and animatronic devices. It has wiring, eye, and mouthpieces along with moving limbs, digits, and voice boxes—however, a combination of all these things makes a bipedal humanoid animatronic.
The whole animatronics bodies' endoskeletons can destroy you with their new and unique nature. However, the most interesting part of this is that they follow you when you are not facing them. The first time you encounter the endoskeletons is a little bit cluttered as you have to ultimately sidestep a horde of them in narrow spaces.
Now, the question is when they appear in front of you. Well, they appear at a point when you obtain a key item in order to defeat a boss from Bonnie Bowl. The animatronics endoskeletons will brood the bowling path and chase you until you exit. Well, it is the most amazing character from the full list of character that we have for you.
#3. Glamrock Chica [animatronic, foe]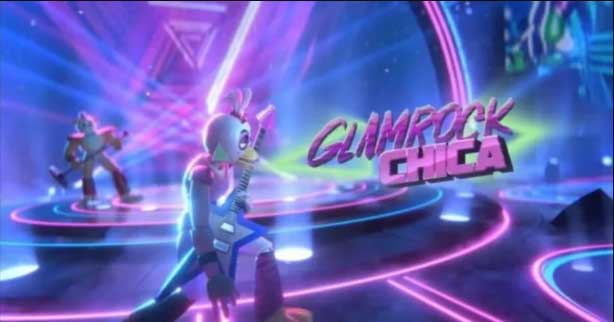 A pure white and pink chicken and an orange beak, purple eyelids, orange feet, and dark blue eyes are Glamrock Chica's identity. However, the Glamrock Chica does not have many stray feathers like the normal chicks. She has a pink hair bow and visible pink meta segments below her left eye.
Moreover, she also has a pink marking on her right eye with long eyelashes and a noticeably curvy. Although it is quite challenging to beat her, but there's a way using which you can beat up the Chica and fetch up an upgrade for Fazebear. Well, you know what, it is not actually that much tough to beat her.
Yes, to defeat here, you just need to watch a cut scene and not more than that. In addition, the most interesting part is you can also get the Voice Box as well as upgrade the Fazbear at parts and services. And guess what? When you install the upgrade, it will allow Fazbear to stun bots. These things are really useful in the situations where you require to locate the space to release Gregory.
#4. Freddy Fazbear [animatronic, partner]
You may already notice the appearance of the Freddy Fazbear. But, let's be clear about the appearance for those who still don't know about Freddy Fazbear. He is a brown bear wearing a black bowtie and tophat. Moreover, he has three black freckles on his cheeks along with blue eyes and black eyebrows. Also, he has a few handprints on his head that are interesting.
Fazbear has an excellent ability using which he can hide the Gregory by just pressing the Square button in front of the Fazbear. Also, if you press the L1, then you can call up the Fazbear to your location. Also, many users get confused about whether this character is your enemy or not. So, let me clarify this for you: Fazbear is not an enemy of animatronics and bots.
So, he can freely move around without fear of being glimpsed.
But, you need to be careful and keep your eyes open because when Fazbear has a shortage of charge and if his battery goes down to zero, he will immediately kill you while you are inside. Therefore, you need to locate the recharging stations through the Pizza Plex and exits the Fazbear as soon as possible to avoid this part. This is also the most interesting character from the full list of character that we have for you in this article.
#5. Gregory [human, main character]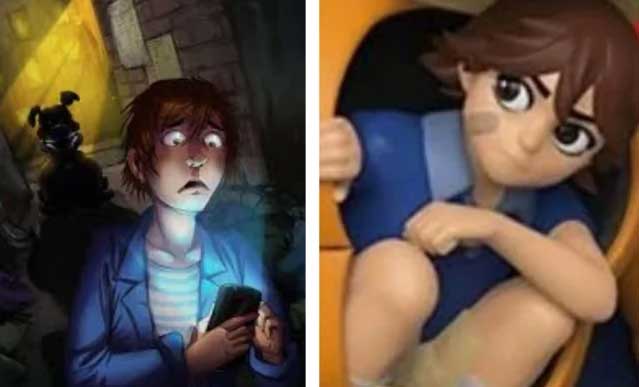 He is a small irritated, and outspoken thin kid with apricot skin along with messy brown hair and brown eyes. You may have already noticed that he has small bandages on both his right cheeks as well as left knee. He looks cute with a blue t-shirt with a pale blue collar and two white stripes. Also, wear tan cargo shorts along with white socks. In addition, a red and cyan-colored sneaker with dark grey soles.
Now, talking about the characters, he is one of the game's main characters that you face off in the ending scenes or on the cameras through your Faz-Watch. Also, as we have already stated, he is a young child who gets trapped in the Pizza Plex. However, Gregory snuck into the Pizza Plex to escape the outdoor conditions.
Moreover, it is the condition where he learns about some deep and dark secret of the mall, i.e., the disappearance of children. Meanwhile, you are not given any other information when you open the door in the morning. Therefore, he is one of the most popular characters in the game.
#6. Montgomery Gator [animatronic, foe]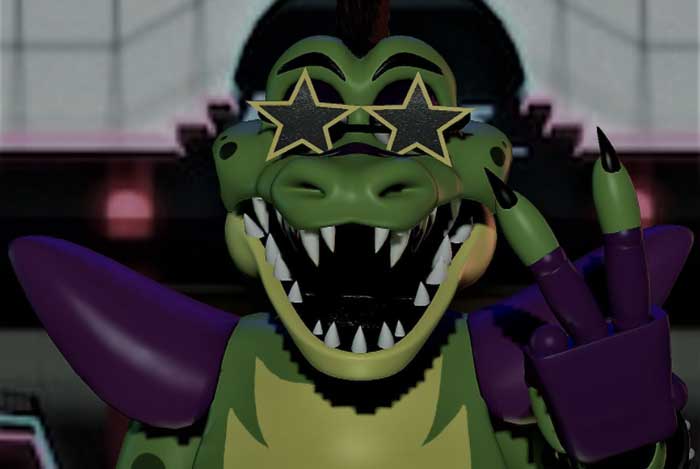 Montgomery Gator is basically an alligator based on animatronic. However, similar to the other Glamrocks, the Montgomery is designed to have a punk rock theme based on the early 70s vibe. He is green-colored with a yellow color stomach, jaw, tail, and spots on his reptilian-textured body and tail.
Talking about his appearance, then he bears a red mohawk and gree-colored suit armor. Also, he looks really dangerous with sharp-shaped teeth and black painted claws. Moreover, he has tinted purple color hands, excluding the fingers, along with a streak-like paint on his muzzle and feet.
So, talking about the wearing, he wears a pair of star-shaped sunglasses, purple shoulder guards, gothic bracelets, and his own yellow-colored bass with black stripes.
Montgomery Gator is the only real and one of the most difficult enemies you have to defeat, which makes this game really engaging. The Gator can leap to different areas of the field, and you know what is sometimes right in front of you. Also, he started dropping the upgrade of Monty's Claws. However, Fazbear has yellow chains around them with each claw and can break through locked gates. In the meantime, after this, there are several new areas for Gregory and Fazbear to explore, and that too needed to access Roxy Raceway.
#7. Map Bot [animatronic, neutral]
You know about the STAFF Bot, right, but did you know the Map Bot is also a neutral STAFF Bot that helps you to extend the map on your Faz-Watch. However, it is really surprising that the Map Bot will appear on the game twice but when you first enter the atrium. Although the Map Bot looks like a general STAFF bot, they wear a pair of glasses with a light blue sun hat along with a small pouch around their waist filled with the maps.
However, as an associated neutral bot are the access bots in front of Mazercise and Fazer Blast. Moreover, a party pass, they will not let you through. Anyway, this is also one of the important characters that are available in the game.
#8. Moonydrop [animatronic, foe]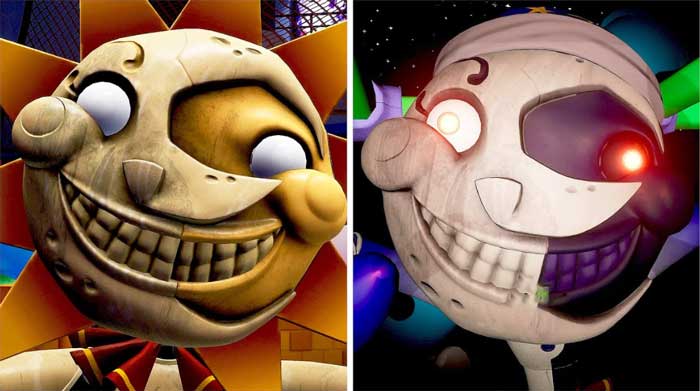 It is basically a hyde to Sunnydrop's Jekyll, and whenever the lights go down, it starts appearing on the outside of the children's area to chase you down. You are on your heels at certain points in the game, including the end. However, apart from the ending, you are allowed to escape Moonydrop by entering the nearest charging stations.
So, when you do this thing for the very first time in the game, you will notice that the Moonydrop pulls away and embezzle Fazebear. I don't understand the concept that when you enter into the charging station, the Monnydrop's search immediately ends. At the same time, when you leave the station, the lights again start returning to normal. I think it's a bit interesting to face this character.
#9. Security Bots [robotic, foe]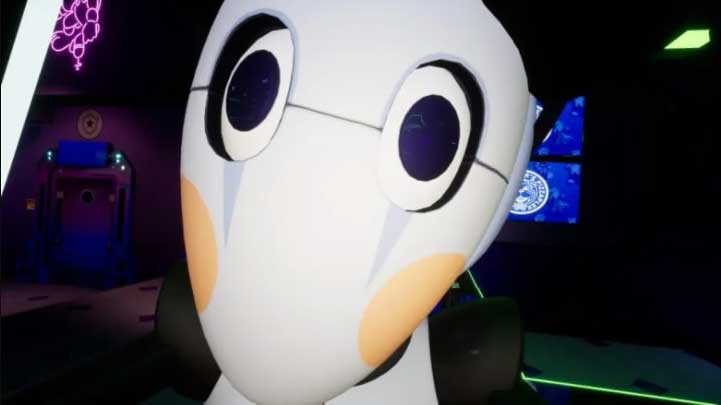 These bots patrol the entire Pizza Plex, and it is one of the most frequent banes of Gregory's existence. It can even patrol around your kitchens and storage areas. Well, eventually, their routes are fairly pre-defined, yeah! So the timing may be a disrupted aspect if they find you. But, to manage the timing, they sometimes tend to overlap paths in larger areas.
However, as we know, there are many areas that don't have the Chica, Gator, or Wolf; now that's the place where the bots play a vital role. But, we suggest you always try to avoid them and grab the hoodie so that you make it harder for them to catch you.
#10. Roxanne Wolf [animatronic, foe]
As you may already be guessed by its name that this character is totally based on a wolf. Also, she is dressed up similar to the other member of Glamrocks in the 1970s, 80s vibe. She has both Foxy and Mangle facial features, and one of the most notable things is its lipstick and ember eyes.
However, Roxanne has an interesting visible metal segment under her eyes that is opposed to the red cheeks of Mangle. Her ears are also notable, with a light gray center lined at the edges with a gray outline and two attractive earrings.
Well, just after you engage with the cut scene, a humorous scene starts playing out that ends with you being recovered another upgrade for Fazbear– Roxy's Eyes. All these related things will allow the Fazbear to get all the collectible items through the fuchsia and walls. Also, you have to be very careful because she will attack you in a blind state with the help of a smell and hearing ability in the underground. But, don't get afraid as you can also use here ability as your advantage to escape and be done with the wolf.
#11. Sunnydrop [animatronic, neutral]
Sunnydrop is the only friendly character that we have for you on our full list of characters on Five Nights at Freddy's Security Breach. As the name sounds, serves a Sun, which is the benevolent half of the Daycare Attendant and is a very user's friendly character. Also, the main motive of the Sunnydrop is to protect the people from the Moon by keep reminding Gregory to keep the light on to prevent the appearance of the Moon. I think that is a cool thing, and I don't find any detriment that this character gives you.
#12. Vanny [???, foe]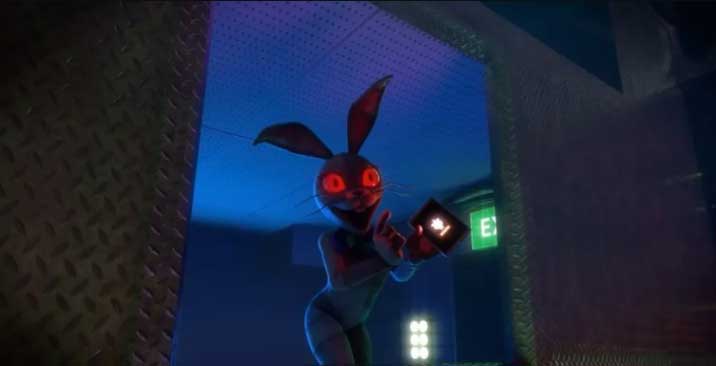 Vanny looks like a rabbit, but she doesn't because she is just wearing a white bunny costume that has to stitch all over it. Also, she wears a large pink tartan stitching on her left hip that I find very funny but still enjoyable to watch her. Talking about the most attractive part, then the bunny mask with a wide, creepy smile and a small buck of teeth. Moreover, the mask also has small eyebrows along with a pair of long whiskers and big glowing red eyes that seem to be spaced out.
However, many endings involve Vanny, such as her identity being revealed, and you know what? This is the main reason why I previously thought that a sequel to Security Breach is particularly may be needed to tie up with some loose ends created. Well, we only suggest you be very careful with her as she has only one motive to kill you, and she has the ability to turn all the bots on you.
#13. Vanessa [human, foe]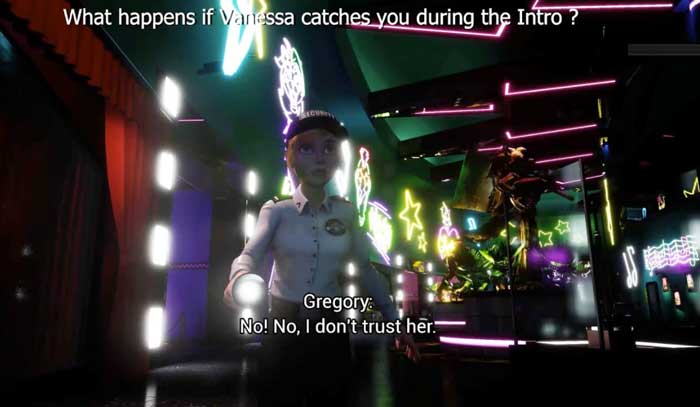 Vanessa is a young lady who has pale skin, freckles, green eyes, shoulder-length blonde hair along glossy lips. However, as it may already be revealed in the game's Special Delivery, she wears rainbow stream hair extensions. However, whenever she is working, she makes sure to wear a standard security guard uniform with darker accented should pads. Well, this is the last character that we have for you on our full list of characters in Five Nights at Freddy's Security Breach.
Moreover, she also has a dark gray cap labeled security n her uniform. Eventually, she catches you in the middle of the story but refuses to repair the Fazbear. Also, it is very rare that she appears in the rest of the game after that incident, as per my personal experience.
So, these were the full list of characters that you'll get to see in the Five Nights at Freddy's Security breach. We hope you get this guide helpful. But, in case you need more information, make sure to comment below. Also, if you are a visitor visiting our website for the first time, make sure to read our other latest guides too.