You must have heard about ChatGpt. This AI tool is seen as one of the biggest threats to professionals in various fields. This powerful AI can answer any question and can help you write assignments, do your homework, and can even solve your mathematics. Apart from the students, professionals around the world can use ChatGPT to complete their work by giving a task to write a code or even an article for them. As this might look exciting, but AI tools can never match the professionalism of human professionals. And that is why there are tools that can detect your content if it is written by AI tools or completely written by humans.
In this article, we are going to list out all the available tools that can detect AI-written text. We will also brief you on how you can detect the AI written text, which could be your student's Homework, an article, or a professional document. Be with us to get an idea about the best tools available for AI detection and how you can use them.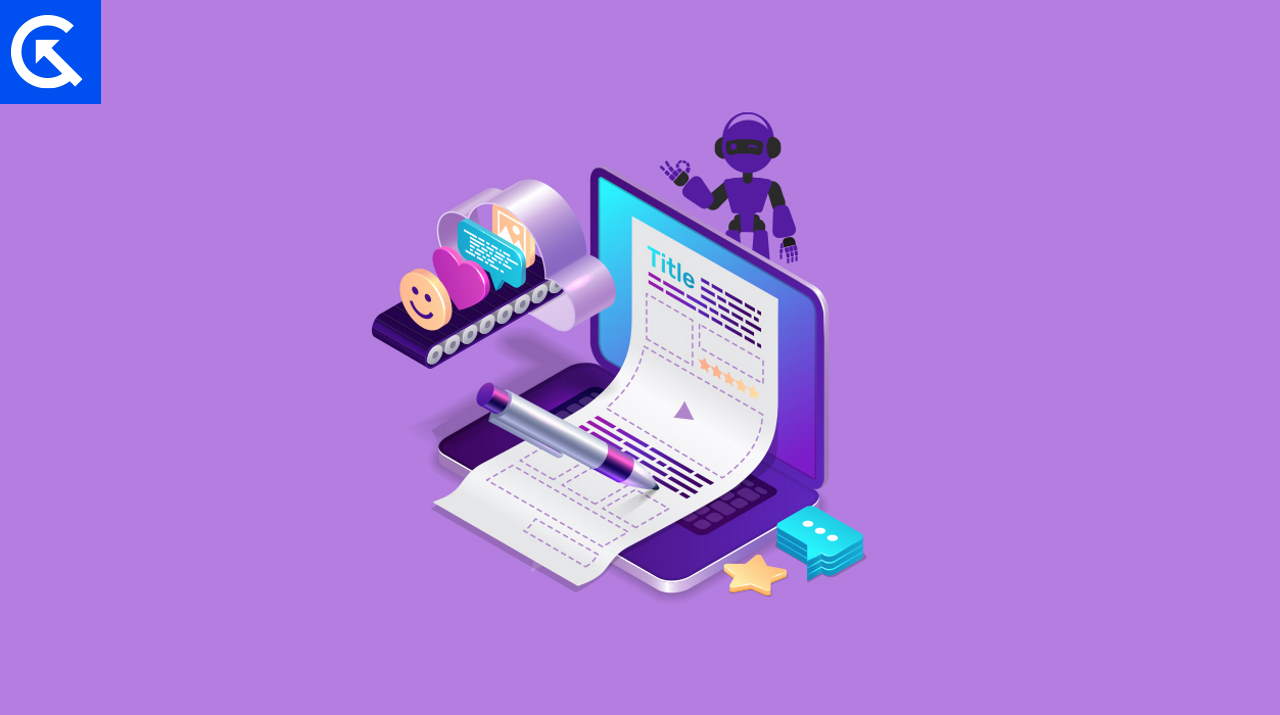 How does AI like ChatGPT work?
AI-generating tools work on the enormous database system. This is like training a really smart kid's brain to recognize patterns. AI can improve itself by learning from your search history. ChatGPT works by attempting to understand and recognize the pattern you put into the chatbox. It actually trains from your input. The enormous set of data is powered by deep learning, which allows the AI to learn the relationship between the text to deliver a human-like response.
How To Check for Writing Made With ChatGPT | Best AI Detection Tool 2023
There are various methods by which you can identify any content which is written by the ChatGPT. However, it is really difficult for the human eye to detect AI content, but you can use these given methods. To check the AI content, you can use some online tools. Here are the professional writing tools you can use to identify the content AI written.
Undetectable AI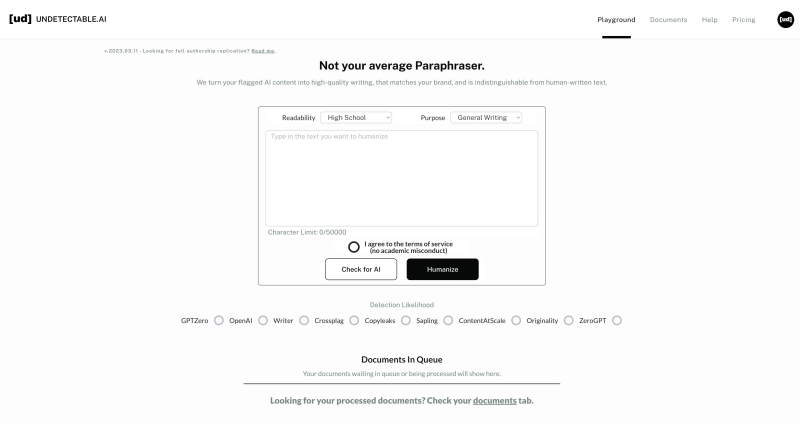 The first tool you can use to detect AI written content is the Undetectable AI. This tool uses the fine-tuned model which is trained with the batch of documents. However, you can not use this as a bulk checker tool, but you can use this for a single paragraph or a single document. Here is how you can use the Undetectable AI to check your writing.
Go to the Undetectable AI
Write your content in the writing area and click on Check for AI.
This AI detector supports various AI from OpenAI to Crossplag. You can also use this tool to humanize your writing.
AI Detector Pro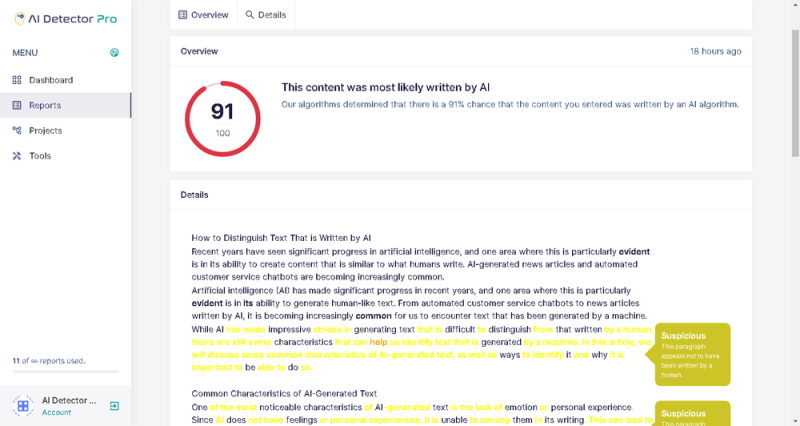 AI Detector Pro is an advanced tool designed to detect text written by a human and text generated by AI algorithms, particularly those based on the GPT model. By taking advantage of the extensive datasets from GPT-based AI tools, AI Detector Pro helps you detect patterns within the text with AI generative content and gives you a detailed report. Here is how you can use AI Detector Pro to check your writing.
Go to AI Detector Pro and log in to your account.
Enter the text you want to check and click analyze button.
Wait for the algorithms to process the text.
Once done, you will get a paragraph-by-paragraph detailed report.
AI Detector Pro can detect large chunks of text and helps you analyze whether they are AI-generated by highlighting sections, words, or phrases written with the help of AI tools. AI Detector Pro also offers a free subscription which you can use to check 3 reports for AI plagiarism.
Originality.ai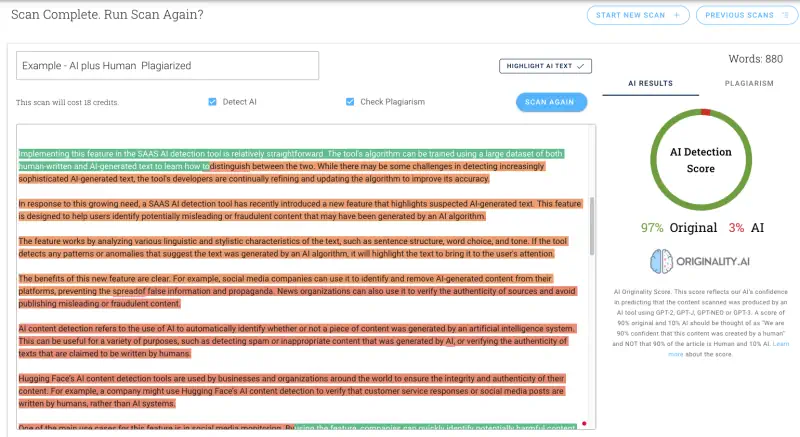 When you need some application to check bulk documents, this is the perfect AI tool for you. You can also use these tools to check for plagiarism. The originality uses a combination of GPT 4 models to determine the predictable content. The originality is not completely free. You can start Originality from 0.01 $ per 100 words. This is very good for professionals as it is the only AI tool that uses AI language models to detect predictable text.
Go to Originality.ai
Choose your plan and start checking your documents.
Originality can also keep your content saved in your dashboards to use again. The originality also gives you an AI detection score which decides the amount of content written by the AI. For example, an AI score of 90% means your content is most probably written by humans.
Copyleaks AI detector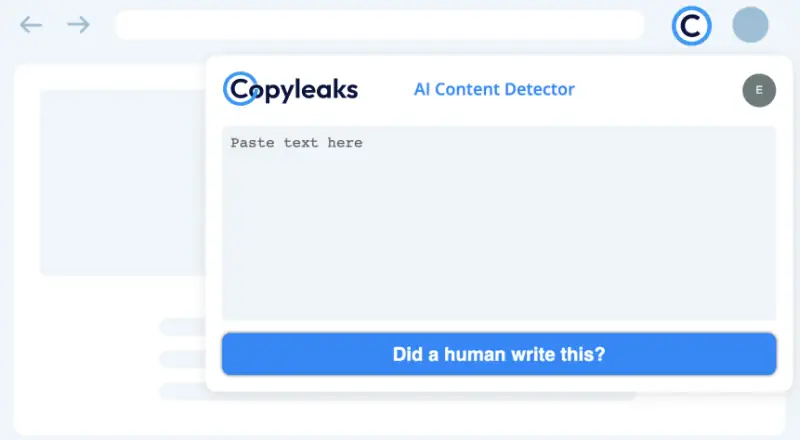 The Copyleaks AI detector is the most recent AI detector in the list. And this can not be missed because of the accuracy it produces while checking for AI content. The Copyleaks detector can also detect text that was previously written by AI and is humanized by the AI too.
The working model is also the same for the AI detector, and it recognizes the pattern and the predictable text based on the training. The perk you get while using the Copyleaks AI detector is, Copyleaks comes with the Chrome extension. You can use the Copyleaks Chrome extension to check the content in real-time.
Just go to the Copyleaks website
Paste your written content in the input area and hit on check
Wait for it, once completed you can see if your content is written by AI or Humans.
AI Detector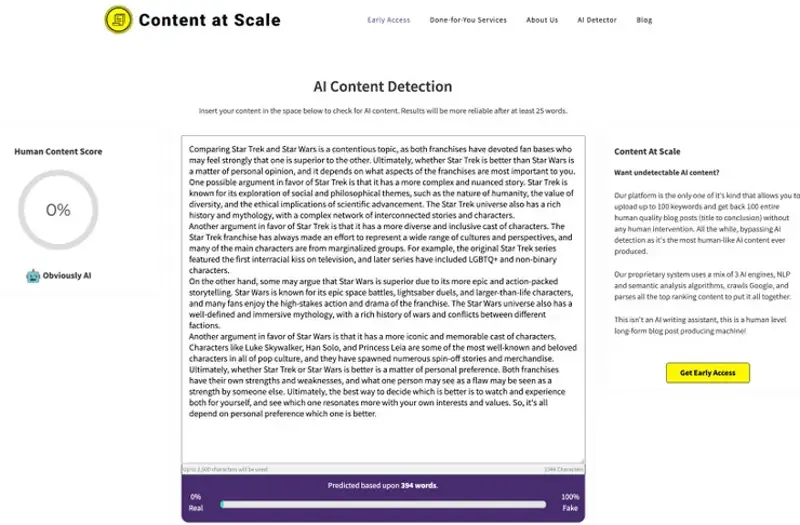 The AI detector is an AI content checker from the Content at Scale, and it is one of the finest tools for detecting AI-written content. This tool is also trained on the billions of pages and produces accurate results in most of cases. You can use this AI detector to check 4000 words at a time. The AI detector works by detecting the recreated patterns in writing, which is how an AI writing tool is trained. Using this AI detector is also simple and the same as the other AI tools.
Go to the AI detector website
Write your content in the input areas and click on check for AI content.
This is very good for causal writing checks. You should not use the AI detector for professional content.
WRiter.Com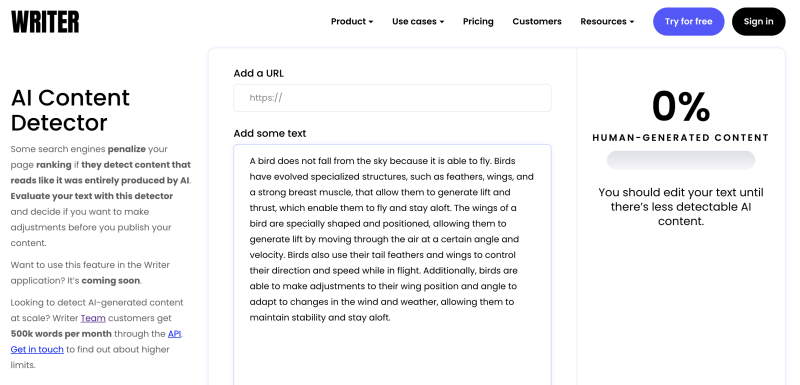 You must have come across this website if you have searched for an AI content detector on your browser. Writer.com is also a good platform for detecting AI written content. However, it is not clear how they detect the content and what model they use to detect the AI writing. You can use this detector to check up to 1500 characters at once. This tool is good for casual checking, but you should avoid this if you are a professional and have to check for AI content daily.
Go to the Writer.com
Paste your writing in the Input area, and hit on Analyze text.
Wait for the AI Detector to detect the content.
You can also use an URL to check if the content in the given URL is AI written or it is humanized. You can see the AI detector score on the right side with the percentage.
Apart from the AI tools, there are some conventional ways by which you can check if the content was written by humans or it is generated by the Chat GPT. While reading a written document you can check for the following.
Flag it if you see a pattern with every sentence.
You can see if any sentence is making a pattern.
Check the source of the written words by going through the internet.
After all this, you can not be completely sure of the content if it is written by the Huaman or an AI. You can still use the given AI tools to check your writing.
Conclusion
As you can see, ChatGPT is on everyone's lips these days. Many people around the globe use ChatGPT, and the open AI language model allows anyone to create an API to modify it. If you are also one of the professionals and checking content is your day-to-day task, this article has provided you with tons of solutions. With the different AI tools, you can check if the content delivered by your peers is good enough and humanized.