PC gamers are capable enough to do a lot of things rather than using a gaming console or a handheld console. When it comes to PC games like AAA titles, computer users prefer to have higher graphics quality, smoother animations, higher frame rates, low latency, and more. It's also necessary to have a capable monitor for improved gaming. Now, if you want to check whether your Monitor supports G-Sync or FreeSync, check this.
Both Nvidia's G-Sync or AMD's FreeSync is a technology that offers variable refresh rates at different scenarios in order to reduce screen tearing, lags, stutters, etc by managing the screen's refresh rate and content's frame rate at the same time. With the help of this feature, graphics card users can get a more improved gaming experience without any major frame drops or visible lags whatsoever.
But what will happen if you do have an Nvidia or AMD graphics card with G-Sync or FreeSync but you're not aware whether your monitor or the screen of the laptop supports it. In another sense, if you do not know whether your PC/laptop screen has a variable refresh rate or not, you can follow this in-depth guide to know more about it.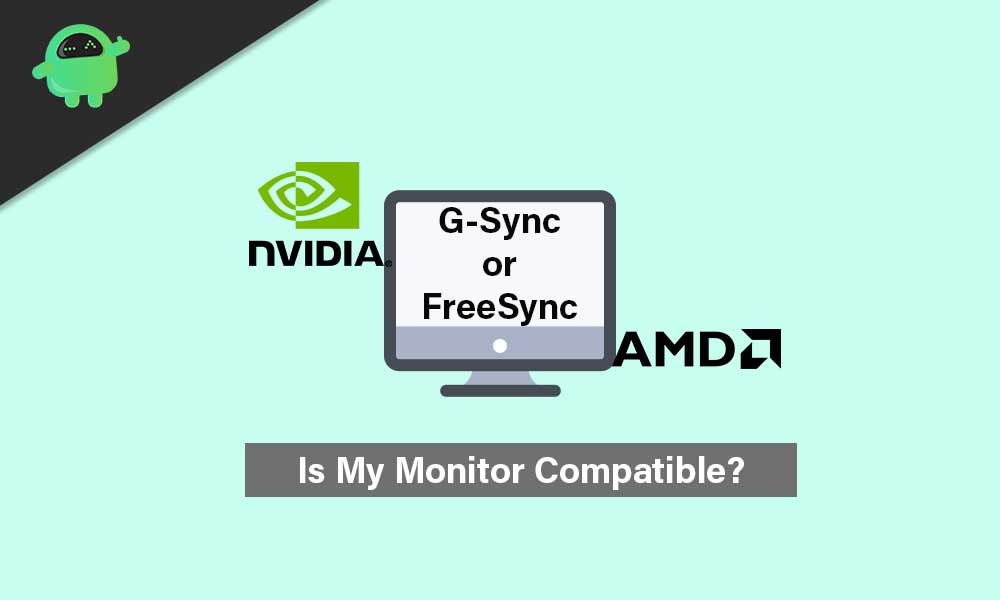 What is G-Sync?
NVIDIA G-SYNC is a pathbreaking new proprietary display technology that offers higher image quality and performance to the display while gaming. G-Sync users will feel the difference with the help of synchronizing display refresh rates to the graphics card in your GeForce GTX-powered computer.
It basically eliminates visible screen tearing and reducing display input lags or stutters in real-time. It's necessary to have a monitor that supports the Nvidia G-Sync feature apart from a powerful PC configuration for sure. Otherwise, the display (screen) won't run games at a higher FPS and refresh rate than what you're expecting from it.
It's also worth mentioning that the G-Sync smoothly synchronizes monitor refresh rates along with the game's frame rates and graphics card's variable render rates. Therefore, your G-Sync-supported monitor or the laptop screen will show higher frames as much as possible whatever the GPU can render in real-time.
What is FreeSync?
AMD's FreeSync is also a proprietary adaptive display synchronization technology for liquid-crystal and OLED displays that supports a variable refresh rate. Just like Nvidia's G-Sync feature, the FreeSync is also capable of reducing screen tearing and eliminating display input lags or stutters by properly managing the screen's refresh rate and the content's frame rate.
With AMD FreeSync technology, users will get a higher refresh rate of the display synced with a compatible graphics card that also helps reducing visual jitters, input latency, during gaming or video playback especially while connected to online servers.
If you're a pro-level PC gamer and don't want to compromise with your gameplay or if you're a streamer then enabling FreeSync definitely worth it.
How to Find If Your Monitor Support G-Sync or FreeSync
According to Nvidia support, if you're using the Nvidia Control Panel on your Windows computer then it'll be easy enough for you to check whether your monitor supports the G-Sync feature or not. To do so:
Right-click on the desktop screen and click on Nvidia Control Panel.
Now, go to Display from the Nvidia Control Panel menu bar.
Select Show indicator for G-Sync.
Please Note: Depending on the type of monitor you're using, the menu item could state Show indicator for G-SYNC, Show indicator for G-SYNC Compatible, or Show indicator for G-SYNC/G-SYNC Compatible.
The indicator will appear on the screen to let you know whether the G-Sync is turned on or off.
If the G-Sync isn't turned on, make sure to follow the steps below.
Open Nvidia Control Panel > Go to Display: Set up G-SYNC.
Now, click on the 'Enable G-SYNC G-SYNC Compatible' checkbox.
Then select your preferred options and select your connected monitor.
Next, click on the 'Enable settings for the selected display model' checkbox.
Make sure to save and apply settings.
Once done, you'll be good to go.
Also, make sure to set the resolution and refresh rate at maximum by selecting the 'Change resolution' option. Adjust the resolution and refresh rate at higher for enhanced performance.
Steps to Check Screen Refresh Rate
If G-Sync is enabled on your computer and monitor, right-click on the desktop screen.
Click on Display settings > Scroll down to the bottom of the right pane.
Click on Advanced display settings > Here you'll see the connected display information like resolution, refresh rate, bit depth, color format, etc.
If in case, the refresh rate is showing more than 60Hz (default) that means your monitor is working well. Meanwhile, you can manually change it to higher from the drop-down menu.
Alternatively, you can also check out some benchmark tests to ensure that your monitor is working expectedly.
That's it, guys. We hope this guide was helpful to you. For further queries, let us know in the comment below.