With Counter-Strike 2 (CS2), you can play online multiplayer tactical first-person shooter games in a highly anticipated sequel to Counter-Strike: Global Offensive. In the Counter-Strike 2 Limited Test, many players experienced input lag that wasn't there in CS2. Since millisecond decisions can decide the outcome of a game, you want to take the best possible action in order to win or lose. Well, that's the reason why CS2 lag fixes are needed. So, in case you want to know how to resolve the CS2 lagging or CS2 lag spikes issue, make sure to check out the guide until the end. Also, here we have mentioned a great tool named LagoFast Game Booster, which may help you resolve this problem. So, are you excited? Then, let's jump into the guide.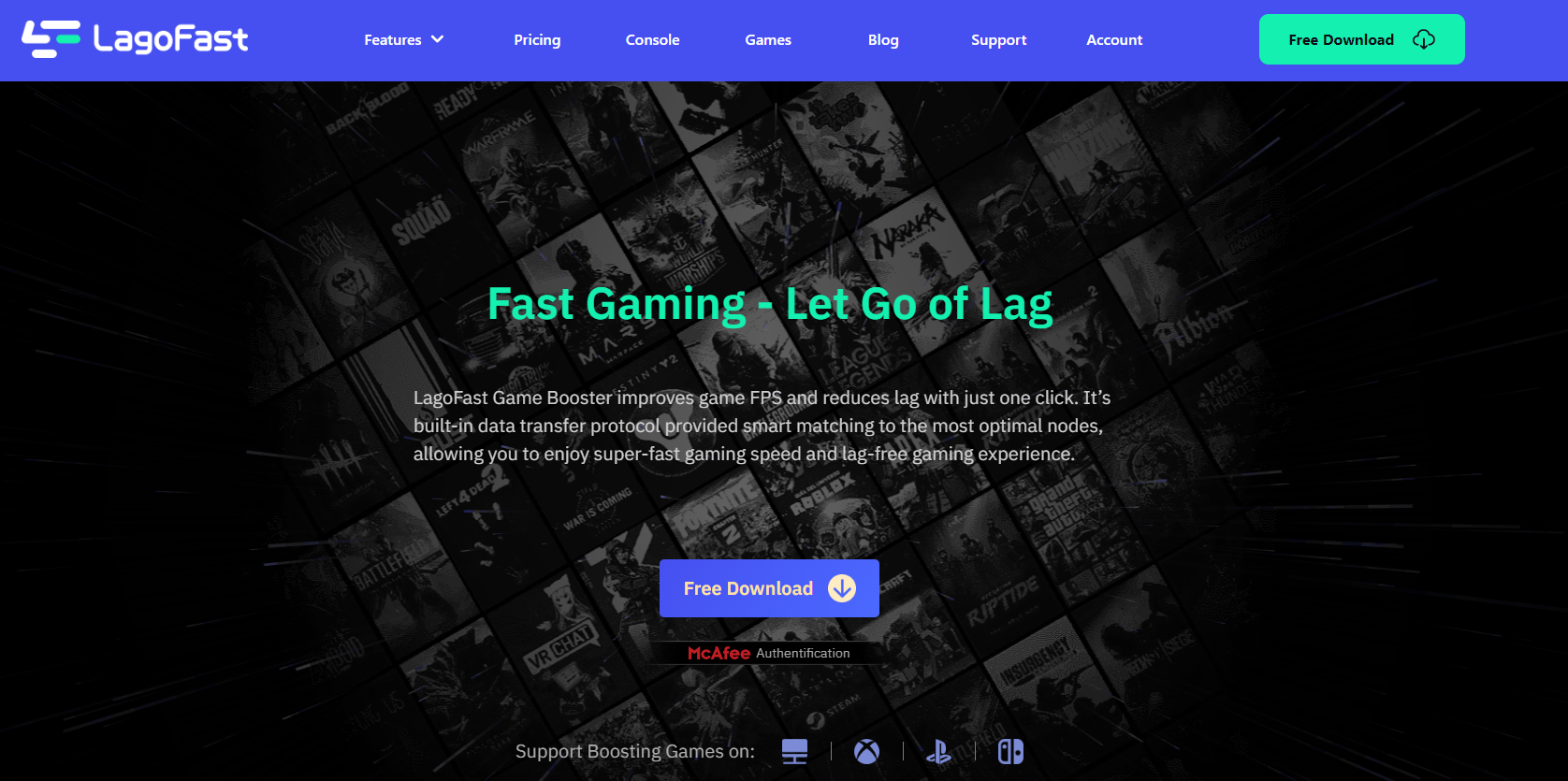 Why Is CS 2 So Lag?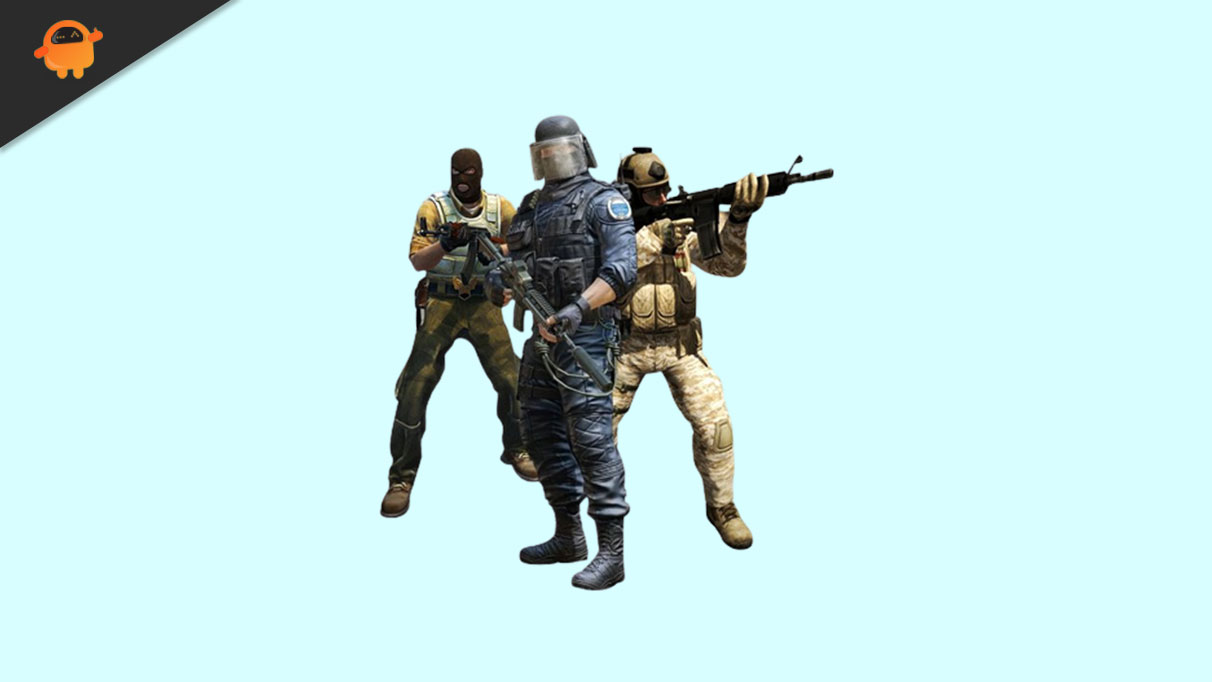 It is possible to experience lag in many ways, but the two main causes are a high ping and a low frame rate. You will be able to identify your problem by checking those two areas. On any online server, start the game and type "Net_graph 1". With this command, you can see real-time ping and frames-per-second graphs.
When your FPS drops below 60 or is unstable, it's usually a hardware problem. However, if you experience CS 2 lag due to high ping, it is probably your network connection.
How to Fix CS 2 Lag Spike Issue
Here are some fixes that have the potential to resolve the CS Lag Spike issue:
Fix 1: Update Graphics Drivers
Open your

Quick Access Menu

by right-clicking on the

Start Menu

.

In the list of options, click

Device Manager

.

Thereafter, to expand the

display adapters

category, double-click it.

After that,

right-click

the dedicated graphics card's name.

Choose

Update driver > Search automatically for drivers

.

Finally, it will automatically download and install the latest update if it is available.

To change the effects, reboot your computer once you've finished.
Fix 2: Use LagoFast Game Booster
With LagoFast Game Booster, gamers can experience smoother gameplay with less stutter. Although everyone's mileage may vary, it is a good way to ensure that you are connecting to the best servers available to you based on your location. Here are some of its features:
Optimizing network traffic intelligently.

Instantly reduce lag and ping.

Enhance FPS for CS 2 and PC Applications for Smoother Animation Simple Lobby.

Roblox, Fortnite, CS 2, and Call of Duty Warzone, as well as 2000+ well-known online games, are supported.
Now that you know about the LagoFast Game Booster, now let's check out the needy steps that you need to follow to use the LagoFast Game Booster and fix the CS 2 lag spikes/stuttering issue:
Download the LagoFast Game Booster from its official website or the link we have given.

Then, Open LagoFast and

Register/Sign in

.

Pick the game, i.e., CS 2.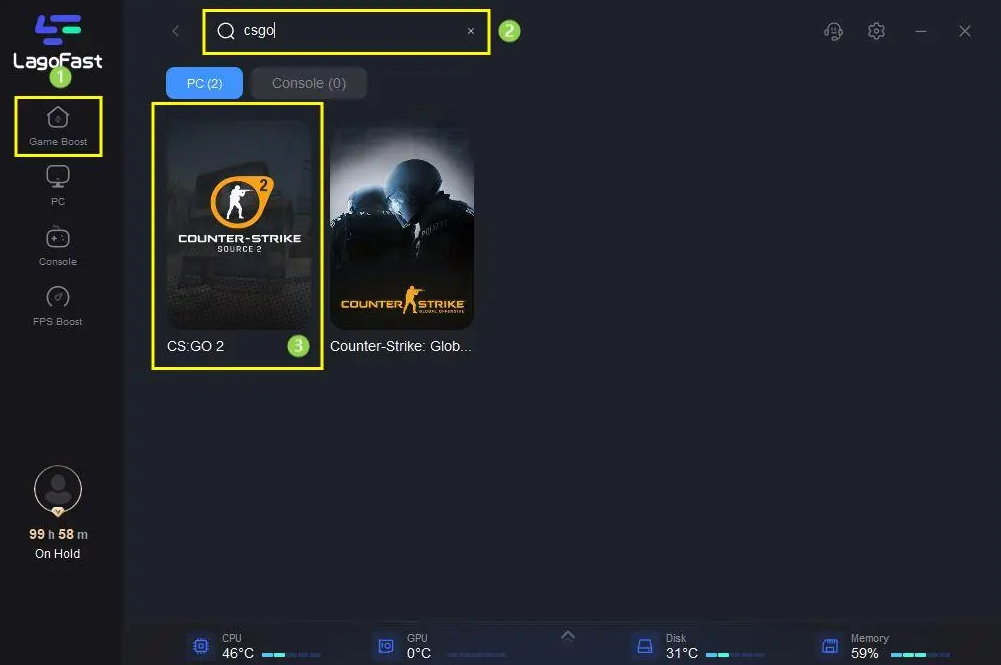 4.Select the server of your choice. You should use the same server as the one you use for your game.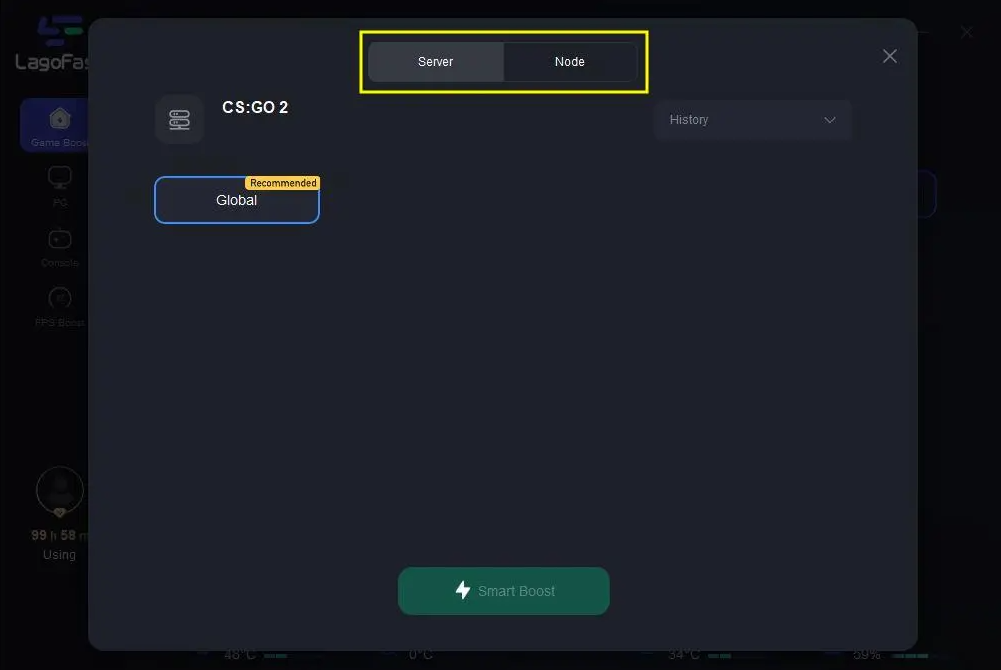 5.Once the CS2 game has been boosted, you will see the ping rate and status of packet loss.
Fix 3: Run the game as an administrator
Make sure that the game exe file is run as an administrator in order to avoid user account control issues concerning privileges. Also, make sure you run the Steam client as an administrator. To do this:
On your PC,

right-click

the CS2 exe shortcut file.

Choose

Properties > Compatibility

from the drop-down menu.

Make sure the

Run this program as an administrator

checkbox is selected.

To save changes, click

Apply

and

OK

.
Fix 4: Set High Priority in Task Manager
By using the Task Manager, you can tell your Windows system to run your game at the highest priority. Here's how to do it:
Click on the

Start

Menu and select

Task Manager

.

Right-click

the CS2 game task in the

Processes

tab.

Make the priority high by selecting

Set Priority

to

High

.

Close the Task Manager.

Lastly, run the CS2 game to see if the issue persists.
Fix 5: Verify the Integrity of Game Files
To check for game files that have been corrupted or missing, you can use this method in case there is a problem with them. To do so:
Click on Library in Steam.

From your games list,

right-click

on CS2.

Click on

Properties > Local Files

.

Select

Verify Integrity of Game Files

.

It will take a while for the process to be completed.

Restart your computer once you're done.
Fix 6: Disable Fullscreen Optimizations
By default, Windows optimizes the screen for full-screen and uses high DPI. Follow these steps to disable it:
Find the CS2 game directory.

Locate and

right-click

on

CS2. exe

.

Select

Properties >

Click on the

Compatibility

tab.

Make sure the '

Disable Full-Screen Optimizations

' box is checked.

Click on the '

Change high DPI settings

' button.

Click

'Override high DPI scaling behavior

' > Select '

Application

.'

Thereafter, to save the changes, click

Apply

and then

OK

.
Fix 7: Update CS2
To install the latest patch (if available) for your CS2 game, follow the steps below if you haven't updated it for a while. To do this:
In the Steam client, go to

Library

and click on CS2.

You'll be prompted to search for the latest update automatically. Thereafter, ensure that you click on the Update button if there are any updates available.

Close Steam once the update has been installed.

To apply changes, restart your PC and relaunch the game.
Fix 8: Change GPU Settings
To check if the CS 2 low FPS problem has been resolved, change the graphics card settings on the PC by following the steps below.
For Nvidia:
Right-click

on the desktop.

Navigate to

Nvidia Control Panel > Manage 3D Settings

.

Click on

Program Settings >

Find '

CS2

' and manually add it if it doesn't appear:

Threaded optimization: On

Power Management: Prefer Maximum Performance

Monitor Tech: G-Sync (If available)

Maximum Pre-rendered frames: 2

Texture Filtering – Quality: Performance
For AMD:
Threaded optimization: On

Power Management: Prefer Maximum Performance

Monitor Tech: G-Sync (If available)

Maximum Pre-rendered frames: 2

Texture Filtering – Quality: Performance
Conclusion
So, that's all we have for you on how to fix the CS 2 lagging issue. But, in case none of the traditional fixes worked for you, then you must try out the LagoFast Game Booster application, as it is free to download. Moreover, if you have any queries in your mind, comment below and let us know.