Maintaining a fit body in today's world is becoming increasingly difficult, with our packed routines and mostly indoor activities. We require an alternative to traditional outdoor workouts. Different brands are coming up with innovative new devices and ideas to help make indoor workouts as interactive as possible, with the internet serving as a medium of camaraderie. Peloton is one such brand.
Peloton Interactive, Inc. is an American exercise equipment and media company based in New York City. Peloton's most popular products are stationary bicycles and treadmills, enabling its monthly subscribers to participate remotely in classes with their media streaming options.
When exercising, we sometimes want to listen to our favourite playlists on the go. In most cases, we like to hear the songs on our earphones. Keeping that in mind, Peloton has enabled the ability to connect any Bluetooth device to its product. In this article, we will look at how to connect AirPods to your Peloton. Connecting an Apple device to other non-Apple devices is quite tough. But our detailed guide will help you overcome any issues you might face.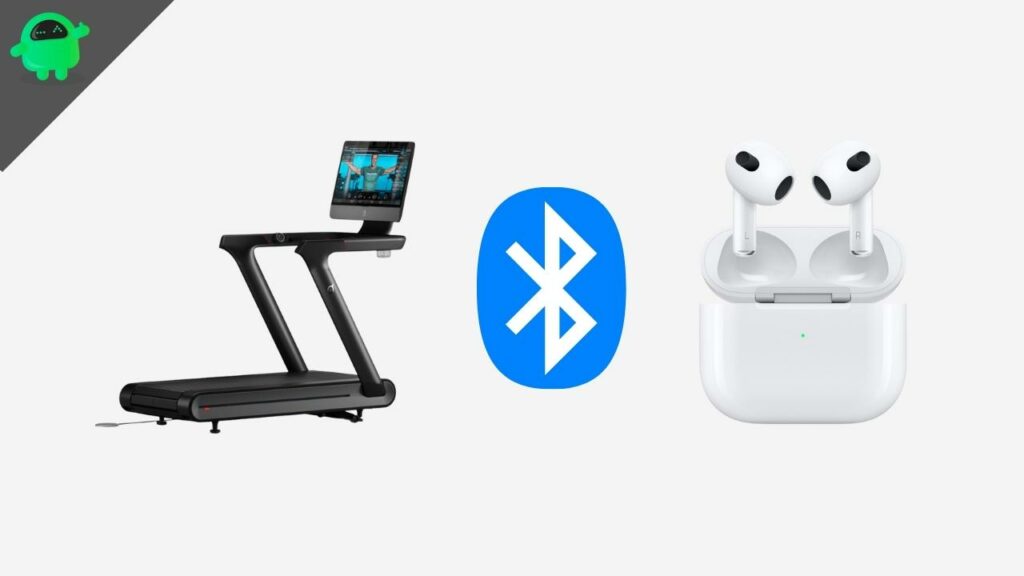 Connecting AirPods to your Peloton Device
The Peloton touchscreen system comes with built-in speakers for a decent listening experience. But you can always have your privacy and not disturb others with a pair of headphones. You can connect any Bluetooth-enabled earphones to your Peloton device for all your workout sessions. Though wired headphones are supported with a 3.5mm headphone jack, it is recommended to use wireless headphones to keep headphone wires away from moving parts.
You can connect any compatible Bluetooth headphones to your Peleton touchscreen, and AirPods are surely one of them. Try to follow the steps given below to connect AirPods to your Peloton device without fail.
How to Connect AirPods to your Peloton?
Several steps must be followed before you connect AirPods to your Peloton touchscreen. As we have already mentioned, connecting an Apple device to a non-Apple device is quite tough; you must follow some processes before you can finally have your pair of AirPods working.
Disconnect your AirPods
First, you must disconnect your AirPods from any other connected device(s). For that, you can turn off Bluetooth on your phone.
Go to Settings > Bluetooth and toggle the switch to turn off Bluetooth.
You can also delete your AirPods from your phone in your Bluetooth settings.
Place your AirPods in the charging case, and close its lid.

Wait for about 30 seconds.

With your AirPods connected and lid open, on your iPhone, iPad, or any other device, go to Settings > Bluetooth and tap the More Info or 'i' button next to your AirPods.

Tap the Forget option on the screen, and tap "Forget Device" again to confirm.
Reset your AirPods
Resetting your AirPods is a crucial step that ensures that the AirPods are not connected to anyone. This step ensures that you do not face any problems while connecting AirPods to the Peloton cycle or treadmill.
Open the lid of your charging case.

With the lid open, you can reset your Airpods by pressing and holding the setup button on the back of the case for about 15 seconds until the status light flashes amber, then white or the light blinks three times.
Keep in mind that when you reset your Airpods, the settings for the Airpods are also reset.
Connect Airpods to your Peloton touchscreen
Once you reset your AirPods, it's time to connect AirPods to your Peloton device. This is the most crucial step. So, try to follow the steps given below to avoid any possible errors.
After the Airpods are reset, put them back into the case.

With the lid open and AirPods in the charging case, hold them close to the touchscreen.

Log in to your Peloton touchscreen.

Then click the menu button in the bottom-right corner of your home screen.

Here you can find the Bluetooth settings on the left side of the touchscreen.

If the Bluetooth is turned off, turn it on by toggling the Bluetooth setting to "on". Your Peleton should search for available devices.

Your AirPods should appear on the available devices list.

Select "AirPod" or any other customized name from your Airpods list.

On your Peloton touchscreen, wait for the status of the selected device to change to "Paired."

You have successfully connected your AirPods to your Peloton.
Check the connectivity of your Airpods
Once the AirPods are paired, click on the Peloton logo in the bottom center of the screen to return to the featured section.

Give it a test ride and check if the sound is playing through your Airpods.
If you face any issue with the sound not properly playing on your Airpods, you can consider turning off the Bluetooth on your Peloton and turning it back on by going into Settings and toggling the Bluetooth setting.