iPhone 12, 12 Pro, or 12 Pro Max are some of the best pieces of hardware ever produced by Apple. But there might be a slight chance that you are stuck into software issues. These software issues can arise because of faulty updates, corrupted files, or malware attacks. Whatever the reason might be, the DFU mode can help you to recover easily. However, it is very important to know how to enter & exit DFU mode on iPhone 12, 12 Pro, or 12 Pro Max users.
DFU also stands for Device Firmware Update mode. This mode is useful when you need to update your iPhone through iTunes. With DFU mode, you can skip the technicalities of iBootloader and can upgrade or restore your iPhone 12 with iTunes. So Let's get to see how to enter & exit DFU mode easily.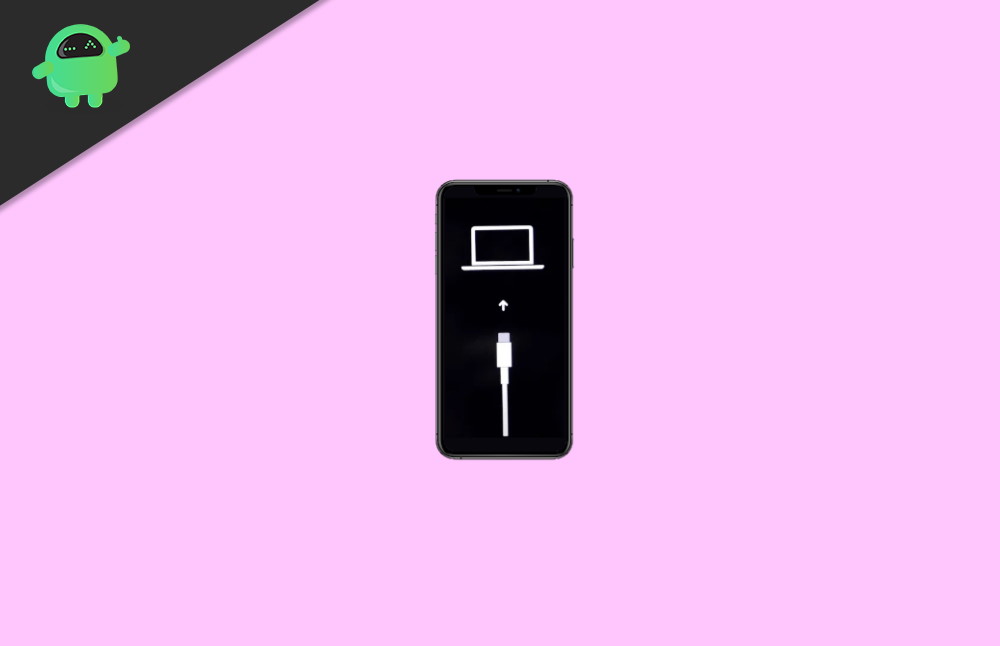 How To Enter & Exit DFU Mode On iPhone 12, 12 Pro, or 12 Pro Max
Before you proceed, there are few requirements that you must have to enter into your iPhone's 12 DFU mode. First of all, you must have a Windows or Mac computer. In Windows, make sure that iTunes is installed. You would also need a Lightning to USB and USB-C cable to connect your iPhone to your computer.
For Mac devices, make sure you have updated the version to Catalina or higher to utilize Finder. If you have all these requirements satisfied, then you can follow the steps below to enter into your iPhone's 12 DFU mode.
Prerequisites
Windows or Mac computer (latest Catalina installed)
Latest iTunes installed
Lightning to USB cable
Step 1: Connecting your iPhone to a Computer
Firstly, connect your iPhone o your Mac or Windows computer using the Lightning to USB or Lightning to USB-C cable. After you have connected your iPhone 12 to your computer, Unlock your iPhone using your Face ID or, Fingerprint or passcode.
Note: It is very necessary that you unlock your iPhone 12; otherwise, you won't be able to access the DFU mode.
Step 2: Trusting your Computer to access iPhone's Data
Now, if you have a Mac computer, then on your Mac, open the Finder, and then there click on the iPhone option. It may display the name of your iPhone on the sidebar under the Locations section.
For Windows users, open up iTunes and there click on your connected iPhone. Suppose you have connected your iPhone to your computer for the first time. Then you need to click on the Trust button to enable your iPhone's access to your computer.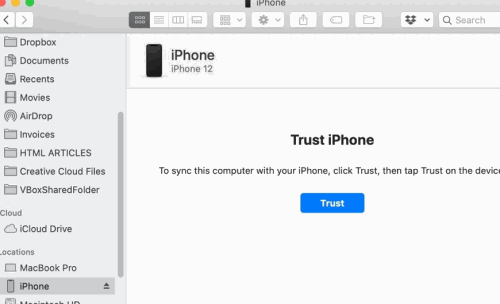 After that, a prompt will appear on your iPhone. Click on the Trust option, then enter your device passcode to enable your computer to access your iPhones data.
This step is not necessary if you have already trusted your iPhone on your computer previously. If the computer you are trusting is not your and you are not comfortable with, then better don't trust it because it may compromise your personal information.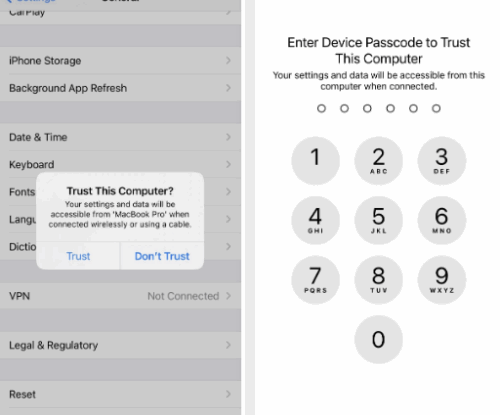 Step 3: Booting into DFU Mode
Lastly, you will have to press the buttons on your iPhone 12 in a specific pattern to Enter into DFU Mode. Just follow the pattern mention here, and you will enter into DFU mode.
Press the Volume Up button, then press the Volume Down button immediately. Then press-hold the Side/Power button till your iPhone's 12 screen goes black.
Now, release the Side button and then press-hold both the Side/Power button and the Volume Down button for 5 seconds.
Then release the Side button but don't stop pressing the Volume Down button. Finder or iTunes will recognize this pattern tat DFU mode has been enabled and will oot your device into DFU mode.
A prompt will also be displayed on Finder and iTunes that your iPhone has entered into recovery or DFU mode.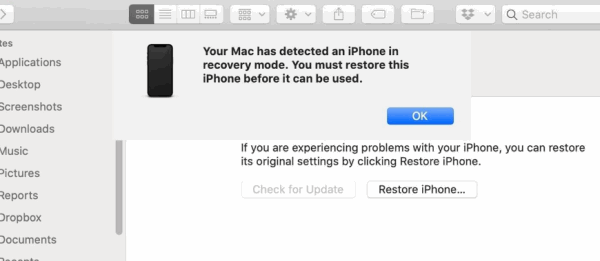 Exiting from DFU Mode on iPhone 12, 12 Pro, and 12 Pro Max
To exit from DFU mode without causing any damage to your iPhone 12, 12 Pro, and 12 Pro Max, firstly press the Volume Up button. Then immediately press the Volume Down button, after that quickly press-hold the Power button for at least 5 to 10 seconds.
Then whenever you see an Apple logo on your iPhone 12 screen, release the Power button. It will only take a couple of seconds to boot back into your iPhone and exit from DFU mode.
Note: If you are using the latest version of iOS 14, then you must also enter the device passcode.
Conclusion
So this is how you can easily enter or exit from DFU mode. DFU mode or Device Firmware Update mode is not a joke. So users should not go into this mode until or unless necessary. Since iOS 14 & iPhone are premium products, it's very unlikely that you might face such issues. However, if you face any software glitched or issues, DFU mode will certainly help you.
Also, I recommend you to take a complete backup of your iPhone 12, 12 Pro, or 12 Pro Max via iTunes. This backup will help you to restore your device if you're stuck on DFU mode.