Facing issues while connecting to WiFi on your iPhone? In this guide, we will go over a few ways you can prevent your iPhone 12 from keep getting disconnected from WiFi.
iPhones are known to have the best-in-class software support and reliability out of all the smartphones around. This is thanks to how meticulously Apple updates its phones to the latest versions of iOS, even years after their release. This gives rise to a positive user experience. This is not to say that iPhones are completely devoid of bugs though.
If you own one of the recent iPhone 12 models and have been facing troubles while connecting to WiFi, this guide is just what you need. Although problems related to WiFi and the internet can be very frustrating, they are often quite easy to tackle. By the end of this guide, we are sure that you will have your iPhone 12 free of any WiFi-related issues.
iPhone 12 Specifications
The iPhone 12 was Apple's flagship offering for the year 2020. It follows suit with prior iPhone models and adapts everything that they did great. There are a plethora of huge visual changes in the new series of iPhones, including flat sides and an even larger camera array. All the iPhone models are built with frosted glass to the rear and an aluminum or stainless steel frame going around the entire device.
Under the hood, the iPhone 12 series is powered by the mighty Apple A14 Bionic chip and comes with either 4 or 6GB of RAM. All the iPhone 12 models now use AMOLED displays and get extremely bright under direct sunlight. The Pro and Pro Max variants of the iPhone 12 come with even better sensors and bigger batteries.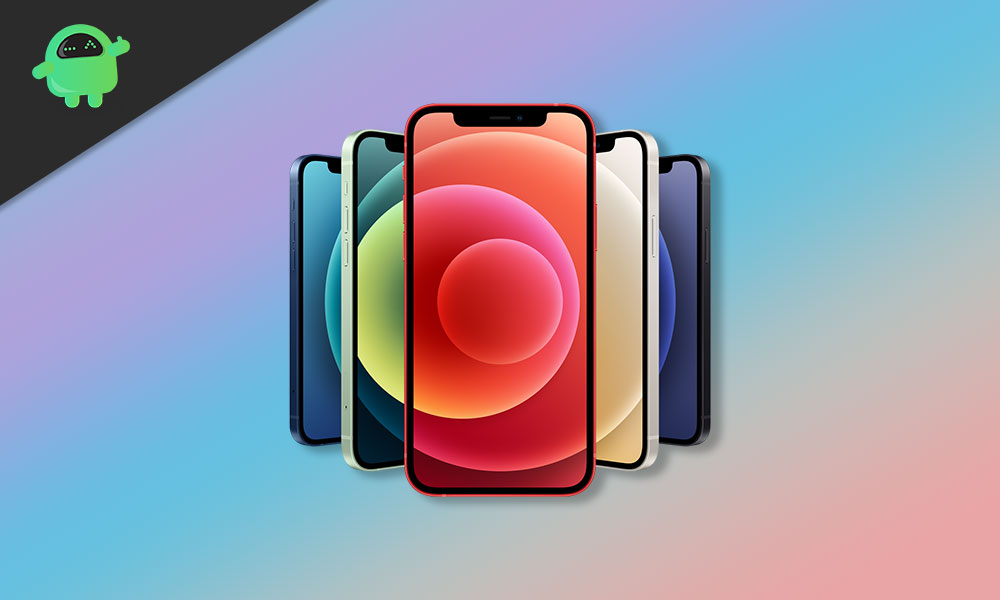 How to Fix iPhone 12 Not Connecting to WiFi
If you are someone who is facing WiFi connectivity issues on their iPhone 12, 12 Pro, or 12 Pro Max, we have a few simple ways you can fix the issue in. The troubleshooting steps should be the same for all the iPhone 12 models, including the iPhone 12 Pro and the iPhone 12 Pro Max. With that out of the way, let's have a look at the solutions!
Fix 1: Toggle WiFi
The very thing to do when you're facing connectivity issues on your iPhone is to toggle WiFi. This will force your phone to scan and pick up your WiFi network. If you already have tried this using the WiFi toggle in the Control Center, chances are you'll see no results. This is due to the fact that the toggle in the Control Center merely disconnects you from your network. To completely toggle off your WiFi, you will have to head to the WiFi Settings on your iPhone and flick the WiFi toggle manually.
Fix 2: Restart Your iPhone
There is a lot that goes on behind the scenes while we use and interact with our phones. Thousands of background processes from various apps installed on our phone can sometimes temporarily break a few things, causing issues like your iPhone 12 disconnecting from WiFi. The simplest way to ensure your phone starts functioning properly is to reboot it.
You can power off your iPhone by holding down either of the volume buttons alongside the side key and then slide to power off. Alternatively, you can also force restart your iPhone by pressing and quickly releasing the volume up and down buttons, one after the other, and then holding down the side key till the Apple logo appears.
Fix 3: Restart Your Router
There's a good chance that the reason your iPhone 12 keeps disconnecting from WiFi is due to issues with your router itself. The easiest way to see if this is true is to check if other devices you own are also facing issues connecting to WiFi. If this is indeed the case, reboot your router and try connecting to WiFi on your iPhone 12 again.
Fix 4: Forget and Re-Connect to the WiFi Network
Sometimes authentication issues will prevent your phone from connecting to WiFi. If you have recently changed your router's WiFi password, simply forget the network on your iPhone 12 and reconnect to it.
Fix 5: Turn on WiFi Assist
Newer iPhone models come with a WiFi Assist feature that strengthens your phone's connection to your WiFi network. Usually, if your router has a weak signal, your iPhone drops the connection and switches to mobile data. Turning on WiFi Assist will prevent this from happening, and you will be connected to WiFi even with a weak signal. WiFi Assist is turned on by default on iPhone. If for some reason you had the option disabled previously, we recommend you turn it back on. To turn on the WiFi Assist option on your iPhone 12:
Open the Settings app on your iPhone.
Navigate to Cellular > Moble Data.
Scroll down and tap the WiFi Assist toggle.
Fix 6: Update Your iPhone
As we have mentioned before, Apple does a fantastic job at pushing out the latest and greatest updates to its iPhones. Not only do these updates bring in new features, but they also squish a lot of bugs. If you've been facing the WiFi not connecting issue for a while, there's a good chance that it has been reported enough for Apple to release a software patch.
We recommend you always stay up-to-date with the latest iOS version, not only to be free of bugs but also to have the best security features on your iPhone. To update to the latest version of iOS on your iPhone 12:
Open the Settings app on your iPhone.
Navigate to General > Software Update.
Your iPhone will now check for any updates. If you have an update ready, tap on Download and Install.
Fix 7: Reset Network Settings
A good way to get rid of any network issues on your iPhone without having to completely reset it is to just reset its network settings. This will not affect any data on your iPhone, and will not tamper with any of the other settings. To reset network settings on your iPhone 12:
Open the Settings app on your iPhone.
Navigate to General > Reset.
Tap on Reset Network Settings.
Fix 8: Contact Apple Support
If you have followed all the troubleshooting steps on this list and have still not fixed the annoying WiFi connectivity issue on your iPhone 12, chances are that it's a hardware-level problem that can only be fixed by Apple. If your iPhone is still under warranty, head to the nearest Apple Store and they should come up with a viable solution.
Conclusion
We hope our guide on how to fix iPhone 12 not connecting to WiFi was helpful to you. If you have any tips other than what we've mentioned, do let the other readers know in the comments below! If you have any queries regarding the guide, feel free to contact us, we'd be happy to help!