Dealing with a malfunctioning EPSON TM-T88V printer can be a major inconvenience, especially when it's not printing clearly or not working at all. This comprehensive guide is specifically designed to troubleshoot and resolve these issues with your Epson thermal printer. We'll dive into the common reasons behind unclear printing and provide practical, effective solutions to get your printer back to its optimal performance. Whether you're facing minor glitches or major setbacks, our guide aims to equip you with all the necessary knowledge and steps to quickly and efficiently fix your EPSON TM-T88V, ensuring minimal disruption to your work or business. Let's get your printer up and running smoothly again!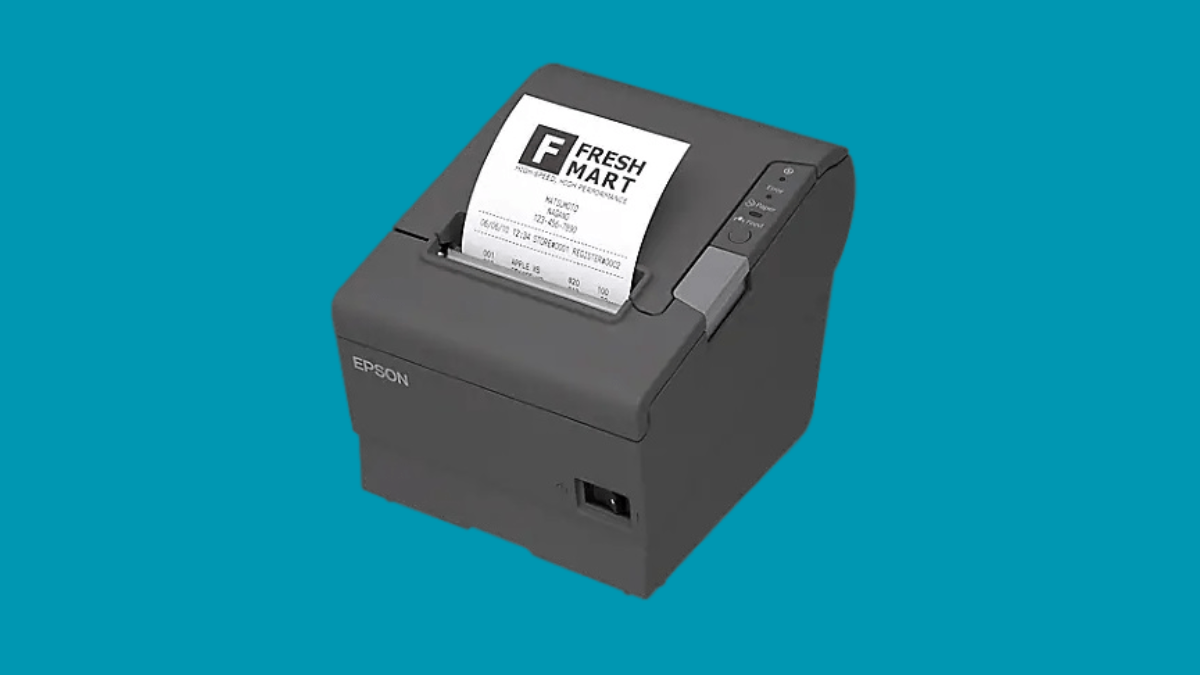 EPSON TM-T88V is a popular thermal printer generally used for printing receipts. If you use it at your store, it can be very stressful if the printer has stopped working or not printing clearly. The printer may not work if the printhead is misaligned, the printhead has dust, or the drivers are outdated. Selecting poor-quality thermal papers could also result in unclear outputs.
Let us now quickly look at common reasons for unclear prints from your Epson thermal printer. You will have a better understanding of the problem, which should result in effective troubleshooting.
Why Your Epson TM-T88V Is Not Printing Clearly or Not Working
Low-quality paper: You may be using low-quality thermal papers resulting in unclear outputs. You must use quality paper with thermal printers.
Printhead filled with dust: If you have not cleaned your Epson printer in a while, the printhead might be filled with dust. It could be the reason why your Epson TM-T88V is not working or printing clearly. Clean the printhead and start getting clear outputs.
Outdated printer drivers: Drivers bridge the communication gap between your PC and the printer. If you have not updated the printer drivers in a while, there can be communication problems, and it can cause various printing issues. You must ensure that the computer has the latest drivers.
Before you contact a technician or order a new thermal, make sure to apply the solutions mentioned below as they are likely to fix the issue.
How to Fix Epson TM-T88V Not Printing Clearly or Not Working Issue
If you can't print using your Epson TM-T88V thermal printer, try these solutions. You do not have to test them all. Simply work your way down until you find the one that spells out success for you.
Solution 1: Restart Your Printer
If your Epson TM-T88V thermal printer is not working, your device may have software glitches. It should get fixed after restarting the printer. To restart your Epson TM-T88V, press and hold the power button for a few seconds (when it is powered on). After the device is turned on, press the power button to turn it on.
Print an output to check if the issue is sorted out.
Solution 2: Use High-Quality Papers
People often end up buying cheap quality paper to save their pocket. But, it's not good exercise. The output won't be crystal clear. It could be blurry and may disappear in a short span of time.
Therefore, you must use high-quality thermal paper for your Epson TM-T88V printer. Otherwise, you are risking your printer.
Solution 3: Clean the Printhead
A thermal printer requires less maintenance compared to an ink printer, but you should not leave it on its own. The Epson TM-T88V requires maintenance, otherwise, the printhead may get filled with dust and debris. It could result in unclear outputs or the device may not print outputs at all.
Cleaning the printhead is critical and therefore you should be doing it regularly. If you do not know how to clean the printhead on your Epson TM-T88V properly, watch the YouTube video and follow the steps carefully. Or, you can seek professional help for the same.
Solution 4: Replace the Printhead
If cleaning the printhead did not work, you may need to replace it to get your Epson TM-T88V working again. If you have prior experience changing hardware in a thermal printer, go ahead and replace the printhead. For others, I would recommend seeking professional help to replace the printhead. Replacing the printhead without prior knowledge and experience is likely to cause damage to other parts.
If you want further help replacing your Epson TM-T88V printhead, watch the video to learn the steps.
Solution 5: Update Printer Drivers
Drivers establish effective communications between the devices, and therefore you must keep it updated all the time. If your computer has outdated printer drivers, your printer may be unable to print accurately. Or, it won't print outputs at all.
To download the latest drivers for your Epson TM-T88V, go to the Epson printer drivers and software page, search for your Epson printer, and download the latest drivers. Install them.
Conclusion
When your Epson printer stops printing or prints unclear outputs, it can be frustrating. However, by following the right steps, you should be able to fix the issue. We have mentioned the effective approaches to fix the Epson TM-T88V not printing clearly or not working error. Apply them and get your Epson thermal printer working again as before.