Just like any other operating system out there, Windows 10 too suffers from lots of bugs and error codes. Now the users have flooded various threads on Reddit, and Twitter as well as Microsoft Community pages regarding the "Driver Stopped Responding and has Recovered" error. Sadly though, the users were out of luck as they didn't find any working solution that could have fixed the Driver Stopped Responding and has Recovered error.
But wait, we do have a Fix for Driver Stopped Responding and has Recovered error. Yes! You heard that right. If you are one of those who are suffering from Driver Stopped Responding and has Recovered error, you are in the best place. Here we will provide numerous solutions that will definitely help you fix this error. In addition to this, it helps you calm yourself with good computing vibes. Now without taking any more time, let's get into this.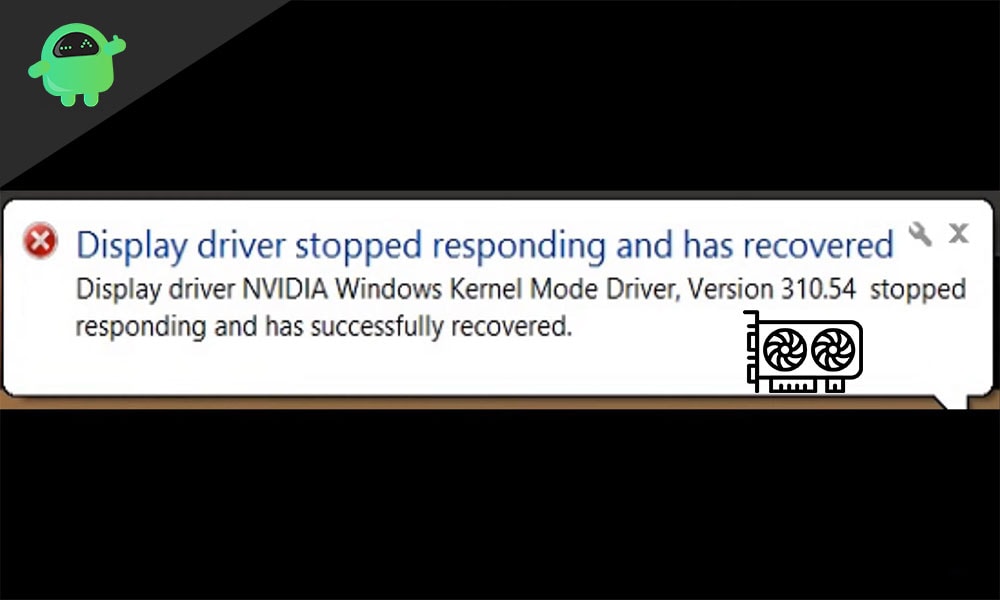 Fix: Driver Stopped Responding and has Recovered
Well, before we directly get to fix Driver Stopped Responding and has Recovered error, let's know a bit more about this error. This helps when you are completely new to this error, and your computer stops abruptly.
Driver Stopped Responding and has Recovered: What is The Issue?
Driver Stopped Responding and has Recovered is a GPU, i.e., Graphics Processing Unit or Graphics Card issue. Moreover, this turns out to be quite disastrous if it hits your PC during working hours because working on a slow computer punishes not only you but also delays your work.
As said earlier, the reason behind this issue is a heated graphics card that creates a sluggish performance and affects the users. Moreover, the notification of Driver stopped responding and has recovered can be seen in the notification area.
Now, talking about the cause of this error is there is something known as Timeout Detection and Recovery [TRD]. This thing recognizes that your GPU has been overheated and thus stopped responding. While this TRD recognizes this issue, at the same time, the graphics card stops working and restarts itself. This is done in order to save the entire computer from restarting. Thus, the driver stops responding and recovers within a given time limit.
Now that you know the reason and causes behind this issue let's start fixing this issue.
Fix 1: Reinstallation of Graphics Driver
Reinstallation of graphics driver is by far the easiest and most straightforward fix to Driver stopped responding and has received issue. To reinstall your graphics driver, follow the steps mentioned below.
Click on the Start button to open up the start menu.
Now, search for "Device Manager" and click on enter.
In the Device Manager page, search for "Display Driver" and expand it.
Now right-click on your Graphics Driver (Suppose Nvidia or AMD).
Then, select properties, switch to "Driver" tab and Uninstall the driver.
That's all. When you uninstall the driver, head on to the official website of Nvidia or AMD and download the most suitable driver for your card, after that, install it and restart your computer.
You should notice that the Driver Stopped Responding has Recovered message not being displayed during your normal working time. Well, this solves your issue. However, if this didn't help, move on to our next fix.
Fix 2: Updating Your Graphics Card Driver
Well, the process of upgrading your driver isn't much different than the above fix. Nevertheless, looking out for the updated driver can still come handly.
If you have an old computer, then most probably you didn't update your drivers to the latest version years ago. So it will be best if you search for the latest drivers online. After searching and downloading, simply install that and restart your computer. You should be able to notice the change with this.
In case you tried this, and it didn't come in handy, quickly jump to our next fix as that can surely solve your issue.
Fix 3: Increasing GPU's TDR Timeout
As mentioned earlier, TDR is Timeout Detection and Recovery, and increasing it is the best possible way to block this error code from displaying several times. The TDR is responsible for rebooting your GPU instead of the whole computer. Besides, it has a definite time unit, if, in that time, the GPU does not respond, it gets triggered and reboots the GPU.
Now, if you are here, then the above solutions didn't work for you. So now you have to go through the steps of increasing the TDR timeout. Simply follow the steps below.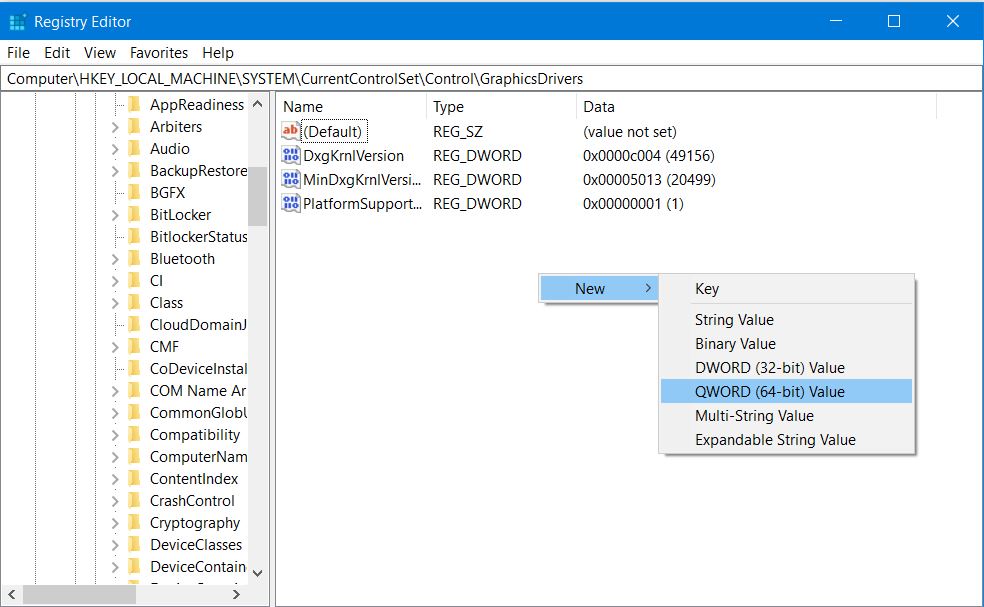 Open Run dialog box using Windows+R key.
In the Run dialog box, type REGEDIT and press the Enter Key.
Now, in the address bar of Registry Editor, type or paste the following address: "Computer\HKEY_LOCAL_MACHINE\SYSTEM\CurrentControlSet\Control\GraphicsDrivers.
Now click on "GraphicsDrivers" and right-click on the empty space.
In the pop-down menu, select 'New' and then click on QWORD (64-bit) value.
Type "Tdrdelay" in the box and press Enter.
Now double-click on "Tdrdelay" and enter 8 in the data field,
Now click on OK.
After clicking on OK, exit or close the Registry Editor and restart your computer. Furthermore, this is the most effective fix out here, as this helps most of the users suffering from Driver Stopped Responding and has Recovered error. However, we have still left with some fixes that are worth trying.
Fix 4: Decrease Your GPU Load
Probably the most secure way of getting rid of this error is to decrease the GPU load. If you frequently use graphic intensive software or play games on your PC, then be sure, your PC is under high pressure. And the easiest way to solve this is to reduce it.
Now to decrease the load of your GPU, follow the steps below.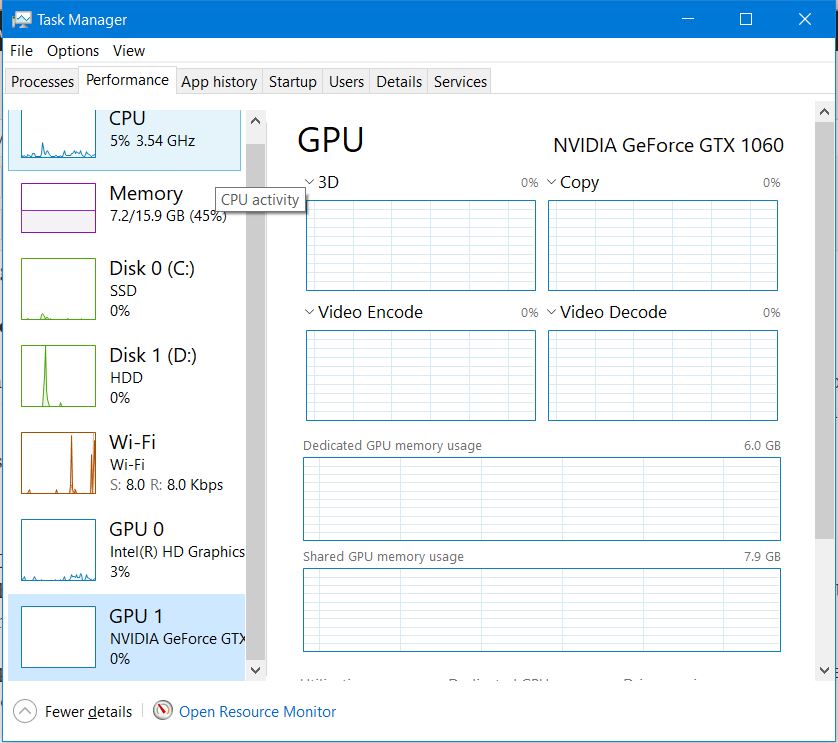 Click on Ctrl+Shift+Esc, this opens the task manager.
In the task manager, click on the "Performance" tab to see what are the tasks that are using your GPU.
One by one, close all of them except the ones necessary.
This will free up your GPU and finally stop showing the error. Either way, you can simply restart your computer if you are not doing something important.
Well, that's all we have got for you with how you can fix Driver Stopped Responding and has Recovered error on your Windows PC. For more gaming and other updates, subscribe to our YouTube Channel. Also, check out our Gaming Guides, Windows Guides, Social Media Guides, iPhone, and Android Guides to know more.