One of the most disappointing or irritating things is when you set an alarm and it didn't ring loudly. Alternatively, your device has no sound for the incoming call even the silent mode is off or has any audio output issue. In that case, one thing you should notice whether the volume level is full enough or not and whether the internal speaker or microphone is damaged or not. If you're an iPhone 11 series user and facing similar kinds of issues, check How to fix sound issues on iPhone 11, 11 Pro, and 11 Pro Max.
Now, there are a couple of tricks or solutions we've mentioned below that you can follow to troubleshoot the expected issue like clearing cache, refreshing the system, software update, incorrect sound settings, or any bad third-party apps, etc. All of these are possible issues that you need to figure out by yourself before going to any conclusion. So, let's jump into the steps below.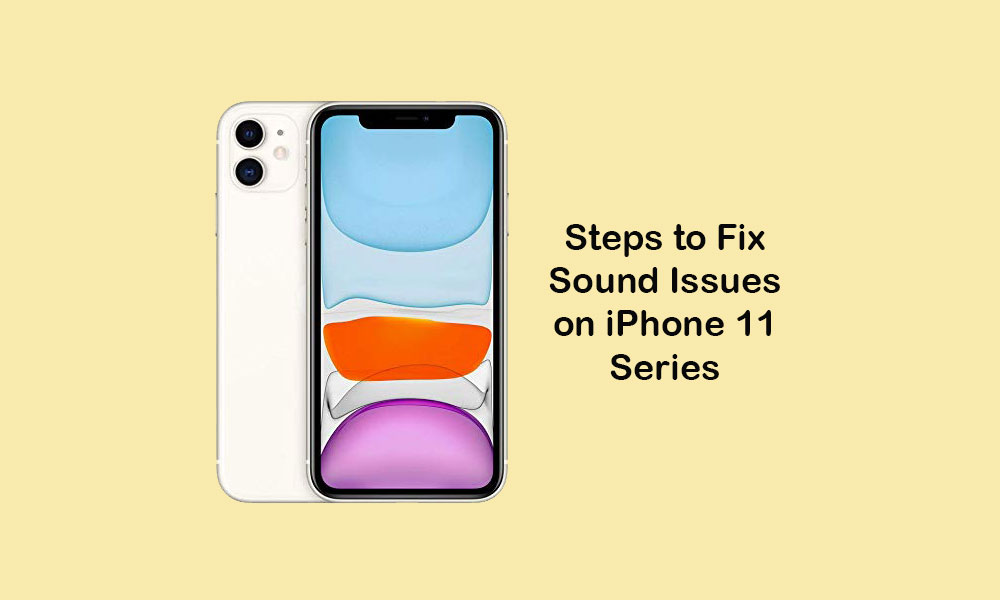 How to fix sound issues on iPhone 11, 11 Pro, and 11 Pro Max
Mostly, the software update issue or any buggy iOS update can really impact the audio experience on your iPhone. So, it's better to check the possible issue as quickly as possible. As we already mentioned above that check the volume level at first and both the microphone & speakers are working fine.
1. Turn on/off the Silent Mode
Just toggle the ringer switch off and turn it on again. Means turn on the silent mode and turn it off.
It most probably solves the sound issue on iPhones. However, if the issue persists, then you can also check the sound settings.
2. Check Sound Settings
Open the iPhone Settings menu > Select Sounds & Haptics.
Scroll to the Ringer and Alerts section.
Here you can enable Vibrate on Ring and Vibrate on Silent.
Then set the Ringer and Alerts (Volume Slider) to the maximum level by dragging the bar.
If in case, the ringer or volume changes with the accidental press or touch on your iPhone, you can turn off the Change with Buttons option.
Meanwhile, you can choose the sound patterns for calling, notifications, alarm, etc with different tones which you feel louder or suitable for you.
3. Reboot your iPhone
Quickly press and hold the Volume Up and release.
Quickly press and hold the Volume Down button and release.
Then long-press the Power/Side key until the Apple logo appears.
Next, release the key and your handset will reboot automatically.
4. Remove Bluetooth Enabled Device
If you're using any Bluetooth-enabled device like wireless headphones or earphones or speakers, then simply disconnect that Bluetooth device by turning off or unpairing. Then reboot your iPhone and check once whether the sound issue has fixed or not.
Go to the iPhone Settings.
Tap on Bluetooth.
Just tap on the toggle to turn it off.
5. Turn Off Do Not Disturb (DND)
Tap on the iPhone Settings.
Tap on Do Not Disturb.
Next, turn off the Do Not Disturb toggle.
Additionally, you can turn off another feature that can be useful for most users. However, some of the users may not feel this feature useful while busy with their work or in a noisy area.
From the iPhone's home screen, tap on Settings.
Select Face ID & Passcode > Tap on Attention-Aware Features.
6. Check for latest iOS updates
Head over to the Settings > General > Software Update.
Some times, the device or its system may cause issues due to the software-related issues and it's better to check for the latest iOS updates manually. As the latest software update always offers system stability and bug fixes.
7. Erase All on iPhone
Go to the iPhone Settings > Tap on General > Tap on Reset.
Tap on Erase all content and settings.
If prompted, enter the passcode.
Next, confirm the task by tapping to erase the internal data and settings on your iPhone.
That's it, guys. We assume that this issue is fixed on your iPhone by following the solutions. For any queries, let us know in the comments below.