Xiaomi launched the latest selfie-focused budget Android smartphone called Xiaomi Redmi Y2. The device was first launched in China with the name Redmi S2. Although the phone brings decent specs at a budget price, a lot of users have reported about the Bluetooth issues they have experienced on Redmi Y2. It cannot be perfectly said whether it's a software glitch or a technical issue. However, in this post, we have provided the best information on how to fix Xiaomi Redmi Y2 Bluetooth issues simply. If you are also experiencing it, you can follow this guide.
Talking about the device specifications, Xiaomi Redmi Y2 features a 5.99-inch IPS display with 18:9 aspect ratio screen of 720 x 1440 HD+ resolution. It is powered by Qualcomm Snapdragon 625 processor, paired with either 3GB of RAM and 32GB storage or 4GB of RAM and 64GB of storage. The Redmi Y2 boasts an impressive 12MP + 5MP dual-camera setup on the back with PDAF for fast focusing speeds and electronic image stabilization (EIS) to help capture steady videos. On the front, the device sports 16MP selfie camera which is powered by AI. Under the hood, the device runs on Android 8.1 Oreo with MIUI 10 software.
Many users have reported Frequent connection dropping, unable to pairing, device restarts while enabling Bluetooth, not able to send any files, images, videos. etc on the Xiaomi Redmi Y2 with other devices are the common problems reported by most of the users. Well, the fact is that it is possible to fix Xiaomi Redmi Y2 Bluetooth issues without doing much if you follow this guide properly. Before we start fixing the problem, let us have a look at the possible causes.
There are certain reasons why Xiaomi Redmi Y2 experiences Bluetooth connectivity and other issues. To find a possible solution, finding the root cause of the problem is really helpful and even cut down complexity from the tasks up to a great extent. The problem is not just limited to one specific reason but it can be due to several. Some of the common reasons due to which your Xiaomi Redmi Y2 might be experiencing this problem are the presence of malware and affected files that come when you install apps from other sources than Play Store, Operating System bugs, viruses, and physical damage to the duplexer, and so on. The good thing is a few simple solutions are there that have been discussed in this post to help you fix Xiaomi Redmi Y2 Bluetooth issues.
Before you start troubleshooting your phone or taking it to a repair shop, follow what we are going to share with you. The very first thing is to pair your Xiaomi Redmi Y2 with any other device. In case you are successful, wait to see if it drops the connection after sometimes or not. If it is doing so, you can follow the below-mentioned guide.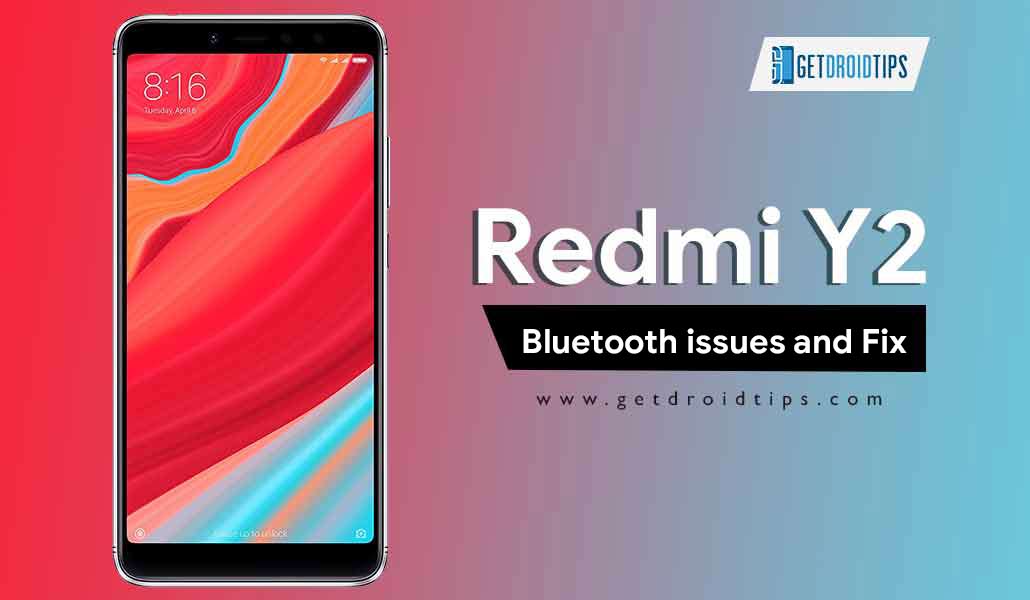 Steps to fix Xiaomi Redmi Y2 Bluetooth issues
A series of some of the best solution is given below to help you keep up the pace in this matter. Go for them to avoid the problem.
Solving basic Bluetooth issues
Before moving forward try to restart your Redmi Y2 and your Bluetooth device. A simple restart or reboot may do wonders at times. So don't forget trying turning Bluetooth on after a restart. When the device is turned off, it also closes a lot of applications and files running parallel and that could be the reason for the Bluetooth issues.
Make sure the device you are trying to connect or pair is within the Bluetooth range. The Bluetooth range for an Android Device is thirty feet. Come closer to the device if it is not in the required range.
Make sure that your device is discoverable for other Bluetooth devices around. to make it discoverable, just go to the Settings on your Oppo RealMe 1 and tap on Bluetooth Settings.
Toggling the Bluetooth
It is regarded as one of the simplest and in fact the best methods available to help you fix Bluetooth issue. Simply turn off the Bluetooth of your Xiaomi Redmi Y2 and then turn it again. Repeat this for at least 5 times. There are certain chances that the problem would be gone. To do this, simply follow below instructions.
Open the Notification panel on Redmi Y2
Tap on the Bluetooth icon to turn it ON
After 20 seconds, turn it OFF
Give time to your device to discover the other devices.
Repeat it for 5 to 6 times.
Restarting Bluetooth on Redmi Y2 can fix Bluetooth issues and there are certain chances of this.
Remove all previous connections on Redmi Y2
Sometimes it's nothing but the glitches that declare their presence due to earlier Bluetooth connections doesn't enable the device to connect with other devices. Thus considering this method is a good option. Check the history and remove all the devices you have paired with your Redmi Y2 recently. The instructions for this are:
Open Settings on Xiaomi Redmi Y2
Hold every paired device and choose "Remove/Delete" it one after one.
Confirm the action and restart your phone.
See if the device starts making connections with other devices.
Clearing Bluetooth Cache
It is another useful trick that you can consider to fix Xiaomi Redmi Y2 Bluetooth issues. There are certain chances that the Cache files are corrupt and could simply lead to Bluetooth issues. You need not worry as the information or files stored in the cache are not important or useful to you. However, there are chances that you get rid of the problem after this. Therefore, you must try it. Here are the steps to do so:
Open the Quick Settings menu and turn off the Bluetooth as mentioned previously.
Go to phone "Settings" now and select the App icon.
Next is to simply swipe left and click "All Apps tab". You will see the option "Bluetooth". Select it and tap "Empty Cache"
Wait for the time till your Xiaomi Redmi Y2 perform this task. After it's over, see if things are back on track.
If clearing Bluetooth app cache doesn't work, then clear the phone memory.
Clear Cache on Redmi Y2:
Another solution to fix the Bluetooth issue on Redmi Y2 is to clear the cache memory. To do this, you need to reboot your phone into recovery. Follow the procedure given below to clear the cache on Redmi Y2.
Turn off the device.
Now turn it on again by pressing the and holding the power and volume up buttons.
Select the language
You will see the recovery window –> Wipe and Reset
Now you can just select wipe cache. A process will start and you can restart the phone once it's completed.
Keep your phone updated
Xiaomi always gives importance to their software update. They keep sending the regular software update to their devices with monthly security patches, features, improvements and bug fixes. So we recommend keeping your phone updated. There is a chance that they may have improved the Bluetooth issue on Xiaomi Redmi Y2 with their recent update. Here is a simple guide to check for the software update on Xiaomi Redmi Y2.
On your Xiaomi Redmi Y2, Go to Settings
Tap on About Phone
Now tap on System Update
Wait until you see a screen showing the latest build.
If it shows no updates available, then make sure to follow our link: Xiaomi Redmi Y2 Stock Firmware Collections
[su_note note_color="#fef0ef" text_color="#000000″]Here is the complete guide to Flash MIUI Stock ROM on any Xiaomi Devices[/su_note]
Factory Reset:
If none of the above methods has been able to solve the Xiaomi Redmi Y2 Bluetooth issue, then the last option is to perform the factory reset. By doing this method, you will ring the phone to factory state and would delete every data, media, music, videos and other important files. So keep a backup before you go ahead with resetting your Redmi Y2.
Go to the phone's Setting menu – Additional settings – Backup & reset – Factory data reset, then press Reset phone. Do remember to back up the important data to an external location like a PC or hard disk, because this reset will also remove all the data stored in SD card.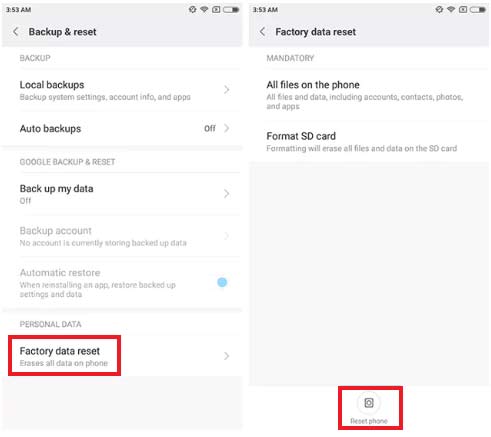 When the process goes on, don't press any button unless it is mentioned to do so. Once the device starts, check if it the Bluetooth starts working by connecting it to another device. All these tricks are simple and don't create any harm to your phone if you follow them wisely and in a proper manner. If the problem still exists, probably you need to visit a repair shop.
We hope, any of these above "How to fix Xiaomi Redmi Y2 Bluetooth issues and solve pairing problem" methods worked out for you, Stay tuned with us at GetDroidTips to be updated with the latest technology News and Review.