If you are stuck in a situation where you have forgotten the pin, security pattern or the password of your phone, and are looking for ways on how to bypass it, then you have stumbled on the right place. As in this post, we will give you a complete guide on how you would be able to bypass the Android secured lock screen, and get into your phone. Note that if you forgot your security pattern, pin or password, you are not logged out of your Android smartphone forever. Matter of fact, there are several ways or methods that you can apply and bypass the security lock on your phone.
Although, there are several methods using which, you can bypass the Android secured lock screen, but they are not that easy and require some of your time and patience. But, it is rather good to have time and patience than to shell out money in order to buy a replacement device. In this post, we will give you the top 5 most effective methods which you can use on your Android phone, of which you have forgotten the security pattern, pin, or password and you are looking to log in to the device easily. So, that being said, let us get straight into the article itself: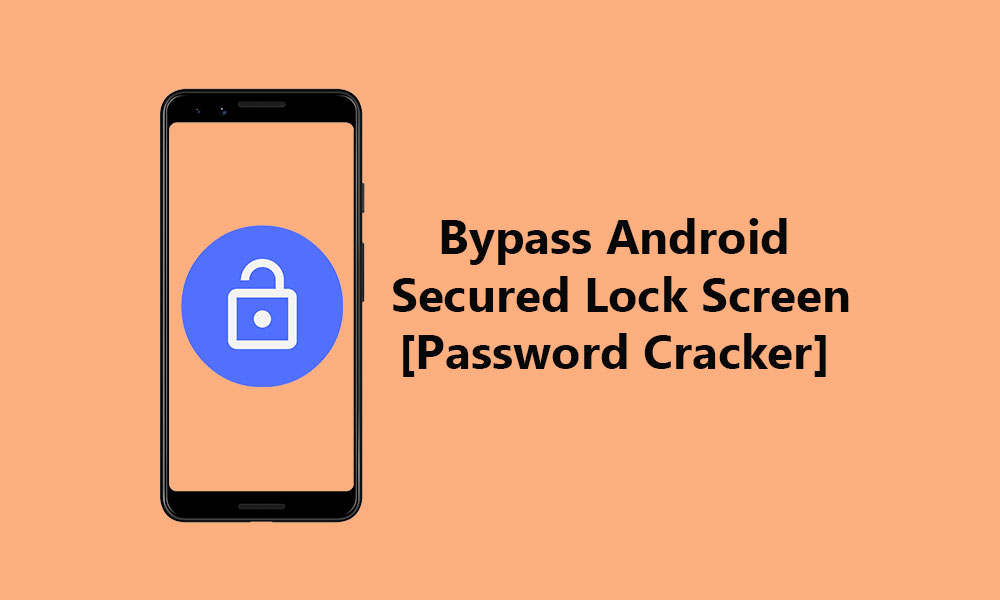 How to Bypass Android's Secured Lock Screen [Password Cracker]
Make sure that your device has enough battery level to perform some of these methods properly. Follow the steps carefully in order to successfully unlock the screen lock (Pattern/PIN/Password). So, without further ado, let's jump into it.
1. Use Find My Device (Google)
Google's Find My Device service is available on most of the Android devices by default. Once you logged into your Google account on your device, you can easily access this feature from the official website. Now, this trick may or may not work on Android 8.0 Oreo or higher devices. However, you can at least this method to check whether the screen lock is removed or not.
Click on the Secure Device > It will ask you to enter a new password.
Type the new password and type again to confirm the password.
Finally, click on the Secure Device or Lock button.
Make sure that the process may take a couple of minutes to change the password. Have some patience.
Once done, reboot your handset and unlock the screen with your new password.
Now, if you want to fully remove the password or set a Pattern, you can easily do this via the Settings menu.
2. Use Find My Mobile (Samsung)
Just like the above service, if you have a Samsung Galaxy device, then you can use Find My Mobile from the official Samsung website. Just launch the site via a web browser on your computer and then sign in with your Samsung account. After logging in, click on Lock my screen.
Enter a new password and click on the Lock button. Within a couple of minutes, your Samsung device lock screen password should be changed. Now, enter the new password and start using your device again.
3. Forgot Pattern
If you're using Android 4.4 or lower version on your handset, then you can try out the Forgot Pattern option. After trying 5 times (failed attempts), you will receive a notice like Try again in 30 seconds. Now, just tap on the Forgot Pattern option on your device and you will need to enter your Google Account credentials to sign in and unlock your device screen lock easily.
4. Do a Factory Reset
Though the Factory Reset option will delete all the data, settings, apps, etc from your device, it's recommended to perform the factory reset to remove the screen lock as well. One thing is for sure that your device will work like almost like a new one after performing the factory reset.
The Factory Reset process varies depending on your device model or brand. However, most of the Android devices offer almost the same option to factory reset.
Switch off your handset.
Press and hold the Volume Down + Power button together for a few seconds until the bootloader/recovery menu appears.
Now, use Volume buttons to navigate the options.
Head over to the Recovery mode > Press Power button to select it.
Press and hold the Power button & tap once the Volume Up button to enter your device into recovery mode.
Use Volume buttons again to navigate to the Wipe data/factory reset option and press the Power button to select/confirm it.
It will take some time to reset the device. Once done, restart your device normally.
Mostly, the device reboots automatically into the system.
Proceed to the initial setup process once the device boots up.
You're done. Enjoy!
5. Delete the Password File Using ADB
This method will only work if the USB Debugging mode is already enabled on your Android device. If not enabled, then skip to the next method. If the USB Debugging is already turned on, then connect your device to the PC using a USB cable.
Open the Command Prompt in your ADB & Fastboot installed folder.
Then type the following command and hit enter:
adb shell rm /data/system/gesture.key
Now, restart your device and the screen lock or password should be removed completely.
Note:
This is a temporary method. So, make sure to set a new PIN or Pattern lock on your device and then restart once.
6. Boot your device to Safe Mode (Remove Third-Party Lock)
Now, if in case, you're using a third-party lock app on your device to lock the device screen then follow the below steps.
Press and hold the Power button on your device.
It will ask you to Reboot to safe mode option.
Tap on the OK button to restart your handset.
The third-party lock screen will be disabled temporarily after reboot.
Just clear the Cache & Data of the third-party app from the Settings > Apps & Notifications.
Alternatively, you can simply uninstall the app.
Now, restart your handset, and either you can use your device without a password or you can set a new password/PIN/pattern.
7. Bypass Using Ultimate Multi-Tool:
By following the above method, you can also clear the user locks on your devices such as fingerprint lock, gesture lock, pattern lock, PIN, codes, and many more.
Open Ultimate Multi-Tool
Select Oppo Reset Method Mode
Choose Model Name
To Remove FRP lock, bypass security lock such as Code, PIN, Gesture Lock, Fingerprint, etc. Check box the Reset FRP option
Connect your device via Test point with EDL mode
Click Execute to start the process.
Wait for some time to start the process.
After erasing the userdata and FRP data, your device will reboot.
That's it, friends, you have successfully reset the FRP and also this process will erase Pin, pattern lock, gesture lock, fingerprint, and many more.
That's it, guys. We hope you've found this guide useful. Feel free to ask in the comments below for any queries.