Undoubtedly, gamers who love doing battle royale games know that Fortnite is one of the best games in the industry. Released in July 2017, this game became available for Android users about two years ago. If for some reason(s), you do not have access to Fortnite and need some alternatives, this post is designed for you. Battle royale games are perhaps the most attractive games for consoles, PCs, and even Android devices. Interestingly, many gaming Android devices in the market run these games at a high frame rate. On Android, these "last man standing" are super exciting. Please note that nothing quite compares to the intense, heart-pounding, action-packed Fortnite, but some games come close, very close.
Right now, you may be thinking exactly what I'm thinking; the number 1 alternative should be PUBG Mobile. You are as correct as you can be. PUBG comes closest and may even be preferred for some games. For many gamers, PUBG and Fortnite are on par. However, the overall "battle royale" style is somewhat different, and they don't have the building mechanics. Fortnite offers you the opportunity to battle with real gamers and not just some programmed player. You can play against somebody you know in real life.
Generally, "battle royale mobile games" can be considered as a "survival series" where only one fighter makes it out alive. Technically, you can't win if someone else is still alive – kill everyone and take the crown. Fortnite comes with some extra resources which allow you to build fortresses to keep you safe.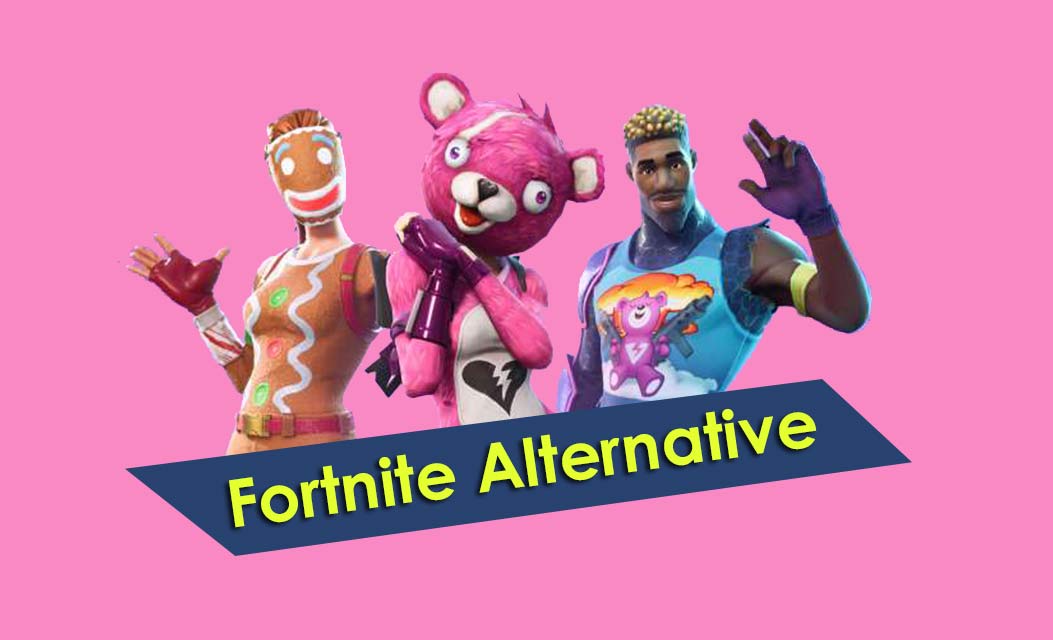 Top 13 Fortnite Alternatives for Android devices
The bottom line of Fortnite and the top 13 alternatives on this list is to STAY ALIVE. To do this, you gather resources, get massive ammo, protect yourself, and develop your kill shot skills – mostly headshots. Let's take a look at the top 13 Fortnite alternatives, which will get you on the edge of your seat and keep your heart beating as you blast your way to victory.
PUBG Mobile
Just like Fortnite, PUBG was also released in 2017, and it is almost as popular as Fortnite. If you are looking for a free to download battle royale game for Android devices, then PUBG should come to mind. Within a few months after launch, this game garnered millions of followers and players. The graphic is absolutely amazing, and the gameplay/customizations are "out of this world".
Also known as PlayerUnknown's Battlegrounds, PUBG is a very popular last man standing game. To date, a lot of gamers believe that Fortnite copied PUBG's idea. However, the extra element of building forts in Fortnite makes it stand out. Besides that, PUBG offers everything from Fortnite literally.
Download
Call of Duty Mobile
Obviously the youngest battle royale game in the list but definitely one of the most popular, Call of Duty Mobile had over 148 million downloads in its first month. It racked in about $54 million in revenue within its first month, and it is currently the largest mobile game launch in history. Announced in March 2019 by TiMi Studios (a division of Chinese company, Tencent), it became available worldwide on October 1, 2019.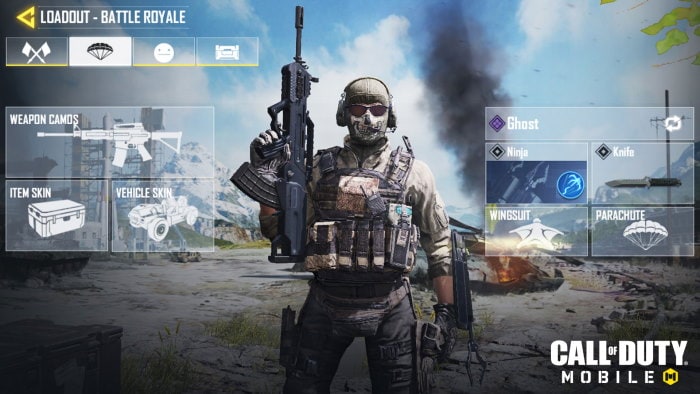 Call of Duty is a first-person free-to-play battle royale game that features many characters, maps, and game modes from previous games in the series. This game has a 100 player Battle Royale battleground with two basic modes, 'zombies' and 'multiplayer'.
Furthermore, this game is interesting because it is perfectly designed for touchscreen devices. The phone's left side contains the controls for your character's movement, while the right side is for aiming. A double-tap on the right side gives you access to your scope. Well, if you are worried about aiming and shooting, you do not have to because your weapon shoots automatically. In addition to the easy controls, this game also comes with amazing visuals and multiple weapons. Definitely, this is one of the most preferred alternatives to Fortnite.
On March 1, 2020, Call of Duty Mobile officially announced via its Twitter handle that its new season has begun with new additions, which include a new Battle Pass, character and map. However, it also announced a few days ago that the Zombies mode would be removed from the game by March 25, 2020.
Download
Rules Of Survival
Rules of Survival were a "king" in this genre, but not before many players discovered that the likes of Fortnite and PUBG offer a bit more. After the release of Fortnite/ PUBG stable versions, this game lost many of its players. Nevertheless, it remains one of the best options for Android users. There is nothing as exciting as "easy controls", and this game offers just that. You can quickly master the key controls and make use of your voice chat options. If you are an "amateur" gamer and you need to up your game, Rules of Survival is an appropriate game to start with.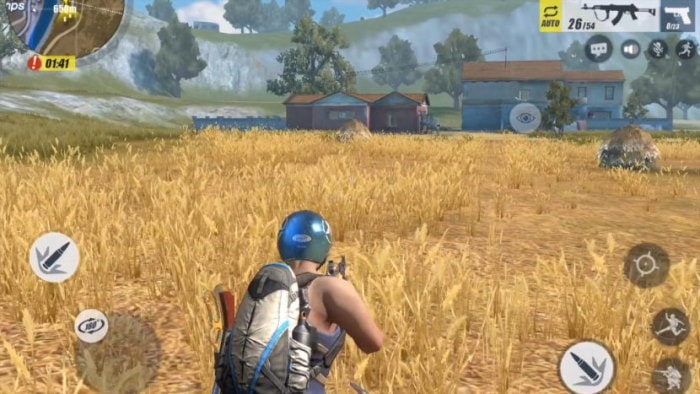 It offers basically everything from PUBG and Fortnite, but you are dropped off on an 8 x 8 km island. From that point, you know only one thing – survival. Initially, this game offers 120 players in a battleground at a time. However, it now offers up to 300 players fighting for survival in the same battleground.
The gun shooting style, running, weapon pick, and flip for cover gives a real-life impression. You have access to multiple weapons, ammo, backpacks, health, shields, helmets, and much more, but make no mistake about this; you will have to fight your way to get them. Presently, this game has well over 100 million downloads. Thus, despite Fortnite and PUBG taking many of its players, it still has more than enough good players to do battle with.
Download
Radiation Island
Radiation Island is another massive battle royale game. Apart from the building mechanics, it is almost on par with the likes of Fortnite or PUBG on Android. Obviously, it is a good alternative to Fortnite on Android. Well, this game offers something to get you comfortable with the game. You have access to a single-player campaign mode. It is the choice of the player to use this mode. It's quite good because a pro-Fortnite player could find it difficult with another battle royale game at first glance. You can get acquainted with the controls, weapons, and environments before fighting to the death.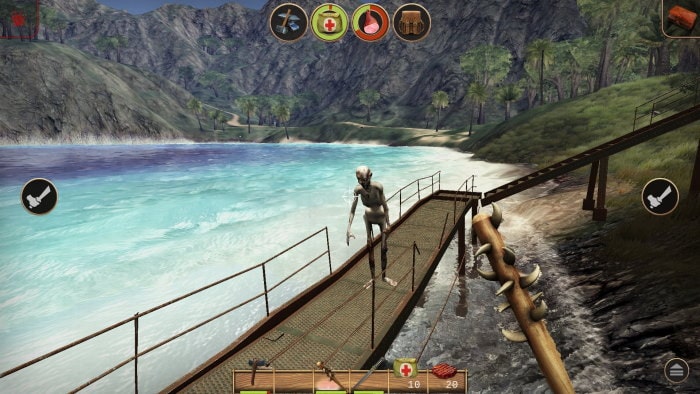 Just like the other games on the list, you have to find a way to stay alive. In this game, you will do battle in an ancient deserted "Radiation Island". Although you get to make your shelter and sometimes weapons, it's not quite the same as crafting a fort. You need supplies to stay alive, and you have to be cunning to get these supplies. It's not just about shooting and fighting your way through all obstacles, and you can smartly circumvent some unnecessary obstacles. You'll pay $2.99, but that gets you a regular game and a battle royale adventure in one.
Download
Garena Free Fire
Garena Free Fire is yet another mobile battle royale game that was released in November 2017 for Android. As of November last year, the game has over 450 million registered users and has grossed over $1 billion worldwide. Just like other "survival series," the target of this game is to kill all others and be the last man standing. However, Garena Free Fire comes with some restrictions. One of them is that players can not afford to drift out of the "play zone". If that happens, you will be gradually losing your health and other accessories that you have worked for.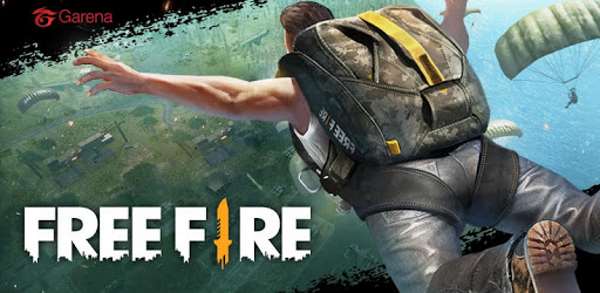 Just like Rules of Survival, Garena Free Fire also offers voice chat options. You can contact other players via a voice message for communication. Furthermore, this is also a team game. You can choose to be in a team of 4 players, and your team members are as important as you. However, you can also select the single-player option.
Download
Rocket Royale
Rocket Royale was released in 2018. This makes it one of the youngest names on the list so far. It is developed by OneTonGames, and it is a Fortnite-inspired battle royale. However, this game comes with a tweak. Unlike others that are simply "kill or others and win", Rocket Royale gives another option to win. If you can build a rocket and escape the island, then you are a winner. However, this seems to be a more difficult option than killing others. The very few times I managed to win, building a rocket 70% was not possible.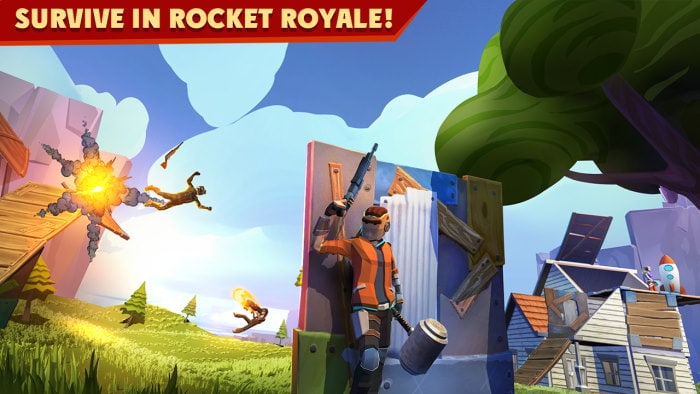 With Rocket Royale, you have the option of crafting forts, ramps, shooting rockets and killing people. This game has good gameplay with impressive building elements. However, a downside of this game is that it looks "too cartoonish", even though the graphics are excellent. Thus, if you are looking for something close to real-life, this game will probably not meet your desire.
In the event that you successfully craft a rocket and escape the island, then there will not be only one survivor, but there will be one winner – the one that escaped the island. So technically, there can be more than one "last-man-standing" in this game.
Download
FortCraft
Fortcraft was designed as a competitor to Fortnite Mobile. However, it is not quite on par with the latter. This game from NetEase is almost similar to Fortnite, and at some point, it looks set to try and beat Fortnite Mobile to the punch. Like we said earlier, this game is very similar to Fortnite (graphic style, gameplay, and rules); thus, if you need a "Fortnite Clone", you may have to try out FortCraft. To this end, if you are already a Fortnite player, you won't find it difficult to score higher in this game.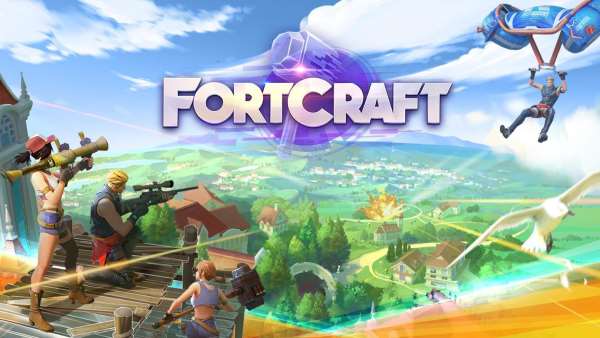 FortCraft developer team is also responsible for many battle royale games like Rules of Survival and PUBG. Thus you can't doubt its quality. In this game, players can build forts, craft mechanics and have access to multiple weapons.
This open field Battle Royale game pitches up to one hundred players against each other on a weapons filled island. There is only one survivor and no other winning options like Rocket Royale. In this game, players' arsenal includes multiple shotguns, pistols, machine guns, sniper rifles, and even rocket launchers. You also have shield potions, first aid kits, grenades, and other accessories. Actually, you have all you need to survive, but it is your skill set that determines if you will come out alive.
Download
Creative Destruction
Another massive Fortnite clone is "Creative Destruction". This game takes its inspiration from Fortnite and even copies other features such as Game UI, the players, battle style, etc. Unlike many other survival series games, Creative Destruction requires more computing power and resources. This simply means that you have to use a proper gaming smartphone to play this game. It needs an Android phone with strong processors and GPU for a full display of the graphic capabilities.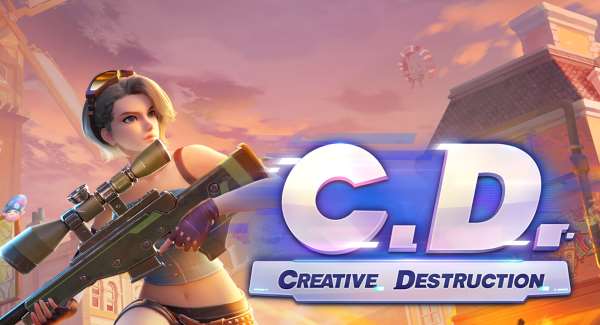 In this game, you have the option of playing as a third-person. Players are dropped off on a 4 x 4 km island, and they do battle for survival. This is a proper survival game with 100 player deathmatches. You also have the option of choosing from the 13 different lands, all having the same area (4 x 4 km). This intense battle royale requires players to break, build, and defend. You can also unlock the TPS and FPS modes. It's an addictive and immersive game with plenty of thrills, and it scores very high (4.6/5 stars) on the Google Play Store.
Download
Knives Out
Another good alternative to Fortnite on Android is a 2017 game, Knife Out. Unlike a few others on the list, this is not a Fortnite Clone. This game offers real-life looking environments and very sharpshooting. There are so many obstacles in the game; thus, if your shooting is not great, you end up wasting a lot of bullet without hitting your target. You will have to navigate through mountains, islands, and train tunnels while trying to stay alive. There are 99 other players in the field trying to get the same crown you need, and you are constantly exposed to attacks or ambushes.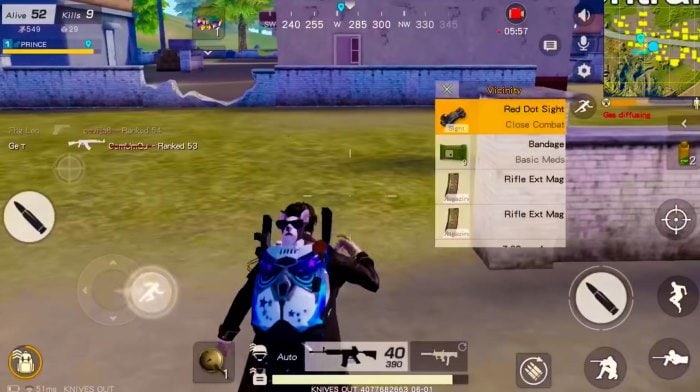 This game offers Duo, Squad, and Fireteam modes, and each of these modes is fluid to play. However, it is worthy of note that a game like Knives Out requires a lot of power. It also consumes a lot of battery. Thus, the general advice is that you should use a gaming phone for this game. The game can also get pretty long; thus, you may need to ensure that you have access to constant power to see the end of it. Furthermore, Knives Out does not have an offline or even partially offline mode for playing. Thus, you also need to have constant access to the Internet. Otherwise, you will be thrown out.
Download
Battlelands Royale
In this game, players will have a face-off with 24 other players on an island that is full of weapons. There is only one winner in this game, and that is the last man standing. If you have a simple Android device and you want to enjoy the feel of some heavy-duty Android games like Fortnite and PUBG, then what you need is Battlelands Royale. It may not be an exact Fortnite alternative, but it is a great battleground game. This game has plenty of fans because it offers something a little different while been a very light and casual version of the Battle Royale genre. Although it is light, its graphics are good enough to enjoy yourself throughout the game. You have amazing locations like Camper's Paradise, the Hideout, Trainyard, and Ship. However, there is always a raging storm ready to break you and end your adventure.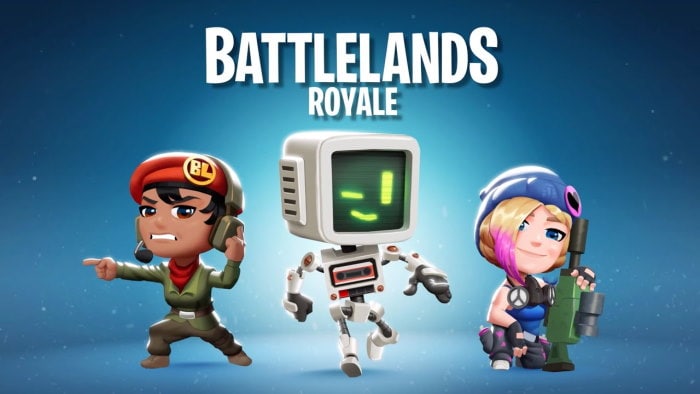 It offers single-player and Duos mode, and the controls are very easy to master. On the left of the display, you have the direction controls, while the right side has the button that controls your aim and shooting. That's it. To get weapons and first aid kits, just simply move over them, and you automatically pick them up.
This game is an alternative to Fortnite and PUBG because it uses the same concept as the latter. However, it offers a much smaller scale. Players have unlimited weapons for pick-up because weapons will drop down onto the island as you play. You must know about this game because matches won't last much longer than ten minutes.
Download
Survivor Royale
This is another wonderful alternative to Fortnite, but the action in this game basically takes place at sea or in ports. Survivor Royale pitches 100 players together, and the game lasts for about 20 minutes. Within this time, players will have to fight their way through to get weapons, vehicles, speedboats, ships, and, if you are lucky, a large map that tells you the features that are available in the battleground.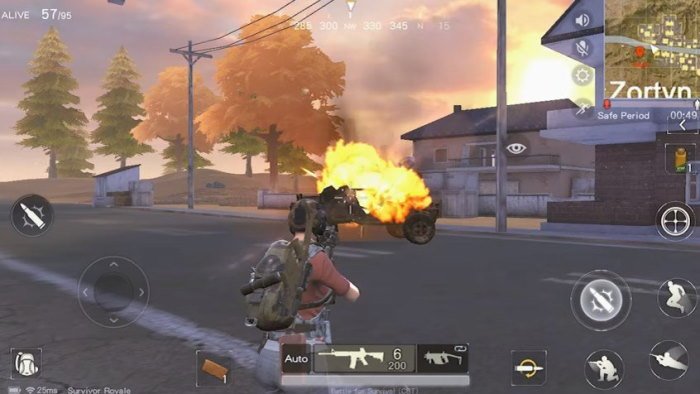 This game offers solo, co-op 2 and 4-player modes. All the players have to parachute down onto an island. However, like other battle royale games, only one player can emerge from struggle alive. Survivor Royale is a 2017 game with NetEase Games Support. It has well over 5 million downloads; thus, it is quite popular.
Download
Hopeless Battleground Fight for Survival Land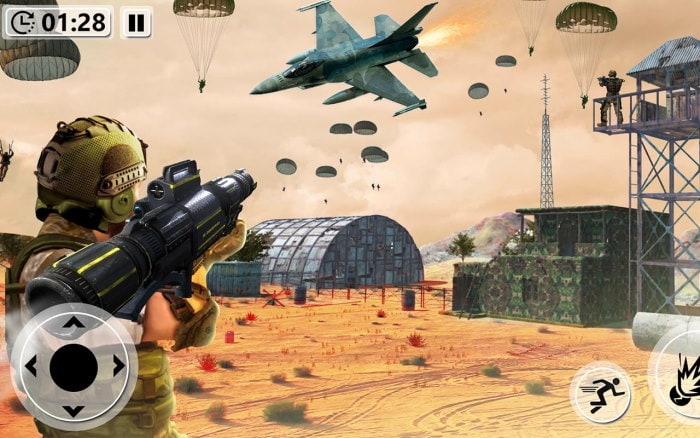 If you want to step up your battle royal game, then this is a great choice. Instead of limited 100 players, this game will make you fight for survival among 120 other player, which makes the gameplay more challenging and exciting. However, the gaming experience is pretty much the same as of Fortnite and other battle royal games. But one new feature of this game is its ability to have fights in mid-air using various props such as aeroplanes and helicopters. Using such advanced props and the 120 players capability makes this game so much fun.
Download
Pixel's Unknown Battle Ground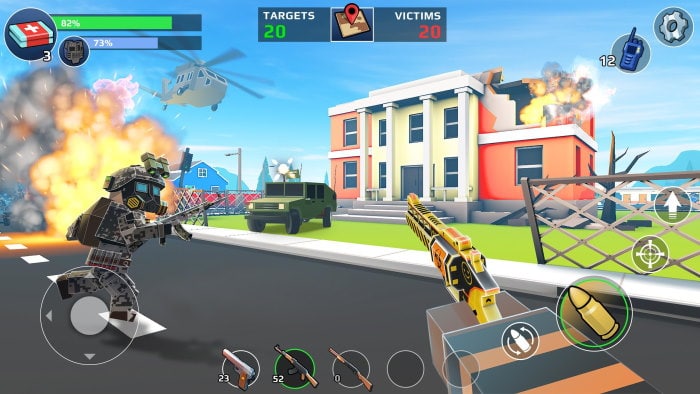 If you are fond of playing PUBG, Fortnite and Minecraft, then you will defiantly love this. Pixel's Unknown Battle Ground is a beautiful blend of both battle royal and Minecraft graphics. The world is pixellated where you have to fight with other 100 players. It's equally challenging and more fun with the pixellated graphics. The game mechanics are exactly that of Fortnite, where you have to stand until the last to win the game. However, the game needs much improvement as there are some control and firing issues, but overall it's a good game.
Download
Conclusion
As difficult as it is to compile, these are our top 13 Fortnite Alternative Games that you may decide to play. Please note that the list is not necessarily according to importance. You may have an alternative game that did not make our list; let us know about this game. We will probably try it out and add it to our list subsequently, that is if it meets our criteria anyway. Thanks for stopping by, and have a wonderful day.