Samsung Galaxy smartphones are known for their unique flagship features and longevity of their device. And not to mention there amazing AMOLED panels. But with a recent update, Samsung Galaxy Note 9 has got some screen discoloring issue where users are complaining about a greenish yellow tint on their smartphone displays. This problem occurred after the new Galaxy Note 9 update Samsung just rolled out. If you are also facing the same issue, then you're not alone.
Today we will discuss the possible reasons why users are getting a greenish yellow color on their device. Also, we will see some troubleshooting ways to fix the issue once for all. According to some reports, the issue is based on a software glitch, so it will soon be fixed by Samsung via a new update.
This may be due to hardware damage or if you have a bad update. If you have dropped your phone too hard, then it is very possible that your phone's display is slightly damaged, and automatically the blue light filter is turned on. For this issue, you might have to manually fix your mobile hardware, but we don't recommend that. Another reason for this possible occurrence is the software update. Samsung frequently updates its firmware, so if there is a new patch, it is very possible that the patch may introduce some new issues. However, it is very rare. Due to phone heat, the screen may also get color burned.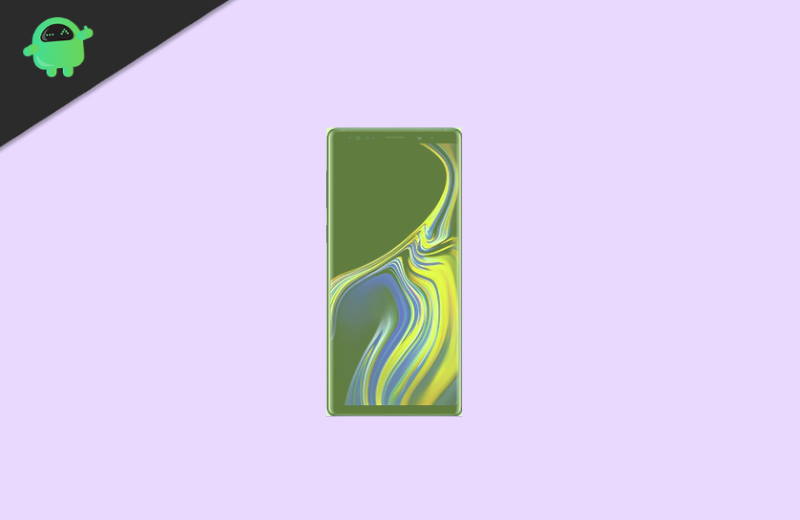 Why is the Screen Discolouring issue caused in Galaxy Note 9?
Samsung Galaxy Note 9 is on the most top-notch smartphone that is available out there right now with so many prominent features. However, there is a common issue that many users are facing with Note 9. The Screen discoloring issue in Galaxy Note 9 is the most annoying issue anyone can get, and the screen lacks its vibrant colors. It shows a Greenish-yellow color instead. Many users have asked for Samsung support to fix the issue, but they have asked the consumers to go to Samsung care for help. During COVID-19 Criss, nobody wants to risk their life for a phone, and there is no definite solution for this issue by Samsung. So we will be mentioning a few solutions here that you can try by yourself to resolve this issue.
Before jumping into the solutions that were are gonna discuss, you have to understand why the Screen is discoloring. There are a few explanations but not very specific. You may have turned on your blue filter, so you can turn it off manually. However, the issue that many users have explained, they said that the screen discolors automatically.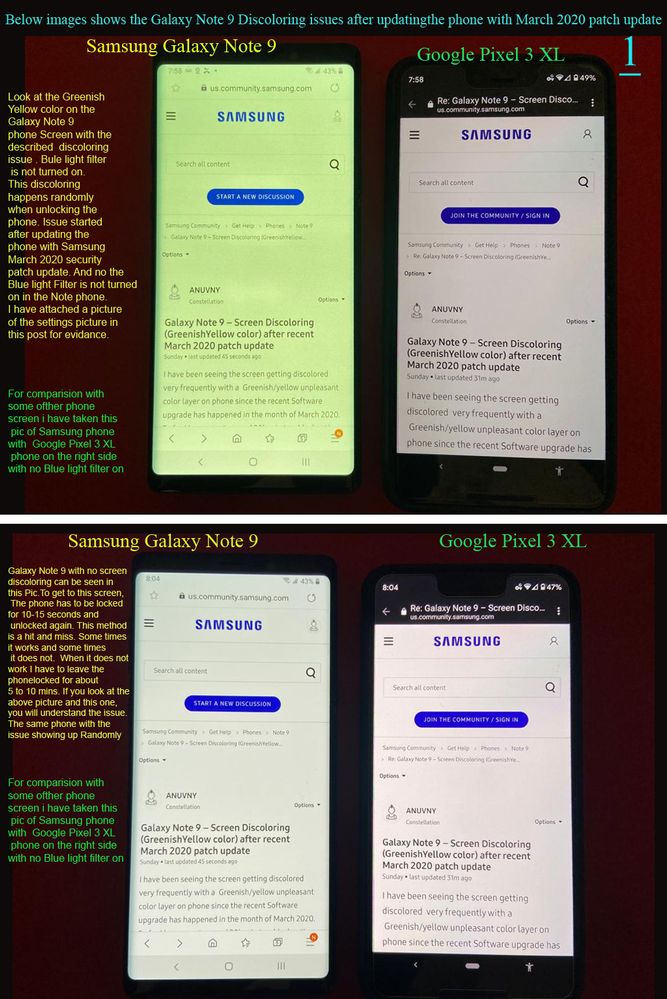 There is a very chance that the screen digitizer layer is damaged or altered by the recent update. Make sure that there are no cracks on your screen. A tiny crack can damage your screen and can cause a screen discoloring issue. In such a case scenario, there is no option besides changing the phone's display.
How to fix the Screen Discolouring issue in Galaxy Note 9?
There is no official fix for this issue. However, these are some fixes you can try to fix the issue. These solutions may or may not work; you will have to find it out by yourself.
Solution 1: Force Reboot your device
There might be a temporary bug that is causing the Galaxy Note 9 screen discoloring. If you have done nothing and your phone's screen is discoloring, then try this solution first. It may work.
Step 1) By pressing the Power button and Volume Down button simultaneously for 10 seconds, switch off the phone, and allow the maintenance Boot Mode screen to appear.
Step 2) Now, select the Normal Boot option in the maintenance boot mode. Use the volume buttons to navigate and the lower-left button to select. Wait for approximately 90seconds for the phone to reset and reboot.
Solution 2: Disable Bluelight filter apps
There are many Bluelight filter application which changes the color temperature of your screen. These apps are designed so that your eyes don't feel the strain while using your Samsung Galaxy Note 9 in a dark room or while you're under a blanket. Galaxy Note 9 also has a built-in blue light filter/night shift, so also disable that to fix the issue.
Solution 3: Disconnecting all the accessories
Sometimes the accessories that you add up to your smartphone can cause severe stress. Remove the SIM cards, SD card, external case, etc. This will remove the stress from your phone, which may resolve the issue. Many users have done it, and some of them find it works.
Solution 4: Checking for rogue apps
If you have third-party apps installed on your system, there is a chance that an app is causing the discoloring issue. Removing the buggy third-party application will resolve the solution. To know how to remove rouge apps, follow the steps below.
Step 1) Turn off your device and press /hold the power button for a few seconds. When the logo of Samsung appears, release the power button and hold the Volume Down button until the device restarts.
Step 2) Release the Volume down key when you see you have entered the Safe Mode. If there is no discoloration, then assume it that there is a rouge app.
Step 3) Uninstall all the third-party app and reboot your device normally; this should resolve your issue.
Solution 5: Factory reset
If you have removed the Rouge apps and still your problem is not resolved, then try to reset your phone. This will reset all your phone's settings. However you can do this in two ways, I prefer to hard reset using the setting menu.
Step 1) Firstly, create a backup of your data and remove your Google accounts from your phone.
Step 2) Go to the settings app and scroll to General Management. Click on the Reset option and select the Factory data reset option.
Step 3) Tap on the Reset option to continue and select Delete All to confirm.
After you go through the steps above, your phone will reboot and will be reset to its original settings. This will resolve the Galaxy Note 9 screen discoloring issue.
Solution 6: DIY Repair
If, after wiping your phone does not solve your issue, then it is sure to be a physical issue. Your phone might be damaged, or due to some hardware malfunctioning, it is behaving absurdly. If your smartphone is Physically damaged, then there is nothing much you can do.
We do not recommend DIY repairs. If you only have experience with mobile electronics, then you can try. Otherwise, it will add more issues than resolving any.
However, if you are confident that you can follow instruction and do it by yourself then go research about everything that you must know and have all the tools that are required if possible search for video instructions and then try to fix your issue
These are all the solutions that we can provide at this moment; there is no in-depth analysis of this issue, and no one is certain of the cause. Of course, there is something wrong with the light filters. But no one is certain about whether it is a firmware problem or hardware problem.
If you have followed all the solutions and still your issue is not resolved, then it is most likely a hardware problem. But if you think it is a firmware issue, then flashing a stock ROM on Galaxy Note 9 is the last option that you will have. You can wait for the next update I hope to fix your Galaxy Note 9 screen discoloring issue. If you are sure it is a hardware problem, then try to follow the instructions and repair your phone, or you can wait for the COID-19 crisis to end so that you can go out and fix your phone from Samsung care.
Conclusion
I hope that the greenish-yellow tint on your Samsung Note 9 display is gone forever. Seeing a constant yellow, green tint on your smartphone screen is annoying. But if you follow the above troubleshooting tips, then you can fix the problem for yourself. In case you're facing difficulty following the troubleshooting steps, then let us know in the comment section below. I will be happy to assist you out.