Is your Garmin Forerunner 45 not accurately tracking your sleeping habits? Garmin may have difficulty recognizing your sleep if you have a sleep disorder. Therefore, it is important to understand how Garmin works to troubleshoot any issues related to its inability to track your sleep. Tracking the quality of your sleep is essential for your overall health and well-being. It can help monitor your heart health and stress level. The Garmin smartwatch has an optical heart rate sensor and accelerometers to track and analyze your sleep at night.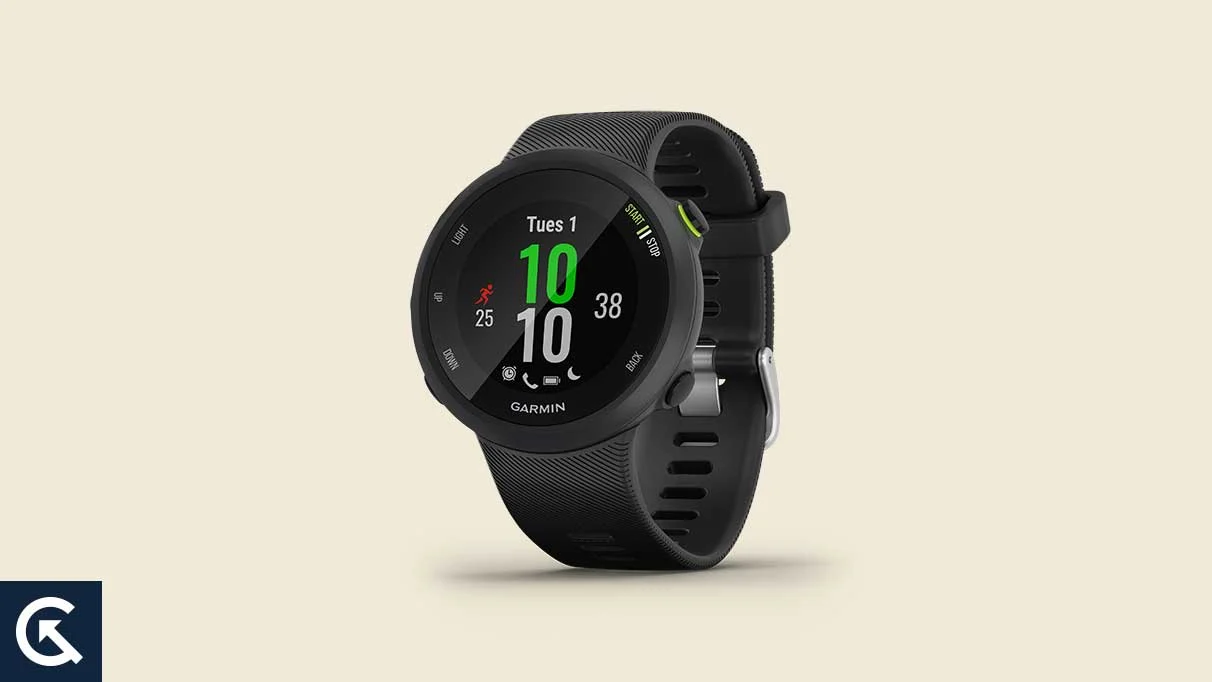 Reason Why Your Garmin Forerunner 45 is not Tracking Sleep
Certain requirements must be met for your Garmin Smartwatch to track your sleep effectively. These include:
The battery power is too low to work.
If you suffer from sleep disorders, Garmin may struggle to detect when you transition between sleeping and walking modes accurately.
You may wear your Garmin smartwatch for at least two hours before bed.
If you do not select your watch as your Preferred Activity Tracker during the night hours.
Failing to activate the Heart Rate Sensor/Monitor.
Turning on the battery saver mode on your watch.
Failing to install the newest version of Garmin Connect.
Failing to establish the appropriate amount of time to sleep and the amount of time to be awake.
If the watch registers that you have been in an 'awake' state for a lengthy period during the night.
Pressing the Garmin watch firmly against your skin can cause your sleep to be recorded as "Unmeasurable" because the watch can not accurately track your heart rate when pressed against skin.
Please do so if you have not saved a valid birth date in the User Settings in Garmin Connect.
Remove the Sleep card from the My Day view.
If you sleep while wearing the watch on your arm and put pressure on your arm.
How to Fix Garmin Forerunner 45 Not Tracking Sleep
By taking into account all of the previously mentioned information and the necessary components that are needed for Garmin to track sleep, it is easy to pinpoint the cause of the issue and resolve it quickly and efficiently. These components include:
1. Disable the Battery Saver Mode
It is recommended to disable the battery-saving mode since enabling it shuts down background-running apps and prevents Garmin from tracking sleep.
To disable the battery saving mode on your Garmin Forerunner 45, go to the Main Menu, scroll and tap the Power Manager > Battery Saver > During sleep, and tap the toggle to switch it off/disable.
2. Update the App and Firmware to the latest available version
If you are having issues with your device freezing or not tracking sleep, update the older Garmin Connect software and device firmware to the latest available version. This will provide valuable fixes and new features that can help resolve any issues you may encounter.
3. Ensure the Heart Rate Sensor is Switched On
Ensure that the heart rate sensor is switched on before you enter the sleeping mode on your Garmin device, as this is necessary for it to be able to detect your heart rate and track your sleep. To ensure accurate tracking, you should wear your watch for at least two hours before going to bed, as this allows the heart rate sensors to detect when you enter sleeping mode. If the heart rate sensor is disabled, it will not be able to detect when you enter the sleeping mode and thus fail to track your sleep.
4. Make Sure the Watch Fits Snugly to fix Garmin Forerunner 45 not tracking sleep
Make sure that the watch is comfortably secured on your wrist so that the heart rate sensor can accurately detect your heart rate. If the band is too tight and pushes against your skin, it can cause the heart rate sensor to lose signal, making it difficult to detect your sleep. Additionally, ensure that you do not sleep on the arm while wearing the watch.
5. Set your Device as the Preferred Activity Tracker
In order to track and display accurate sleep statistics data, you must set your device as the Preferred Activity Tracker for your Garmin Connect.
To sync your device as the Preferred Activity Tracker on the web, open the Connect app> tap the blue arrows spinning together at the top of My Day View, and then select the watch you want to Set as the Preferred Activity Tracker to sync your data.
Or, launch the Garmin Connect app> Settings> Garmin Devices. Then, select the watch you would like to set as your Preferred Activity Tracker.
6. Ensure there is no movement within your sleeping environment
To get an accurate sleep score from your Garmin, it is important to sleep in a peaceful and quiet environment. Because movements and disturbances in your sleeping environment can cause Garmin to not track your sleep, particularly if they persist for a long time period. Moreover, you may want to look into the various settings and features of the Garmin that can help to track your sleep.
7. Set the Normal Bed Time and Normal Wake Time
If your watch is having difficulty tracking your sleep, you may have not set up the usual bedtime and wake time. To ensure that Garmin accurately detects when you go to sleep and when you wake up, input your normal sleeping and waking times.
So, that's all for today. For more troubleshooting guides, follow GetDroidTips!