Genshin Impact is a massively popular RPG released by miHoYo in September 2020. With an anime-style open world, the game has a gacha system through which players can pull characters. You can select these characters for your team and upgrade them accordingly with items you find across the map. One of these characters in Genshin Impact is Yelan, so let's look at her Build, Ascension Materials, Stats and more.
Available on various platforms, Genshin Impact receives regular updates every few weeks, which keeps players on their toes. While the game is free-to-play, a monetisation system is in place through which players can get special characters and weapons. The character banner is refreshed with these updates, and you can spend Primogems to wish for them. In Version 3.4, Yelan is featured as the boosted 5-Star character. This guide will take you through how to build Yelan in Genshin Impact.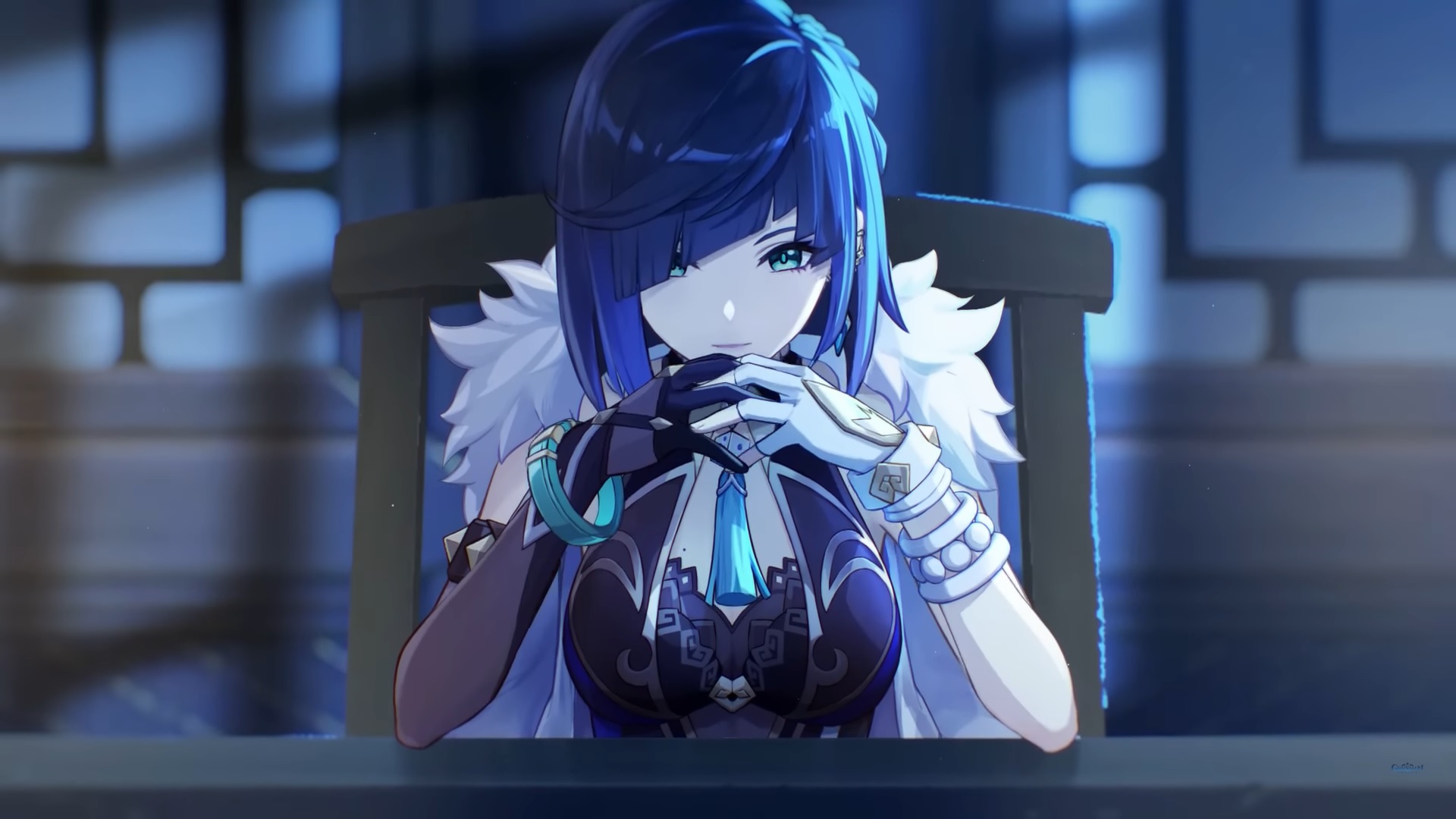 Yelan Build, Ascension Materials, and Stats in Genshin Impact
In the Discerner of Enigmas Banner in version 3.4, Yelan is the character you can pull for. She is is a 5-Star Hydro character who was first introduced to Genshin Impact during the 2.7 updates in May 2022. If you already have her as a character or want to get Yelan, this guide will help you with her build, Ascension Materials, stats and much more. It's a good idea to learn what her Constellation perks are and the Talent materials needed to level up Yelan to her full potential.
As an archer with high sub DPS and fast movement speed, Yelan has the potential to be in a main DPS role. Her Normal Attack is the Stealthy Bowshot. Her Elemental Skill is Lingering Lifeline, while her Elemental Burst is Depth-Clarion Dice. Yelan goes into a Breakthrough state after a short time when she is out of combat. This causes her next charged aimed shot to have reduced charge time. She can fire a Breakthrough Barb with a charged shot to inflict AoE Hydro damage.
To use Yelan's Elemental Skill: Lingering Lifeline, you will need to tap or hold down the skill button. Yelan will move rapidly in a line called the Lifeline, marking enemies that fall in her way. Once that's done, the Lifeline explodes and deals Hydro damage to the marked opponents. You will also have a chance to reset Yelan's Breakthrough state depending on the number of marked targets.
Meanwhile, Yelan's Elemental Burst: Depth-Clarion Dice is a very powerful move that creates Wondrous Dice and causes AoE Hydro damage. The Wondrous Dice will follow the targets and coordinate its attack with your Normal Attack on the opponent for an effective double-hit.
Yelan Build in Genshin Impact
Ideally, it would be best to use Yelan as a sub-DPS character. While she is a good DPS main, it's her role in sub DPS where she shines. This is because of her passive damage output after using her Depth-Clarion Dice Elemental Burst while not on the field. You will be able to deal consistent Hydro damage while applying another element from another character. This greatly boosts the overall damage and moreover, is dual in nature.
It would be best if you aimed to activate Yelan's Elemental Burst as often as possible. Once done, you should switch to another element and attack the opponent for maximum effectiveness. Additionally, if you keep Yelan off the field for at least five seconds, she will have a boosted attack bonus from her charged normal attack. This is perfect for a single-target enemy or if you want to finish someone off.
Best Yelan Team Comp
As Yelan is a sub DPS character, you can pair her with a high DPS character to maximum damage output with Elemental Reactions. You will also need a character to recharge Yelan's energy so that she can use the Normal Attack damage boost. Finally, it would be best if you got a decent support character to keep your team's spirits up.
For the recharging character, the first choice is undoubtedly Raiden Shogun who you can also use as a main DPS character. You can also use a fellow Hydro-user Xingqiu or any Electro user with decent DPS, like Cyno, or Beidou. Dendro characters such as Nahida or Alhaitham also work well here. As for the second sub DPS character, you can pick Fischl or Xingqiu. Support characters have good options such as Kazuha, Sucrose and Kokomi.
Best Yelan Artifacts and Weapons
You will be using the Depth-Clarion Dice attack a lot, which inflicts Yelan's Elemental Burst damage on your enemies. Thus, you should pick Artifacts that boost Yelan's Elemental Burst damage. Your first choice should be the 4-piece set of Emblem of Severed Fate. It increases the damage by 25% of Energy Rechange, and stacks thrice.
There's also the option of the 4-piece set of The Exile which regenerates the energy of all characters excluding Yelan, when she uses Elemental Burst. You can also take advantage of its 2-piece effect of a 20% boost to your Energy Recharge.
For Main DPS Yelan users, you'll want to increase Yelan's health. To do this, you can combine the 2-piece Tenacity of the Millelith and the 2-piece Heart of Depth
As for the weapon, the Aqua Simulacra bow is Yelan's best weapon. However, you will need to spend Fate to get your hands on it. The other alternatives are Polar Star, Thundering Pulse and The Stringless if you want a Main DPS Build. For a Sub DPS build, you can use Polar Star, Elegy for the End or Favonius Warbow. The last one is the best free-to-play option for Yelan, as it provides a boost to Energy.
Yelan Talent Materials
In Genshin Impact, you can upgrade the skills of any playable character by using Talent materials. These vary from character to character, so let's find out what Yelan uses.
To level up Yelan's skills, you'll need to farm Insignia and Prosperity materials. As she has three Talents, you will need a lot of them. Below, you will find the number of items that you need for each Talent level. If you plan on upgrading all three talents, you will need three times the amount below, as well as Mora.
Talent Level 2: 3 Teachings of Prosperity, 6 Recruit's Insignia, 12,500 Mora
Talent Level 3: 2 Guide to Prosperity, 3 Sergeant's Insignia, 15,500 Mora
Talent Level 4: 4 Guide to Prosperity, 4 Sergeant's Insignia, 25,000 Mora
Talent Level 5: 6 Guide to Prosperity, 6 Sergeant's Insignia, 30,000 Mora
Talent Level 6: 9 Guide to Prosperity, 9 Sergeant's Insignia, 37,500 Mora
Talent Level 7: 4 Philosophies of Prosperity, 4 Lieutenant's Insignia, 1 Gilded Scale, 120,000 Mora
Talent Level 8: 8 Philosophies of Prosperity, 6 Lieutenant's Insignia, 1 Gilded Scale, 260,000 Mora
Talent Level 9: 12 Philosophies of Prosperity, 9 Lieutenant's Insignia, 2 Gilded Scales, 450,000 Mora
Talent Level 10: 16 Philosophies of Prosperity, 12 Lieutenant's Insignia, 2 Gilded Scales, 1 Crown of Insight, 700,000 Mora
To sum up, you will need the following Talent Materials to fully upgrade one of Yelan's skills:
1 Crown of Insight
3 Teachings of Prosperity
6 Recruit's Insignia
6 Gilded Scale
21 Guide to Prosperity
22 Sergeant's Insignia
31 Lieutenant's Insignia
38 Philosophies to Prosperity
1,652,500 Mora
And, to upgrade all three of Yelan's skills, here are all the Talent Materials that you will need:
3 Crown of Insight
9 Teachings of Prosperity
18 Recruit's Insignia
18 Gilded Scale
63 Guide to Prosperity
66 Sergeant's Insignia
93 Lieutenant's Insignia
114 Philosophies to Prosperity
4,957,500 Mora
Yelan Ascension Materials
To upgrade Yelan's stats such as base HP, base ATK, base DEF, and Special Stat: CRIT Rate, you will need to collect her Ascension material. All characters will have a dedicated material, and for Yelan it is the Starconch. You will need to farm a lot of these as well as Insignia materials to upgrade Yelan.
You can find Starconches on the shores of beaches, and it is a Liye Local Speciality item. Check out the locations of the Guyun Stone Forest, on Yaoguang Shoal. You can also find them on the western end of the beach in Dragonspine which connects with Yaoguang Shoal. Additionally, under the wharf in Liyue Harbor, a merchant NPC Bolai will sell you 5 Starconches every three days.
You will need Ascension materials every time a character reaches a certain level, and you want to upgrade them further. Below, you will find the items and Mora that you will need to upgrade Yelan for each Ascension level:
Level 20: 1 Varunada Lazurite Silver, 3 Starconch, 3 Recruit's Insignia, 20,000 Mora, 1 Acquaint Fate
Level 40: 3 Varunada Lazurite Fragment, 2 Runic Fang, 10 Starconch, 15 Recruit's Insignia, 40,000 Mora
Level 50: 6 Varunada Lazurite Fragment, 4 Runic Fang, 20 Starconch, 12 Sergeant's Insignia, 60,000 Mora, 1 Acquaint Fate
Level 60: 3 Varunada Lazurite Chunk, 8 Runic Fang, 30 Starconch, 18 Sergeant's Insignia, 80,000 Mora
Level 70: 6 Varunada Lazurite Chunk, 12 Runic Fang, 45 Starconch, 12 Lieutenant's Insignia, 100,000 Mora, 1 Acquaint Fate
Level 80: 6 Varunada Lazurite Gemstone, 20 Runic Fang, 60 Starconch, 24 Lieutenant's Insignia, 120,000 Mora
To sum up all the above Ascension Materials and Mora, here is what you need to fully upgrade Yelan in Genshin Impact:
1 Varunada Lazurite Sliver
6 Varunada Lazurite Gemstone
9 Varunada Lazurite Fragment
9 Varunada Lazurite Chunk
18 Recruit's Insignia
30 Sergeant's Insignia
36 Lieutenant's Insignia
46 Runic Fang
168 Starconch
420,000 Mora
Yelan Constellation
To upgrade Yelan's Constellation, you will need her Stella Fortuna. You can get them by collecting Yelan from wishing on Banners when you already have her as a character. These are known as duplicates, and it allows you to unlock Constellation levels. Each upgrade will improve either an existing Talent or a Passive ability. You should be familiar with all her Constellation abilities if you want to build Yelan, so let's find out what they are for.
Enter the Plotters: Lingering Lifeline gains one more charge.
Taking All Comers: When Exquisite Throw conducts a coordinated attack, it fires another water arrow. This deals 14% of Yelan's Max HP as Hydro damage. You can trigger it once every 1.8 seconds.
Beware the Trickster's Dice: This ability increases the Level of Depth-Clarion Dice by three. The maximum upgrade level is 15.
Bait-and-Switch: This ability will boost all party members' Max HP by 10% for 25 seconds. This is for every opponent marked by Lifeline when the Lifeline explodes. You can gain up to 40% Max HP.
Dealer's Sleight: This passive ability will increase the Level of Lingering Lifeline by three. The maximum upgrade level is 15.
Winner Takes All: After using Depth-Clarion Dice, Yelan gains a Mastermind state. This means that all of Yelan's Normal Attacks will be Breakthrough Barbs. The damage that enemies take now will be considered Charged Attack damage. The attacks will deal 156% of a normal Breakthrough Barb's damage. The Mastermind state lasts 20 seconds and clears after Yelan fires 5 arrows.
Yelan Stats
To build Yelan up, you should know what you are starting with. It will be a long ride, but it will be worth it when you see the results. Below, we have the stats for when you first level up Yelan all the way up to 20 and are about to ascend her, as well as her final form.
At level 20, before her first Ascension, these are Yelan's stats:
HP: 2918
ATK: 49
DEF: 111
BONUS CRIT RATE: –
At her maximum level (Level 90), these are Yelan's stats:
HP: 14450
ATK: 244
DEF: 548
BONUS CRIT RATE: 19.2%
Leveling up Yelan can take a lot of time and dedication, but it is worth it. She is a powerful sub DPS character who can also support your team in a main DPS role. Now that you know how to get the most out of Yelan using her best build in Genshin Impact, you will be able to work yourself toward the result and see for yourself. Good luck!