If you use the internet on your devices, there is a high chance that you use Google Chrome to browse through the websites. Chrome is the most used web browser worldwide, with billions of users. However, Google Chrome is known for being a buggy and resource-heavy application. As a result, sometimes our devices run out of resources and stop working. This happens not only with Chrome but with other applications too.
Due to the resource-heavy nature and other possible errors, we sometimes face the Google Chrome not responding error. The issue is mostly seen in the Google Chrome browser for PC, and many users report it. Throughout the article, we will discuss the possible reasons and solutions for them. So, without any further ado, first, let's see what possible reasons are causing the problem.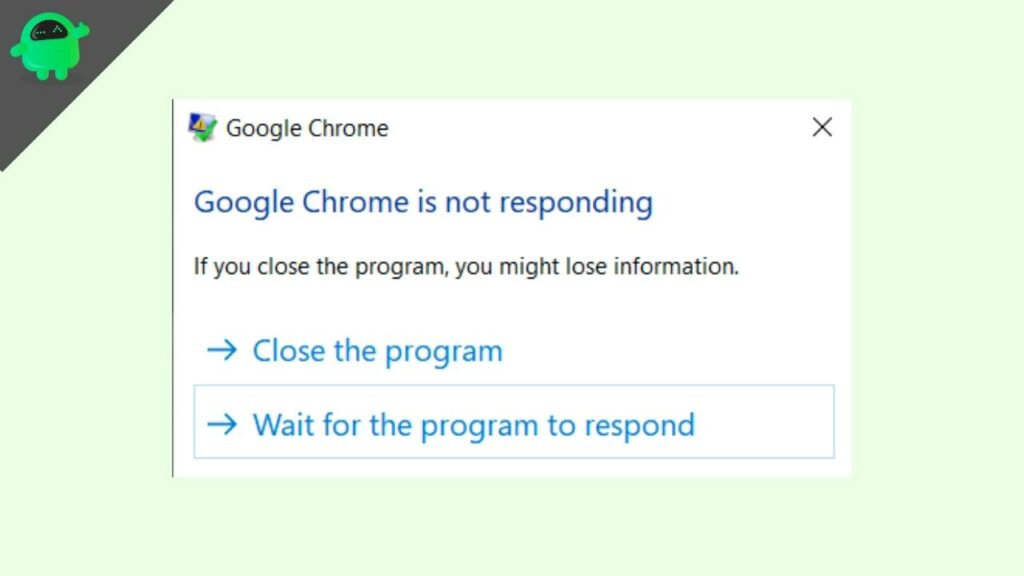 Possible Reasons for Google Chrome Not Responding Error
As the issue is mostly seen on PCs, there might be a high chance of a problem with your device's current version of Google Chrome. In addition, some buggy code in the current version might fail to perform a particular task and causes a memory leak. However, in most cases, a memory leak is one of the big reasons that cause the issue as a huge amount of your RAM gets used, and hence it fails to do other tasks in the queue, causing a slow device. Enough of these said, Force Quit Google Chrome to start fresh, and let's dive into the solutions.
How To Fix Google Chrome Not Responding Error?
Fix 1: Update Chrome To The Latest Version
The first and foremost step is to update Google Chrome to the latest version. It is a very easy and required step as it updates Chrome from the internet to the latest version and hence solves any possible issues.
Here's how to update Google Chrome:
Open Google Chrome and from the Home page, look for the "Horizontal Three Dot" button on the top right corner. Click on it.
A new popup will appear. Now hover to Help and then tap on "About Google Chrome". You can alternatively go to this link chrome://settings/help.
Once the page opens, an auto-update will take place, and a progress bar will start rotating on the left side of the version number. Once done, click "Relaunch" to restart Chrome and update it.
Once the update is done, try visiting some websites and wait for some time to check if there is any issue with Chrome or not.
Fix 2: Clear All Website Data from Chrome
Sometimes corrupted website data like cache or cookies can harm Chrome; hence, you need to clear them every alternative day. Here's how to do it:
Follow the above steps to find the popup menu and click on "Settings".
Now find "Privacy and security" and navigate to "Clear browsing data". Click on it.
Once a new popup appears, select the "Time range" (preferably from the time you started facing the issue i.e. 7 days) and select all the option.
Once done selecting, click on "Clear data" and wait for the process to complete.
After the process is done, restart Chrome and see if the issue is solved.
Fix 3: Open A New Incognito Window (Safe Mode)
There is a possibility that the Installed Extensions in your Chrome are causing the issue. A faulty update in a particular extension can cause a memory leak; chances are you cannot find out if that is causing the issue. Now, the best possible way is to open a new Incognito window in Chrome, as it disables all the extensions and checks whether the issue persists. Simply press "Control+Shift+N" on Windows and Linux or "Command+Shift+N" on macOS to open a new Incognito window while using Chrome, or just right-click on the icon and tap on "New Incognito Window."
If disabling the extensions fixes the issue, then the issue is with the extensions, and you now have to uninstall the most probable extensions one by one and check if the issue is solved. However, if the issue is not fixed for you, go through the next solutions.
Fix 4: Restart Your Computer
Nowadays, we want speed, and we mostly do not turn off our computers so they can wake up quickly. However, keeping the computer turned on causes issues with the cache or RAM that blocks a particular memory location. So, restarting your computer might help you as it resets some portions of the RAM and cache blocks that solve possible errors.
Fix 5: Factory Reset Google Chrome
If any fixes did not fix your issue, you might need to reset Google Chrome to the factory setting. Resetting an application removes all the related data and settings, which helps to recover the app from any bugs that any particular file or setting might cause.
Here's how to factory reset Google Chrome:
Go to Chrome Settings with the help of the abovementioned steps.
Then find out "Reset settings" from the left bar and click on it.
Once the page appears, click on "Restore settings to their original defaults". A popup with the title "Reset settings" will appear.
Now click on "Reset settings" and wait for the process to complete.
Finally, restart Chrome and check if the issue is there or not.
Fix 6: Reinstall Google Chrome
The last and final way to overcome the Google Chrome not responding error is to uninstall the app. Just like resetting, uninstallation will remove all the related data, but in a much deeper way. It will remove all the internal data and PC data. So, uninstall Google Chrome from your device and get ready to download the latest version again.
Once you uninstall, click on the link below to download the latest version of Google Chrome. After the download is complete, simply install Chrome again and start browsing.
Conclusion
We have discussed various steps to fix the Google Chrome not responding error. These should possibly fix the issue and even stop it from happening again. However, if you cannot fix the issue, you can reach out to Google Customer Service. If this doesn't fix your issue, you might now consider replacing your browser, or getting a new PC with higher specs, maybe?