Are you looking for ways to fix Nokia weak signal or lost network issue? This is the right page as here, I am going to discuss the various network related issues faced by Nokia users as well as how they can fix it with few hacks and methods. First, you need to understand that the network section of a smartphone consists of two major sections i.e. receiving and transmitting section where components are Network IC, PFO, and Antenna collectively that allows the phone to receive and transmit network and data.
There is basically a number of different scenarios where you could encounter different issues related to network on your phone. Sometimes, there is no network in your phone even when the SIM is loaded or sometimes the device doesn't detect any SIM card if inserted improperly. Another set of problems is of weak or less network signal which makes messages, calls, and surfing the internet difficult; unavailability of network and few others. In this extract, we will tackle all the Nokia weak signal or lost network issue and other related problems with easy to use hacks and more.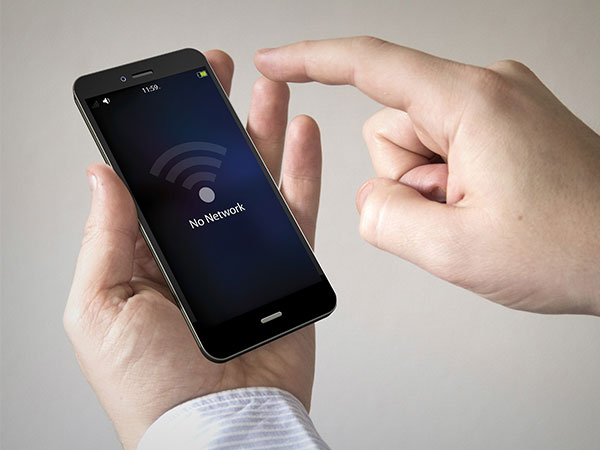 Guide To Fix Nokia Weak Signal Or Lost Network Issue
Check if the SIM card is inserted properly
The first thing to do if you aren't getting network is to check if the SIM card is properly inserted or not. Note that some devices show the message 'Insert SIM' on the screen to imply this problem while others might not provide this message. Thus, if you aren't getting the network, simply remove the back panel and remove the SIM card. When for a second and then, insert it and check if the SIM card is detected or not.
Check for intermittent issues
Okay, a majority of service providers/carriers send messages and inform their customers about the upcoming maintenance or upgrade work that will disrupt network for few hours or so. If you think that your carrier might have sent you a similar text about the upcoming disruption in the network, check for the text or ask someone with the same carrier to confirm. You can call customer service representatives using an alternative number from another carrier to check if your carrier has actually shut down the service for the time being.
Toggle Flight mode
Okay, you just checked for any potential intermittent issues but all is working fine except the network on your phone. Is it too weak or there is no network at all, try putting your phone into flight mode. This will disconnect all incoming and outgoing signals temporarily and allow the system to resolve any network-related software glitch that might have occurred recently. Wait for few minutes and then, turn off the flight mode to check if the network is available or not. Repeat the procedure for 2 to 3 times and then, check for the results.
Switch to manually selected network
If you have been losing network while on the go, you must select the manual network mode where the system alerts the user whenever the network is lost. It is good for those traveling in other towns or cities or villages since manual network selection mode allows users to check for available networks and register in the home or foreign network without burning battery power when the automatic network selection mode is enabled.
To do so, go to Settings on your Nokia device.
Now, tap on the Mobile networks option and then, select Network operators.
The next screen will show the available SIM card(s) where you can tap on the network you want to use and then, tap on 'Select manually'.
Now, tap on OK button and let the system check for available networks nearby.
After the results are displayed on the screen, you can tap on the home or foreign network to register and use the network on eh go.
Change preferred network
It is possible that while you are traveling somewhere or simply moving from one place to another, the network signal deteriorates or you lose the network completely. Android users can change their preferred network on their phone where they can go to lower bands of networks such as from 4G to 3G in order to check the availability of the latter and utilize it if the former is not available. This gives you scope to stay connected although with slower networks that you can use to send messages, calls, and even browse the internet.
To change the preferred networks, go to Settings and then, select Mobile networks.
Next, tap on the option called Preferred Networks or search for the same on your phone and then, select a lower band i.e. from 4G to 3G or select 'auto' so that the system can register on available networks automatically.
Update the firmware
This might not seem like a bigger issue but in fact, it is one of the most problem-prone issues that you can think of. Outdated firmware can introduce bugs and anomalies which can make your system vulnerable to viruses and malware along with bugs that will target the various systems in order to reduce its speed or destroy the data and much more. The simple way to fix it is to update the firmware simply by opening the 'Software Update' section under "Settings >> About Phone". Check for the available updates and upgrade the system.
Consult a technician if…
Although the majority of the software-related problems can be fixed by the user, it is mainly the hardware-related problems where they need a technician to fix it. Here are few ways to gauge if the Nokia weak signal or lost network issue that you have encountered on your phone is due to hardware. If there is no network available after you perform the aforementioned hack "switch to manually selected network", there could be a faulty or damaged Antenna Switch. In case if you got results of available networks after doing a manual search but if you cannot select the home network, PFO or Power Frequency Oscillator might be damaged.
If the network is irregular and goes unavailable during a call, the network IC needs to be checked and repaired. Another way around is to check and clean the Antenna Tips and Antenna Point as it cause hurdle in detecting network and other tasks performed. If you are unaware of these terms or don't know how to fix the hardware-related issues, it is highly recommended to report it to a technician possibly at an authorized service center to get it fixed.
Read More: