In this information age, we attach great importance to the security of our devices. We use passwords to protect our mobile phones, computers, and even USB drives. In this post, we'll cover how to password protect a USB drive in Windows 10/11.
Fix: Apple Magic Keyboard Not Showing Up in Windows 10 / 11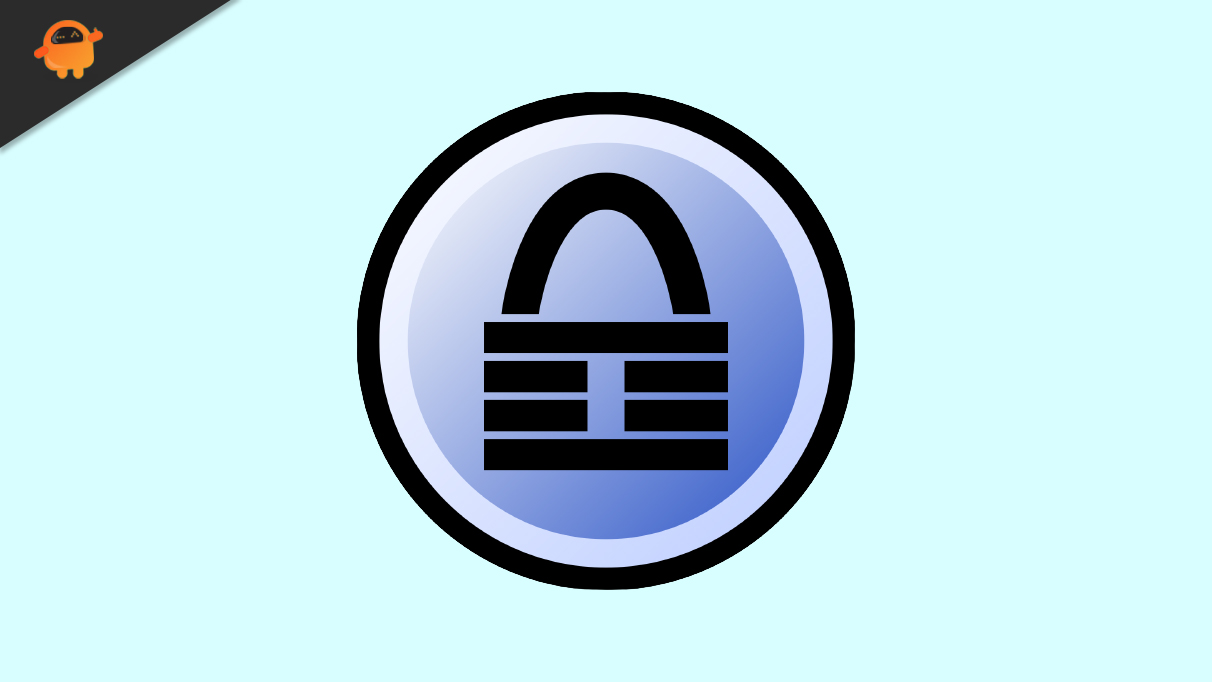 BitLocker is without doubt the most common method to password protect USB drives on Windows PCs. It is a drive encryption tool built into Windows to encrypt internal and external hard drives. However, some editions of Windows, such as the Home Edition of Windows 7/8/10/11, do not support BitLocker. So, what if BitLocker isn't available on your Windows or you don't like the way it works? Fortunately, there are some alternatives to BitLocker for encrypting USB drives. This article will demonstrate how to easily encrypt a USB drive on Windows 10 without using BitLocker.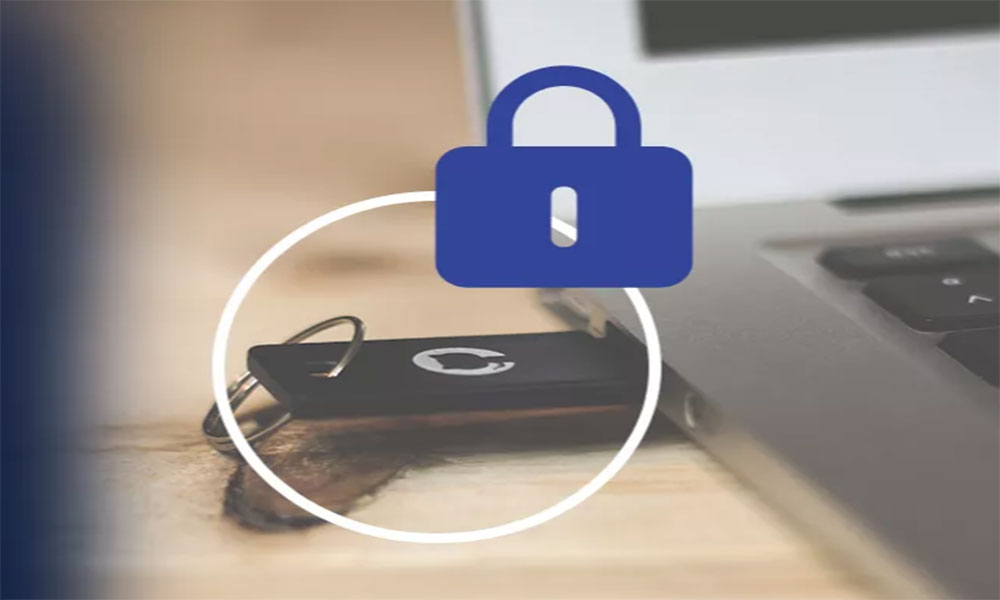 The Easiest Way to Encrypt USB Drive without BitLocker
iSumsoft USBCode, a fantastic USB encryption tool, is one of the easiest and most effective ways to encrypt USB drives without BitLocker on Windows computers. It is compatible with any versions and editions of Windows and support various USB storage devices, including flash drives, external hard drives, etc. Designed with a powerful encryption algorithm and a simple and intuitive user interface, the tool allows you to encrypt USB drives safely and quickly with just a few clicks.
Here is a step-by-step tutorial on how iSumsoft USBCode works to encrypt a USB drive on Windows 10 without BitLocker. Download and install this tool on your PC, then proceed with the steps below.
Step 1: Open iSumsoft USBCode on your Windows 10 PC and insert the USB drive you wish to encrypt.
Step 2: iSumsoft USBCode automatically detects all USB drives connected to your PC and displays them on the interface. Then, you simply follow the steps below to encrypt your USB drive.
Select the Encrypt option on the left pane.

Select the USB drive you want to encrypt in the right pane.

Enter the password you want to use to encrypt your USB drive in both password fields.

Click the blue Encrypt button in the bottom right corner.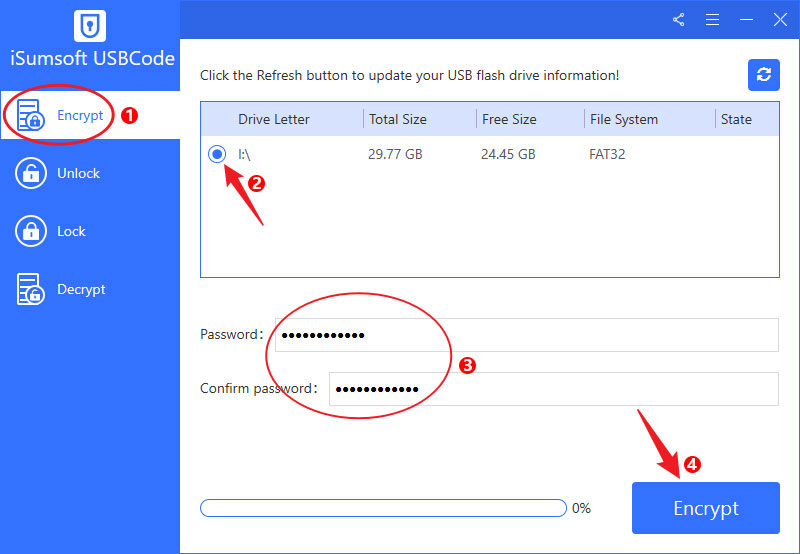 Step 3: Once you click the Encrypt button, the software will immediately start encrypting your USB drive, and then all you have to do is wait for the encryption to finish. Soon, you will receive a success message on the interface, meaning that you have successfully encrypted your USB drive without using BitLocker.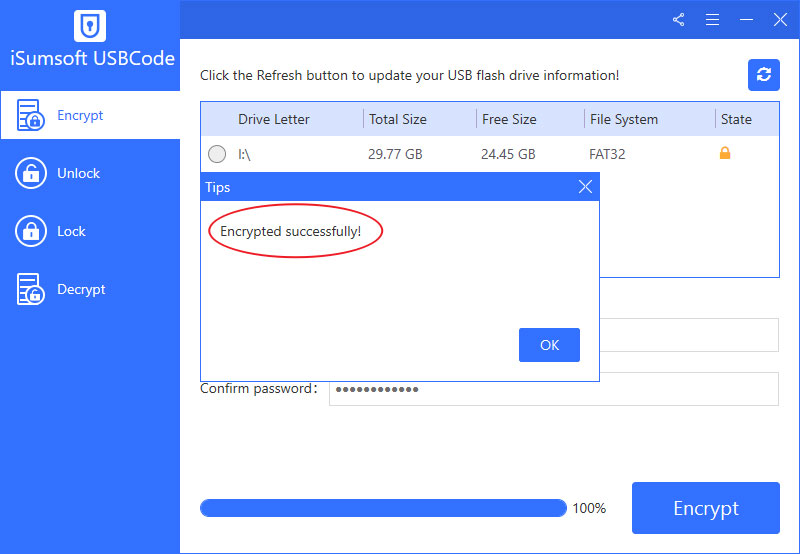 What you need to know after the USB drive is encrypted
Once the USB drive is encrypted by iSumsoft USBCode, it will automatically be locked and it will still show up as a normal drive in This PC. You can also open it, but when you open it, it will be empty with no files. Don't worry, your files are not gone; they are just encrypted and hidden.
This is how iSumsoft USBCode encrypts USB drives. It stores all the existing files on your USB drive in an encrypted and hidden container that the user cannot access directly until the USB drive is unlocked. The tool encrypts only used space on the USB drive by default. So what you can still open and access is actually the unencrypted space. You need to unlock the USB drive in order to access the encrypted files.
To unlock the USB drive, you just need to select the Unlock option in the left pane, select your USB drive, enter the correct password, and click the Unlock button.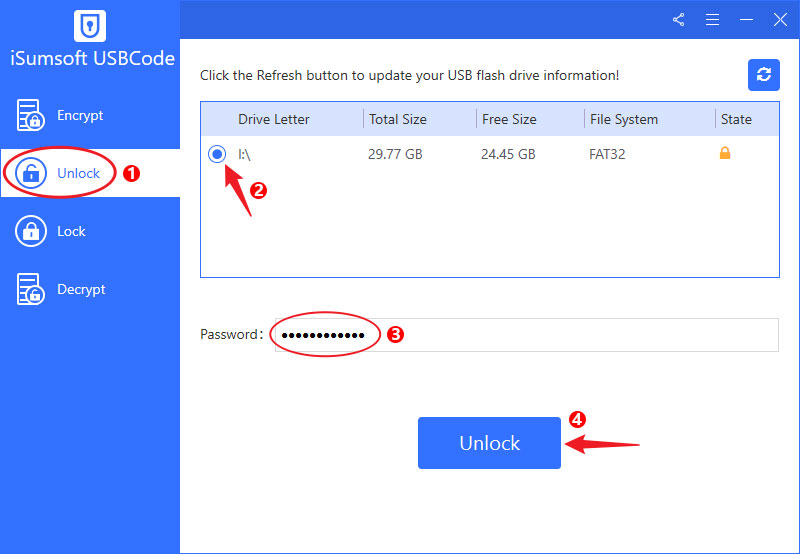 Once the USB drive is unlocked, it is mapped to a new drive, showing all your encrypted files. You can then open the new drive to access the files. When you add files to the new drive, they will be encrypted automatically.

You can use the Lock option to immediately lock the USB drive if needed. And the USB drive automatically locks every time you disconnect it from your computer. If you no longer need to encrypt the USB drive, just choose the Decrypt option to decrypt it.
Pros and Cons of iSumsoft USBCode
Pros
Safe and efficient.

User-friendly and easy to use.

Compatible with any versions and editions of Windows.

Support various types of USB drives.
Cons
The Closing Words:
If you are looking for a way to password-protect your USB drive on Windows 10 without using BitLocker, iSumsoft USBCode is a good option. While the way it works is fundamentally different from the way BitLocker works, the tool is completely effective and reliable. The tool uses powerful encryption techniques to make USB encryption process more secure. It's worth noting that if you forget the password to encrypt your USB drive, you can't recover it and all you can do is format the USB drive to remove the encryption. If you don't want to lose any data on the USB drive, you can contact the iSumsoft support team to help you safely remove your encryption password.
Finally, while iSumsoft USBCode is a great way to encrypt USB drives without BitLocker on Windows 10/11, it's not the only way. If you are looking for something more, VeraCrypt is another method. Click that link for more details.