You reach for your iPhone XS Max in your pocket and attempt to make a call by either dialing the number or selecting a contact, but the call fails to connect. Upon checking the status bar, you notice a "No Service" error message. This indicates that the network services are currently unavailable, preventing you from making or receiving calls or texts due to a lack of network coverage. If your iPhone XS Max continues to display this error, what steps can you take to resolve the issue?
At GetDroidTips, we recognize that not everyone is an expert at resolving network connectivity problems on their iPhone XS Max or any other iPhone model. Therefore, we have compiled a comprehensive list of solutions and workarounds that can help you solve the issue. These steps should work in most cases unless there is a hardware problem with your phone.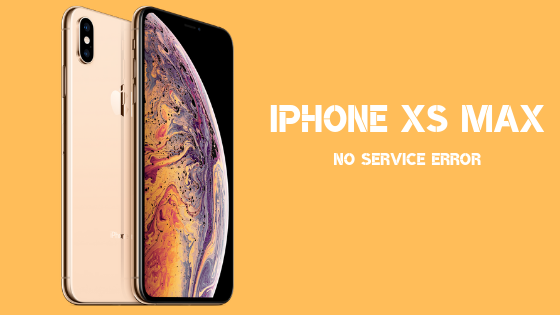 How to fix an Apple iPhone XS Max that keeps prompting a No service error?
Solution #1: Reboot your iPhone XS Max
Okay, it's simple, isn't it? If you are getting No service error just like that without noticing any weird behavior with the network signal strength, it could be a temporary or even a random glitch. Your iPhone XS Max probably encountered the problem due to network issues or bugs. This is where soft reboot comes to the rescue. Note that soft reboot can fix an arsenal of issues which means it comes handy, it is simple and you must do it whenever you find the iPhone acting a little weird.
To reboot the phone, hold the Side button and either of the Volume rockers for a few seconds.
Leave the keys when you see the 'Slide to Power off' command on the screen.
Use the iPhone 3GS-style slider to turn off the phone and wait for a few seconds.
Press the Side button again and hold it for a few seconds and the phone will turn on showing the Apple logo on-screen.
Solution #2: Cut off Cellular data
The Cell Guide recommended this step wherein the user can go to Settings >> Cellular and toggle off the Cellular Data Switch. This method might work in some cases, if not all since it clears minor glitches with the cellular data throwing your iPhone XS Max off the rails by encountering the no-service error.
Solution #3: Turn on Airplane Mode
Here, you are reading about how to fix iPhone XS Max with no service error and not mentioning the airplane mode might not do justice to this explicit guide. This is because airplane mode or flight mode restricts your iPhone's cellular network, thereby disconnecting all incoming and outgoing calls or texts since the cellular network has been cut off. The idea behind this method is that it will rectify the minor glitch that your phone encountered when staying connected to the network or while the coverage was fluctuating which happens when you are moving.
To deploy this method, pull down the notification panel or pull it up.
Tap on the Flight mode icon to enable it.
Wait for a few seconds before disabling it.
To stay on the safe side, repeat the procedure several times before checking if the cellular network has been restored or not.
Solution #4: Install carrier settings update
Your iPhone comes with carrier settings that you can tweak it as well. You can update the same by diving into this breadcrumb i.e. Settings >> General >> About >> Update your carrier settings.
Solution #5: Update the phone's firmware
Updating your iPhone must be your priority since it fixes any bugs discovered and strengthens the system against intruders and malware, viruses, etc. As you are using an iPhone, the updates are frequent such as at least once a month which includes both major and minor firmware updates.
Open Settings tool on your device.
Navigate to the General section and tap on 'Software Update'.
You need to search for available updates and download it on your iPhone.
Install and reboot the device and this might enable getting rid of the iPhone XS Max no service error.
Solution #6: Reset network settings on your iPhone XS Max
This can fix network or system-related issues on your iPhone. It is similar to Windows' "Refresh PC" feature. Here's how you can do it about.
Open Settings and proceed to General >> Reset >> Reset all settings.
Your iPhone XS Max might ask you to enter the passcode to confirm and this concludes the said method.
Solution #7: Reinsert SIM card
SIM cards tiny delicate component that fits into the SIM slot on your iPhone XS Max and allows you can get cellular-based services on the go. However, one of the reasons behind no service error that I am discussing here occurs when the SIM card is dislodged or it has developed too many scratches or damages if you indulge in constant removing and insert it. In the case of the latter, you would need a replacement SIM card that you can order from your telecom carrier. To fix a dislodged SIM card, here's what you are gonna need to do.
Firstly, turn off the iPhone.
Next, take a paperclip or if you have the SIM eject tool that you would need to insert into the tiny slot on the right edge of the device.
Next up, gently pull the SIM card tray and take the card out.
As said, if the SIM card has too many scratches, you are required to get a replacement. However, it is just dislodged, simply put it in its place and reinsert the SIM card tray back into the slot.
Restart the phone and check if there's any difference in the network or not.
Solution #8: Verify if the issues at on carrier's end
If the network bar shows no signal strength or if it shows 'No service error' as we are discussing it here, the carrier might be at fault. Although major telecom carriers often provide wider network coverage, it is possible that either your phone is unable to register to a network or it could something on their end such as maintenance, disruption, etc. The thing is, since you don't have any network on your iPhone XS Max, you would need to check the same on other phones using the same telecom carrier to verify if it is the culprit. If yes, use other's phone to call your telecom carrier and get the problem fixed.
Solution #9: Perform a full-fledged restore factory
It is not rocket science to fix iPhone XS Max no service error because all the methods mentioned above must help in your favor. If not, you can always perform a restore factory on your device that will put an end to any glitches or bugs or malware that might have caused the issue. Here's a procedure that you can do about.
First up, go to the Settings app.
Next, navigate to General >> Reset.
Tap on the option titled 'Erase all content and settings' and enter the passcode to continue.
Finally, tap on 'confirm' and that must put an end to the issue as well.
Solution #10: Hit up the Apple Care
Assuming that the problem is not on the carrier's end or neither the software is to be blamed, there is a possibility that the problem is indeed a hardware failure or damage. Since you are using an iPhone XS Max or any other iPhone and since Apple isn't that adamant on allowing their users to get help from the third-party service center (although you can), hit up the Apple Care or visit a nearby authorized service center or partnered service center where you can report the issue. The technicians will assess the problem and provide a required fix, repair, or replacement based on the severity and the warranty on your device.
If your iPhone is out of warranty and you don't want to spend reporting the issue to an authorized center, you can go to a third-party one although I don't recommend it it's an option you can choose if you want. Hopefully, this explicitly guides on how to fix iPhone XS Max no service error will fix the problem rather than escalating it to the service center which is often pocket-burning.