In some cases, your smartphone overheats and feels quite hot whenever touches. Do not get worried, this doesn't mean that your device has a battery or hardware issue. However, it's actually quite a common issue that a smartphone user worries and it overheats for so many things. Here in this article, we will cover the reasons which increase the temperature and possible ways to fix it.
OnePlus recently launched its two new flagship variants of the OnePlus 7 and 7 Pro in the market. If you're planning to buy any of these models, make sure to check out the article at first, if you are really concerned about overheating. Here are the possible ways on How to Fix overheating issue on the OnePlus 7 Pro.
The device overheating issue can occur due to so many things. Such as too much hot weather, overuse of devices, too many background processes is running, streaming online content over mobile data for a long, etc. Similarly, even if you're using a flagship device like the OnePlus 7 Pro, it may get overheated easily for various reasons. We will provide all the common and possible reasons and fixes to solve the overheating issue in the steps below: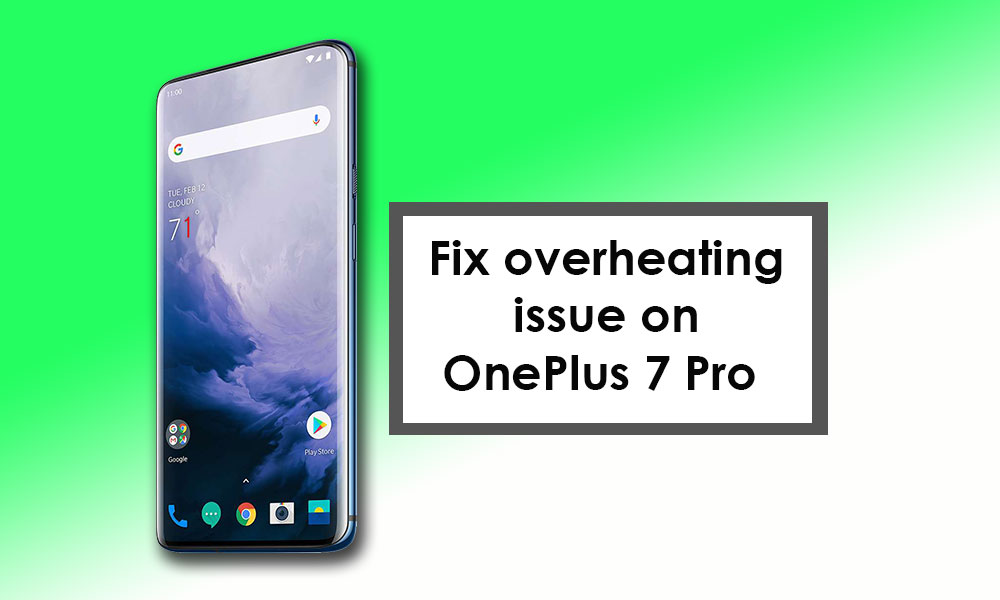 Read More: Common OnePlus 7 Problems and Fixes – Wi-Fi, Bluetooth, Camera, SIM, and More
Fix Overheating Issue on OnePlus 7 Pro
Avoid charging your device via a computer. This can be a reason for this problem.
Make sure to give your device charge from a stable power source or switchboard. Any loose connection or fluctuation can cause overheating.
Try to scan viruses on your device on a daily/weekly basis via some reliable anti-virus scanner apps.
Uninstall the apps that are highly consuming CPU/RAM.
Change your power bank or USB charger or adapter to ensure that your charger is fine. Don't use a cheap local charger or USB cables.
A faulty battery can cause an overheating issue. Try to replace your device battery.
If you're facing device overheating after you've installed the New ROM or software update, try to rollback to the previous one and report the bug to the developers.
There are some possible chances that your device charging port is broken or damaged internally. Try to check it out.
Try to be updated with all the available software and security patch updates for your device provided by the company. The latest Stable updates can run system optimization much better and fix these issues.
As we mentioned above, sometimes the weather conditions aren't suitable for the device capacity. It may cause overheating.
Turn off the mobile data, Bluetooth, GPS, Hotspot for an hour and check again whether your device is still hot like before or not. If not, then manage your connectivity accordingly.
Don't use your device while charging. As it will increase the device temperature.
Install any of the device temperature measurement app for your device via Google Play Store. It will run in the background all the time and keeps you notified the device heating. In that case, you can easily recognize which app or which activity increasing the handset temperature.