Most of the people used the Professional image editing software tool to use a simple tool such as invert. However, this is one of the most commonly used image editing tools, and you can invert your image directly using your editing tool on your Mac. The Native Photos app is bundled with preview software to allow you to invert any image. This means you no longer require any professional image editing software.
It is used when you need to invert any colour in its opposite colour to identify the colour that remains in the image. To know better, Like change the colour of white into black colour, Blue to Yellow, and among more colours. In simple words, to reverse the colour into a deep colour or opposite colour to identify the colour that is left to edit or replace. It is quite easy and handy to do. Today we are going to share a bit of knowledge "How you can invert the image with a preview on your mac."
How do you invert an image on your Mac with Preview?
It was simple, and there were certain advantages to do it without any third-party application. Instead, it seems to be a basic editing tool. So, follow the simple instructions to perform Inverting a Picture on Mac: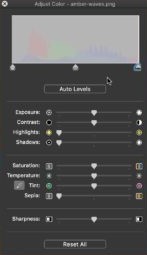 First things first, open the picture and choose the image that you want to invert on the preview app.
Now, open the image file in the Preview app on your Mac.
Then, pull down the "Tool" bar from the top of the screen.
After that, select the "Adjust Color."
Then there the Drager appears, You have to drag the "White Pointer" based on your preference.
(Moving to the drager left or right, this action performs with the White and Black Pointer placed on each side of the preview app placed on the top.)
When you are done with the adjustment, then you can save the image on your Mac at your location.
That's it, and you can now exit as usual.
Drager is one of the handy features of having the slider with a Drager. Not to mention, you can also adjust the colour based on your preference alongside there was a further adjustment. You can even use another tool over the preview such as Resize, Rotate or Flip an image alongside other minor adjustments, including colour saturation and resize the image.
Hopefully, we believe you have now understood, and you have successfully inverted the image on your Mac. We would like to know your opinion and feedback if there is any Query. Let us know in the comment section down below.