Carplay is Apple's in-house software for pairing an iPhone with a car's infotainment system. Once you have connected your iPhone to a compatible car, Apple Carplay allows several apps to be used through the touchscreen, steering wheel controls, or voice recognition system. Everything is good about Carplay, but whenever there's any update available, it starts showing some error. However, this time, when users updated their Carplay to the new iOS 17, they found that the iOS 17 Carplay is not working. Well, on investigation we have found some potential reasons and fixes to this problem. So, if you are facing this, be with us until the end.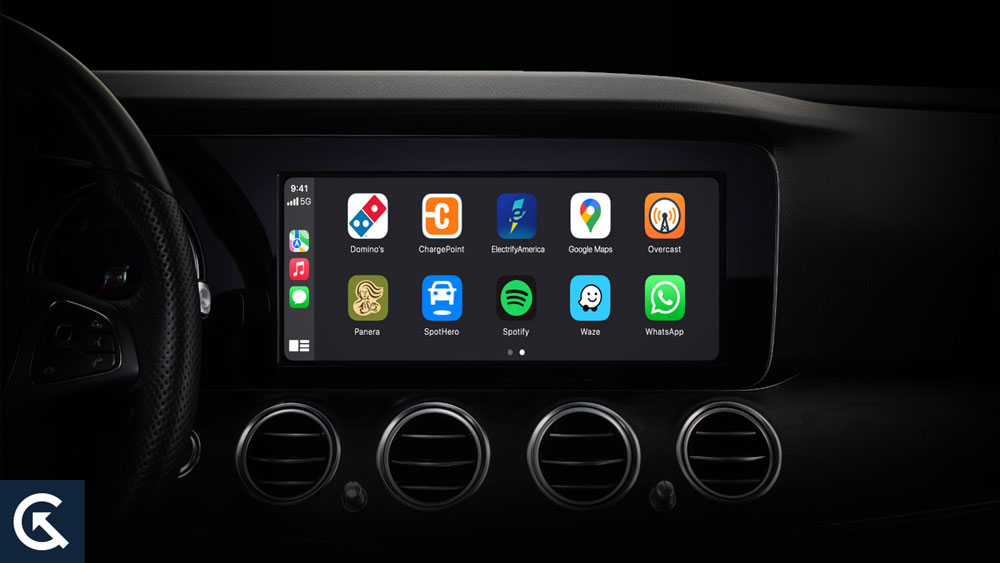 Why does my Apple CarPlay stop working after an update?
The Apple CarPlay connection can usually be made using a USB cable or a Bluetooth connection. It can be any of the reasons listed below if you're using it as you usually do and it still doesn't work.
You can't pair your phone with your car system because it doesn't support Bluetooth.
You would have damaged the cable you are using.
your car's systems do not detect iPhones.
There are a lot of errors in phone applications.
It appears that your Apple iOS version is out of date. In any case, figuring out the exact problem would take a long time and still wouldn't solve it. So, we have more fixes.
Fix 1: Reconnect Apple CarPlay
Apple CarPlay won't work after you have tried all the above fixes, so try re-pairing your iPhone with your car's head unit. It is necessary to remove the existing CarPlay connection and re-establish it following these steps:
Initially, on your iPhone, go to Settings and select General.
Tap CarPlay, then Forget This Car.
Next, unpair your iPhone from your car's head unit.
Set up CarPlay again by following these instructions:
First, hold the steering wheel voice-command button if your car only supports wireless connections. If your stereo isn't in wireless mode, make sure it's connected to Bluetooth. Go to Settings > General > CarPlay, and select your car.
Afterward, you can connect your iPhone to your car's USB port if your car supports CarPlay with a USB cable. When you receive an alert on your iPhone, it will automatically connect you. However, you can also try using a different USB connection to a different USB port if it still doesn't work.
Fix 2: Check Your Connections
With CarPlay, you can connect your phone via USB cable or Bluetooth. To begin with, make sure the USB or Bluetooth are correctly connected to the system. If your USB is not working, you can also use another cable. Follow these steps:
Make sure the cable is disconnected.
Connect to Wi-Fi by tapping the Wi-Fi icon in the Control Panel.
Go to iPhone Settings and select Menu.
On the Bluetooth button, toggle it on.
You can use CarPlay to connect your iPhone to the stereo.
Again, click on General in Settings.
To access My Cars, tap on CarPlay.
Fix 3: Check Compatibility
There is no universal Apple CarPlay-compatible iPhone model, and there is no universal Apple CarPlay-compatible car model. It is important to ensure that both your device systems are compatible. Apple's official website allows you to search for your car model's compatibility, or you can use manual instructions to find out if your device model is compatible with other devices.
Fix 4: Ensure CarPlay is not Restricted
There are times when CarPlay is restricted on iPhones. Hence, ensure that your iPhone isn't limited to your iPhone. Follow these steps:
Initially, navigate to Screen Time in the Settings app.
Choose Content & Privacy Restrictions.
Select your car and tap Forget This Car.
It is often the case that CarPlay cannot be used while the screen is locked.
Fix 5: Enable CarPlay Access on Your Locked iPhone
Here are steps you can follow to make sure CarPlay works even when your iPhone is locked:
On your iPhone, open the Settings app.
From the main interface, tap General.
Click on CarPlay under General Settings.
Choose your car's name from the list.
Turn on Allow CarPlay While Locked to enable it.
Fix 6: Enable Siri for CarPlay
You need to enable Siri on your iPhone in order for CarPlay to work properly with hands-free functionality. Here are the steps:
On your iPhone, open the Settings app.
In the settings menu, select Siri & Search.
Set these options to "on":

Listen for Hey Siri
Press Side/Home Button for Siri
Allow Siri When Locked
Fix 7: Check if USB is not disabled on your device
Check to see if your device has not been disabled for USB. In order to protect iOS user data, the iPhone has a USB Restricted Mode feature that disables USB after a specified period of time. Here are some steps you can follow:
To enable Face ID and passcode, go to iPhone Settings.
Go to the Allow Access to Locked option and enter the passcode.
Toggle on USB Restricted Mode under USB Accessories.
Furthermore, if you have not updated your iPhone's carrier, you will encounter this problem!
Fix 8: Restart Your iPhone and Head Unit
It is sometimes best to restart a device with a software issue. It would be a good idea to restart your iPhone as well as your car's head unit. Hopefully, this will fix any temporary glitches preventing CarPlay from working. Here are the steps you need to follow:
You should see a message that says, "Slide to power off" after holding the power button for a few seconds.
Drag the slider to the right to turn the screen black.
Press the Power button again to restart the phone.
Depending on your car model, restarting your head unit may be as simple as turning off and starting your car.
Fix 9: Update iOS Version
You may not be able to connect with CarPlay on an outdated iOS because the software and drivers may not be available. You should update your phone as soon as possible. To update your iPhone, follow the steps below.
On your iPhone, go to Settings.
Select General from the menu.
Click on Software Update.
Click on Download and Install.
When iOS is enabled to check for software updates, it will automatically perform the check. You can download updates by following the instructions on your screen if they are available. Restart your iPhone once they have been installed and try connecting to CarPlay again.
So, that's all we have for you on how to fix iOS 17 CarPlay is not working issue. We hope that this guide has helped you. For more info, comment below.