In this guide, we will discuss the problem of Bluetooth not working or pairing with iPhone 14 and iPhone 14 Plus smartphones. We will also share some troubleshooting methods that shall help you to fix the same. The iPhone 14 series, being the latest smartphone offering from Apple, is packed with various features and functions that make it one of the most popular devices in the market. However, some users have reported issues with its Bluetooth connectivity.
Bluetooth technology has revolutionized the way we connect our devices to each other. In most cases, we connect Bluetooth peripherals or multimedia devices such as earphones, AirPods, selfie sticks and other Bluetooth equipment. There are instances where the Bluetooth fails to connect or doesn't work while being connected to the device.
So despite Bluetoot's many advantages, the connectivity issues can be frustrating to deal with, especially with iPhone 14 series. This problem often arises when the iPhone 14 and 14 Plus fails to pair with other Bluetooth devices or when it fails to connect to previously paired devices.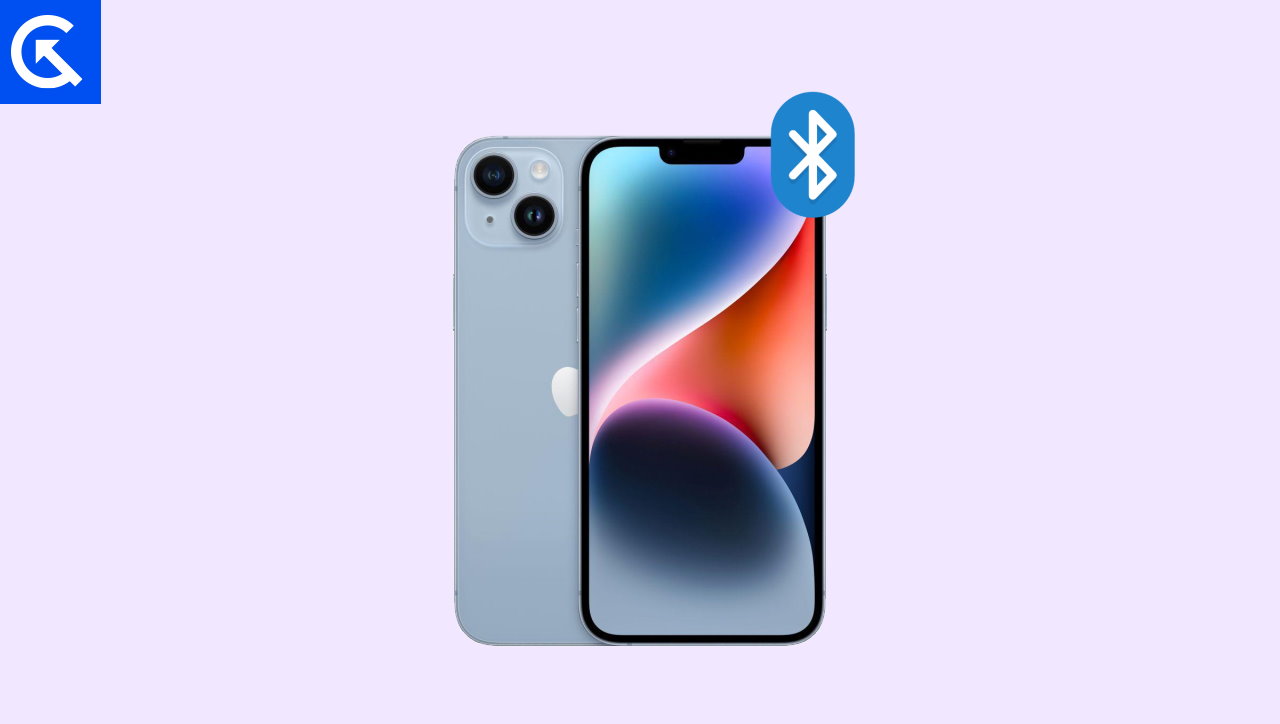 Fix: iPhone 14 and 14 Plus Bluetooth Not Working or Pairing
The Bluetooth pairing issue can be caused by several factors, including a glitch in the software, outdated or incorrect Bluetooth settings, interference from other devices, or even a hardware issue. If you're experiencing this issue, don't worry, below are some troubleshooting methods to help you fix the issue.
Restart Bluetooth
Bluetooth technology has advanced in recent years, but still, there are instances of technical glitches whcih can only be fixed if you restart the Bluetooth connection. Mke sure you torn off the Bluetooth on both your iPhone and the connecting device and then turn it back on again. This usually fixes the issue in most cases, but if not, then the below methods must help you out.
Restart iPhone 14 & 14 Plus
iPhone 14 series have been is quite rumors from several Youtubers and other online community forums regarding glitches with the connectivity options. The same issue is faced by thousands of users who try to connect their iPhones with AirPods and other Bluetooth multimedia devices. But don't worry, the issue is minor and can be fixed by a simple device restart. Make sure you restart your iPhone as well as the Bluetooth device you are trying to connect.
Check Bluetooth Range
Bluetooth devices operate in a small range sale and are ideal for only distances up to 3-4 meters in range. If you increase the range, the signal starts to muffle up and ultimately disconnects the device. The problem can even amplify if you are using a Bluetooth device that is across a solid concrete wall or a metal wall that can bounce off Bluetooth signals. So make sure you keep the Bluetooth device in a connectivity range of 3-4 meters and see if it helps.
Re-pair Bluetooth Connection
If for some reason the Bluetooth connection is not working, then you have to re-configure the device again. This is a common problem which is faced by many users across all devices, and iPhone 14 series is no exception here. So go ahead and remove all the connected Bluetooth devices and pair them again. Once you pair them, they will start working in ideal condition.
Head over to the Bluetooth menu of your phone inside Settings and find the list of known devices.
There you will find the device you are trying to connect to.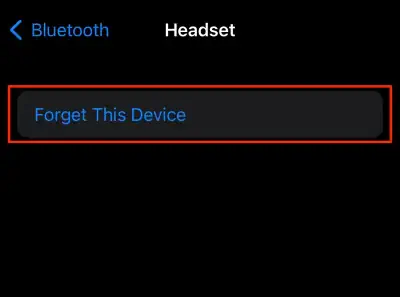 Tap on it, choose to Forget this device option.
Now, set up the pairing connection again, which should work well this time.
Reset network settings
Blueotoh is a network specific functionality and such functionally may face technical glitches from time to time. If the above methods do not prove any help to you, then it's best to reset the network settings on your iPhone 14 and 14 Plus to fix the blueototh issue.
To reset Network settings, open up Settings on your phone and go to General.
Then tap on the Transfer or Reset iPhone option.
Select Reset and choose the Reset Network Settings option.
You will have to confirm your action by tapping on the Reset button on the confirmation page.
Update Latest iOS
If you are one of those users who installed the latest version of iOS 16 right when it was available, then there is a chance that you are using a buggy build. The first build of a new update is mainly filled with bugs that make the device malfunction or Bluetooth connectivity issues in most scenarios.
To address the Bluetooth and other connectivity issues, Apple will release new updates that clear out the bugs in the previous build. So, if you have not updated your iPhone after the initial iOS 16 update, it is time to check for new updates immediately.
To check for a new iOS update, open up Settings on your iPhone and go to General.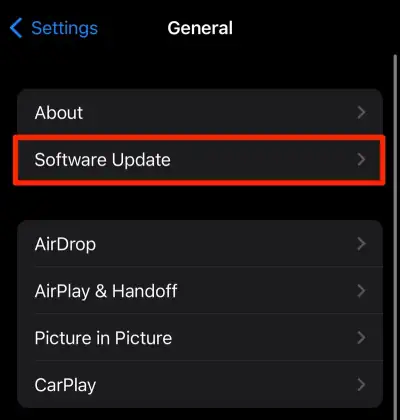 Then select Software Update, and if there is a pending update, it will show up here.
If you see a new pending update, install it on your phone.
Factory reset iPhone 14
After the settings reset, you can also try the factory reset option. This will clear every bit of data on your phone, though. So you need to create a backup of everything necessary to you and perform the factory reset. Please note that once you do a factory reset, you have to re-pair the Bluetooth device again.
To perform the factory reset, open up Settings on your phone and go to General.
Then tap on the Transfer or Reset iPhone option.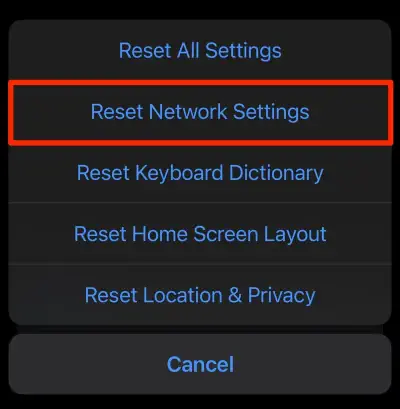 Select the Reset All Settings option.
You will have to confirm your action by tapping on the Reset button on the confirmation page.
Contact Apple Support
If none of the above solutions worked for you, you could be sure it is a hardware issue. So if your iPhone is under warranty, it might be a good idea to get your motherboard's Bluetooth components replaced. You must take your iPhone to the nearest service center and ask for help. Inform them about your problem in detail, and they should be able to help you. Just ensure that you take the proper phone documentation to the Apple service center when you go for the repair.
Conclusion
This brings us to the end of this guide for fixing iPhone 14 and 14 Plus Bluetooth not working or pairing issues. However, the issue with Bluetooth seems to be a technical glitch and can be solved with the above mentioned methods. In case nothing works, its always a good idea to connect with Apple care and check for viable repair options.