The long-awaited Apple iPhone 15 series has finally arrived and users are excited to try it out. As usual, the latest lineup offers significant improvements over the previous generation. However, the buzz of the town is about the inclusion of the USB-C port on all iPhone 15 models. The iPhone 15 boasts of impressive hardware and runs on the smooth iOS 17 software. However, it's important to note that not everything is perfect and there may be some issues to be aware of.
Apple's inclusion of the power-efficient A16 Bionic chipset in the iPhone 15 and 15 Plus has not stopped users from complaining about a weaker battery life with these devices. Many people are seeking ways to address the issue of battery life draining on these smartphones. To help, we have put together several simple solutions to resolve the issue. Follow these steps carefully to ensure that you don't miss anything.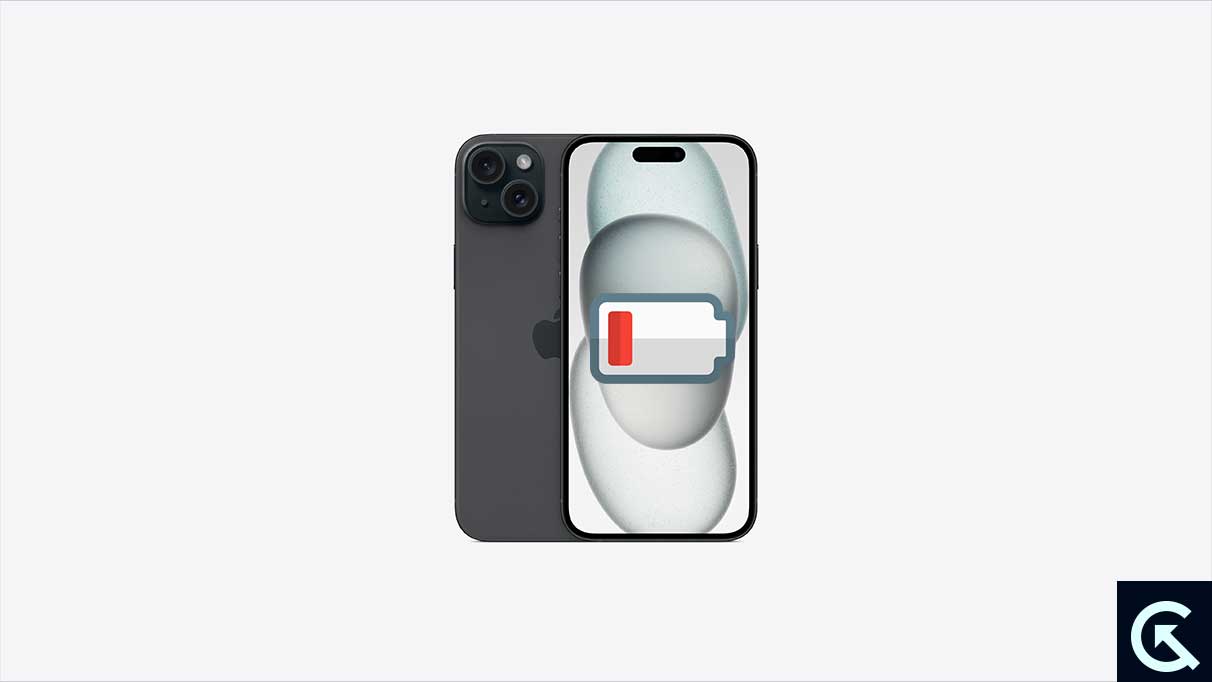 Why Is My iPhone 15/15 Plus Battery Draining So Fast?
While the iPhone 15 series houses top-tier tech, it's not immune to power management challenges. Multiple factors might be at play:
App Energy Consumption: Some apps, even running in the background, can be heavy on battery use.
5G Connectivity: Being a newer technology, 5G networks can sometimes be more taxing on the battery.
Software Glitches: Occasional software hiccups can lead to power inefficiencies.
Background App Refresh: Apps running in the background or updating content can consume significant battery power.
High Screen Brightness: Keeping the screen brightness at a high level can drain the battery faster.
Push Email and Notifications: Frequent fetching of emails and push notifications can lead to increased battery usage.
Outdated iOS Version: Running an older version of iOS may not be as efficient in power management compared to the latest updates.
Battery Health Degradation: Over time, the iPhone's battery capacity decreases, leading to shorter battery life.
Location Services: Extensive use of GPS and location services by various apps can significantly impact battery life.
Wi-Fi, Bluetooth, and Cellular Data: Continuously searching for and using these connections can consume a lot of power.
Dynamic Backgrounds and Motion Effects: Using dynamic wallpapers and motion effects can increase battery usage.
Temperature Extremes: Using the iPhone in very hot or cold conditions can affect battery performance.
Hardware Issues: Sometimes, a malfunctioning hardware component can cause rapid battery drainage.
How do you fix the iPhone 15 and 15 Plus battery life draining issue?
For those grappling with reduced battery life, here are a series of steps designed to mitigate the iPhone 15 and 15 Plus battery draining problem:
Fix 1: Restart Your iPhone
Most of the time, a background app or service runs and does some of the required tasks. However, even though these apps or services are required to do some important tasks, they might drain the battery greatly. The most common way to stop these apps from running is by restarting the iPhone.
So, simply restart your iPhone by holding the powering it down and then wait for 2-3 mins before you power it on again. This should probably fix the issue, as some unwanted apps will be closed completely.
Fix 2: Turn Off 5G
All the new iPhones since the iPhone 12 come with 5G network connectivity. 5G is comparatively a new technology, and it still needs a lot of improvements in some aspects. As a result, devices that support 5G are still not completely evolved in optimization.
Even though the iPhone 15 and 15 Plus have better processors, which means they can handle 5G better, there might still be issues with the battery life. So, the best way out is to disable 5G and check for any improvements in the battery life.
Here's how to turn on 5G on iPhone 15 series:
Open the Settings app.
Now head over to "Cellular" > "Cellular Data Options" > "Voice & Data".
Tap on "LTE" and you are good to go.
Fix 3: Use Low Power Mode
Just like Power Saver on Android Phones, iPhones come with a battery saving feature called Low Power Mode. When your iPhone battery is low, this feature makes sure to manage apps in a way such that the power consumption is very less and you can use the device for at least the new few hours until you find a charger.
It generally disables some of the background apps and services to ensure nothing is using the battery more than the desired level. Enabling this feature might help you and here's how to do it:
Open the Settings app.
Now head over to "Battery".
Here you can toggle the "Low Power Mode".
Fix 4: Detect Battery Heavy Apps
Just like Android, iOS also allows its users to see how much battery percentage each app is taking. Sometimes there are unused apps which take a lot of battery causing the battery level to fall tremendously. So, the best way is to check those apps and close them as soon as possible.
Here's how to check battery heavy apps on iPhone 15 series:
Open the Settings app.
Now head over to "Battery" and then scroll down to the "Battery Usage" tool.
You will now be able to see the apps that are using the most battery in a descending manner.
Once you find the heaviest battery consuming apps, close them from the task manager and your problem should get fixed.
Fix 5: Check For iOS Updates
Once these issues happen, Apple mostly releases an iOS update fixing the issue as soon as possible. So, even if the iPhone 15 and 15 Plus were launched yesterday, if Apple thinks the issue is legit, they will surely push an update to the devices.
Sometimes battery issues like this are solved by a software update and it is expected that Apple will also fix the issue too. Follow these steps to check for iOS updates:
Open the Settings app.
Head over to "General" > "Software Update" and check if there is any update.
If there is any update, tap on "Install Now" and the installation should start soon.
Fix 6: Reset Your iPhone
If nothing has worked for you, the last way out is resetting your iPhone. Performing a reset will help delete any uncleared cache or unused apps which might be taking more battery life than others. So, when you reset your iPhone, these things will get deleted and the issue will be probably fixed.
Here's how to reset your iPhone:
Open the Settings app.
Head over to "General" > "Transfer or Reset iPhone" > "Reset" > "Reset All Settings".
Now enter your password and the iPhone will start restarting automatically.
Conclusion
The article covers different aspects that might be taking a lot of battery and wasting much more battery life than expected. The abovementioned solutions are supposed to fix the issue, but chances are that there might be physical damage to the battery too. So, if you feel that there is any damage, visit an Apple Service Centre and get your battery fixed or changed. Other than that, you can wait for some time and check for newer iOS updates that will surely fix the issue if it is not caused by an unused or memory-consuming app itself.