First-person shooter CS2 is famous for its massive following and competitive Esports scene, as well as its new sequel CS2. Many updates have been made to the game since it was first released in 2012, but none have been as highly anticipated as the move to the Source 2 engine. In CS2, players will find a host of new features and improvements, such as improved graphics, optimized performance, and more accurate soundscapes. If you're going head-to-head with an enemy in CS 2, higher FPS definitely gives you an advantage. But, there are many users started reporting that the CS 2 had low FPS while in intense gameplay. However, there's a third-party tool named LagoFast game booster that will help you boost FPS in CS 2, and we have explained about it along with some potential fixes. Therefore, let's get started with the guide.
Why Does My FPS Drop?
It is possible for CS2 FPS to drop randomly for a variety of reasons, including server instability, computer performance, and game items. You might experience low frame rates when walking into an area filled with smoke, grenades, or Molotov cocktails. In terms of performance, it indicates how smooth you will feel when playing the game. Your experience will be smoother the higher the FPS you get.
How to Boost/Fix FPS in CS 2
So, here are some known fixes that will surely help you resolve the CS 2 low FPS or CS 2 lag spikes/stuttering:
Fix 1: Try LagoFast Game Booster
In the world of game boosters, LagoFast has revolutionized the way games are played. The LFP protocol and exclusive routes give it the ability to accelerate the game without any difficulty. In CS2, you can use LagoFast to boost FPS if your network connection is not stable enough. However, using LagoFast, you can also set the best graphics settings or FPS boost function to improve the FPS while gaming using the steps mentioned below:
Click here to download LagoFast.

Find the game by searching.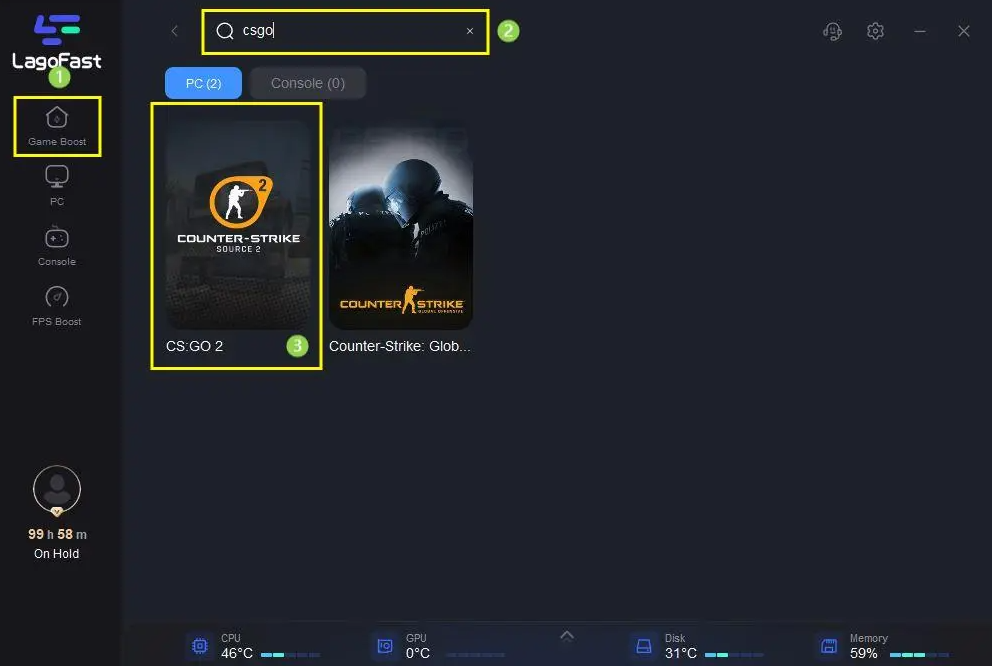 2.Select the server and node.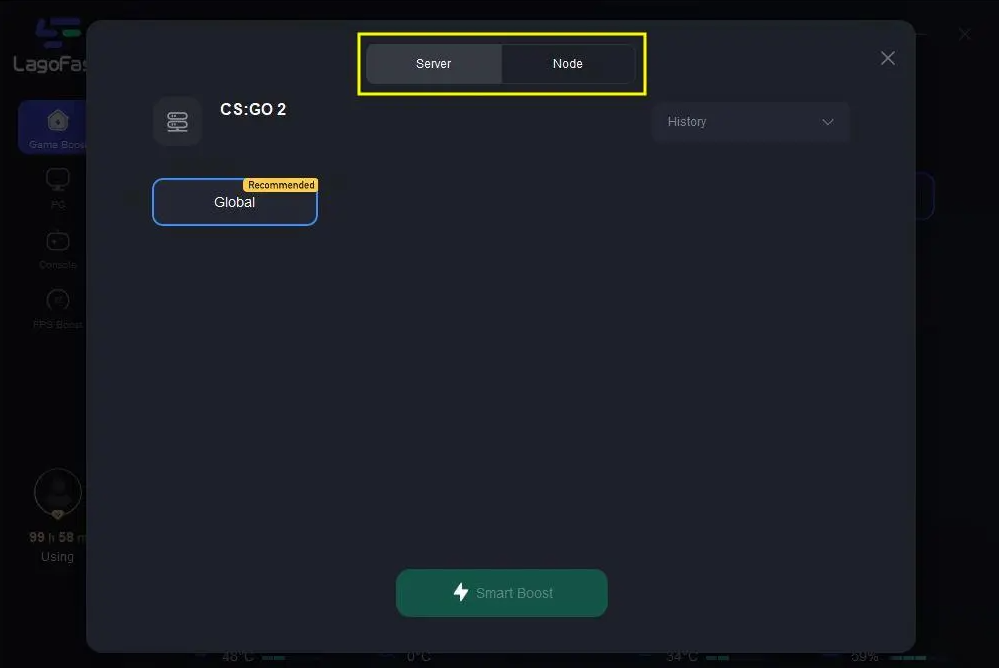 3.Boost your frame rate by changing the CS2 best graphics settings.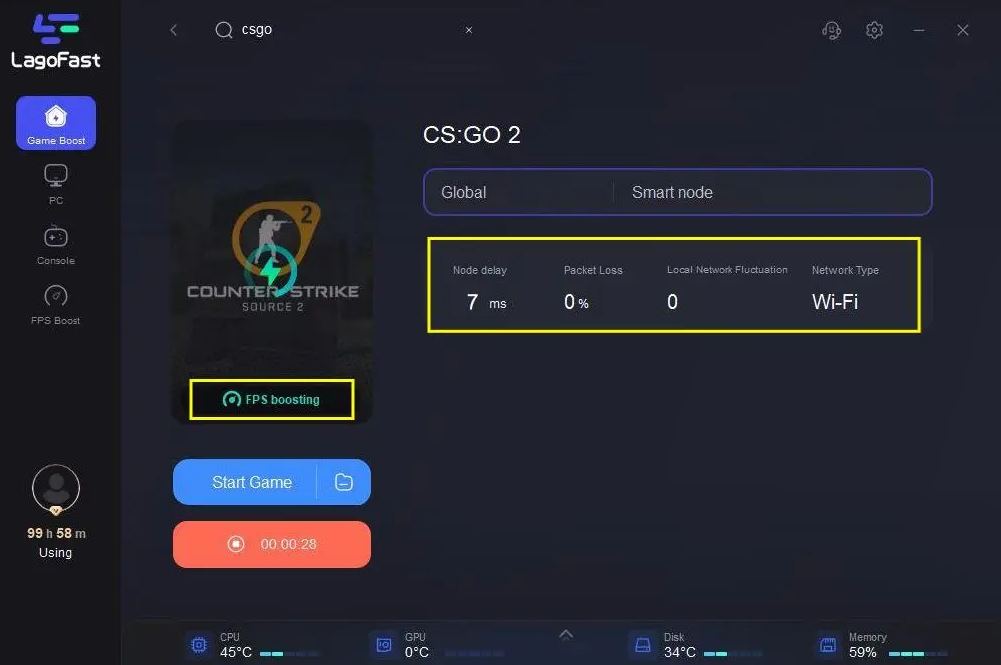 4.Then, simply hit the Start game and enjoy.
Fix 2: Lower Graphics Settings in CS 2
When playing a game, your graphics card plays an important role in maximizing your FPS. It can be a problem if you have set the graphics settings too high for your computer. Suddenly, your FPS will fluctuate.
In other words, you need to set your graphics settings to Low or Medium. In order to do so,
Launch CS2 and go to its settings.

Select Options > Video Settings > Advanced Video Options.

You should set the following settings to Low in this section: Global Shadow Quality, Model / Texture Detail, Effect Detail, and Shader Detail.

Disable Vsync
There are other settings that can have the greatest impact on your FPS, so you should lower them as well.
Ray Tracing
Resolution

for your screen.

Anisotropic Filtering
Tessellation

Disable

DoF

and

Motion Blur
Effects Quality
Game Physics
Antialiasing
Ambient Occlusion
Shadow Distance
Fix 3: Disable Trusted Mode
There have been many reports of large FPS drops while playing CS2 in the trusted mode. It was created to keep cheaters out of the trusted mode. When playing this mode, players cannot use any third-party applications that interact with the game.
It is possible to disable trusted mode if you notice that the FPS of CS2 is dropping because of it. In order to do so,
Launch Steam

Right-click CS2 and select Properties

To set launch options, click Set Launch Options

Enter -untrusted in the field and click OK
Fix 4: Verify the Integrity of Game Files
Sometimes, the problem stems from a corrupt, missing, or removed game file. The game is also run by Steam using these files. They are installed on your machine and used by Steam to run. In order to fix the FPS drops problem in CS2, you need to verify the integrity of game files. Here's how to do it:
On your computer, open Steam and click the Library button.

Then right-click on CS2 and select Properties.

Thereafter, select the Local files tab, and then click Verify integrity of game files.

In the next step, Steam will verify the game files. Depending on your connection speed, it may take a while.
Run CS2 again once the process is complete to see if the FPS drop has been resolved.
Fix 5: Uninstall Conflicting Software
There are many times when third-party software causes CS2 frame rate to drop. When a conflict occurs in-game and drops FPS, you cannot easily identify which software is responsible for it.
You can still check which processes consume the most resources by using the Task Manager. To end a process, right-click on it.
In order to increase FPS in CS2, you should remove or disable these programs from your PC;
There are several third-party antivirus programs available, including Windows Defender.

Programs recently installed.

A list of startup programs.
Fix 6: Disable Game DVR on Xbox
You might have trouble running your games if you have enabled game recording in the Xbox app. Here are the steps you can follow to disable it:
To open Settings, press Win + I.

Go to Gaming.

To disable Background Recording, click Capture on the left side of the screen.
Fix 7: Optimization of Steam for CS2
In CS2, many players experience freezes and FPS drops. In other words, the Steam optimization for CS2/ CS 2 low FPS has been reported as being successful in increasing CS 2 fps by many users. Therefore, let's check out how to do it:
Go to "Settings" in Steam.

When it comes to the "Friends and chat" section, disable most of the parameters. In particular, disable "Enable chat animations…".

You can increase performance by disabling the parameters highlighted in the screenshot below in the "Interface" section.

You need to activate the "Low performance mode" option in the "Library" section.

Under "Game," you can disable everything, including Steam. If you would like to keep the interface, follow the previous steps, and you will see a significant improvement in performance.
How many FPS is ideal for CS2?
It depends on the rank you are playing and whether or not framerates are ideal. A 60-frame-per-second frame rate is ideal at ranks below Master Guardian. In order to rank higher, the FPS needs to be at least 120.
How to Show FPS CS 2
You can check your FPS in CS2 by following these steps:
Click ~ to open the in-game console.
Enter the command "cl_showfps 1".
You will now see an FPS count on the left side of the screen when you play. If you want to disable it again, type cl_showfps 0.
Conclusion
So, that's all we have for you on how to boost or fix the CS 2 low FPS issue. It's our hope that this guide has helped you. We'll be happy to answer your questions, but if you have any, let us know in the comments below.