If a phone has an IP rating 67 or 68, then it is called water Resistant as these types of phones can be submerged into water, and they will still work normally. In this article, we will be discussing if the Samsung Galaxy A13 and A23 are waterproof or not. Also, their specifications are mentioned for more clarity about the device's build quality.
Waterproof Smartphones have become a necessity in 2022. We suddenly plan a trip or an adventure, but everyone doesn't have an action camera. We use our phones as our action cameras during an adventure or a trip to damp places. But if your phone is not Water Resistant, then it won't be able to resist water going into your phone. Imagine you are chilling by a swimming pool, and your homie wants you to come into the pool and take a few selfies, but your phone is not water-resistant, and if it is submerged in water, that's going to be the last time you will see it turned ON.
Usually, the Water Resistance of a phone is measured with an IP – Rating (Ingress Protection). Ip Rating has two numbers (ex: IP65). The first number refers to protection from solid objects or materials, and the second number refers to protection from liquids.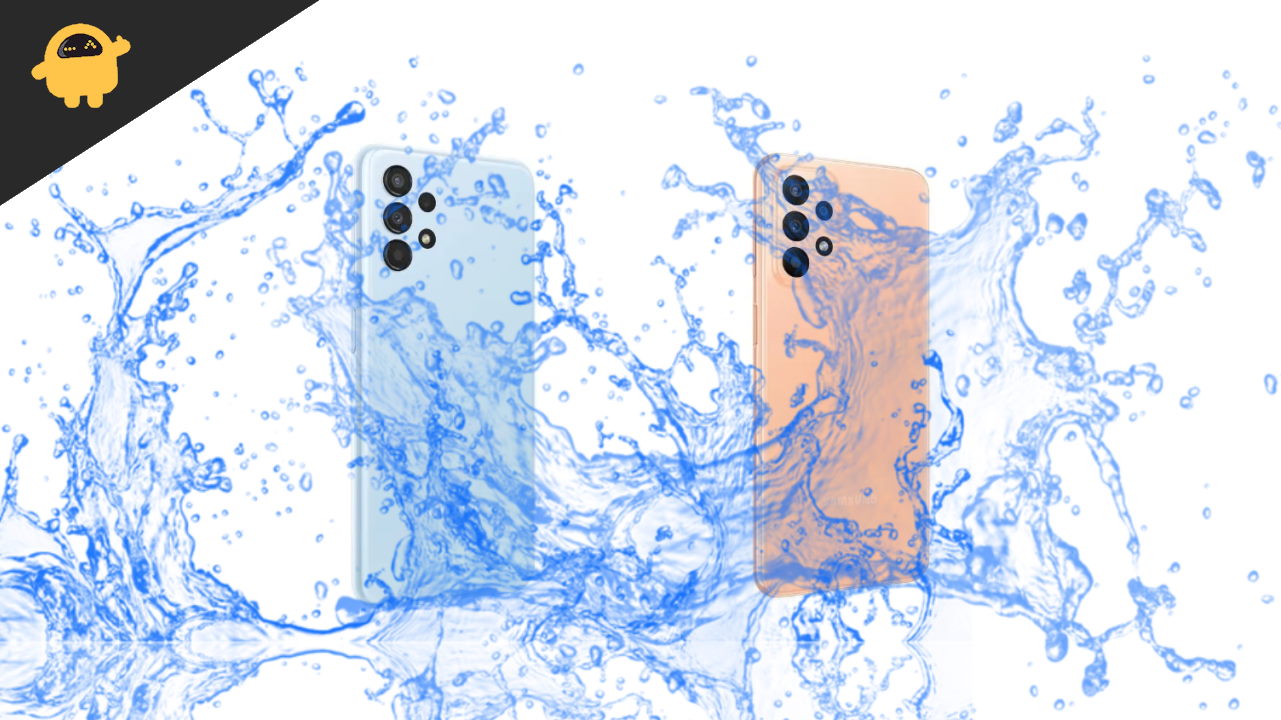 Are Samsung Galaxy A13 and A23 Waterproof Smartphones?
When it comes to these power-packed beasts, let us discuss them separately for an in-depth review of both smartphones.
Samsung A13 waterproof, water-resistant, and specifications
Samsung A13 has variants such as 4 GB RAM with 64 GB internal storage and 6Gb ram with 128Gb storage. The device operates on Android 11. It is fueled with a 5000Mah battery and supports 15W fast charging. The mobile has a Type -c USB port.
Samsung Galaxy A13 5G features a 6.5 inches PLS TFT display with an HD resolution. It features triple camera: primary 50 MP (Wide) + secondary 2 MP (Macro) + secondary 2 MP (Depth). The front camera has 5MP wide. The gadget is powered by MediaTek MT6833 Dimensity 700 5G Octa-core processor. The sensors comprise Fingerprint (side-mounted), compass, gyroscope, accelerometer, Virtual proximity sensing, and barometer.
Coming to its Waterproof or water-resistant nature, the Samsung A13 is not Waterproof as it doesn't have an IP rating. It won't be able to resist water splashes, and if submerged in water, then you have to plan to buy a new phone. If there is liquid on the screen, the touch sensors won't take your input and usually become unresponsive. The Mobile doesn't have dust proofing, making it hard to use it in a dusty environment. A bit of dust might damage the phone if not cleaned regularly.
Samsung A23 waterproof, water-resistant, and specifications
Samsung A23 comes in different variants, such as 6GB ram with 128Gb and 8GB ram with 128Gb storage, and has a 6.6 inches LED display with a teardrop notch. It has an FHD resolution(1080 x 2408 pixels) and a 60hz refresh rate and runs on Android 12 Os. It is powered with a Li-Po 5000 and fast charging 15W.
Samsung A23 has a triple camera setup: 50MP primary, 2MP depth, and 2MP macro cameras. In the front, an 8MP camera is featured. It is equipped with Gorilla Glass 5 to protect its screen. It is powered with Qualcomm SM6225 Snapdragon 680 4G and features sensors such as Gyroscope, Vr gear, Ambient Light, proximity, and Compass sensor. The mobile supports 3G + 4G only. There is no support for 5G network bands.
Coming to its Waterproofing and water resistivity, the Samsung A23 doesn't have Waterproofing or water resistivity. IT doesn't have an Ip rating, and the phone will die if submerged in water. Even small water splashes will make the sensors unresponsive.
Since it doesn't have an IP rating, there is no Dust proofing making it hard to use in dusty environments. Small dust particles can get into the device and stay there for long periods. This affects the performance of the mobile and can also destroy the phone. So, it is always recommended to clean these types of phones regularly for longer the health of mobile. Cleaning the USB port and camera is also very important.
Conclusion
Both the Smartphones, Samsung A13 and Samsung A23, are not Water Resistant or Waterproof. These mobiles don't have Dust resistance either. However, it is recommended to buy a Waterproof smartphone in 2022. Waterproof Mobile is a must for people who travel regularly and take many photos while on the trip. Nevertheless, you can always buy a water-resistant case that works as an outer cover for your phone. Share your thoughts about Samsung A13 and A23 below, and if you have any queries regarding these smartphones, feel free to comment.